The Prom Committee consists of three students from McKinley. It is formed to organize the senior prom in 2012. It is featured in Prom-asaurus, the nineteenth episode of Season Three.
They formed in the beginning of the school year and worked to organise the prom ever since. They send Brittany Pierce, the senior class president, memos about their progress regularly, which are overlooked by her.
Brittany and the prom committee meet for the first time in May, after she gets told off by Figgins for not achieving anything in her role as Senior Class President. She thus swears to help organise the prom. The committee present their ideas for the prom's theme, first suggesting 'castles in the clouds' and then 'stairway to heaven'. Brittany, however, doesn't like their ideas and presents them her idea: Dinosaurs. When the committee then insults the idea, calling it stupid, Brittany fires them from the job of organising the prom and proceeds with the dinosaur theme anyway.
Known members
Rejected Prom themes
Castles in the Clouds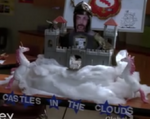 Brittany compliments them on the unicorns, but rejects the idea, because she thinks the castle would be too heavy and would fall off the clouds.
Stairway to Heaven
Brittany declines this suggestion, because she thinks it would be impossible to build an elevator up to heaven, and thus this theme would be too discriminating for handicapped students.
Trivia
Brittany was inspired to have a dinosaur prom because she thinks that Joe looks like a cave woman.
Food at the prom included raw meat, berries, and rain water.
Hair gel was not allowed at the prom because it wasn't invented when the dinosaurs were alive.
Brittany thought one of the prom committee members was Rachel.
Community content is available under
CC-BY-SA
unless otherwise noted.