The Quinn-Rachel Relationship, most commonly known as Faberry, is the relationship between Quinn Fabray and Rachel Berry.
In Season One, there is much animosity between the two as Rachel goes after Finn, who is Quinn's boyfriend. However, they do both state that they don't hate each other, and have a few friendly moments after Quinn's pregnancy is revealed. In Season Two, they appear to have cooled in their aggression towards each other, only to both go after Finn again. Despite this, they do begin an albeit rocky friendship towards the second half of the season, as seen in Original Song and Prom Queen, the sixteenth and twentieth episodes of the season, respectively.
At the start of Season Three, Quinn has distanced herself from the New Directions, but she soon returns and appears to be on good terms with Rachel. In Hold on to Sixteen, the eighth episode of the season, Rachel and Quinn admit that they're "kind of friends" and, leading up to graduation, they grow closer. They confide in each other before anyone else in Michael, the eleventh episode of the season, and when Quinn is on her way to Finn and Rachel's wedding in On My Way, the fourteenth episode of the season, she ends up in a car accident, resulting in her being wheelchair-bound for a period. Rachel feels as if it's her fault, but Quinn tells her that it's not and comforts her. At the end of Season Three, they both graduate, and Quinn gives Rachel a train ticket to New Haven; she also bought herself a ticket to New York, so they are able to visit each other occasionally.
In Season Four, they stay in contact by email but have not met physically, despite them both possessing train tickets to meet each other. Despite Kurt and Rachel promising to return for Thanksgiving, the two don't go back to Ohio, and Quinn shows disappointment. In Naked, the twelfth episode of the season, Kurt calls Quinn and Santana over because Rachel decides to star in a nude scene for a school movie production, which Quinn and Santana are against. In the end, they stop her.
In Season Five, Quinn comments that she thinks Rachel was Finn's soul mate, and Rachel watches Quinn sing a romantic duet with Puck and then announce that they are officially dating for the first time.
In Season Six, Rachel asks Quinn alongside the rest of the alumni to help out recruiting new members for the New Directions.
Overview
At the start of the series, Rachel and Quinn represent a total clash of worlds; Quinn is a mean and stereotypical popular head cheerleader, while Rachel is an unpopular, talented singer slash self-conscious diva. Even before Glee Club, they are seen arguing and Quinn often makes fun of Rachel, but when Rachel falls for Quinn's boyfriend, Finn Hudson, things take a turn for the worse, as Finn is also noticeably interested in Rachel.
They show a slight bit of friendship when Rachel talks to Quinn in the episode Vitamin D, where Rachel asks Quinn to come back to glee rehearsals and tells her that she has a good singing voice. Quinn also confesses to drawing the pornographic pictures of Rachel in the bathroom.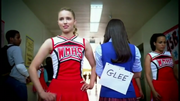 Rachel and Finn had been interested in each other quietly (they even shared two kisses) until Quinn reveals to Finn that she is pregnant. Quinn claimed that the baby was Finn's even though they did not even have sex. Secretly, the baby is Puck's, who starts to fall for Quinn.
In the episode Sectionals, Rachel is curious when Quinn falls in Glee Club rehearsal after both Finn and Puck rush to Quinn's aid. Rachel was also the one to tell Finn that Quinn's baby isn't his, but Puck's, which leads him to break up with her. During Finn's confrontation with both Quinn and Puck, Rachel shows obvious signs of regret when Quinn begins to stare at her, but it is unclear whether this is towards her faltering relationship with the rest of the glee club or her regret towards making Quinn's life even more difficult.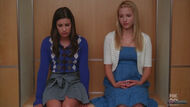 Ever since they seemed to ignore each other, but in Britney/Brittany, Rachel (who is now dating Finn) who is insecure about Finn's feelings for her, sends Quinn to check if Finn still has feelings for her. In the episode The Sue Sylvester Shuffle, Quinn and Finn shared a kiss. As a result, Quinn started dating Finn again, but he broke up with her in Funeral due to having stronger feelings for Rachel. This is not seen as a point of conflict between the two girls, however; in The Purple Piano Project Quinn (with a new bad-girl look) does not seem angry at Rachel in any way when she tries to talk Quinn back into rejoining Glee. When Quinn chooses to go back to her normal self (even if it is secretly just to regain custody of Beth) she seems to be getting on well with Rachel. They dance together during Last Friday Night and Quinn offers Rachel some friendly advice in The First Time, along with the rest of the New Directions Girls. In Hold on to Sixteen, Rachel convinces Quinn to drop her plan to get Beth back. When Quinn thanks Rachel for it they regard each other as "kind of friends." In Michael, they have grown closer with Quinn being the first person Rachel told about Finn's proposal, and Rachel being the first to know about Quinn's Yale acceptance. Since Goodbye, the two are close friends, promising to visit each other after graduation and even purchasing special train passes for this purpose.
Episodes
Songs
Quotes
"

Rachel: I know everyone expects us to be enemies and be in competition, but I don't hate you.
Quinn: Why not? I've been awful to you.
Rachel: That was before you knew what it felt like to be me. An outsider. More people are gonna start finding out about this (she points to her belly) and you're gonna need friends who can relate.
Quinn: How can you relate to what I'm going through?
Rachel: You don't think people whisper about me in the lunch room or draw pornographic pictures of me on the bathroom walls?
Quinn: That was me, actually.
Rachel: Look, I don't agree with the choice you're making, but you're gonna need glee. You have seven months of your youth left. You should enjoy it. And let's face it, in a couple of months, that cheer leading uniform isn't gonna fit and we're gonna be all you have left. Just come back to practice. Boys versus girls. It's fun. And we could certainly use your voice right now. You're actually a good singer, Quinn. Occasionally sharp, but that's just because you lack my years of training.
Quinn: I would have tortured you if the roles were reversed, you know?
Rachel: I know.


"
"

Rachel: All right. Every time you whisper in her ear you empower her to do more damage to the Glee Club. And right now, Glee Club is all you have. And if I were you, I'd recognize who my true friends are. And I'd practice a little more because you obviously have a lot you need to express.
Quinn: Oh, you have no idea.

"
"

Rachel: Thanks for doing this.
Quinn: I'm surprised more girls haven't asked me. My nose looks awesome. I can totally count on your vote right?
Rachel: Yeah. Tot...totally.
Quinn: [goes back to reading her magazine]
Rachel: So, what's it like? [Quinn turns to Rachel] Looking like you look.
Quinn: I pretty much have a warped sense of the world. Being a hot seventeen year old you can get away with or do pretty much anything you want so I kind of always assumed that people were nice and accommodating.

"

—Rachel and Quinn, Born This Way
"

Rachel: [goes after Quinn] Quinn, you need to calm down.
Quinn: This is your fault! Nobody would vote for me because they knew he would rather be with you.
Rachel: That's not true.
Quinn: [slaps Rachel across the cheek]
Rachel: [gasps and touches her cheek]
Quinn: [whispers] I'm so sorry.

"

—Rachel and Quinn, Prom Queen
"

Rachel: [checking her cheek] Most girls would be upset about getting slapped in the face, but…I happen to appreciate the drama of it. [gets a paper towel]
Quinn: [leans against the sink] I know you think it's hard to be you, Rachel, but at least you don't have to be terrified all of the time.
Rachel: What are you so scared of? [offers a paper towel to Quinn]
Quinn: [takes the paper towel] The future. When all this is gone.
Rachel: Look, you have nothing to be scared of. You're a very pretty girl, Quinn. You're the prettiest girl I've met Quinn but...you're a lot more than that.

"

—Rachel and Quinn, Prom Queen
"

Rachel: Hey, Quinn. [turns to Quinn's friends] Uh, hello...skanks.
Ronnie: Your friend stinks of soap, Quinn.
Rachel: [to Quinn] We were friends once. Okay, and maybe when you cut off all of your hair last year and thought it would solve all of your problems, I should've spoken up. Maybe when you dropped out of society and started dating that 40 year old skateboarder, I should have said-
Quinn: I'm not coming back to glee club.
Rachel: We need you, okay? Have you seen those purple pianos around school? We're planning this big recruiting and it's a tribute to the Go-Gos. I mean, who doesn't love the Go-Gos?
Sheila: I prefer the Bangles.
Rachel: Okay. We need your tremulous alto and your Belinda Carlisle glamor.
The Mack: I'll give you ten bucks if you let me beat her up for you, Quinn.
Rachel: I'm sorry you're so sad, Quinn, and maybe you're not going to believe me because we were never really close but I'm sad not seeing you in the choir room and we've all been through so much together, we're a family, and this is our year to get it right. We would love to have you back in the Glee club, whenever you're ready, okay?

"
"

Rachel: Well, my suspension is officially over. It'll still be on my transcript, though. I'm just hoping that the admissions department at NYADA see it as a sign of my artistic, rebellious attitude.
Quinn: Good luck with that.
Rachel: Are you going to go tell Figgins about Shelby? Because I still think it's a really terrible idea.
Quinn: I came here to talk to you, actually. To tell you I'm not going to tell.
Rachel: Why?
Quinn: Because I love Beth, and I don't want to ruin her life. I wanted to thank you actually.
Rachel: For what?
Quinn: For keeping me from doing something stupid. Something I would have regretted my entire life.
Rachel: ...We're kind of friends, huh?
Quinn: Kind of. What do you think about Yale?
Rachel: Oh no no. I have my sights set on NYADA.
Quinn: No, for me? I'm not the singer that you and Kurt are, but Yale has an amazing drama program and I really do like to perform.
Rachel: Yeah!
Quinn: I certainly would nail all the parts where the girl has to cry.
Rachel: [laughs] No I think it's a great idea! Especially since you won't have me to compete with. ...You're a lot better than you know.
Quinn: Well..I'll see you at glee club.
Rachel: Wait, w-where are you going?
Quinn: There's a couple people I need to talk to.
Rachel: Ok well, I don't know if you need help with your Yale application..
Quinn: Not with the Yale application but um, there is something you could do for me.


"

—Rachel and Quinn, Hold on to Sixteen
"

Rachel: Hey, look I need your advice, alright? About... about an... adult problem.
Quinn: Holy crap, are you pregnant?!

"
"

My accident, which you did not cause, by the way, does not define me or ruin our senior year.

"

—Quinn to Rachel, Big Brother
"

Quinn: I hate to be the buzzkill, but Rachel, are you sure that you're really ready for this?
Rachel: I've never been more certain about anything in my entire life. Besides, you can't spell "infinity" without "Finn."
Quinn: Okay. I've tried to reason with you, I've even tried to be nice about it, but I'm not gonna watch you ruin your life by trying to marry Finn Hudson.
Rachel: Look, I'm not going to, I'm gonna START my life with him.
Quinn: Is anybody else with me on this?
Everyone: ...
Quinn: Looks like I'm the only one with balls enough to say it. Rachel, the thing that I admire most about you is you're a girl that has never apologized for your ambition. You're the shiniest star of all of us... like it or not, it's true. And as we get closer and closer to graduation, you keep hiding your life behind this stupid Finn wedding thing. I never pegged Rachel Berry as the girl who'd be too scared to take on the world.
Rachel: Okay, well, if that's how you feel, then I'd prefer it if you didn't attend our wedding.
Quinn: It's okay. I won't. [Leaves]

"

—Quinn Fabray, Rachel Berry, On My Way deleted scene
"

Quinn: Hey, how do I look? Coach Sylvester gave it to me early and I couldn't resist.
Rachel: I'm glad you're happy. Everyone deserves to be happy.
Quinn: When you were singing that song, you were singing it to Finn and only Finn, right? He really does make you so happy. I want to support you, Rachel, and Finn, and come to the wedding. If it's not too late.
Rachel: [smiles widely and hugs Quinn]

"
"

This freshman just gave me a hug and told me to 'never change.' Poor thing is too young to realize that change can be so good. Think, if we hadn't changed we would've never been friends.

"
Trivia
It is possible that Quinn bullied Rachel before Pilot since she admitted to drawing pornographic pictures of Rachel in the bathroom. Also, in a deleted scene from the Pilot, it is acknowledged that Quinn already knows her name, as she tauntingly says to her "Getting ready for the tranny prom, Rachel?"
The first sign of friendship between them was in Sectionals.
Despite their often antagonistic relationship, both Quinn and Rachel have said that they don't hate each other.
Both have had five relationships: Rachel - Puck, Jesse, Finn, Brody and Sam, Quinn - Finn, Puck, Sam, the Yale professor and Biff. They have three mutual ex-boyfriends; Finn, Puck and Sam.
Both have been the ones to break up with Puck in their relationship with him.
Both of them have cheated on Finn with Puck.  Both have also cheated on another boyfriend with Finn (Quinn on Sam in The Sue Sylvester Shuffle, Rachel on Jesse in New York and Brody in I Do.)
Both have been enemies with Santana Lopez, only to ultimately become friends with her.
During the filming of the first thirteen episodes of Season One, Lea Michele and Dianna Agron shared an apartment for less than 6 months. In September 2009, they moved into their own apartments.
Lea and Dianna are great friends in real life.
Dianna and Lea are both aware of the popularity of "Faberry" (a combination of the characters' surnames Fabray and Berry). Mostly they think of it as "funny," but seem thankful for the fans supporting their characters. Dianna thinks of Faberry "as flattering as hell." She has also been known to say "Quinn could always go gay."
In February 2012, Quinn and Rachel were nominated into E!Online's 'Best TV Couples Poll'. They were up against 64 other couples and made it to the final round, up against Castiel and Dean from Supernatural. The online traffic from the voting was so unexpectedly large that the website eventually crashed. Ultimately, Faberry won with 177,769 votes. Following the result, both actresses tweeted an acknowledgement of the win, with Dianna Agron posting a photo of the two "for the fans."
After it was revealed that the Faberry scene, that was featured in the promo, had been cut from episode On My Way, #DontCutFaberry and "Faberry" were both trending on twitter.

Also, on Wednesday 18 April 2012, "Faberry" was trending again on twitter, as well as #ReplaceGleeSongswithFaberry which was the #1 worldwide trend.
On August 1, 2012, Ryan Murphy released on Twitter the deleted Klaine Box Scene that was supposed to air as part of Extraordinary Merry Christmas. Faberry fans then began to message Ryan Murphy on Twitter to release the bridesmaids' scene cut from On My Way and #ReleaseFaberry began to trend on Twitter. The scene was later released.
On October 31, 2012, "Faberry Best Fandom" was trending worldwide on Twitter. This was followed by another worldwide trend just a day later on November 1, "Faberry Forever." Further trends continued throughout the week, leading to seven consecutive days in which a Faberry-related phrase had trended.

While Quinn sings Never Can Say Goodbye, a picture is shown of Finn next to Rachel. Rachel's face is covered, so it just shows Finn, suggesting that this was likely a picture from Season One.
Both have been members of the Celibacy Club, and at one point were the only two student members.
Rachel claims to have envied Quinn.
Both have believed they were pregnant. However, Quinn actually was pregnant and it was revealed in Preggers and Rachel just thought she was pregnant, but after going to a doctor in Feud, she found out that it was just a pregnancy scare.
In Season Six episode The Hurt Locker, Part Two, when Rachel tells Kitty and tells her everything she knows about her in order to recruit her back to glee club, Kitty replies by saying that if she's trying to get with a cheerleader, the world is rooting for her and Quinn Fabray. This might be a reference to the big popularity of Faberry.
Gallery
v - e - d

Glee Relationships




Character relationship(s) displayed:

Adam

Artie

Becky

Betty

Blaine

Bree

Brittany

Brody

Burt

Cassandra

Chandler

Cooper

Dani

Dave

Elliott

Emma

Finn

Holly

Jake

Joe

Kitty

Kurt

Lauren

Mario

Marley

Mercedes

Mike

Millie

Puck

Quinn

Rachel

Rory

Roz

Ryder

Sam

Santana

Sebastian

Shannon

Shelby

Sue

Sugar

Sunshine

Tina

Terri

Unique

Will
Community content is available under
CC-BY-SA
unless otherwise noted.