The Quinn-Santana Relationship, more commonly known as Quinntana, is the friendship between Quinn Fabray and Santana Lopez. They seem to have a competitive on-off friendship at times, and a solid friendship at others. They slept together at least twice in I Do.
Overview
In the beginning of
Season One
, Quinn and Santana are  both on the Cheerios with
Brittany
. They seem to be very close, but when everybody finds out Quinn is pregnant, they appear to be distant, not as close as they were before the news came out. In the beginning of
Season Two
, they compete for the spot of head cheerleader and even have a physical fight in the hallway related to it. Quinn ultimately gets the spot because Santana got a boob job. They are friends again while on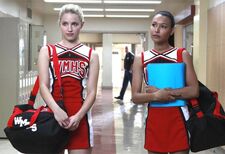 the Cheerios, but then quit in
The Sue Sylvester Shuffle
. Quinn is dating
Sam
and Santana seems jealous of all relationships, because of her lack of a relationship. Santana tells Sam that Quinn cheated on him with
Finn
(which is true). Sam breaks up with Quinn, and then he begins to date Santana. Quinn is seen looking at them jealously during Rachel's house party. Santana and Sam ultimately break up because Santana uses
Karofsky
as her beard because she's in love with Brittany. Quinn and Santana run against each other for Prom Queen, and neither wins. In
New York
, Quinn and Santana are seen talking and being friendly.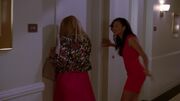 They talk in the hotel room with Brittany because Quinn feels like everyone else has love except for them. She is very down at that point, so Brittany and Santana comfort her and suggest she gets a hair cut. Quinn also mentions that she's "not into that." She thought Santana was talking about having sex with each other, as she knows that Santana and Brittany have before. In Season Three Santana is back on the Cheerios, while Quinn quit the Glee Club and joined The Skanks. Santana and Brittany try to convince Quinn to rejoin the Cheerios, they say 'We joined Cheerios together, Glee Club together, we all slept with Puckerman the same year. We're like besties for life.' She says that she won't come back. Quinn rejoins Glee Club and the Cheerios later in the year. Santana is forced out of the closet, and Quinn seems very supportive of her. In Season Four, they meet again in Thanksgiving, and have a conversation in the choir room, which culminates in them slapping each other, before Brittany intervenes. In the episode I Do, Quinn begins flirting with Santana and eventually sleep together twice because they were drunk. Quinn states it is only a one-time thing and Santana agrees by saying they could make a two time thing out of it. 
Episodes
Songs
Trivia
They are both part of the Unholy Trinity (along with Brittany).

They were the first two of the Unholy Trinity to appear, with Brittany being introduced an episode later.
Since the role of Brittany wasn't created until after the Pilot aired, only Quinn and Santana were originally going to be the antagonistic members of New Directions.
At first, Santana was Quinn's sidekick (along with Brittany).

They were considered the prettiest and most popular girls at William McKinley High School until they graduated, though their popularity wavered at times.

In Bad Reputation, Quinn ranked her and Santana as the two hottest members of the New Directions on the Glist; she was #1 and Santana was #2.

They both ran for prom queen the same times (Prom Queen and Prom-asaurus).
Both have been smokers at some point, though it is implied that Quinn has stopped after leaving The Skanks (Santana mentioned she smoked in Funeral, and Quinn was seen smoking in The Purple Piano Project and I Am Unicorn).
They both joined the Cheerios and the Glee Club together (along with Brittany).

They have both been captain of the Cheerios. (also, along with Brittany)

They both have had relations with the same guys.

They both have dated, slept with and dumped Puck in Season One.
They both dated Sam in Season Two.
Quinn dated Finn twice, and Santana slept with Finn.

Quinn seems to have known that Santana was lesbian before she came out of the closet. (New York)
They both initially hate Rachel when the show starts, but now are both good friends of hers, even travelling to New York to convince her not to do a topless scene (Naked).
They both played the same character in The Rocky Horror Glee Show.
They have both slapped each other; first in Audition and again in Thanksgiving.
At first, Quinn and Santana seem to be best friends, but later in the show Brittany and Santana are shown as being closer (due to their relationship).
While filming Thanksgiving, Ryan Murphy tweeted saying that their relationship was his "new favorite thing."
Santana considers Quinn her homegirl (Prom-asaurus and the two of them as two ends of the same bitch/goddess-spectrum and implies that's why they love and slap each other so much (I Do)
Santana is the first girl with whom Quinn has ever slow danced. (I Do)
Both have been disapproved of by a family member (Quinn by her father due to her pregnancy in Ballad and Santana by her "abuela" due to her sexuality in I Kissed a Girl).
Both are supportive of the other's relationships: Quinn is shown to be happy for Santana when she comes out with Brittany (I Kissed A Girl) and Santana admits she likes the Quinn and Puck pairing in New Directions.
Sam seems to know about Santana and Quinn sleeping together as he refers to that in Homecoming.
Gallery
v - e - d

Glee Relationships




Character relationship(s) displayed:

Adam

Artie

Becky

Betty

Blaine

Bree

Brittany

Brody

Burt

Cassandra

Chandler

Cooper

Dani

Dave

Elliott

Emma

Finn

Holly

Jake

Joe

Kitty

Kurt

Lauren

Mario

Marley

Mercedes

Mike

Millie

Puck

Quinn

Rachel

Rory

Roz

Ryder

Sam

Santana

Sebastian

Shannon

Shelby

Sue

Sugar

Sunshine

Tina

Terri

Unique

Will
Community content is available under
CC-BY-SA
unless otherwise noted.