'Glee' Profile: Rachel Berry
Play Sound
"

Being a part of something special does not make you special. Something is special because you are a part of it.

"

—Rachel Berry, Dreams Come True
Rachel Barbra Berry is the main character on Glee. She is a Tony award-winning musical theatre actress. She graduated from the New York Academy of the Dramatic Arts (NYADA), after getting a second chance at her degree, following her decision to drop out in Bash, She is an alumna of William McKinley High School as of Goodbye. She was the first-ever captain of the school's Glee Club, the New Directions, having later recruited Finn Hudson as a co-captain in Mattress. She was one of the three major self-proclaimed divas of the club: the others being two of her closest friends, Kurt Hummel and Mercedes Jones.
Rachel is a very driven and ambitious young woman. She was raised by her two gay fathers, LeRoy and Hiram Berry, but she was able to meet her biological mother Shelby Corcoran, the former coach of Vocal Adrenaline in Theatricality, due to the efforts of her now-husband, Jesse St. James.
Rachel is very competitive but works harder than anyone else so often feels she should have the spotlight and due to her dream of performing on Broadway. However, on numerous occasions, during her tenure as a New Directions member, Rachel has shown that she was slowly becoming more considerate and supportive towards the other members of the glee club.
In the episode Yes/No, Finn, whom she has had conflicting feelings forever since the episode Pilot, proposes to Rachel and in Michael, Rachel accepts his proposal. In On My Way, they planned to get married, but at the beginning of Big Brother, it is revealed that they postponed their wedding due to Quinn Fabray's texting and driving car accident. In Goodbye, Finn told her that he is setting her free so that she could go to New York and follow her dreams which she couldn't do if she was married to him. She graduated from McKinley High School in the Season Three graduation episode, Goodbye.
In The New Rachel, Rachel is now a student at NYADA and is struggling to fit in with the new adjustments. Her dance teacher, Cassandra July, isn't making her stay in New York City very welcoming either. In The Break-Up, Finn returns, but with the ongoing drama, Rachel breaks off their relationship "for now" and their relationship was put on hold. In Glease, it seems their relationship has fully dropped after Finn says they shouldn't have contact and he doesn't want to know about Rachel's arrival to Lima, Ohio if she does return again someday. Although at Will's almost wedding they talk multiple times, sing a duet, and sleep together. In the episode, Sweet Dreams, her Broadway journey begins after auditioning for Funny Girl and asked to return for callbacks. During Wonder-ful, she and Cassandra July reconcile and they become friends, after promising she and other NYADA students will help her. In All or Nothing, she re-auditioned for Funny Girl, but it is unknown if she has been selected at the end of the fourth season.
In Season Five, during Tina in the Sky with Diamonds, we found out that she was selected to play 'Fanny Brice' in Funny Girl. Despite the good news, Rachel receives the shock of Finn's death in The Quarterback, which is very tough for her to deal with, especially in the subsequent year. In A Katy or A Gaga, Rachel joins Kurt's band, Pamela Lansbury. Santana Lopez becomes Rachel's understudy which reopens old wounds. Because of her feud with Santana, they are kicked out of the band by Kurt in Trio. In Bash, Rachel quits her schooling at NYADA to focus on Funny Girl. As of Opening Night, the revival of Funny Girl successfully opened on Broadway receiving good reviews from the New York Times. In The Untitled Rachel Berry Project, she decides to leave Broadway and go to Los Angeles to shoot the very first episode of a new series based on her life.
In Season Six, it is revealed that her TV show, titled That's So Rachel, has been cancelled due to very poor ratings after airing its pilot episode. Since she can't go back to Broadway, Rachel returns to Ohio to find out her parents are getting divorced and to relaunch the glee club along with Kurt, and together (with some help of the Alumni) they recruit new members. In What the World Needs Now, with Mercedes' piece of advice and with New Directions' and Alumni's help, Rachel goes to New York to audition for a play in a new Broadway show, which is revealed to have gotten later in the season. However, after personally requesting it, Rachel is reaccepted in NYADA, which leads her to drop the role and decide to go back to college to finish her education. In the series finale, Dreams Come True, it is revealed that in 2020, she is now a successful Broadway actress, married to her friend and old love Jesse St. James, who is also her director, and a surrogate for Klaine. She finally wins a Tony Award - her lifelong dream - for her role in the fictitious Broadway musical Jane Austen Sings, showing that at the end, her life long dreams have finally accomplished and all the things she went through and worked hard for is finally paid off in the best way possible.
She is portrayed by actress and singer Lea Michele.
Biography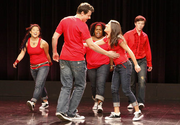 Rachel is introduced in Pilot, in which she got the school's previous Glee teacher, Sandy Ryerson, fired for inappropriately touching Hank Saunders, a male student. Right off the bat, Rachel's show-offish personality shines through as she details how she had won her first dance contest while still a baby. She introduces her family and talks about her life and how her parents raised her to be a shining star.
When Will Schuester holds auditions, Rachel performs the piece On My Own from Les Miserables and as soon as she finishes singing, she promptly asks when rehearsals begin. Once they start, she immediately begins to grow weary on the minds and tempers of the others, becoming easily angered for not getting her way and for not having better music selections, particularly in the first group number Sit Down, You're Rockin' The Boat. These angry moments often end up with Rachel storming out of the choir room.
However, she seems to lighten up when Finn Hudson joins. With his skilled singing abilities and good looks, Rachel finds herself immensely attracted to him. The big problem is that he is dating her nemesis, Quinn Fabray. When Finn tries to leave the group, she works hard to convince him to stay because she knows that he really does like glee club, but is afraid of being bullied by the rest of the school. At the end of the episode she is then seen with the other Glee club members with the new acception of Finn and joins them in singing Don't Stop Believin'.
Rachel begins to take a more active approach at trying to win over Finn. She continues to try and do what she can to get his attention, including inducing vomiting so as to become thinner, and joining the Celibacy Club. Neither works out for her.
Later, when the Glee kids, ignoring Mr. Schuester's orders reject his song selection of Le Freak and instead perform the more sexually driven song, Push It, Rachel gets the group in trouble not only with the Principal and Will, but it also results in Quinn joining the group along with Santana Lopez and Brittany Pierce.
Shortly after, while helping Finn practice his singing, Rachel puts together a very over-the-top, but nonetheless romantic picnic for them. This leads to them sharing their first kiss, which unfortunately gets Finn overexcited, and he prematurely ejaculates. Embarrassed and feeling guilty, Finn rushes off, leaving Rachel confused and hurt.
Rachel's overbearing nature continues to cause a rift between her and Mr. Schuester, when she and the rest of the group criticize his choreography. This leads to him losing confidence and joining his own musical group, the Acafellas. Meanwhile, Quinn convinces Rachel to hire award-winning choreographer Dakota Stanley, although unfortunately his costs are $8,000 per song.
The glee kids get the money, but are soon horrified by how horrible Stanley is, who insults and rejects everyone in the group (sans the Cheerios) and attempts to kick them out of Glee for not looking like what he considers to be beautiful. This provokes the other kids to want to leave, but Rachel stops them and instead fires Stanley, and as a parting shot adds that she's taller than he is.
When Will gives Tina Cohen-Chang the solo in Tonight from West Side Story, Rachel loses her temper. He tells her the reason he gave the solo to Tina is that he wants to strengthen the confidence of the rest of Glee in anticipation of Regionals. Rachel's upset that he is hurting her to make others feel good. Sue Sylvester finds out about this, and manipulating Principal Figgins, gets Sandy Ryerson rehired as the head of the arts department, which allows him to run the school musical, Cabaret. Sue has Sandy give Rachel the lead. With Will still refusing to give her the lead, Rachel quits Glee to join the musical.
Unfortunately, the musical proves to be less than enjoyable for Rachel. Sandy spends all his time insulting Rachel's talent, claiming that he could do better. Meanwhile, Will has gotten a ring-in to replace Rachel, April Rhodes, who was an old high school classmate and crush of Will's youth. Although talented, April is very irresponsible, teaching the Glee kids to drink and act up.
April, a typical cougar, voices a sexual interest in the much younger Finn to Rachel, which infuriates her. Finn meanwhile attempts to get Rachel back in Glee, partly because of her talent and also because he misses her. This leads to their second kiss, which hurts Rachel when she realizes that Finn was manipulating her because he needs her help to win a scholarship in music, so that he has a future for himself and Quinn, who is pregnant with (supposedly) their baby. In the end, however, Rachel is unable to stand Sandy's directing and truly misses the group, so she returns to Glee Club.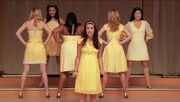 Rachel and Finn are at odds when Rachel discovers that during the mash-up competition between the boys and girls, the boys took performance enhancing pseudoephedrine (given to them by Terri Del Monico) to energize them. In a move that disturbs Rachel herself, the girls take the same drug, giving a wildly energetic performance of Halo/Walking on Sunshine.
Afterwards, both Finn and Rachel agree they were wrong to take the drugs, and come clean to Will. This however causes a massive backlash, getting Terri fired as the school nurse, and gaining Glee a co-director: Sue Sylvester, who has no talent in showbiz and openly wants to destroy Glee Club.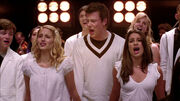 Sue's control as co-director causes immediate trouble, as Sue splits the kids up, taking all the minority students, leaving only Rachel along with Finn and Quinn, because she claims Will thinks of them as lesser students.
Meanwhile, Rachel, upon discovering Quinn's pregnancy, does what she can to keep the truth of the pregnancy hidden from school reporter Jacob Ben Israel, who has a massive crush on her. She offers her white granny panties in exchange for his silence. Although Finn is touched, Quinn demands that Rachel stay away from Finn.
Undeterred, Rachel warns Quinn that Sue will not side with her when the news of her pregnancy finally come out, and that she and the rest of the Glee Club will be there for her. Rachel is proven right when Sue reveals that she is aware of the pregnancy and throws Quinn out of the Cheerios. Just as Rachel promised, the New Directions sings Keep Holding On, promising to be there for Quinn no matter what.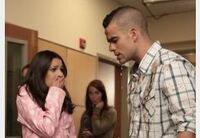 Rachel begins a short-lived relationship with former foe Noah Puckerman who, after being convinced by his mom to find a nice Jewish girl, begins to pursue her romantically. Rachel is touched by his sudden kind nature and a night of making out. Puck begins to feel that dating Rachel is killing his reputation in school, but that he now understands how bad it can be for people like her. Unfortunately, Puck, unable to live his life like that, decides to return to the football team rather than be a social outsider. However, when Ken Tanaka makes the football players choose between the team and Glee, Puck returns to the club. Rachel is again touched, but quickly realizes that Puck is in love with Quinn and that she is still in love with Finn. They end their relationship, and when Rachel attempts an offer at friendship, Puck rejects her offer.
In Wheels, Rachel's rivalry with Kurt Hummel begins to show itself, when Will gives her the solo in Defying Gravity. Kurt, who loves the song, challenges the decision, and Will agrees to let them compete in a Diva-Off, promising that the winner would sing the solo at Sectionals. Rachel protests, because she knows that the other kids will select Kurt because they like him more. Kurt however asks the kids to be fair in their selection, "despite him being more popular and a better dresser." In the end, Kurt intentionally throws the competition, due to some personal issues involving his father.
Upon singing a duet of Endless Love with Will in front of the glee club, Rachel's romantic interests shift from Finn to Will. Rachel begins to behave obsessively and inappropriately around Will, leading to Terri taking advantage of the situation by manipulating her into cooking dinner for her and Will and performing general cleaning duties in Will's house. Will makes many attempts to get her to stop, but it is not until she is approached by Suzy Pepper, another girl who once had a crush on Will, that Rachel realizes how inappropriately she had been behaving.
Kurt still continues his rivalry with Rachel when he manipulates her with false advice on how to win over Finn. Openly insulting Rachel, he convinces her to take on a sultrier look (comparing her to the character Sandy in Grease). While the look does get Finn's attention, he admits that he preferred Rachel as she normally is. Rachel then confronts Kurt, who admits that they are both in love with Finn, and that as long as Quinn is in the picture, neither of them will ever have him. Rachel informs Kurt that her chances of being with Finn are better, because "I'm a girl" and Finn isn't gay. In the end, although not quite friends, both have bonded over their shared heartbreak.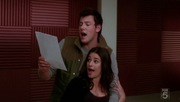 When the Glee Club gets its page taken away from the yearbook, Rachel is the only one upset, wanting to have her glory and believing that other Glee kids feel the same way, when in reality, it is quite the opposite. Will gets them one quarter of a page, in which only the two captains of the club can be shown.
The group unanimously elects Rachel alone, so Will asks Rachel to convince someone else to be co-captain. When everyone else says no, she convinces Finn to take the picture with her. However, after being bullied by the football team, Finn doesn't show up which breaks Rachel's heart. However, she manages to get the yearbook photographer to hire the Glee Club for a mattress commercial in which they sing Jump. Unfortunately, the commercial takes away the kids' amateur status, making them unable to compete in Sectionals. It's only when Will steps down as director that they are allowed to perform again.
Emma Pillsbury is selected by Will to take over as director and lead the kids to the competition. With Will gone, they don't have their set list, so Rachel offers one of her ballads. However, Mercedes Jones, who is furious at Rachel always getting the spotlight, demands her own chance, which Emma supports. Mercedes sings a powerful ballad, which results in a standing ovation from the entire Glee, Rachel included. She tells Mercedes that her performance was wonderful and concedes to let her sing the ballad, with the two sharing a hug.
Meanwhile, Rachel begins to grow suspicious about Quinn's pregnancy, slowly realizing that Puck might be the father, not Finn. When she shares this information with the Glee Club, they disregard it awkwardly, because they all know that it's true, but do not want to get involved in Finn, Quinn, and Puck's personal drama. Rachel, however, brings this theory up to Finn, who discovers the truth. Furious, he breaks up with Quinn, breaks off his friendship with Puck and quits Glee. Rachel, who is guilty about her own selfish actions, talks to Quinn, expecting to get beaten up. Quinn admits that she's not angry at Rachel because Rachel did what she couldn't: tell the truth.
At the competition, the Glee Club is horrified to discover that their rival schools stole their set-list and are performing all of their songs. They agree to do a new set-list, with only an hour in to which prepare. Rachel, taking control, asks Mercedes to do a different ballad, but she admits that she has nothing else prepared and asks that Rachel step forward. With Finn's timely return, the group goes out to perform. Rachel sings Don't Rain on My Parade, and with the rest of the group she performs You Can't Always Get What You Want and Somebody to Love (this last song is not seen performed on screen, but implied in the green room). In the end, the group wins Sectionals and Will comes back as their director, preparing for the next competition.
Rachel and Finn are now "kind of" dating, until Finn decides to connect with his inner rock star; he breaks up with her, leaving her shocked and angry. This leads her to sing Gives You Hell, directed at Finn. Mr. Schuester tells her this is not a "Hello" song for the assignment, so she goes to the music store in search of a new song.
There she meets Jesse St. James, the male lead of Vocal Adrenaline, and the pair have immediate chemistry when they perform Hello by Lionel Richie. Rachel begins dating Jesse, which upsets New Directions, who want her out of the club if she doesn't break up with him because they think he is dating her to spy on their club for Regionals. She goes to Carmel High School, and asks Jesse if he is doing this for competition, and he denies it. Rachel asks Jesse to keep their relationship a secret, and he does so, but only to be looked on by Vocal Adrenaline's coach, Shelby Corcoran. When Finn tries to get back together with Rachel, she turns him down, and lies to him about her relationship with Jesse. When the Glee club performs Hello, Goodbye, she runs out of the performance, leaving Finn speechless.
Rachel and Jesse's relationship grows. Rachel is pressured to "do it" with Jesse, but she tells him she's not ready yet. Meanwhile, the glee girls realize they are not being treated fairly so led by Rachel, they sing Express Yourself to show their independence as strong females.
Although Finn thinks that Rachel is not dating Jesse anymore, Santana tells him that she still is. He asks Rachel and she admits it, but says that they can still be friends. They then sing Borderline/Open Your Heart. She tells Jesse that she is ready to have sex with him which leads to the song Like a Virgin. Right before they have sex, Rachel says that she's not ready and that it would feel like she's betraying her team and "sleeping with the enemy." When Finn asks her about it the next day, she lies and says that she did have sex to make him jealous. Finn also fibs and says that on his date with Santana he didn't have sex, although he really did.
This is the first episode of the series where Rachel doesn't really have much of a storyline. When Mercedes starves herself and gets hungry, she sees Rachel and Jesse St. James walk past together as a couple, Rachel as a cupcake. Rachel is also seen supporting Mercedes when she sings Beautiful and also with New Directions when they sing back up Home with April leading. (Home)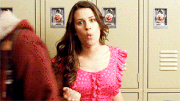 After realizing she obtained the lowest score in the "Glist," -5, Rachel asks Artie and Puck to assist her in their Glee assignment, (in order to achieve a "bad reputation") creating a video to
Run Joey Run
. Unbeknownst to each of them until the video is completed, she also has Finn and Jesse triple-cast in the role of her boyfriend, Joey. They are offended to see they were all playing the same role and were edited in at different points during the video. Puck and Finn become angry, and Jesse breaks up with Rachel as a result. The episode closes with Rachel singing
Total Eclipse of the Heart
as the club members leave the classroom.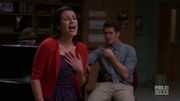 With help from A/V club president Lauren Zizes, Rachel realizes that some glee club members are faking their singing. She tells Will, complaining that she is doing most of the work, exhausting herself and getting ill in the process. She reveals the non-participants as Finn, Quinn, Puck, Brittany and Santana. Will gathers the students and gives them a new task for the week - each Glee club member will have to do solos, and each must choose a song that best represents their feelings. Rachel then confronts the "lazy" glee members and insults them, leading her to sing The Climb, whose lyrics she claims to be about them. But during the song she starts losing her voice, so she goes to the doctor's.
Later, an examination is revealed that she suffers from tonsillitis and may need to have her tonsils removed. She is afraid to have the surgery fearing it will affect her voice and believing that her singing prowess is her only asset. Finn, who accompanies Rachel to her doctor's appointment, tries to convince her that he loves everything about her and that there's more to her than her voice. He tells her that if she lost her ability to sing then Jesse would no longer find her attractive. Rachel tells Finn that she still cares about Jesse and that he needs to move on.
To put her fear into perspective, Finn introduces her to his friend Sean, who was paralyzed from the upper chest down during a football game. At first, Rachel is nervous and overwhelmed by the meeting - but Finn forces her to stay as Sean tells her about his grueling experiences with his disability and how he realized that a person is not just one single thing. She then begins to understand why Finn brought her and thanks Sean as she leaves.
Rachel eventually recovers her voice after taking the antibiotics her doctor prescribed. She goes back to Sean's house to thank him again, and offers to give him singing lessons. They start singing One and the image and music switch between her duet with Sean and the rest of the Glee club's own rendition of the song in a stage rehearsal. The episode ends with a tearful Rachel holding Sean's hand while they sing the last lines.
Rachel gets back together with Jesse and confides in him of her lifelong dream to discover the identity of her biological mother. While they are searching through boxes of records from her basement, Jesse takes a tape from his jacket and pretends that it came from a box. The tape is labeled "From mother to daughter." Rachel refuses to listen to it, stating that she is not ready.
Jesse later meets with Shelby in her car, where she reveals that she is Rachel's mother, but a contractual agreement prevents her from meeting with Rachel, instead Rachel having to find her herself. She implores Jesse to convince Rachel to listen to the tape, stating that not being able to meet Rachel is her one regret. Shelby sings I Dreamed a Dream on the tape, leading to a duet with Rachel singing in a fantasy sequence.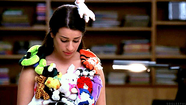 Rachel finds out Shelby is her mother when she recognizes her voice after Shelby sings Funny Girl at Carmel High's auditorium while spying a Vocal Adrenaline rehearsal. Shelby later meets with Rachel and says they should "be grateful for one another from afar," saying she is Rachel's mother, but not her mom also stating that she regrets not meeting her after she was born.
Later, however, Rachel asks Shelby to help make her a Lady GaGa costume and shows her the one that she put together and says it's from the childhood she never had. By the end of the episode, she asks Shelby to sing with her, and they sing Poker Face together, accompanied by Brad on the piano.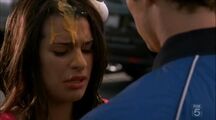 Rachel and Jesse break up in the beginning of the episode when he announces he is returning to Vocal Adrenaline because he feels that New Directions didn't respect him or his ideas, making Rachel realize he was playing with her the whole time. She becomes extremely depressed and goes into an even deeper "funk" than the rest of the club.
Near the end of the episode, Jesse calls her asking to meet in the parking lot. As she runs towards him, the rest of the Vocal Adrenaline members emerge from behind their Range Rovers and throw eggs at her. Jesse tells her he loved her and breaks the last egg on her forehead. The rest of New Directions are furious at them when they find out and respond by singing Give up the Funk in front of Vocal Adrenaline to make them afraid.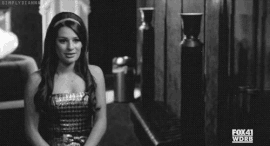 Rachel, along with most of the club, lose all hope of even placing in Regionals after learning that Sue Sylvester is part of the panel of judges. Finn later confronts her and encourages her to be more motivating as co-captain of the team, but she interrupts him with a kiss.
Right before their opening song, Finn confesses his love for Rachel and this adds to the emotional depth of their duet, Faithfully. After performing a Journey medley, Rachel and New Directions are convinced that they will place or even win Regionals. Sadly, however, they end up coming in third despite the fact that Sue secretly voted them for first place. Because of this, it is decided that New Directions will be disbanded as it was part of Mr. Schuester and Principal Figgins's deal to place at Regionals in order to keep the program.
Rachel, along with the club, perform the number,
To Sir, With Love
, to show their appreciation for Mr. Schuester's devotion and to show that no matter what the judges said, they still won because they had him. Sue Sylvester sees their performance and later convinces Figgins to give the program another year. When Will gives them the good news, Rachel is ecstatic and wants to start rehearsing for next year's Sectionals. Will then performs
Over the Rainbow
and she is seen being affectionate with Finn, hinting that they are back together.
In the first scene of the episode, Jacob Ben Israel is asking Rachel and Finn about Rachel being a "controllist." She corrects him (controllist isn't a word) and defends herself. Finn accidentally blurts something that makes Rachel slightly annoyed.
Later everybody gathers together and performs Empire State of Mind, where Rachel watches Sunshine Corazon, the Filipino exchange student, seem interested in the glee club's performance. From there she meets Sunshine again in the bathroom trying to convince her to join glee club, and when Sunshine starts to sing along to Telephone, Rachel sees her as competition and it turns into a bit of a showdown. This is suddenly ended when Sue yells "Shut up!"
She is next seen talking to Mercedes and Kurt, trying to convince them to be slushied brutally by Azimio and Karofsky, (after being paid by Rachel) in front of Sunshine so she doesn't join glee club. They say no to her idea and she says she'll be nice, but instead tells Sunshine that the auditions were in a former crack house where they use Sunshine's sheet music as toilet paper. Mike and Tina find out and tell Mr. Schue, and Rachel excuses herself saying that she loves them and doesn't want to break what they have. After recognizing she was wrong, Rachel apologizes to Sunshine and offers to buy her a new set of sheet music if she comes to the auditorium for a real audition, where Sunshine sings Listen.
While listening, Rachel gets squirmish hearing how amazing Sunshine's voice is. When Sunshine is snatched up by Vocal Adrenaline, the glee club blames Rachel for Sunshine not choosing to stay. Finn tells her that it would be best if she apologized to the glee club, and she agrees that she will, and reveals that she was rude to Sunshine because she loves her spotlight and didn't want to lose it. He says he is not mad at her and they both agree to never break up. Before apologizing, Rachel goes to the auditorium for alone time where she sings What I Did For Love.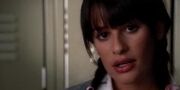 We find out that Rachel has bad tooth hygiene so Carl cleans them. During the anesthesia, Rachel has fantasies about looking like Britney Spears and singing Baby One More Time. The following day, she appears at school wearing an extremely inappropriate outfit, drawing all guys' attention to her. Santana congratulates her on finally dressing better.
She soon gives up on her new image, realizing that's not her, and asks Finn to choose between her and the football team. Finn says that when he scores a touchdown, he will look to the crowd and point to her, which Rachel thinks is romantic. Still insecure, Rachel sends Quinn to ask him out, and is pleased when he turns her down. At the end, she apologizes to Finn for giving him an ultimatum, and sings The Only Exception.
Rachel tells Finn about how his belief in Jesus is affecting their relationship since she's Jewish. She asks him that when they have children, they raise them in the Jewish faith. Finn agrees, so she lets Finn touch the sides of her breasts. She later sings Papa, Can You Hear Me? to Kurt's father to show her support to him, and also sings in the group performance of One of Us.
Rachel and Finn sing Don't Go Breaking My Heart, after what she admits that she doesn't feel like a very nice person and that her relationship with Finn has inspired her to become a better person. She then decides that she and Finn should throw the competition and allow Sam to win in hopes that this will give him the confidence boost, as well as the increased confidence from his team members, needed to strengthen himself and the team. Therefore, Finn and Rachel spend the majority of the episode brainstorming on how to lose without being too obvious that they are trying to throw the competition and convince Sam to remain partners with Quinn. Their duet, With You I'm Born Again, is met with overwhelmingly negative criticism thus costing them the competition exactly as they had hoped.
Rachel then decides to talk with Kurt and tells him that they are more alike than he would believe. She then tells him she believes they will win Nationals because they have him on their team. She proposes a duet of Happy Days Are Here Again/Get Happy, which they sing as the episode's closing number.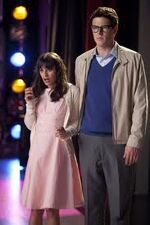 After Mr. Schue reveals that the group will do The Rocky Horror Picture Show as the Spring Musical, Rachel is concerned about doing a show that has such a racy and adult premise, which Will assures her he'll edit. Rachel then volunteers Finn and herself to play the main roles of "Brad" and "Janet." While rehearsing, Finn reveals that he's self-conscious about his body, but Rachel promises him that he should not be, because she loves him how he is, just like he loves her. They later perform Damn It, Janet, Sweet Transvestite, and Time Warp,.
Rachel doesn't have much of a storyline in this episode. As always, she is seen in the Glee Club rehearsals and also in a flashback with Finn, and later getting ready for the mash-up competition with the girls. She has solos in Start Me Up/Livin' on a Prayer.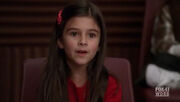 During Will's fantasy, Rachel is seen as a younger version of herself requesting that they honor Bernadette Peters with their Sectionals setlist. After Will is off work, she tries to take over Glee Club, and asks everyone what songs they would like her to perform at Sectionals, leading to Santana trying to attack her. When Ms. Holliday comes to take over in Mr. Schue's absence, Rachel is opposed to the idea of free time and fun and wants to focus on preparing for the competition. She goes to Mr. Schuester's and tells him what Ms. Holliday has been doing and how she is friends with Sue. Ms. Holliday comments that Rachel is a drag to her and asks her what song she would like to perform. In result, Holly sings Nowadays/Hot Honey Rag with her and they become friends. She later performs Singing In the Rain/Umbrella with Mr. Schue, Ms. Holliday and the rest of the club.
Rachel convinces the glee girls to tell their boyfriends to make Karofsky back off Kurt. At the wedding, Rachel walks into when Finn is getting dressed and sees Santana in the room talking to him although she isn't aware of what they were talking about. Later, after Rachel gets Finn's mother's flowers, Finn gives a speech during which he reveals he and Rachel's nickname, "Finchel," and also mentions Puck and Rachel's nickname, which makes Rachel look slightly uncomfortable. At the end they are seen dancing happily.
When Kurt says he's leaving for Dalton Academy, the first thing she says is that he'll be competing against his friends.
Rachel is outraged to find that Mr. Schuester has given the Sectionals ballad to Sam and Quinn (who she calls Ken and Barbie) and that Finn lied to her about having sex with Santana the previous year. She walks into Glee club with tape on her mouth, saying her talent is wasted there, getting Will to shout at her because of her immaturity.
After helping Kurt prepare the ballad Don't Cry for Me Argentina for his solo audition with the Warblers, she further supports him when both glee clubs meet at Sectionals. By the end of the episode, Rachel forgives Finn, but he breaks up with her for making out with Puck while they weren't speaking. Distraught over their split, Rachel turns down the solo in Dog Days Are Over and, instead, offers it to Mercedes and Tina.
Rachel tries to get Finn back. Starting the episode, she asks Finn to meet her at the auditorium at 4:00 the next day, to which he reluctantly agrees. The following day, Rachel has made a winter wonderland from artificial trees, snow made by the AP Club and got the band together. When Finn gets there and realizes what she's trying to do, he turns her down and leaves.
Later, when Sue Sylvester, dressed up as the "Grinch," destroys the glee club's Christmas tree and takes all the presents for the needy, Rachel approaches Finn and says that as co-captains they should do something about it. He takes her to go tree shopping for a new one. When the song Last Christmas comes on Rachel, she says it's her favorite Christmas song and as they each go down different isles of trees, she starts singing and Finn joins in. At the end of the song they kiss, but Finn pulls back and says he still isn't ready to forgive her, resulting in they officially breaking up.
After Sue is touched by the Glee club's song in the teacher's lounge, she gets the Glee kids to help Will celebrate Christmas, who otherwise would have spent it alone. While decorating the tree, Rachel offers Finn a tentative smile before looking away. Finn then gives a small reluctant smile of his own as he watches her, hinting at forgiveness.
The glee club and the football team are forced to come together to perform at the half time show of the big football championship game. Rachel sings Need You Now with Puck to show the football players what they do in glee club. It is later revealed that Rachel only got Puck to sing the song to make Finn jealous. Rachel also gets the idea to join the football team when the jocks quit so that the team doesn't have to forfeit. The team wins the big game when the football team returns and play the rest of the time.
When Finn sets up a kissing booth at McKinley in the hopes of getting Quinn to kiss him. Rachel reveals to Kurt and Mercedes, at a sleepover, that she plans to win Finn over at the kissing booth by paying him a 100 dollar bill, forcing him to kiss her 100 times and fall for her again. However, Mercedes tells her that she can be successful without a guy, and that she doesn't really need Finn. Still, Rachel presses on to go to the kissing booth, just with one dollar in hand.
She tells Finn that she is over him, but when he kisses her on the cheek, she gets upset and admits she was lying. Finn lets her know that he thinks she is the best person in the school and that just because they can't be together doesn't mean he doesn't believe in her. As a part of a plan to show that Quinn cheated on Sam with Finn, Santana kisses him, giving him mono. He becomes sick and Rachel takes care of him. Finn leads her to believe that she has no place with him, which he objects, but she tells him she has made up her mind. She sings Firework and moves on with the new belief in herself that she can be great with or without a guy.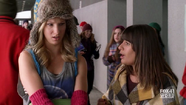 Rachel gives Brittany money to dress like her, claiming she is done with relationships. Later, Sue pits her and Mercedes against each other, which leads to sing Take Me or Leave Me as a diva-off. Unexpectedly, the two end up laughing and remaining friends.
She proposes to the club that they should perform original songs for Regionals. Nobody agrees, except Finn, who tells her he's happy to see the "old Rachel" back.
Rachel is working on the song that she is writing for Regionals. Puck wants Rachel to have a party at her house over the weekend while her fathers are out of town, but her declines the offer and says that her dads left her at home because she is responsible.
Later, Rachel makes peace by hugging and him and saying that there shouldn't be any tension between them, before showing Finn the song she is working on: My Headband. During the song, however, Finn stops her and tactfully tells her the song is terrible. Rachel agrees and says that she needs to become a grown woman and "live," so she can write a good song. Because of this, Rachel decides to host a party at her house after all.
At first, she only wants everyone to have two wine coolers, but after noticing that people were starting to leave, she is persuaded by Puck to open her dads' liquor cabinet. Rachel and everyone else from New Directions, (except for Finn) gets drunk and starts acting wildly. Rachel starts hanging all over Finn and becomes a "needy-drunk." Offended by the label he put on her, she starts a game of Spin the Bottle and ends up kissing Blaine. She and Blaine later sing Don't You Want Me.
Rachel later calls Blaine and asks him on a date. He accepts, and their date is "lovely." She makes a bet with Kurt that she will kiss Blaine sober and there will still be chemistry between them. At the school assembly, New Directions takes a shot of alcohol and during the song Tik Tok, Brittany throws up on Rachel, which causes Rachel to promise never to drinking again. At the end of the episode, Rachel kisses Blaine sober to find out that there is zero chemistry. However, Rachel is happy that she was in a relationship with someone who turned out to be gay and decides to use this as her inspiration for her songwriting.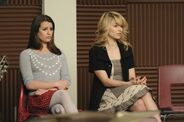 Rachel is seen taking part in a celibacy club meeting with Quinn during which it's revealed that the last meeting was spent on Quinn being interviewed by Rachel on her relationship with Finn. Rachel, along with Quinn, Puck, Emma, and Carl sing Afternoon Delight to promote celibacy. Unbeknownst to Emma, the song is about sex. Humiliated, Rachel confronts Emma who tells her that Afternoon Delight is about pie. Rachel then runs off the stage.
Rachel is seen singing her original song to Finn, Only Child. Finn states that it is better than her previous one, but she still needs to access her deep pain and write a song about it. Quinn is seen spying on them, worried over the fact that Finn might "stray away from her" because of Rachel's talent and the connection they've always had. She decides to make Rachel her best friend by keeping her "enemy" close.
When the New Directions are deciding on what to sing at Regionals, Rachel again brings up the idea of writing original songs. Most of New Directions shoot her down, but Quinn supports her idea and offers to write a song with Rachel. Rachel seems happy by this, oblivious to what Quinn's true motives are. In the hallway, Rachel overhears Quinn and Finn talking about their relationship, and later confronts Quinn in the auditorium. Quinn says she is in a relationship with Finn and that Rachel should give up on him. Rachel refuses, saying that it is not over between them. Quinn begins yelling at Rachel, and then the latter decides to write a song on her own. She later writes Get It Right, while crying.
At Regionals, Finn tells Rachel "break a leg," and that he likes her song, to which she replies that the last time they were there he told her he loved her, and that he must listen to her song carefully "because she mean every word of it." During Rachel's performance of Get it Right, she and Finn share glances, which suggest that he isn't over Rachel. Finn and Rachel hug at the end of Loser Like Me, with Quinn watching, appearing jealous. New Directions win Regionals, and later in the choir room Rachel is awarded an MVP award. She thanks all of New Directions for supporting and trusting her.
Rachel thinks of herself as a neglected artist and plans to sing Celine Dion's My Heart Will Go On. She believes Sunshine is a spy and tries to warn the rest of the Glee Club, but they don't listen to her because they need her to earn enough money to go to Nationals. Finn and Quinn can't handle Mercedes and her 'diva fit' so they appoint Rachel 'Head of Talent Relations' which Rachel eventually accepts. When Mercedes refuses to go on during the Benefit Concert, Rachel goes after her and convinces her to come back and perform. Mercedes asks why Rachel is a bigger star than her, and Rachel tells her that all she cares about is being a star and she doesn't care if people like her. After Mercedes is done singing Ain't No Way, she tells Rachel that its time for the closing act. Rachel tells her that nothing could top that, so she won't go on.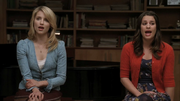 Finn accidentally hits Rachel in the nose whilst dancing and he goes with her to the doctor. She is told that her nose is broken, but it is a "clean break" and there is an opportunity to get a nose job. Rachel looks puzzled, but also as if she is considering it. Later, she informs the
New Directions
that her nose is broken, but she is considering getting a nose job. On her next doctor's appointment, Quinn accompanies her and she encourages Rachel to have the procedure. She and Quinn sing a very popular rendition of
I Feel Pretty/Unpretty
. When Rachel informs the Glee Club that she is going to have the procedure, they say they have thought about it and they are all against it. Rachel argues, and then Finn says that Rachel is beautiful and shouldn't get the nose job. She looks touched, but then says that she is going through with it.
Later on in the girl's restroom Puck comes in and tells her he doesn't want her to have the nose job and asks her to give him an hour of her day. The next day, Rachel and Puck are shown at the mall where they meet Kurt, who expresses his disinterest in the procedure and claims that they're there to have a "Barbravention." Then everyone breaks out in dance to Barbra Streisand, and the rest of New Directions join in. When the rest of New Directions are about to perform "Born this Way," she comes in and tells them she cancelled her appointment and is not going to have the nose job. They support her and she later joins in on Born This Way where her shirt is revealed to say "Nose."
Rachel is found asking Sam to prom, however he turns her down. She is up to her old tricks in trying to get Finn back, being the one who brings to Finn's attention the rumor about Quinn cheating on him with Sam. Her and Finn then go on a stakeout to try to find out exactly what Sam and Quinn are up to, but stumble upon Kurt and Sam hugging; the two jump to conclusions and a new rumor soon spreads. They later go on another stakeout and this time spot Sam with Quinn.
Later, Rachel sings Go Your Own Way to Finn in the choir room, which leads to Sam telling everyone about the rough time he's been having lately at home. Rachel goes with Finn to the motel once again and they meet Sam's little brother and sister. They give Sam back the guitar that he had to sell and encourage him to stay in New Directions, for himself and for the team. Rachel joins in with the group number of Don't Stop and is seen dancing with Sam's siblings.
Rachel comforts Mercedes when she leaves the choir room and tells her that she also doesn't have a date to the prom. However, she comes up with a plan, and they meet Sam in the auditorium and they tell him about their proposition. They both tell him they want to go to the prom with him and that they'll loan him money to take them. To save money they plan to get Sam to borrow a suit from his dad, make corsages from Mercedes's mom's garden, both buy $5 dresses, all walk to Prom and go to Breadstix to get the $8.99 "All you can eat pasta special." After explaining their plan, Sam agrees to go to prom with the girls.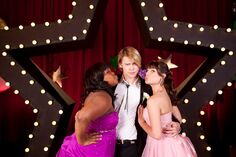 In the following scene, Rachel is seen at the auditorium preparing where she sings Rolling in the Deep, during which a surprising moment comes when Jesse shows up and sings with her. Afterwards he tells Rachel that he is sorry for how he treated her and asks if she's doing anything for prom. She tells Finn that Jesse will be joining her, Sam and Mercedes at their "Prom on a Budget." Finn then talks to her and tells her that he still cares for her deeply and Rachel tells him he needs to respect whoever she is dating. As a show of respect, she tells him to get a simple corsage for Quinn with green ribbon to match her eyes.
Rachel, Mercedes, Sam and Jesse all meet up at Breadstix before the prom and discuss their expectations for the night. Rachel agrees with everything Jesse says, which might be a sign that she still likes Jesse.
At the Prom, Rachel sings Jar of Hearts whilst sharing some very telling glances with Finn, who is on the floor dancing with Quinn. As Blaine performs I'm Not Gonna Teach Your Boyfriend How To Dance With You, a fight breaks out on the dance floor between Jesse and Finn, who is upset at how close Jesse is getting to Rachel (Jesse started kissing Rachel's neck while dancing). After a punch is thrown, Finn and Jesse are both thrown out. Later, Rachel follows Quinn into the bathroom after Principal Figgins announces that Kurt is prom queen. Quinn is very angry and blames Rachel for everything that happened, saying that no-one voted for her because they all knew that Finn would rather be with Rachel before slapping her in the face, although she quickly apologizes. After that, Quinn reveals that she's terrified of the future, and Rachel tells her she is the prettiest girl in the school, but she is "much more than that."
Rachel is the only member of glee club who is happy with Jesse's return as New Directions' show choir consultant. When Will announces that he is planning on doing one group number and one duet, Finn states that he and Rachel should sing the duet, which causes Rachel to look touched, but still agrees with Jesse when he suggests they use Vocal Adrenaline's method of focusing the performance around their best member.
Rachel later encounters Finn in the hallway and asks him why he hadn't signed up to be the lead performer at Nationals. He says he's 'Lima good' but not 'New York good,' and she tries to prove him wrong attempting to convince him to sign up, without success. At the auditorium, Rachel says she's singing My Man for her audition. Before the performance, Jesse asks her if she's singing this song about anyone in particular, but she responds 'no,' however while she is singing Finn is shown, showing that it is actually about him. Jesse is impressed by the song and that, along with the fact he wants to be her boyfriend again, leads him to tell her that her performance was simply brilliant. Kurt was also visibly emotional after Rachel's performance and remarks "She may be difficult, but boy can she sing!" Jesse tries to convince Mr. Schuester that choosing Rachel as their lead would be the only way for them to beat Vocal Adrenaline at Nationals.
During Jean Sylvester's funeral, Rachel, along with the rest of the club, is found very touched by the ceremony. She later joins the rest of the New Directions to sing Pure Imagination. After the funeral, Finn breaks up with Quinn because he is still in love with Rachel, since he has a special connection "tether" with her that he doesn't have with Quinn. At McKinley, Jesse goes to inform Rachel of her success and tells her that she means more than anything to him before kissing her. Unbeknownst to them, Finn walks in on them kissing holding a tulip, seeming that he was going to reveal his feelings to Rachel. In the end Rachel loses her spot as soloist when Will decides that they will all perform together as a group, but she doesn't seem upset by this option.
Rachel is seen remarking "I made it" after New York City has been shown. She purchases tickets for
Cats
for all the New Directions, before finding out that
Cats
has finished a long ago. Shortly after, New Directions are assigned to write two new original songs, but Puck and Quinn believe they should go outside and let New York write the songs for them. Around various sites in New York, the New Directions sings
I Love New York/New York, New York
.
Back at the hotel, the New Directions girls and Kurt are having a pillow fight while Rachel is writing an original song. She receives a text message from Finn asking her to meet him in Central Park and to 'dress up.' They go to Sardi's "the birthplace of the Tony Award" and notice Patti LuPone is also there and about to leave. Rachel musters up the courage to talk to her "if not for her, then for Kurt" and in doing so, receives praise from Patti as she was also in a show choir when she was in high school. She also makes Rachel promise her she will never give up, which Rachel does. She then tells Rachel that Finn is 'cute.' As they walk back to the hotel, Rachel says that it's almost like a movie and all that's missing is people singing a romantic love song. She and Finn walk past the New Directions boys and they follow them singing Bella Notte. Near the end, Finn tries to kiss Rachel, but she tells him that she can't. She then walks away leaving Finn heartbroken.
The next morning, she is woken up by Kurt to go have "Breakfast at Tiffany's,." Rachel and Kurt discuss their futures: she wants to go to college in New York and Kurt wants to join her. Kurt reveals that Blaine would also join them. Rachel, however, is worried about Finn, but Kurt tells Rachel to bring him along too. Rachel isn't able to decide on what to do, so Kurt pulls Rachel to the Gershwin theater where Wicked is playing. Together they sneak inside and perform 'For Good' from Wicked together.
At Nationals, Rachel sees Sunshine in the bathroom after hearing her throwing up. She comments on it, but Sunshine reveals she's nervous and doesn't understand why Rachel is so mean to her. Rachel reveals that she feels threatened by Sunshine's talent. Sunshine tells Rachel she wants to leave Vocal Adrenaline, that she wants her green card revoked and to return home. But Rachel tells her to perform since she has a gift. Sunshine wonders on Rachel's sudden change of heart, and she answers that girls like them should stick together. Then she and Finn perform Pretending. After their performance, Finn kisses her, and the audience is silent. She pulls away shocked and nervous before jumping back into their next song.
They perform
Light Up The World
with the rest of New Directions. After their performance, Rachel wonders with the rest of New Directions if they lost. They see the top ten for the final round and they place at 12th, and she is upset like the rest of the group. When she goes back to Ohio, she finds Finn in the library, where they discuss about next year and her plans for college. Finn says that graduation is still a year away leading to a kiss, after which she agrees to be his girlfriend again.
We first see Rachel doing vocal warm-ups with Kurt and explaining to Jacob what their plans are after they graduate; these involve going to New York and attending a performing arts school (preferably NYADA -New York Academy of Dramatic Arts), backing up the duo's plans from the episode New York. Rachel enters hand in hand with Finn in the Choir Room with the rest of New Directions while Mr. Schuester as he explains his plans for recruiting new members: purple pianos.
Kurt and Rachel go to Emma's office and explain to her their plans for the future. Emma informs them that Juilliard doesn't have a Musical Theatre department, offering them something closer to home like Kent State. After Rachel refuses this option with the argument that 'No one ever became a star by playing it safe,' Emma introduces the pair to NYADA -The New York Academy of the Dramatic Arts. Later, we learn of Quinn's new 'bad girl' look and Rachel confronts her, pleading that they were once friends and that the Glee Club needs her back. In the cafeteria, Rachel is the one who encourages the other members of New Directions to stay true to Mr. Schuester's assignment and begins to sing We Got the Beat. Later, when Sugar Motta walks into the choir room, Rachel appears to be slightly intimidated, but that expression later turns into shock as she begins to sing. Rachel then convinces Will to not let her join the Glee Club because she would ruin their chances at Nationals.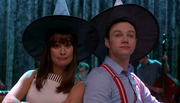 Following on with their past success with doing duets of songs from Wizard of Oz, Rachel and Kurt perform Ding-Dong! The Witch Is Dead in the McKinley High auditorium, claiming that the other people hoping to get into NYADA don't stand a chance. When they attend the mixer for NYADA, they are confronted by a group that act and dress in a way that is almost identical to them and who happen to be extremely talented, causing them to come to the realization that even though they are hot stuff at McKinley, outside they aren't even "stuff."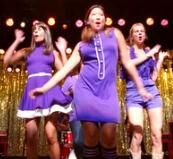 This culminates in one of the most touching emotional scenes between the two divas where Rachel claims Kurt makes her want to be his boyfriend. Kurt also shows a vulnerable side to him with regards to his talent that he sees Rachel as "one of a kind." Even with regards to himself, Kurt is not as certain. They offer each other encouragement and swear to never, ever give up on their dreams. Kurt and Rachel pinkie swear to each other and then do the "gay high five." Rachel then takes lead in You Can't Stop the Beat.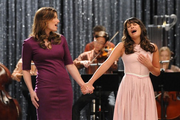 Rachel voices her concern about the musical and Will brings in Emma and Coach Beiste who will direct the play in Will's place along with a student director:
Artie
. She then proceeds to practice for her audition before
her mother
and suggests she audition with the most challenging song for Maria,
Somewhere
. Rachel practices the number alongside Shelby as the scene changes to Rachel's audition.
Later, Rachel and Finn discuss the future of their lives as Rachel assists Finn with changing a tire. They share a kiss.
Rachel goes up against Mercedes for the lead role of Maria in the school production of
West Side Story
. This begins when Emma, Coach Beiste, and Artie get her and Mercedes in for a call back audition because they couldn't decide between the two. Before her second audition, Finn gives Rachel a small pep talk. Emma tosses a coin to decide who auditions first. Rachel wins and decides for Mercedes go first. Both then perform
Out Here On My Own.
Afterwards, Finn tells her that she did amazing, however Rachel responds that Mercedes was better than her.
Rachel decides to run against her best friend and Brittany for Senior Class President out of fear of losing her role to Mercedes and not having enough credits to get into NYADA. Kurt confronts her on this topic and the two are left in a rather tough situation. Later, Rachel and Mercedes are called back into Emma's office in order to find out which one of them landed the lead in the musical; the final decision was for the two to share the part, but after Mercedes complains about having to share the spotlight with Rachel and quits, Rachel is given the lead role of Maria by default. Shortly after, Finn meets Rachel at the lockers and she tells him how she got role, but only because Mercedes quit, and Finn urges her to drop running for Senior Class president against his brother. He also tells her that he's not sure who he'll vote for yet. She, along with the New Directions, performs Fix You with Mr. Schuester leading.
Rachel is very upset that Sue cut the funding for her musical. She then performs Last Friday Night with the rest of New Directions with Blaine singing lead vocals. She is seen later sitting with Finn during new member Rory Flanagan's audition, calling him "magical."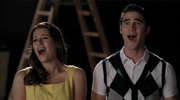 Finn invites Rachel over to his house, thinking about having sex, as he believes they are ready. She agrees, and after they have dinner, they begin to kiss in front of the fire. When she says she wants to have sex with Finn, he asks her why, and she tells him that she needs to prepare for her role as the sexually awakened Maria in West Side Story. Finn is hurt by this and walks out.
Rachel later calls an emergency meeting with the Glee girls to get advice about whether she should wait to sleep with Finn or not, in which she learns that there is absolutely nothing wrong with having sex with someone you truly love and if you would have no regrets. After their first performance of West Side Story, Rachel goes over to Finn's house, to find that he is deeply upset about Cooter Menkins, the OSU football recruiter because he did not like him. Rachel comforts Finn, telling him that they can find new dreams together. She apologizes for what she did earlier, saying that she wanted to have sex with him for all the wrong reasons. However, she realized that she was ready to lose her virginity because she is in love with him, and they finally make love to each other. This finally makes their relationship sexual, and shows they love each other.
Rachel is continuing her campaigning for Senior Class President, which is still upsetting Kurt, to the point where he refuses to talk to her. Knowing that her NYADA application is due very soon, she asks Shelby to sign a letter of recommendation that she already wrote for herself, to which she agrees. Shelby tells Rachel that she is proud of her, and that she definitely has a good chance of getting into the school, because of all of her credits and impressive resume. Rachel then asks Shelby to write her own version of the letter of recommendation for her as well.
After thinking about what Shelby said to her about having credits on her resume, Rachel decides to withdraw from the Class President elections. She apologizes to Kurt, telling him that she should have withdrawn as soon as she got the lead in the musical, and he forgives her, saying it was awfully difficult being mad at her. She pledges her vote to Kurt and promises that she will do whatever it takes so that he is elected.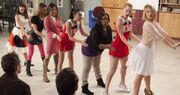 Rachel is worried for Kurt because Brittany is winning the race for Class President, and if Kurt doesn't win, he won't have that many big ticket items on his resume for NYADA. Kurt tells her that he sort of wished he could cheat and stuff the ballot box so that he could win, but he admits that it would go against his morals to do so. Putting her worries aside for a bit, Rachel defends Santana in the hallway along with all of the other girls, when someone is bullying her after the commercial that outed her ran.
At the student elections, Rachel supports Kurt the best she can and tells him that he can still win. However, when Kurt wins the election by more votes than possible, Rachel confesses to Finn that she is responsible. He tells her that she has to step forward and come clean or otherwise Kurt will be suspended. She realizes that it is only the right thing for her to do, so she tells the truth about stuffing the ballot box in Kurt's favor, and in turn she receives a suspension on her permanent record and she is banned from competing at Sectionals.
Rachel comes to collect her books from her locker when she runs into Quinn. She tells Rachel about her plan to get Shelby fired, and Rachel replies that even though what Puck and Shelby are doing is wrong, he is of age and what she will be doing if she gets her fired and they take Beth away which will be detrimental to the little girl's life. Rachel is upset when she watches with New Directions during Sectionals and is shocked to see Harmony as their competition. When Quinn leaves during the Troubletones performance, she reminds Quinn that revealing Shelby and Puck's relationship is going to hurt Beth, but it is also up to her whether she going to go through with it.
Outside Principal Figgins' office, Quinn tells Rachel she didn't tell Figgins about the issue and asks Rachel what she thinks about Yale, saying she isn't as talented as her or Kurt, but wants to study Drama. Rachel offers her to help her with her application and she asks if they're friends to which Quinn replies, "Yeah, we kind of are." While celebrating their victory, Rachel and the glee club sing We Are Young just as Sugar, Brittany, Santana and Mercedes enter to re-join the club. Seeing Santana alone while the other girls are pulled back into the group, Rachel walks up to Santana and walks her forward holding hands.
Rachel gives Finn a list of fifteen things she wants for Christmas, telling him he only has to get her five of the things. Rachel is extremely excited when Mr. Schue tells them they will be doing a Christmas Special on TV, and she auditions with
River
, which Artie isn't pleased with, finding it too depressing. She re-auditions in a duet with Blaine,
Extraordinary Merry Christmas
, which Artie finds perfect for the show.
Rachel is disappointed with Finn's first gift, hinting that she wants earrings, but when Finn gives her gifts again, she is overwhelmed. She accepts his first gift again, a deed to a star named Finn Hudson and earrings. She keeps the first two, but decides to sell the others to give the money to charity. She is later seen in Artie's Christmas Special, along with her friends, where she takes part in the song My Favorite Things.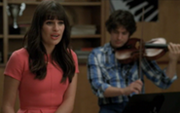 Rachel sings with the rest of New Directions in
Summer Nights
and is happy for Will when he announces he is going to propose to Emma. She sings
The First Time I Ever Saw Your Face
along with Mercedes, Tina, and Santana, and thinks of the first time she saw Finn while she sings and talks with Mercedes after she starts crying. She and the rest of New Directions give Artie a 'Beckyvention' because they don't want him to lead her on. Rachel, Kurt, and Finn go out for dinner and Rachel complains about the future. Finn starts to talk about his Dad, and Rachel starts singing
Without You
to him, after which they share a kiss. Later, Rachel sings
We Found Love
with the rest of New Directions and the synchronized swimmers, and at the end of the episode, after a little talk about how much he loves her, Finn proposes to Rachel.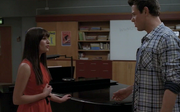 Finn asks Rachel about her answer for his proposal. At first she says she doesn't know. She says that if she doesn't get into NYADA, she's still going to New York. Shortly after, Rachel meets Quinn in the girl's bathroom, and Quinn shows Rachel her acceptance letter from Yale. When Quinn finishes singing
Never Can Say Goodbye
, Rachel doesn't hug Quinn like the others. Kurt shows Rachel his NYADA letter, but that makes her upset because she hasn't gotten one. She says she doesn't have any plans except NYADA, and all she has now is Finn, and starts crying. After Santana tells the group about what Sebastian did to Blaine, Finn asks Rachel to stay in the choir room, and they sing
I Just Can't Stop Loving You
. She then tells Finn that she'll marry him. Later, she joins the rest of the group, singing
Black or White
for
The Warblers
. At the end of the episode, however, Rachel suddenly receives the NYADA letter, and she doesn't know what to do since she already accepted Finn's proposal.
Rachel is with New Directions when Mr. Schue asks where the club thinks they will be in 2030, to which both Rachel and Kurt reply, "Broadway." She then joins David Martinez and the rest of New Directions in Sexy and I Know It. Later, Rachel, Kurt, and Mercedes are watching Twilight at Rachel's house. She tells Mercedes and Kurt about her engagement to Finn. They both think that she is rushing things, but she says that Finn is one of her dreams.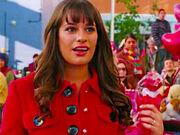 Rachel is first seen learning how to play drum with Finn, and when Mr. Schue asks if they want to serenade the classrooms with love songs, everyone say no, except Rachel. Later, Rachel gets a letter that says she must go to the auditorium to meet someone and she comes, meeting Finn, who has received the same letter. There, they meet Rachel's dads, Hiram and LeRoy who claim to support their impending marriage.
In the choir room, she and Finn announce that they're engaged, and some of the group seems happy, but the rest seem to disagree. In the courtyard, The God Squad gives Rachel a singing telegram from Finn performing Stereo Hearts. At the Berry's, Rachel and her dads perform You're The Top to the Hudson-Hummels. Finn's and her parents agree that Finn can stay the night so they can get used to sleeping together. However, Rachel and Finn have a fight because Finn wants to use the bathroom but Rachel doesn't let him. Luckily, they make up things and lay in bed together, and then go to Breadstix for Sugar's party. Before that, they announce to Rachel's dads that they're going to marry in May, after Nationals.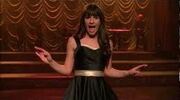 Rachel is at Lima Bean with Kurt when Sebastian approaches them and says that he has an engagement present for her. She opens the envelope, and there is an awful, nude photoshopped picture of Finn in it. She is disgusted, and Sebastian threatens to put the photo up online unless she drops out of Regionals. Rachel tells the club, and Finn is mad that she'd rather perform than not have the photo get up online of him. He walks out of the choir room, she feeling guilty. The next day, they are seen talking at the lockers together and Rachel tells Finn she is sorry, and that she wants to get married right now. They then plan their wedding to be at the court house and announce it to the Glee club, saying that even though not all of them are supportive of their decision, they are all invited. That same day, Sebastian also tells her he won't put the photo up online because of Dave's suicide attempt.
She is then seen performing at Regionals, and celebrating with Finn and Quinn when they win first place. That afternoon, she is leaving school when she sees Quinn back in her Cheerios uniform and tells her how good she looks, and asks her to be her bridesmaid, which Quinn accepts. Rachel is seen at the courthouse in her white dress, and refuses to get married until Quinn comes, which drives everyone else insane. She asks Quinn to hurry up and keeps asking where she is, which Quinn receives while she is driving, and while texting Rachel back that she is "on her way," a truck hits Quinn leaving the cliffhanger of whether or not Rachel and Finn got married in this episode.
Rachel along with Finn are walking towards her locker when they run into Quinn to whom she is glad to see. After having a meeting for senior ditch day, Rachel breaks down in empathy to Quinn and regrets that she is being stuck in a wheelchair. She calms down after Quinn reassures her. After taking some master-class with Cooper, she takes note of his acting advices and uses them in a little role-play. Rachel, with her other New Directions friends (excluding Quinn, Artie and Blaine) head to Six-flags for their senior ditch day. Rachel then meets Finn by the lockers and talks about her NYADA preparation while Finn suggests otherwise. She believes that her only path is NYADA and Broadway while Finn makes her decide whether she loves him enough to give it up.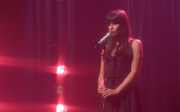 Rachel makes up with Finn and sings
How Deep Is Your Love
to him. Realizing the blind nature of her own ambition, she then helps him plan for college with Emma and Will during a counseling session and is shown to be highly optimistic and happy throughout, but he throws the brochures away the minute he leaves. After being lectured by Will, Finn sings
More Than a Woman
to her while they dance, and tells her that he wants to go to New York with her, to which she reacts explosively.
Rachel joins Mercedes, Santana, and Kurt to open the episode with How Will I Know. She and Mercedes argue over the original intended actress in The Bodyguard, Diana Ross or Barbra Streisand. Shortly after, she claps and squeals in excitement when Mr. Schuester writes "Whitney" on the whiteboard. Rachel states she is excited to immediately begin practicing Whitney Houston's version of the Star Spangled Banner. Later she approaches Kurt at his locker, telling him that after practicing the song all night, she can't get it. Kurt receives a text from Chandler, but Rachel assumes it's from Blaine. She says that Finn regularly sends her cute text messages, usually with puns about her boobs. Rachel questions the innocence of Kurt's texts and admonishes him.
Later, Santana and Rachel sing a fun rendition of So Emotional. Rachel joins the other girls in confronting Quinn that it seemed like she and Joe are more than just singing partners, but she denies it. After that Rachel shows up at Santana's locker, which confuses her. Rachel tells Santana that they wasted three years as enemies when they could have been singing together, and Santana says they hated each other, but then admits that their duet was awesome. Santana says there's plenty of time for another one, but Rachel points out they only have forty-two days until Graduation. Santana is annoyed when she realizes she's going to miss Rachel. The latter says that even though Santana went out of her way to make her miserable, she still respected her talent and ambition, with which Santana agrees. Rachel asks Santana to put a picture of her in her locker and then gives her a quick hug, and Santana puts the photo up. In the auditorium Rachel and Finn show up to the optional rehearsal and join in the performance of My Love Is Your Love with the rest of the group.
The episode begins with Rachel's inner monologue as she describes how she is a star, her various plans and efforts to stay healthy and fit for her NYADA audition (not touching door-knobs, not kissing, her hours spent practicing her Oscar Award Acceptance Speech, etc.) and how she intends to shine so bright on the stage that "the sun will cry in envy." She is later shown running up to Kurt and instantly admonishing him for choosing
Not the Boy Next Door
over
The Music of the Night
. She reveals that will indeed be performing
Don't Rain on My Parade
for her own audition, since she's been belting it from the age of two, and convinces Kurt to play it safe while offering herself as the lead female role in his performance during his audition.
 	 	 	

 		 		 		 	

 



Later, just before their auditions, she reveals to Kurt that their examiner is none other than the Dean of NYADA, Carmen Tibideaux. As Kurt takes the stage, she watches anxiously as he changes his mind in front of Carmen and begins to perform Not the Boy Next Door. After the performance and Carmen's compliments, she is seen in the audience with Blaine, Will and Finn clapping, but looking nervous for herself. Backstage she and Finn exchange a few words before Carmen calls her name. Stepping confidently on the stage, she begins to perform her song, but forgets the lines. Embarrassed, she starts over, but fails again. As she tries to start a third time, Carmen closes the audition, leaving Rachel crying in shock on the stage.
A few days later, she and Kurt exchange words near her locker as she looks visibly traumatized and rebuffs Kurt's consolations, stating that she hasn't slept in two days and really needs to be alone. After Kurt hugs her sadly and walks away, she closes her locker and begins a heart-rendering performance of Cry, culminating in her standing grief-stricken on stage, her face covered in tears.
Rachel attempts to come to terms with choking her NYADA audition and the death of her lifelong dream. She takes down all of the photos on her Dream board. She tries to focus on her new smaller dreams: the wedding, winning Nationals, and Prom. She walks in on Becky practicing her wave for when she wins Prom Queen, and when she tries to keep her hopes realistic, Becky tells her she doesn't want to talk with her because she'd catch her faliure.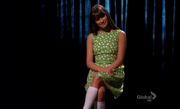 Finn asks Rachel if she's bummed she didn't get nominated for Prom Queen. She says she wouldn't expect to be nominated, but Finn says he voted for her. She tells him she plans to spend the entire night dancing with him, but then sees a poster promoting "Finn and Quinn 4 King & Queen." She rushes to confront Finn about it, and Finn justifies it saying that Quinn almost died coming to their wedding and he wanted to do her a favor. He accuses her of being selfish, but Rachel mentions she's having a bad week. She says she can't believe she's going to end high school as it began, with Finn and Quinn getting all of the attention. In the auditorium, Rachel sings Big Girls Don't Cry, joined by Kurt and Blaine. When they all express their frustration about Prom, they make plans to host an Anti Prom Party. She tries to sell the idea to the rest of New Directions.
Rachel arrives at a hotel room for the anti prom with Kurt, Blaine, Puck, and Becky. She is a little annoyed at Becky's over-enthusiasm. Rachel suggests she could try on her prom dress to show everyone, when Finn arrives at the Anti Prom Party just in time to see Rachel walk out in her prom dress. He tries to talk all of them into attending the prom. Rachel, Kurt, and Blaine all agree and leave the hotel and enter the prom together.
Rachel texts Quinn to meet her in the hallway and apologize for being irrationally angry with her, and Quinn forgives her since she didn't even know it. Rachel tells Quinn how much she means to her. She still sees her as she was when they first met, but she has learned to become friends with Quinn. Rachel says she voted for Quinn for Prom Queen. Although in the official vote Quinn beat Santana by one vote, they talk it over before certifying their vote tallies and conspire to make a difference. After Finn is announced Prom King, Figgins says they have another unprecedented write-in winner, announcing Rachel as the Prom Queen, much to her surprise. Finn and Rachel share their official dance to Take My Breath Away as he reassures her that she is sexy, beautiful, and inspiring to everyone. Rachel says that if this can happen, maybe anything's possible.
The episode begins with Rachel singing
I Won't Give Up
. She is leaving her fourteenth message to Carmen Tibideaux. In the choir room, she reveals she is singing
It's All Coming Back to Me Now
at Nationals. After Tina storms out, she goes after her saying that Nationals is very important to her and she puts much effort in it. During Tina's Dream, she turns into Rachel and Rachel turns into her.
Later, Tina finds her while she is practicing and offers to drive her to the place where Carmen is taking a master class. Rachel tells Tina she will be the lead vocalist of New Directions next year. When driving with Tina, she is worried about what Carmen will say. Tina helps her gain her confidence, then asks her if they can sing together, to which Rachel says yes. When they get to Carmen's lesson, she talks to her, but she is denied a chance. Back in the hallways Rachel is seen talking to Finn about how Glee is a group of different kids, who all came together and that's why she loves them. The episode ends with her singing What A Feeling with Tina while embarking the bus to Nationals.
In the midst of the chaotic situation, she says just because Mercedes is struggling with her food poisoning, they have are no reason to give up on performing at Nationals. Later, Rachel runs into Jesse outside the Chicago hall, who taunts her somehow, by knowing that she's scanning the arriving crowd for Carmen, in hopes that she'll get a second shot at getting into the arts college. She points out that they dated long enough to know that when Jesse gets nervous, he can get offensive and shudder. Jesse relents and admits that Vocal Adrenaline's loss at last year's Nationals broke their eight-year winning streak. He's struggling with the new rules, but Rachel reminds him that his past performances (
Bohemian Rhapsody
) set the gold standard for show choirs for years. As Rachel prepares her make up in the Backstage, Finn reveals to Rachel that he's bought a glass mug from Chicago for them to smash during the Jewish portion of their wedding ceremony - he wants it to symbolize the city where everything changed and New Directions went from losers to winners.
Rachel takes center stage for her solo, belting out a powerful performance of Celine Dion's
It's All Coming Back to Me Now
. Rachel spots Tibideaux taking her seat in the audience halfway through the performance. Emboldened, she finishes strong with a smile in her face and the crowd in a frenzy. Rachel is also involved in
Paradise By The Dashboard Light
. While they are waiting for final result, Rachel looks anxious as she holds Finn and Sam hands tightly and is rejoiced when New Directions is placed first at Nationals.
When they return to McKinley, Rachel looks worried as she enters the school hallway and finds herself surrounded by indifferent-looking fellow students. The hockey goons march toward them, slushie cups in their hands. Rachel and the glee kids brace themselves to be slushied, but instead the cups shower them with confetti. She and Finn kiss at the hallways during Tongue Tied, (background music montage) and after the unexpected celebration by the McKinley students, Rachel marches towards the Trophy case in the choir room with the Nationals Trophy in her hands as she places it there. At Principal Figgins office with Finn, they listen to Figgins request. He wants the Glee Club to perform for the "special event" at the teacher of the year ceremony. Rachel and Finn, as presenters, announce Will as The Teacher of The Year. Rachel makes her speech about Will and after that, she and New Directions perform We Are The Champions.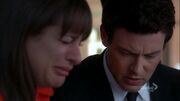 Rachel and the other New Directions acknowledge the fact that graduation is near and soon, and that they will have to say goodbye. Mr. Schuester gives them their final assignment: songs related to saying goodbye. Rachel and the other members of New Directions participate in the final choir room songs as they celebrate all the great times they had together. Later, Rachel and Finn are seen speaking to each other in a room about their wedding while they discuss graduation and New York.
After, Rachel and the other seven seniors finally graduate from McKinley. She, Finn, and Kurt make a pact to open each of their acceptance letters at the same time. However, only Rachel is accepted into NYADA. Since she would rather be in New York with her best gay and her future husband, she decides to defer her acceptance into NYADA. Nearing the end of the episode, she packs her bag thinking she is about to get married to Finn, but Finn drives her to the train station. As she looks confused, she tells Finn that is isn't funny and they'll be late. But Finn explains the fact that he has cancelled the wedding and engagement and her dads will meet her in New York and he will be joining the army to redeem his father. At first, she is heartbroken. Rachel demands that she will not go unless Finn goes with her, but after a Casablanca-style encouragement from Finn, she obliges and goes to the station with Finn as Roots Before Branches is sung by the two. At the station, all of New Directions with Emma and Will bid Rachel farewell. After the train leaves the station, she looks out the window in tears and sees Finn chasing after her and everyone else disappearing from the corner of her eye. When she can't see them anymore, she continues singing, upset.
She gets off Grand Central Station, and walks the streets of New York City, singing with her head held high. She walks through streets, crowds and across roads, and finally, finishes off the song as she walks with her pink suitcase into a full crowd as the episode comes to an end. This is the last time we see Rachel in Season Three.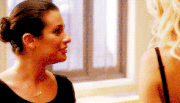 The episode opens with Rachel in a
NYADA
class.
Cassandra July
welcomes her and other students and asks them to start dancing, since it is the class "Dance 101." Rachel looks slightly confused as she follows everyone, doing spins and twirls. Cassandra seems very critical and rude, calling a girl "Muffintop" in front of everyone. As Rachel walks past, she rolls her eyes and Cassandra stops everyone. Cassandra asks Rachel if she is offended, which Rachel quickly denies. Cassandra then makes an offensive comment about Ohio, making Rachel uncomfortable. The teacher puts the music on and makes everyone dance, continuing to pick on Rachel, shouting "Higher" until Rachel falls. Cassandra bends down as Rachel tells her she doesn't need her help, but Cassandra shakes her head saying she sucks. Rachel, upset, sighs as the camera cuts to the Glee title card.
Back at McKinley, Tina, Sam, Artie, Brittany, and Blaine are being interviewed by Jacob Ben Israel. When Jacob turns to Blaine, Artie, Brittany and Tina to ask who's the "new Rachel," the four of them says "I am." It then cuts to Rachel, watching Jacob's blog. Rachel says it's happy to know she's missed because growing up can be lonely and that she misses her friends, dads and Finn. She says she hasn't heard from him in two months and he must be giving her the space she needs to achieve her dreams. Rachel explains that her roommate seems nice, but she hasn't talked to her personally because she always has company (she's having sex), as Rachel covers her ears. She wishes Kurt got into NYADA with her. Rachel then goes to the bathroom, saying that she takes a 3am shower in the morning when no one is around.
Rachel hears someone showering and singing Sister Christian, which seems to grip her. She takes a peek and sees someone showering. Brody Weston then steps out naked as Rachel stares at him and they both hold a long stare. She smiles for a second and then hurriedly returns to the sink. Brody comes over and asks Rachel if she's a freshman. Brody introduces himself as a junior at NYADA. Rachel complains about Cassandra, and Brody says that she must be good if she survived a class with her. As Brody talks, Rachel is surprised to know that Brody also has a "moisturizing ritual." He re-assures her saying that she's here cause she's the best of the best and tells her to start believing in it. He winks as he departs and leaves Rachel looking happy.
Rachel is seen walking on the streets as she's on a phone conversation with Kurt. They talk about Brody. Kurt teases her and asks if she likes him, but she replies saying she will always love Finn. They say how much they miss each other. Rachel is later seen in the dance class with Cassandra coming in, calling her names again and asking if she's continuing her failure. Rachel replies that she had a rough week. Cassandra picks on her again and says that she better decide what she's feeling, because a lot of people at NYADA will do anything to make it into the business. After a short argument between them, Rachel says that she can smell alcohol, angering the teacher. Cassandra and a few other NYADA students begin to perform Americano/Dance Again. Rachel watches the performance, shocked and utterly destroyed by Cassandra's seriousness.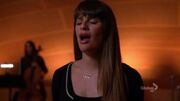 Carmen Tibideaux welcomes and introduces everyone to the Round Room of NYADA. Rachel and Brody sit next to each other, and she looks particularly excited. Carmen then calls a female student to sing. Rachel watches intently, but Carmen quickly stops her. Carmen says she thinks the student needs to practice a little bit more and cuts her. Rachel begins to worry about being cut, but she is suddenly called to be the next to sing. Rachel walks to the performing area with determination. Brody nods his head with agreement and Rachel begins singing New York State of Mind. The scene then cuts to Marley, who is auditioning for New Directions at McKinley and is singing the same song. The scenes cut between NYADA and McKinley, showing Marley and Rachel singing. Carmen is satisfied.
Rachel impresses Brody, who later compliments her and helps her deal with the lack of communication with Finn. Rachel says she won't turn her back on Finn. Brody then moves on and tells Rachel she killed her solo. She says while she was singing that song, she never felt so wrong as she felt here. Brody tells her not to worry because the reason she came to New York was because she's changed into this new person and to be that new and improved Rachel. Brody then takes her phone and Rachel poses as they take a picture. He then offers to walk her to class.
The scene cuts to the Dance 101 class. Cassandra asks Rachel to give her best spin, which Rachel does, and Cassandra said it's slightly better. Rachel says she will keep trying until she's best for Cassandra, but she doesn't seem impressed.
Rachel is seen sadly going through the pictures of Finn, looking and clutching her phone while watching people holding hands and in love. She is in tears on another phone call with Kurt, during which she confesses how bad she actually feels.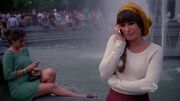 Kurt suggests that Rachel should find a new roommate, and tells Rachel to turn around, when she sees him. They run to each other and hug and laugh, just as the episode concludes.
The scene cuts to the dance class in NYADA, with Cassandra July teaching Tango, but omitting Rachel due to the scarcity of male partners and her 'lack of sex appeal,' which is what the dance is all about. Though Rachel tries to protest, Cassandra bluntly tells Rachel that she looks ashamed of her sex appeal.
Later, Rachel and Kurt are happily riding on bikes in their new apartment. A few hours later, they are sitting together drinking champagne and talking. Kurt says he hasn't heard from Finn. Rachel exclaims that it feels like a long time since they were in the choir room. Rachel tells Kurt about how much she can't stand Cassandra, and it turns out Kurt has actually heard of her. We flash back to ten years ago when she was in the middle of a performance, which was interrupted by an old man's cellphone, and Cassandra threatened to kick him out, so now her Broadway job is over. Kurt advises Rachel to give Cassandra the sexiness she wants. The scene goes back to Rachel, who has large grin on her face.
In a park, Rachel seeks Brody's assistance while he does sit-ups. She asks him a favour and explains that Cassandra doesn't think Rachel's sexy enough and she wants Brody to dance with her in class. Brody quickly says that "Cassie" would not let any Upperclassmen perform in her class. Rachel quickly apologises, but when Brody sees her performance, he changes his mind and agrees, leaving Rachel with a content expression.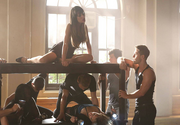 Rachel comes to class late later, dressed in stripped down clothes. Brody accompanies her as Cassandra asks why Brody is here. Rachel says the only reason why she is dressed up like that is because she wanted to show Cassandra how sexy she actually is to play Evita, Roxy and Charity. Cassandra asks Rachel to show her what she prepared. Cassandra sits down, looking unsatisfied, but watches anyways. Rachel and the NYADA students including Brody begin to perform
Oops!... I Did It Again
, Rachel singing the solo while the others dance. A lot of sexy moves are included, tables used too. Cassandra continually watches unimpressed and a bit jealous.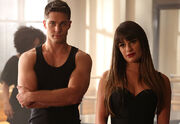 At the end of the performance, Rachel asks what Cassandra thinks and if she's ready to learn the tango. Cassandra tells Rachel that she can remember a routine, which isn't a big thing. Brody then speaks up for Rachel, saying Rachel was incredible, but the teacher things she was only okay. She says that the song was garbage and asks who idea it was to perform it. When Cassandra tells Rachel the levels that are appropriate for Rachel's sex appeal, Rachel bursts out, saying Cassandra is jealous of her. Brody tries to stop her, but Rachel continues her rant. She talks about how Cassandra's career failed, and that now she is a YouTube joke. Cassandra is speechless at this point, her devilish smile wiped from her face, and tells Rachel to leave her class. Rachel, shocked, storms out, and Brody goes after her.
Cassandra is seen practicing some dance moves at NYADA in front of a mirror when she sees Rachel behind her. Cassandra tells Rachel that she is working, and Rachel apologizes for all the things she said to her because they were out of line. Rachel says she just feels like Cassandra is picking on her for no reason. She then tells Rachel that, like her, Rachel lashed out, but Rachel's rant wasn't recorded and posted on the internet. Rachel says Miss July was good and Cassandra said that she was great. While Cassandra speaks, Rachel assists her as she does a few stretches. She says Rachel is not ready yet and if she had a choice, her wouldn't let her back in class because she doesn't believe in second chances. However, the school policy says that Rachel gets a warning. Rachel is relieved. Cassandra tells Rachel that she is on probation, and has to hand wash all of the clothes.
Later in the apartment, Rachel stares at her wall with a sodden expression. She painted Finn's name and a green and yellow love heart around it and asks Kurt what he thinks. Kurt explains once again that Finn hasn't called her cause he loves her, not because he has forgotten about her. Rachel says it's so much freedom all at once that it feels like severe loneliness. Kurt invites her to eat out, and she gives a squeal and says only if he doesn't mind going out at night. The door then knocks, and Brody stands with a potted orchid. Kurt leaves Rachel and Brody alone. He says how long it took for him to get here which surprises Rachel, as he took that long just to see her. Brody hands the orchid, saying it is good luck in a new place and orchids are kind of sexy. Before Rachel sends him out, he tells her he thinks she is amazing. Brody says as he leans in to kiss Rachel. Rachel pulls away though, saying she can't. Brody then points at the painting Rachel did and murmurs that Rachel is still in love with Finn. Brody then explains he will respect Rachel's boundaries, but will always thinking of kissing her. He tells her to enjoy the orchid as he leaves.
During Everytime, Rachel is seen in NYADA, Cassandra telling a boy to dance with Rachel. Brody watches her from the outside of class. Back at Rachel's apartment, she looks at her wall where Finn's name is painted. She grabs a paint brush and paints over it while Kurt watches as the episode ends when the camera goes to the orchard that Brody gave Rachel.
Rachel is first seen in the episode as she walks with Kurt down a New York street. Rachel discusses the students in her class and how she tried to approach them nicely, but they were incredibly rude. One of them insults Rachel about her outfit and the other one which Rachel nicknames "Black Swan" mocks Rachel. The scene then cuts to Rachel and Kurt in their apartment as they eat Pizza and drink. Rachel says she was excited to come to New York because she thought it was a chance for her to start over, but instead she had no idea it would be exactly the same. Kurt comments that she's only exactly the same cause she's still dressing exactly the same. Rachel then says she doesn't know what Kurt expects her to do because it's not like she can afford an entire wardrobe. Rachel looks up a bit confused, when Kurt asks her to follow him as he has an "idea." Rachel then states that it's almost midnight. Kurt replies by saying that it could change both of their lives. Rachel, still confused, looks at Kurt. Afterwards, a camera is seen watching Kurt and Rachel at Vogue.com's HQ. Rachel is so excited she wants Kurt to snap a picture of her. Rachel prances around as she squeals with Kurt. Kurt uses a card to open a door as they both step through. Lights open around the room, revealing many clothes. Rachel is in awe, Kurt surprised. All of a sudden, from the back, someone shouts "FREEZE." The voice is familiar, but not to Rachel as she turns around quickly. Isabelle and two bodyguards are there. Kurt questions that he thought Isabelle was out, but she explains they cancelled that. Rachel introduces herself really quickly as Kurt says they were going to do a music video for the Vogue website. Rachel chimes in saying that Kurt adores Isabelle as Isabelle watches them both. Kurt says they'll do a makeover and Rachel will be the model. Isabelle then smiles and stops them saying, that they had her at makeover. The two guards then walk away as Isabelle shuts the door and the music to The Way You Look Tonight/You're Never Fully Dressed. Isabelle smiles as the camera goes on and she starts singing. She holds a cane as Rachel and Kurt watch with pure excitement. Isabelle throws the cane towards Kurt as he catches it. Isabelle goes around as she grabs various clothes and dresses for Rachel. Rachel then sits down on a chair in front of a mirror as Kurt and Isabelle begin to give her a makeover. Kurt and Isabelle continually grab clothes and they express their opinions with their facial expressions. Rachel then gets up and sings along with them. As Rachel goes through a dressing set, she is seen in beautiful dresses, Kurt and Isabelle admiring them. Rachel is placed on a chair towards the ending of the song, as she watches Kurt and Isabelle dance playfully. At the end of the performance, Rachel is in a large, brown dress as she does another turn and is seen in makeup, different hairstyle and dressed up.
The camera is then turned off. When Kurt and Blaine Skype, it seems Kurt has shown Blaine the video and Blaine comments that Rachel looks so gorgeous and the makeover was splendid and professional. As Blaine shows the bow ties he wants to wear the senior class presidential debate, Kurt says he'll look gorgeous in any and Rachel is heard in the background as she says "hi" to Blaine. Later Rachel is seen stretching in the NYADA classroom as Brody greets her. Brody compliments her saying that she looks incredible, it seems her makeover was good after all. Brody tells Rachel that you haven't settled into New York until you've had your first makeover. Brody says his makeover was in six months to which Rachel laughs and says like he needs a makeover because every girl in the school wants to date him. They chat about makeovers and changes, especially how makeovers can impact on their lives. Rachel likes what Brody says until Brody says that he likes Rachel, which makes her smile shyly. He asks what she is working on as she walks over to the piano, over-looking scripts. Rachel says it's a new number. She shows the sheets to Brody and he says that he loves the song. Rachel asks if he wants to sing it with her.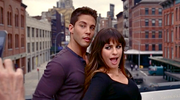 She places the disc into the drive and the music to
A Change Would Do You Good
starts. Rachel starts off the song as she points her finger, begging for Brody to come along. They sing together and dance in the room with sexy moves. Brody then sings along as he pulls Rachel and they run out of a building to the New York City streets. The scene is then a montage to different things that the two do in New York City. The songs ends in the NYADA classroom as Brody holds Rachel against his body. The two are about to kiss when Brody says that the performance was amazing and brings her back up. Rachel then questions what Brody is doing tomorrow night for Rachel wants to cook him dinner. As she cooks, she turns up the heat on the stove, but suddenly her pan goes alight with fire and she screams. She throws water, but the fire only spreads further. She then gets alcohol and then pours it all over the fire and she groans, upset that she has failed a recipe. There is a knock and Brody shows up with flowers for Rachel. He compliments her again on her clothing choice. Rachel and Brody are then sitting on the floor and she says that she really wanted to cook him dinner, but she points to the food saying that's what she got out of it, having to buy Pizza instead. Brody comments how a girl has never cooked him dinner before, Rachel saying she doesn't believe him. Rachel then says that she's trying new things and these new things are all part of the new Rachel. They talk and Brody asks Rachel to talk about this
old Rachel
and a secret that she doesn't want anyone else to know, Rachel agrees to do so, but says Brody should go first and the secret should be good. Brody then says that as a kid, he was obsessed with Ace of Base to which Rachel laughs. He asks what Rachel's secret is. She tells him that when she was eight, she got her first love letter. She then corrected all the grammatical and spelling errors and gave it back to him. She says it's embarrassing and that she never told anyone that before, not even Finn. Brody says that no matter how lovely this date is, he's hands off, just friends. They both stare at each other, but even with Brody's comment, they kiss multiple times as Brody goes on top of Rachel.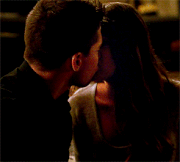 The door then knocks and Brody groans. Rachel laughs and lets go, saying that it must be Kurt because Kurt keeps forgetting his keys. Rachel gets up to answer the door and Finn stands there with a large grin. Rachel all smiling, her expression goes down to befuddlement. Behind her, Brody gets up to see what all the fuss is about as Finn looks at Brody and looks back at Rachel, eyes full of hurt as the episode ends.
Rachel and Finn share a tense morning in the wake of his surprise arrival in New York. Finn reveals what's happened to him over the past four months: as planned, he did enlist in the Army but only lasted 16 days because he accidentally shot himself in the thigh with his rifle (which he'd named "Rachel"). After a semi-honorable discharge, he backpacked through Georgia, too embarrassed to tell Rachel what had happened. Rachel urges him to move in with her, attend her classes and possibly pursue his passion for acting. She insists that something's been missing in her life since they parted, and she's determined not to let him go again.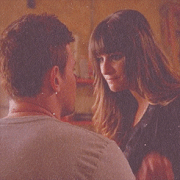 They give each other glances and for the first time since Goodbye, they share a kiss. After a small phone call between Kurt and Blaine, Rachel is seen doing activities in a NYADA class as Finn watches at the back. Finn comments on her actions, calling her amazing and never so alive as this before. The camera zooms from Rachel doing stretches as the music to Barely Breathing begins. Blaine and Finn duet have their own relationship problems, and in this case, as Finn sings, he watches Rachel participate in NYADA classes, dance, talk, stretch and kiss him before she goes to class. She's seen dancing with her fellow NYADA classmates, curling her hair as she laughs and Finn sits at the back, squinting and befuzzled. At the end of the performance, Finn looks dazed, but Rachel laughs, runs towards him and hugs him.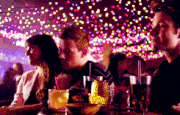 As Finn, Rachel, and Kurt prepare to hit a karaoke bar, Blaine makes a surprise appearance in New York. When they run into Rachel's classmate/hookup Brody at the bar, Finn's concerns grow deeper when he sees their chemistry as they duet on Demi Lovato's
Give Your Heart a Break
. He can see Rachel's eyes, filled with happiness and laughter as she duets with Brody. Finn looks away, looking upset and hurt, but stays and listens to the lyrics. Rachel and Brody stand and sing the song, holding microphones.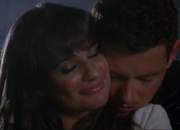 Rachel grins at Blaine's song and looks over at Kurt. During the solo, Finn and Rachel are seen, closely packed. Rachel watches Blaine closely as he sings his heart out. After the performance, Finn, Rachel, Kurt and Blaine are walking down a New York City park lane. Blaine and Kurt facing their own relationship problems as Finn and Rachel's begins to be tested. Rachel tells Finn that she wishes that he had sang with her. But Finn says he doesn't fit in here because New York is just too big and the transition is just too fast and there are plenty of people here that are more talented. But Rachel disagrees, saying she felt that way when she first moved here, alone. Finn asks if Rachel's sure that her and that Brody guy are just friends. The smiley grin is wiped off her face now. Rachel then slips and admits it. But that doesn't even bother Finn. Finn asks disappointed if Rachel was with him. Rachel admits that she kissed him and that was it. Finn shakes the image out of his head. Rachel tries to talk to him, but Finn just can't take it anymore. Finn said that he can't believe he said that, and that he was so stupid.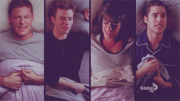 After Blaine reveals and admits something, it leaves both Kurt and Blaine in tears, then Finn begins singing Don't Speak. Rachel watches Finn walk away as Blaine begins to sing, watching Kurt walk away. Rachel stands behind, distraught. Then after Blaine sings, Rachel and Kurt walk together, singing their lines as the pairs follow each other. As Finn stands near a fountain, Rachel walks towards him. But when Finn turns, he faces her once again, walking away, disappointed. Blaine and Kurt sing near the fountain together too, before Kurt leaves, Blaine and Rachel left at the fountain. The scene cuts as Finn and Kurt sing at their New York City apartment. Rachel and Blaine join them later. The four sing, all four of them, upset, guilty, sad, angry and distraught altogether. At the end, the couples face away from each other as they lay in bed, turning off the lights without speaking to each other before bed, just as the songs title says. Rachel has tears running down her eyes and interestingly still seems to be wearing make-up, not following her usual intricate face washing routine, as she is the last one to close the lamp near her. Rachel is mentioned once again when Finn is back at McKinley. Will explains that Rachel has been worrying about Finn. But Finn has ignores that and says it's so good to see Mr. Schue. Then Finn asks if he can talk to him about something, and that's when Finn hugs him and breaks down emotionally. It's towards the end of the episode when Rachel is seen again. In the auditorium, Finn is looking through sheet music on the stage when Rachel walks onto the stage, surprising Finn. She talks about their first date here on the stage and also where they first met. She asks if he remembers it, and Finn nods. Rachel crosses her arms as she walks over to the center stage and says this place is kind of their Jerusalem, because all roads just seem to lead them back here. She says she went to his house, the tire shop, but she would've imagined that he would be here though. His voice fades as he walks to the stands. Finn apologizes for not calling Rachel, but says he needed time to think. Rachel tells Finn that she hated him for leaving her at the train station, sending her off to New York. Finn tries to argue back to say he was trying to help. Rachel tells Finn she loves him, but she can't do this anymore.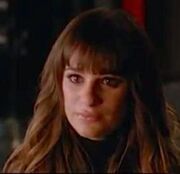 Tears run down her cheek as she manages to say the words that have been so hard to speak. Rachel tells him that he was her first love, and that she wants him to be her last. She sniffles and stares him right in the face as the drops come running after one another down her face. She tells him that they're done. Finn says that he has nothing in his life anymore, without his girl and his army career. Rachel tells him that he has himself, and that's all that matters. She nods and he nods and they share a final kiss as she departs the auditorium. Finn walks to the centre stage as the music to, The Scientist, begins. Finn begins to sing as Blaine, Santana, Kurt, Brittana, Emma and Will appear altogether, singing the song with shaky voices and sad tones. A flashback shows the first kiss shared between the two of them, in Showmance.
The song progresses and finally, towards the end, glances are given before the camera turns and the light shines down on Finn, everyone else gone, revealing that The Scientist was sung by himself. The episode comes to an end.
Rachel makes her first appearance in the episode at NYADA. Cassandra introduces her current class to the upperclassmen as she calls upon them to help her current class bring up their game. Rachel is surprised as Brody is one of them. She says it's been good since she and Finn have "officially officially" broken up, she feels she can focus on why she really came to New York, which is her work.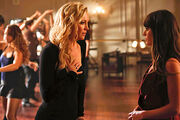 Rachel tells Brody she's landed her first off-Broadway audition, but Cassandra warns her from her own experience that the director will eat her alive - she doesn't think Rachel's been hurt enough in life to make the cut. Determined, Rachel encourages Cassandra to try out too, "to get back in the game." Cassandra offers Brody a teaching assistant position, and he accepts but puts off starting until after he can help Rachel preparing her audition. Rachel and Kurt are doing stretches together in an empty NYADA classroom. Kurt can't believe Rachel is doing an audition for "The Glass Menagerie." Rachel comments on Iven's work on musicals as Kurt lets out a large stretch, saying released as Rachel lets go. Rachel gets up excited when learns about the school musical, but says that they're not going to see it. Behind her, Cassandra enters, asking, what they're not going to see. Kurt introduces himself and her question. Rachel gives a frown as she looks at Kurt. Cassandra tells Rachel that she needs to go, since Rachel and Kurt are both not over their ex-s, it's an opportunity for closure. When Rachel says that she does have closure, she raises her eyes and suggests that they should go. Rachel and Kurt give each other stares and Kurt says that he's going asking Rachel to come because he can't do it alone. Rachel says that even though they both might want to go, they both don't have the money for it because Kurt's an intern and Rachel spent all of her money on her last trip home. Cassandra then says she can give them her flyer vouchers because she can't use them. Rachel looks at Rachel and tells her not to go if she doesn't want to, but Cassandra thinks Rachel will regret missing it. Rachel seriously contemplates her decision as the scene changes.
On the opening night of Grease, Rachel and Kurt return to Lima, Ohio at McKinley to watch the production. It seems Rachel made up her mind. Rachel says that as much as many people ask, they'll stick to their five autograph limit. Kurt says he's more concerned about running into Blaine. Rachel reassures him as they stop before their old lockers. They smile and remember it. Rachel reminds Kurt of how he tried to get out of the problem with Mercedes, saying he had a thing for Rachel. They both laugh as Mercedes comes up behinds them and says it still burns her ass till this day. Rachel and Kurt squeal and hug Mercedes. Mercedes comments on how amazing it is as they came to see the musical because the kids are ready to bring the house down. Rachel asks Mercedes to tell her and Kurt everything. Mercedes says to them that they should come backstage and say hello to the cast of the musical. Kurt and Rachel nod and smile as they greet Mercedes. Just before the opening curtains lift, Rachel and Kurt listen to Mercedes and walks back-stage to greet everyone. As Kurt sees Blaine, Rachel says that they wouldn't miss the musical for the world, explaining it to Blaine rather than making Kurt talk. On the other side, Finn comes out, and says "Rachel" shocked. Rachel greets Finn herself, asking how he is. Finn says he's a little surprised to see her. Mercedes, next to Rachel and Kurt says she's going to go help warm-up. Finn asks how Rachel is to which she replies optimistically. Kurt says the rest, about Rachel's Glass Menagerie audition. Finn nods and says it's awesome, congratulating Rachel. The four stand and give awkward glances. Finn says it's weird that there is a lot of history between them, but it's cool that Kurt and Rachel came to see the show because they're pretty proud of it. Kurt and Rachel fake smiles as Blaine storms away. Kurt heaves loudly as he tells Rachel that she was right and that they shouldn't have came, because he won't get through Act 2. Rachel reassures him once again, saying that it's fine because she'll be sitting right next to him. The two share a hug as Beauty School Drop Out begins; Kurt and Rachel watch Blaine sing. Rachel watches Kurt as they both see Blaine lose his attention as he sees Kurt. She checks if he's alright. Rachel is also seen clapping loudly at the end of Santana's performance.
When You're the One That I Want is performed by Ryder and Marley and the rest of New Directions, Rachel sits and watches sadly. She reminisces. She fantasizes a scene as Finn comes out as Danny, singing, with Rachel as Sandy behind him. She sings as the camera faces towards them both. Finn stands on the side curtains as he watches and is able to fantasize the scene too. A flashback is then contained when Rachel goes back to the moment she and Finn first rehearsed together in Glee Club and she freaked him out. Artie is also seen in his wheelchair as Finn and Rachel sing the song together. The audience applauds as the performance ends. Everyone stands up, but Rachel, stunned, stays seated. The cast of Grease bow for the audience's applauds. Kurt looks down at Rachel, who gets up and says she needs a minute, literally in tears. In the female bathroom, she rings Brody, in tears.
Cassandra answers, confusing Rachel. She asks if Rachel wants to leave him a message, but Rachel still doesn't understand. Cassandra says that Brody was lonely and distraught and didn't know what to do with himself so she was more than happy to call him up to choreograph a new routine, and later Brody went to her place. Rachel is now incredibly surprised and upset. Cassandra then begins to insult Rachel, and then Rachel hangs up. Tears coming down and full of hurt. Rachel leaves the bathroom after the call and Finn comes out of the corner and calls for her. Finn says she missed the curtain call. Finn asks if Rachel has been crying. But Rachel denies, saying she's fine. She says for Kurt and for him, Finn. She says that everything was really, really good, but she had a couple of notes, but they were small. Finn thanks her coming and says that the whole time he was directing he was basically thinking of what would she do because she's kind of his muse, making her smile. Finn asks if she can tell him what she's so upset about, but Rachel refuses. After Finn keeps insisting, Rachel then it out. Finn says then maybe they shouldn't talk about anything anymore. Rachel replies and says it's a good idea and despite not knowing what will happen between them, she'll know that he's the guy who made her feel like the most special thing in the whole world and it doesn't feel that way anymore. Kurt then comes out and calls for Finn, because Mr. Schuester wants to see him in the choir room. Finn then says bye and walks towards the choir room as Rachel walks to Kurt. Rachel says that they should go home since Lima doesn't feel like it anymore. Blaine then comes and Rachel leaves them two, but Kurt says he isn't interested and follows Rachel. As Rachel waits for Kurt, he leaves Blaine empty-handed. Rachel and Kurt then leave for New York.
After Quinn's return, Rachel is first mentioned when Finn, Mercedes, Mike, Puck, Quinn and Santana have a moment at Breadstix. The gang has come for the holidays, in the occasion of Thanksgiving, but Santana asks if anyone has heard from Kurt or Rachel. Quinn says that Rachel keeps emailing her and reminding her that Quinn hasn't used the ticket to New York. Quinn then also says sorry to Finn due to his break-up with Rachel.
Rachel and Kurt are seen in New York when Rachel tells Kurt that she didn't get casted in The Glass Menagerie. She tells Kurt that the NYADA showcase is this week so she's really working hard for it. Kurt talks about his NYADA application with Rachel. After this, Rachel discusses that they should stay in New York for the weekend and that they don't have to go back to Lima because they have a show or because it's a long weekend. Kurt agrees although it's Sectionals and all their friends are there and he also misses his dad. Rachel says she misses her dads too, but she feels sad when she goes home and that even though she and Kurt no longer have their boyfriends, they still have their dreams and ambition. Kurt says that they have each other, to which Rachel hugs him, saying he's the only significant other she needs in her life. They decide to forget about their boyfriends and Rachel forgets about Brody too since they're in the greatest city. She promises Kurt that they'll have the best Thanksgiving ever. They pinky promise as the scene closes.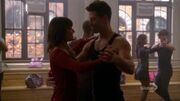 Again, Rachel is seen in a NYADA class, doing practice stretches on the bar as Brody walks in. He tells the class that Miss July does not want to teach again due to the mediocrity of the class, but Brody assumes she's just hungover. He also announces that he's teaching Dance 101 today. Rachel gives a small groan and looks disgusted. She begins to pack as Brody asks if there is a problem. She comments on how every year people pay $30,000 to be taught by professionals and not TAs like Brody. He notices her anger and asks why she's angry, to which Rachel says besides the fact that he slept with Cassandra. Brody says that Rachel was the one that broke him off to go off with another guy (Finn) which was unexpected. He instructs the class to do a dance move as he grabs Rachel's hand and pulls her towards the class. She drops her bag as Brody tells her she isn't in high school anymore and that they're adults. She made herself unavailable, and can't be the girl to expect other people to read her mind. Rachel says Brody doesn't need to read her mind to know that Cassandra is her mortal enemy, but Brody comments on her ass and that they're friends and he won't do that again. She nods as she approves. He asks her what she's doing for Thanksgiving as they dance. Rachel tells him about her and Kurt's plans. Brody comments on it, saying that sounds awfully depressing, especially since he tasted her cooking, making Rachel laugh. He then instructs the class to actually try. He turns back to Rachel and says since he can't afford to go home this Thanksgiving, he'll go over to Rachel and Kurt's to cook dinner. Rachel then says that'd be great as Brody says that he should bring Cassie, and Rachel laughs. At their New York apartment, Kurt, Rachel and Brody are preparing for the Thanksgiving party. They prepare the food as Brody give Kurt tips on preparing them. Rachel comments on it being great as Kurt says it's a great chill. Brody instructs them not to break out in song as Rachel asks "What?" joking around. Brody asks Rachel to help him with the chicken, and although she is a vegetarian, she can still touch it. She rubs the chicken as Brody helps her. "Touch it like you love him..." Brody tells Rachel. He touches her hand intimately as Kurt tells them that if they're done with the chicken, to put it in the oven. Rachel says it's almost time for Sectionals, Kurt asking why it's on Thanksgiving. Rachel figures that maybe it's because it might sell more tickets for those coming back home. Rachel remembers her first Sectionals and how nervous she was as she looked in her mirror and gave a pep talk. She explains the pep talk as the scene changes to Marley doing exactly what Rachel did. She reassures herself in the mirror as she prepares.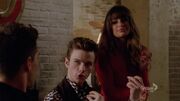 When Kurt, Rachel and Brody sit down for dinner, Rachel closes her eyes and appears to be thinking or praying - leading Kurt to ask if she's okay. She reminisces about every year's Thanksgiving and medleys with her two dads. She misses out on those this year round and feels as if that may not be part of her life anymore. Brody takes out the turkey - asking Kurt to do the honors. But Kurt doesn't accept as Brody and Rachel man-handled it. He opens the door, welcoming Isabelle's friends. They were highly fashionable clothes as they ask about an orphan party. Kurt and Rachel seem to be taken aback as Isabelle's friend explains that she was stopped on her way. Kurt's phone rings as he picks up. Let's Have a Kiki/Turkey Lurkey Time's music begins with Isabelle starting the verse with the phone call to Kurt. As Kurt listens to the phone call, he sees Isabelle enter their apartment, handing a gift over. Isabelle, Rachel and Kurt begin to sing the chorus of the song as they "lock the doors tight" like the lyric says. Isabelle and everyone else dances the kiki dance. As Brody asks what a "Kiki" is, the second verse begins with everyone clicking their fingers and clapping towards him. Brody sits surprised and after the chorus of Let's Have a Kiki, Rachel starts Turkey Lurkey Time. Brody laughs as he watches Rachel, Kurt, Isabelle and her fashion friends dance and sing. The song then transits back to Let's Have a Kiki, Brody joining in. As the song ends, Rachel squeals. She states that it's the best Thanksgiving ever.
Kurt first tells Rachel that Blaine told him about New Direction's loss at Sectionals due to Marley passing out, shocking Rachel. She contemplates about calling Finn, but decides not to as she'd remind him of a bigger loss.
The two then go on to speak about Kurt's re-audition at NYADA. Rachel assures him that he'll always have time to apply, Kurt denies himself, saying that the Universe is trying to tell him that he's bad at something. Rachel says it's just Carmen Tibideaux, to which he replies, that there is no difference. He then questions Rachel about whether Carmen has handed out the invitation to NYADA's Winter Showcase. Rachel says that she hasn't and besides, she won't be getting one, because a freshmen of NYADA hasn't gotten one for at least seven years and that person was Broadway-stage raised. Kurt admits he has been active on the NYADA blogs recently to audition and that's why he found out about the showcase. He places a record on as he explains about the Winter Showcase. It then shows Carmen Tibideaux writing the invitations. Kurt says that every year, ten students are specifically chosen to perform at the showcase, Rachel listening. Carmen hand writes each invitation and delivers them. Just being invited is an honor. He goes on to explain that former winners have won Emmys, Oscars and Golden Globes. Rachel looks weary as the scene changes. Rachel is seen in Dance 101, Carmen walking towards her and hands her the envelope. Everyone surrounds her as she opens to read: "
Carmen Tibideaux cordially invites Rachel Berry to the 2012 Winter NYADA Showcase.
" Rachel is delightful as everyone applauds her.
Back at NYADA, Rachel is practicing dance in Dance 101 with other students, Cassandra July back to instruct them. Rachel asks to drink water after Cassandra comments on her position, and she then stops the class. She tells them to stop because everybody stops the show when somebody's thirsty on Broadway, pointing to Rachel. Rachel says she isn't trying to be a diva, but she's dehydrated because she has been working her butt off and has gotten better. Cassandra says three months in and Rachel still has no stamina and can't even outdance a girl named "Alexandra Bushee" at the showcase, for she was born to dance. She says that Rachel cannot keep up, to which Rachel replies that she has kept up with Cassandra. Rachel has dealt with everything Cassandra has thrown at her, but Miss July is taken aback, saying she teaches and it's Rachel's fault that she doesn't understand her methods. Rachel says she has gotten better in her class. Miss July asks if Rachel wants to show how good she has become, show her that she's not wasting her time. Cassandra agrees and decides to do Chicago. All That Jazz then begins to play. Rachel tries to sing the first verse, but Cassandra interrupts and sings. The NYADA students join in and dance along, clapping and applauding after their verses. Miss July is able to dance in an appealing manner, but Rachel has won over with her voice. Both girls have background dancers and background singers and both also using the dance bars. Rachel even makes a reference to Cassandra's case of drinking. They then have a sing/dance-off, resulting in the NYADA students to surround them both. Cassandra then says if Rachel can see that she isn't good enough. She agrees that she isn't a good enough dancer, but she has the voice and she'll win over the showcase with her voice. As the Winter Showcase competition commences, the dancer, Alexandra, goes on to dance. Rachel waits at the stairs as she tries to calm her nerves. Wearing a stunning, white dress, she looks ready, but she isn't. Out comes Brody, as he walks up the stairs, noticing her nerves. He says that he was too, after his showcase and to remember what he said when they first met, she's here because she is the best of the best. Rachel says that was sweet and it was a very good pep talk and she feels that she's got this. She says she may not be a true beauty and no one's going to pay her to walk the runway on fashion week and she won't cure cancer, but if you give her a stage to sing on, she know she's a gut and no one can beat her.
Brody can't believe she's so calm, but Rachel admits that she is in fact terrified, but she'll go out and sing like she won't have a chance to sing like that again. He holds her hand and says that he won't get in on a woman on her mission and tells Rachel to break a leg. He lets go, but then Rachel holds him and kisses him. He asks what that was for, Rachel finally saying that she's going to start doing things like she will never have another chance to go for. Kurt then goes and calls for her as it's her turn to sing. Carmen Tibideaux welcomes Rachel to the stage. Kurt and Brody take their seats as Rachel takes to the stage with Barbra Streisand's,
Being Good Isn't Good Enough
. Rachel introduces herself first and as she sings, Kurt, Brody, Alexandra and other audience members watch with excitement, delightfulness or jealousy. Rachel's voice projects around the Round Room, Carmen Tibideaux, giving out a light smile. As Rachel finishes the song with the final note, the people of the audience gives her a standing ovation. Brody yells out Rachel's name, Carmen nodding with satisfaction and Rachel, stands there as she gains applause and looks like she's going to cry due to happiness. She then goes to the band and tells the audience that her next number is her favorite holiday song.
O Holy Night
begins as Rachel sings and the audience watches. People impersonate Rachel as she lets out a long note, opening their mouths, amazed by her talent. Towards the ending of the song. Once again, Rachel gets a standing ovation, hugging Kurt as Carmen comments on her performance. She says that Rachel's two solos were wonderful. Carmen then says there will be a brief intermission and if he thinks he is ready, Kurt Hummel will perform for everyone. As Kurt rushes down, Rachel follows.
He is incredible nervous, so Rachel says she's giving Kurt a second chance and seeing if Kurt can perform under pressure.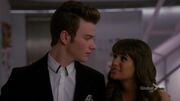 Kurt thinks he needs costume and props to which Rachel immediately says he doesn't need at all, since he was at his best when he sung
I Want to Hold Your Hand
in the choir room. He says he can't dedicate it to anyone, and Rachel says that it should be to himself. As the song
Being Alive
begins to play, Rachel and Brody watch Kurt intently and hold hands. At the end of the performance, Rachel (who is in tears), Brody, Carmen and the rest of the NYADA faculty and audience members applaud Kurt.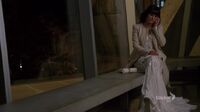 As Finn sits in his room, his phone vibrates, Rachel calling him. She says that Glee Club isn't about competing, and when Finn tries not to listen, she says that she won. Finn congratulates her, but Rachel asks him to listen. She tells him that even if they had never won any competitions, it would have still been worth it. Rachel lists examples of amazing things that happened during her time in Glee club. After the phone call, Finn is finally motivated. During Don't Dream It's Over, Kurt reads a letter in tears. Rachel asks what happened, as Kurt says he got his NYADA letter and that he got in. Rachel runs to hug him as they cry.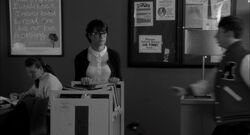 Rachel first appears in Artie's dream, where she is the school librarian and when Artie questions about NYADA and Broadway, Rachel shakes her head and goes on about how she'll perform in the chorus of a Lima musical. Artie harasses her for information to the point where Rachel screams and Finn and Puck catches her. When Artie tries to make the Glee Club remember themselves and the memories, he sings
Feliz Navidad
, Rachel looking with a quirky face. Rachel then appears briefly as she and Kurt prep up for Christmas with a small Christmas tree. She invites him to a "Christmas cruise" to which Kurt declines. When the door knocks, Kurt and Rachel are excited to see Burt with a large Christmas tree, replacing their small one. As they set it up together, Burt talks about how Kurt missed his mom and the Christmas memories before she died, leaving a few tears in Rachel's eyes. Kurt advises Rachel to save her tears this Christmas. She exclaims that she'll be late, but before she can go, Burt hands her a Christmas ornament resembling a big apple (New York City) as she hangs it up, thanking Burt and leaving.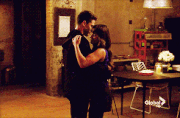 Kurt's first week at NYADA isn't as great as he expected because he expected to be with Rachel the whole way through, but instead, she's helping a shirtless Brody all the time, preparing him for the Magic Mike musical production. Rachel leaves Kurt to wander around for himself. When Rachel and Kurt talk at their apartment, she tells Kurt that she and Brody ate dinner and he decided to bring her home and Rachel decided to invite him to stay over. Rachel says she wants to cease the moment and is tired of second-guessing the moment to get it right. When Kurt tells her that he's thinking of joining the show choir at NYADA, Rachel says no, because out of all things to join, joining the
Adam's Apples
will be similar to social suicide and so, they're in college not high school. Later when Rachel and Kurt take a stroll through the city, Rachel tells him to grab at the chance if he's interested in someone. He admits he is, and Rachel walks across the street to hug Brody. Towards the ending of the episode, Rachel sits and waits in her and Kurt's apartment as she plays with the cold food, she picks up the food as the doorbell rings and Brody arrives. She isn't please and is pretty pissed as Brody came late. But he tells her he would wait for that train all day if it was the last day of his life just so he could see Rachel. Rachel smiles as she puts the food down and says she guess she could microwave it. But Brody says they can eat later and asks her to dance with him. She says there isn't music on, but he tells her to imagine it. The song,
I Only Have Eyes for You
, starts playing. At the end of the song, after their dance, Brody said he wants to stay closer to Rachel and so he'll find an apartment in the area, but Rachel asks him to move in.
Rachel is first seen being offered to play a part in a student film at NYADA. She reluctantly agrees and is asked whether she will do a topless scene. Rachel seems shocked, but says she'll come back to the director. She walks out and her old self stands there saying that she can't do it. Her old self follows her around, lecturing her, even insulting Rachel. They settle it off by singing,
Torn
. Rachel and the old Rachel have a sing-off because the "old Rachel" is sure that Rachel doesn't need to expose herself for a play. In the NYADA Dance 101 Classroom, the band in there begins to play the song. She sings as the old Rachel stands across her, disappointed at her choices to become who she is now. They both sing as the classroom begins to be filled. The new Rachel seems to be annoyed an unsteady as she is followed around by her old self. When the new Rachel sings in front of her mirror at her apartment, the old Rachel can be seen singing back, making Rachel seemed annoyed. Rachel is obviously torn between whether to do the topless scene or not and at the end of the performance, she agrees to do so. When Kurt hears about Rachel's participation in the topless scene, he doesn't agree, saying that once she wore skirts and asked if Finn likes her. He even scolds Brody for being Naked and sitting on his chair. Rachel says she'll do the scene without his support or not, Brody being the one that says Rachel will win an Oscar only if she goes shirtless. One night when Rachel comes home from her apartment, she finds Quinn and Santana and they explain that Kurt called them to do a lady-vention on Rachel.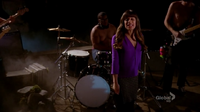 Quinn and Santana sit Rachel down, saying that they're here for an emergency intervention and for shopping and also because Quinn wants Santana to apologize for slapping her. They explain that Rachel can't do the scene because she'll feel guilty and regret, Santana comparing it to her sex tape as Rachel brings it up. Despite this, Rachel goes on to play the part at the set of the student film and is asked to take her robe off, but she can't. She stops and asks everyone to take their shirts off, and the crew does. But not even that helps and Rachel says she can't do it, to which the director tells her to get out. She walks off the set as she packs, singing
Love Song
with her robe on. She walks through NYADA, singing as she enters the NYADA auditorium and sees Santana and Quinn and the band on the set of the student film. Together they sing and dance. At the end of the song, they share a group hug, and Rachel asks them to stay as she wants to buy them dinner. Santana comments about New York and says it's her thing and she may stay.
Rachel is first seen in class singing a high note which Kurt isn't too pleased about. Kurt explains that ever since Rachel won the winter show case, her ego has increased superbly. Kurt is also tired of her clogging the sink with her hair extensions and taking a while in the shower because of her singing. At NYADA, Rachel doesn't hang with Kurt, but with other egotistical and serious people, similar to Rachel herself. Rachel won't even pick up the phone and asks Kurt to say it because she saves her voice. Kurt is certain that he can knock down Rachel's ego, and only he can do this. Rachel is mentioned briefly when Finn says the only way to get past Regionals is if New Directions had all the good voices like Rachel, Santana, Mercedes and Kurt. Rachel is then seen with the same hairstyle as she had back in Lima, Ohio. She sings as she talks to Kurt, to which he seems incredibly annoyed by. She bosses Kurt to make some tea as it's really good for her throat. He talks back at her with a harsh reply. Rachel says that he needs to explain his rude behavior. Kurt says it's truth time and says that Rachel has been a nightmare since the winter showcase, leading to Rachel thinking that she's certain it's about time he admitted he was jealous of her success. They start to argue, Kurt saying that they only became best friends because she became tolerable, but now she's got a naked boyfriend and he points out more of the things that changed her attitude. He says that she's an annoying, self-righteous and Lima Rachel on steroids. While he says this, she sets the kettle for the tea. Rachel then says her part that Carmen Tibideaux only let Kurt sing at the showcase because Rachel and Kurt were friends. Kurt explains that although she may have won the showcase, but his performance was the one everyone was talking about because he blew her away. Kurt challenges Rachel to a head-to-head diva off, but Rachel says she wouldn't do that if she was him because she already beat him in a diva-off back in Glee Club. But Kurt admits a confession that he purposely threw the competition in Glee Club,
Defying Gravity
, which confuses Rachel. He explains he didn't want to embarrass his dad because he has a son that sings songs written for ladies. Rachel can't believe it and forces him to take it back, but unfortunately, Kurt mentions it's truth time. She becomes infuriated as that was her first win and that was the win that she built all her confidence for two more years on. Kurt tells her to prepare for diva-off two, and tells her to enjoy her tea.
Rachel is later seen walking with Brody down the NYADA hallway, discussing how she will win the midnight madness diva-off while Brody explains that the winner gets total bragging rights and the loser gets shame and humiliation. Rachel is sure she will win and her two friends say she will, as they heard that Kurt was challenging her, which they considered humorous. The two guys continue to gossip about Kurt until he walks up and overhears the gossiping. Rachel tells them that Kurt earned his place at NYADA just like the two of them. The boys ask, "Excuse me?" but Kurt walks over and says that he's staying at NYADA, Rachel looking at his disheartened expression. Later, Finn is in Emma's office, and Rachel is mentioned as Emma hands some pamphlets regarding break-ups to Finn. He says that she changed her relationship status to "Shacked Up" and his relationship status is still "Heartbroken." At the midnight madness, Kurt and Rachel prepare for the diva-off. The clock points at midnight.
Rachel, Kurt and the various NYADA members watch Brody explain the rules. First up, it's Rachel verses Kurt. They stand next to each other with envious and prepared faces. The song to be sung is
Bring Him Home
from
Les Miserablés.
Kurt is to start first as he was the one to challenge Rachel. As Kurt sings the song, he has teary-eyes as he relates some of the lyrics to Rachel, who sits in the audience and watches him intently. The scene intercuts from Rachel to Kurt as they sing with the spotlight shining on them. Adam can also be seen watching the performances. At the end of the song, everyone in the audience gives a silence applause as part of the rules, then stands besides the one who they thought won. It is announced, that just by so many votes, Kurt had won the Diva-Off challenge. Rachel looks a bit offended when her gay friends walk over to Kurt's side and as Kurt is given silent applause, Rachel gives it too, with a disappointed expression. When Kurt tells off the two gay friends of Rachel as they seem to be kissing up to everyone, Kurt sees Rachel looking at some posters on the wall as Kurt walks over to discuss things with her. Kurt attempts to encourage her to audition for
Funny Girl,
but Rachel says that Kurt should try out, with a sad expression then walking away. Rachel is seen looking out of her window in her New York apartment as Kurt encourages her again to audition for the musical.
Rachel says she isn't trying out to which Kurt knows is because of the Midnight Madness win. But he knows that their even now, because she won a diva-off and he won a diva-off. Rachel explains that she can't audition or she'll be more of a diva nightmare since losing to her best friend and being hated by everyone else. Kurt tells her that she is a diva and she can be a real nightmare, but he assures her that she is a diva, not because she's a nightmare, but rather because she is talented and no one can do her better than herself. Kurt says that she should hold the nightmare and go with the Diva because a Diva is all about being original. Teary-eyed, Rachel says "I love you" and hugs Kurt on the bed. She apologizes and says she hates fighting with him. At the end of the episode, Santana knocks on Rachel and Kurt's apartment door and reveal that she's moving in with them to the two's surprise.
Rachel is first seen in the first scene of I Do, talking to Finn at the Lima Bean. Finn feels uncomfortable talking about Brody with her, saying he doesn't need to her what she and her boyfriend is going through. Rachel notices Finn's expression and asks him what's wrong and he begins to admit that he kissed Ms. Pillsbury. Rachel asks if Mr. Schue knows to which Finn starts to freak out more, saying maybe he should tell Will about it, but Rachel tells him not to and since he wanted to become an actor, now it's time for him to role play this out, and be Will's best man. He says defiantly that not everything has to do with her when she describes her and Brody living together might set him off. She then gets up and walks away. Later, Finn seeks help with Rachel when he tells her that he has to sing his speech of the best man to Will. He picks out so much songs relating to him confessing about he and Emma's kiss, asking Rachel to meet him in the auditorium. She comes late due to her taking a spray tan. He continues to lash out until Rachel says she'll pick the song as a duet, she taking the lead, while he can just sway in the background. Finn says he thinks she can't handle the chemistry they have while singing, but she knows she can control herself, but has to admit that he looks very cute right now. He comments that he has been dieting, but she quickly changes the subject to the song selection. At the wedding reception, Rachel can be seen sitting next to Kurt, greeting Mr. Schue during
Getting Married Today
. Along with everyone else, she sings back-up in the song, especially when the camera zooms onto her face. When Becky walks down the aisle throwing rose petals, she throws some on Kurt and Rachel, making Rachel grin embarrassingly. During
Just Can't Get Enough
, Rachel converses with Finn and says that Emma running away was not just entirely because of him kissing her. Rachel then says that they're not in the same city everyday and grabs him to dance. They dance flirtatiously throughout the song together. When Sue announces that although Emma isn't here, she will proceed with the throwing of the bouquet, Rachel gets up as Finn watches her with a funny grin. She smiles and as the bouquet is thrown up by Sue, Rachel catches it to everyone's surprise and they applaud her, leaving Finn smiling.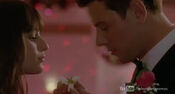 Rachel comes out of the ladies' bathroom with her bouquet as Finn confronts her that he seems confused because only single people should be going to catch the bouquet. Rachel insists that she is single, but he says that she staying with Brody is not her being single. He holds a small flower and rips off the petal saying "She loves me" and "She loves me not" as they converse. Finn tells Rachel that he knows she can't commit well with Brody due to the fact that she loves Finn still. They are about to kiss, and Finn is down to his last petal. She then says that it's time for their duet and walks away, leaving Finn with his flower, but she comes and rips the last petal from the flower, leaving him with a smile. They duet together at the venue as everyone slow dances, singing
We've Got Tonite
. Towards the ending of the song, Finn and Rachel hold hands and the scene cuts to them walking into their hotel room. They then finish off the song, with them taking off their clothes and closing the light as they get in bed to have sex.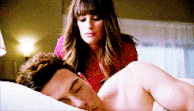 Later, Rachel wakes up, grabs her clothes and kisses Finn as she leaves the hotel. Back in New York, she sees that Brody put a lot of effort into making the apartment wonderfully decorated with Valentine's Day decorations saying that he's upset they missed the day together. When he realizes she kisses different, he asks if she kissed someone else while she was at Lima, leaving Rachel to ask if they are in an open relationship to which he says they are, but they still need to be honest. She admits and he's glad she's honest and she asks who he kiss or had sex with, to which he lies, as the scene shows he got money, possibly being a prostitute. He asks if she wants to have sex, but she says she's worn out and they decide to watch a movie together. During
Anything Could Happen
, Rachel seems uncomfortable as she looks through a notebook and gets out of bed.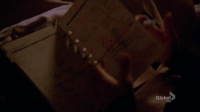 At the end of the song, she seems to be taking a pregnancy test and seems a little bit shocked.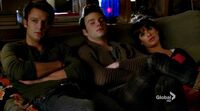 In the episode, Santana gets a bit too comfortable in the Bushwick Apartment for Rachel and Kurt's comfort. Santana is curious as to why Rachel is always in the bathroom. Later, Rachel decides to kick Santana out, but Kurt calms them both down. They decide to pick on a movie, Santana mentioning movies relating to pregnancy to which Rachel turns away. Kurt then decides to play
Moulin Rouge
. Halfway, Santana pauses after a whole lecture to Kurt about how he and Blaine's wedding song would be
Come What May
. She then goes on to explain her investigating skills, finding $1200 and a pager after searching through all of Rachel and Brody's stuff to which Adam, Kurt and Rachel are completely shocked. But as Santana explains her findings, she says that Brody is a drug dealer, leaving everyone contemplative. As the movie is paused, Rachel cooks some food, but Santana wonders where Brody is and that he must be drug dealing. This infuriates Rachel and she is certain that he isn't and is late because the snow is trapping him out. She decides to prove this by ringing him to which Brody says he is at a friend's house, but quickly says he'll be back soon and phones off. Rachel seems sure, but Santana and Kurt are on the same page.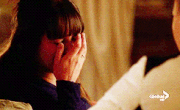 When Brody's in the shower later on, Santana continues to tease him, pissing off Rachel. But since they're finally alone, Santana takes the chance to explain her second investigation case to which she found Rachel's pregnancy stick in the bathroom trash. Rachel says she doesn't know what Santana is talking about, but Santana says she is her friend and she can trust her, so she asks Rachel to just tell her what's going on. Rachel immediately breaks down in tears, and Santana immediately pulls her into her arms and comforts her, reassuring her over and over again that everything is going to be okay.
In the episode Feud, Rachel is first seen being escorted to the doctors by Santana, revealing that she isn't pregnant and it was a false alarm. But Rachel rushes to her class to which Santana says that she should look at her life choices, starting with Brody. Rachel also participates in the song How to Be a Heartbreaker, singing the bridge while sitting in her apartment and unaware that Brody is a prostitute and is cheating on her. Rachel is confused about her feelings for him as she contemplates. Santana then comes into the apartment later and continues to accuse Brody of bein
g a drug-dealer to which Rachel defends him, but Santana knows her better, leaving Rachel to think about it more. After Rachel and Kurt find out about Santana's confrontation with Brody at NYADA, the two decide to kick her out. After Santana leaves Rachel remarks that she stole her comforter. Later, unknown to Rachel, Santana finds out Brody's true job. She calls Finn comes to NY and angry due to the news, beats him, to which Brody responds the same way and the two end up in a huge fight.
Rachel watches movie marathons with Kurt and Santana while Kurt lists them and eventually watches them alone. Later, it seems Santana is back in the apartment and Rachel is showering while Kurt is brushing his teeth. Rachel warns Santana not to get too comfortable again since it's only temporary. Santana starts to be a usual bitch, saying that Rachel's beauty products don't work, but Kurt interferes making a harsh comment to which Rachel says a loud 'Ooo'. Rachel can be heard singing some notes while Santana approaches Kurt. Santana discusses with Kurt about Brody and why he left and threatens to tell Rachel, but Kurt begs Santana not to tell her until after Rachel's Funny Girl audition. Rachel comes out of the shower as Santana makes a remark about Rachel in a towel and how Brody could give all that up, revealing that Brody has chosen to leave the apartment.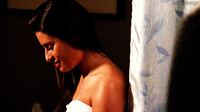 Rachel sits down and pouts as she complains about how much she misses him while Santana brushes her hair and is just stunned by Rachel's words. Santana says that Rachel and Brody's first meeting moment in the bathroom sounds really gay. Rachel sits and wonders as she flashes back and reveals he didn't say why he was leaving. It shows her running after him begging him to talk to her, but all he replies is that they'll always be friends. Santana continues making fun of Brody and tells her not to worry because she has her and Kurt, and although Rachel is still upset, Santana suggests playing a prank on Kurt to make her feel better. Rachel carries a pot of warm water and Santana slowly follows behind her towards Kurt's bed. Rachel is surprised to see Kurt's boyfriend arm pillow, saying that it looks creepy, but she is extremely curious. She wants to try the pillow, but Kurt says they can't borrow him, but then changes his mind. He gives them two boyfriend/girlfriend arms. They all seem very cheerful with the gift. As the conversation continues, Santana says she's tired of Rachel and her hope to get back with Brody. She explains she was wrong about him being a drug dealer, but instead found out he is a gigolo, leaving Rachel to ask Kurt for confirmation. Kurt doesn't reply, and Rachel storms off and closes the curtain.
Rachel approaches Brody at NYADA later. He holds her hand and is about to kiss her, but instead she hands him money, confusing him. In a sarcastic tone, she says she's sorry if it wasn't enough, revealing to Brody that she has been told the truth.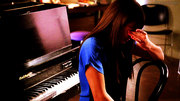 He throws the money at her telling her not to judge him, but she throws it back yelling about him selling his body. Rachel begins to cry as she tells herself she's an idiot because he told her that if they were honest to each other, anything would be possible. She asks why he was lying to him. But to her surprise, he shoots back the same question. Pointing to the bruise on his face, he asks her who she thinks did that to his face, none other than Finn. Rachel is now stunned that Finn came all the way to New York to do that to him. Brody now reveals back at her that she knows she still loves him and he knows she slept with him at that wedding. Rachel asks if Santana told him that, but he says no one had to tell him. Brody is sorry about lying to her about his real job, but he tells her that he meant everything he said about how he felt about her. Rachel then takes a seat explaining to him that it seems she really wasn't too honest and that a part of her was using this relationship to make Finn jealous and fill her up. Rachel says that it feels like it's over for them. The two then start singing
Creep
. Rachel walks out of the room, crying. In the hallway, he watches her walk down feeling guilty.
Back at the New York apartment, Brody is singing the song while Rachel sleeps and Rachel sings back as he sleeps. Towards the ending of the song, the two are running hurriedly through the hallways of NYADA as they sing with emotion. In the auditorium of NYADA, together they finish off the duet with microphone stands and wearing formal clothes. The lights on the stage close as Rachel and Brody look hurt. Rachel comes home from NYADA as she sees Kurt and Santana discussing an appealing TV show. They ask what happened with Brody and her, to which she tells them about the mature and honest conversation. Rachel declares it's over. Rachel thanks Santana for her work and how she was trying her best to get Rachel to see, especially by getting Finn to come over. Rachel jokes as she says she won't doubt Santana's Mexican psychic third eye ever again. Kurt suggests she now should use her boyfriend pillow and recommends Rachel not to be sad. Rachel says she isn't and that she's ready for her coming future and her new roomie, meaning Santana's stay is no longer temporary, but permanent. Since Rachel should be pitied as she went through a break-up and also found out her boyfriend was a gigolo, she should decide the movie.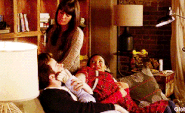 Picking up the film,
Mamma Mia!,
she begins to sing
Mamma Mia
. As she sings the intro ballad, Santana and Kurt hug their boyfriend pillows, smiling with excitement. They watch her as she walks over, most probably thinking about her break-up with Brody. Turning around as the song raises its tempo, Santana and Kurt get up as they get into the exciting part of the song. The 3 sing as the song splits off to Lima, where the New Directions begin to sing their part of the song. Between New York and Lima, they dance similar dance moves and sing at the same time. Rachel, Kurt and Santana sing and dance while holding their boyfriend pillows and using hula-hoops.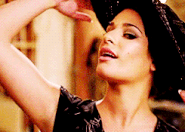 Rachel is dressed similar to Barbra Streisand and looking at herself in the mirror as she treasures her dreams. The time has finally come for the
Funny Girl
audition as she auditions for Fanny, the role Barbra played. As she speaks in a voiceover, she speaks about Broadway being her dreams and her playing Fanny on Broadway gets her overwhelmed. She tries out some hats and poses similar to Barbra as she speaks in her voiceover about the premiere of
Funny Girl
and since its premiere, there hasn't been any revival. She says there hasn't been any because producers can't find any actress capable of filling the shoes of Barbra. As she walks over, she explains that luckily, they have her for she has been working on this since 5. Near the television, she sees a small Rachel Berry, sitting, watching what looks like
Funny Girl
. She places a determined face on and that she has always been encouraged to look towards Barbra all the time. She walks over to a shrine she has, devoted to Barbra, even including collections, signed souvenirs and pictures of Barbra's husbands. She explains that she isn't entering this audition as a simple fan girl, but rather a girl who re-dedicates herself from men to people like Barbra. Rachel says Fanny is a long shot that everyone loves, but Rachel herself is just some girl that got up from a high school Glee Club, but then she realized that Barbra was unknown before-hand too, singing in a high-school choir and being Jewish, similar to Rachel. Rachel then strolls over to the mirror once again, placing on one of Barbra's costumes and hat as she speaks "
Hello gorgeous."
At NYADA, Rachel decides to train herself for her audition with some
Funny Girl
classics, prepared to sing Don't Rain on My Parade and various Barbra songs. But suddenly, Rachel hears a voice and sees Shelby, her biological mother and lets out a huge grin. As they excitedly reunite, Rachel asks what she's doing here to which Shelby says she's tracking her down because of the
Funny Girl
audition. Rachel wonders how Shelby knew to which she replies that they're Facebook friends and when Rachel posted as Barbra, she knew. Shelby reminisces, as she re-tells how she never got to play the main part in
Funny Girl
to which Rachel seems a bit disappointed. Shelby also reveals that they are in the same city meaning more visits to each other more. Despite Shelby's dreams of wanting to study at NYADA and perform songs by Barbra, her bigger and better dream is to see Rachel perform them. But not at her audition, which shocks Rachel. Shelby says to get the producers attention, Rachel needs to not become a carbon copy, but rather become an original. To get Rachel warmed up and to try things differently, Shelby then pulls out the music sheets of
Next to Me,
and the piano man begins to play the piano as Shelby and Rachel sing. Together, they sing in harmony with their power voices. At the end of the performance, they hug each other. Before Rachel's audition, she calls Finn to ask for advice on a song choice as she is confused. Finn tells her to pick the song that is most personal to her and where the roots of her talent and truth began. This inspires Rachel to pick out a classic. She thanks Finn also for attacking Brody and wished he could stay longer as they speak casually about his experience at college.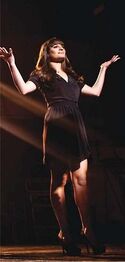 At the audition, Rachel watches as the producers speak about the previous audition as Rachel walks across the stage and prepares for the audition. Seeming overwhelmed, she begins to sing the song,
Don't Stop Believin'
. Within seconds into the song, she imagines the Glee Club as it was 4 years ago when they performed the song. Kurt, Mercedes, Tina stand near the microphones, vocalizing as Rachel smiles. She turns as she imagines Finn playing the drums and Artie playing the guitar. Gaining support, she continues the song. The producers seemed interested as they don't see what Rachel sees. At the end of the song, the six of the original Glee Club walk up with Rachel as they sing with her, similar to the choreography in the original Pilot. When Rachel finally let's out the final note, everyone she sees on stage disappears as the producers applaud her for her performance. Although, one of the producers did recognize the change in mid-song and asks her what was going to which she replies, she was thinking of her friends and that she wouldn't be the person she is now if it weren't for their courage. Towards the ending of the episode, before the performance of
Outcast
, Kurt and Rachel discuss the audition at the apartment as Rachel is worried and anxious due to the fact that she hasn't received a call. They discuss her song choice and Shelby's job in New York. As Rachel hurls her phone across the table, it rings as she squeals, it's the Broadway Producers. She picks up and when the phone call ends, she looks at Kurt and screams the news that she has been asked for callbacks. They hug and scream.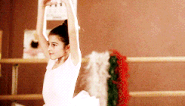 In this episode, Rachel and Kurt are worried about Santana not being able to find her future and achieve her dreams. They encourage her to find herself, Rachel commenting on how great Santana's voice and dance moves are, which Rachel opens up about herself and ballet when she was younger. But Santana insists on being a bar dancer still, disappointing the two. When Kurt reveals that Rachel, Santana and himself have been invited to attend the New York City Ballet GALA fest, Rachel and Kurt are excited. Santana isn't, but she decides she's in after Kurt offers Vogue.com dresses that they can keep afterwards. At the festival, Rachel asks Isabelle if they could watch the ballet in the audience, Isabelle tells them they can watch with her from the wings, an even better offer. Rachel insists that Santana doesn't like ballet, but it is revealed she started her childhood attending classes too. As ballet dancers go across the stage,
At the Ballet
begins with Santana singing as Isabelle, Rachel and Kurt are seen standing next to her. As she continues to sing, ballet dancers dance next to her, as if she's remembering a she sings the lyrics. As the song progresses, Kurt, Rachel and Isabelle join in. In the scene, it includes a small Rachel, Kurt and Santana as they flashback to the ballet days. Towards the ending of the song, Isabelle speaks the dialogue in the song as the Indian chief can be seen behind her. The four walk and sing on the stage together, Santana, Kurt and Rachel, looking at their young selves in a ballet studio. They all complete the song as ballet dancers take to the stage.
Good news is in abundance for the glee club: Rachel calls Will to tell him she's one of the finalists for the role of Fanny Brice in "
Funny Girl
" and credits him for helping her to get there, because of his inspiration for
Don't Stop Believin'
, which she performed at her audition. Will then announces her second callback to the Glee Club. Two of the boys, previously seen in
Diva
, who used to admire Rachel, but now want to see her crushed, dib on Cassandra about Rachel's callback and that Rachel won't be able to pass her mid-terms now. Catching Rachel rehearsing her lines for her callback, Cassandra tortures her by explaining that to ensure she'll be able to be on hand to watch Rachel choke at her first big Broadway audition, she's rescheduling Rachel's dance midterm to first thing in morning. She assigns her one of the most challenging ballet routines imaginable. Cassandra's continued insults prompt Rachel to prepare to prove her teacher wrong, but she's shocked to discover Cassandra's turned the midterm into a training camp for Rachel's audition: Cassandra tells Rachel that at NYADA, they're a family, warming the boot camp with
Uptight (Everything's Alright)
. The whole class dances along with Rachel, holding up signs and supporting her. Cassandra seems the most pleased at her success. Rachel presents Cassandra with a gift: Debbie Allen's original cane from her role as the dance teacher in the film "
Fame
." Cassandra downplays the celebratory moment she staged for Rachel as NYADA tradition, but Rachel wants to thank her for pushing her so hard all year. Cassandra admits that she saw something special in Rachel on day one and wanted her to be able to endure the struggles on her way to success.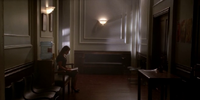 At the beginning of the episode, as the New Directions prepare for Regionals, Will reminds them to send their wishes to Rachel as she has her
Funny Girl
callback. Rachel nervously sits outside in a hallway, waiting, as the door opens, calling for her. The moment is intense for her, as Will asks the Glee Club to give Rachel applause, wherever she is today. Rachel enters the room and introduces herself, the part she is auditioning for and also the song she will be singing,
To Love You More
. The piano begins and the flute is played as Rachel prepares herself to sing. Singing with deep passion and a strong voice, she sings to the producers who watch her intently. Towards the end of the song, Rachel becomes emotional and lets out some tears as she holds her long notes. Finishing her callback solo with tears running down her cheek and nearly out of breath, the room is silent as everyone looks at her. One of the producers then thanks Rachel and tells her that they'll let her know.
As Rachel walks through New York City with an optimistic smile for her callback, she sees someone putting up the Funny Girl musical ad on the theatre for promotion. With a grin, she heads into the theatre and we see her rehearsing a part with a male counterpart. The director however immediately cuts her off after a few minutes. Rachel, surprised at the short length of the callback, asks "Is that all?." The director says it's all he needed to see. Still a bit taken aback, she spits out a lengthy thank you to the male actor/counterpart, saying he was a great person to do the lines with. Rachel enters a room to retrieve her coat and sits on the couch as she ponders on how the directors thought of her. As the directors leave the theatre, Rachel sits in the room listening to their small talk and hears their criticism upon her, saying she may be too young and too "green" for the role. Rachel becomes a bit upset as the song
Yesterday
commences. As she sings, she walks across the theatre stage, looking across the audience seats, then proceeding to stroll around New York City (Central Park & Sardi's). Her facial expressions and the lyrical content of the song describes how she really feels, concerned about what may come for her career. When Rachel stands at the Central Park Bridge, she pulls out her phone, showing a picture of New Direction's first Sectionals win. Rachel reminisces of the past. Finishing the performance at the Bushwick Apartment, Rachel sits in front of a mirror, staring back at her reflection. Back in New York, Santana and Rachel are in uniform to work at a diner as they board a bus together. Rachel is still real disappointed as she decides to back out of this. Santana tells Rachel that she cannot back out and not to mope over her failed Funny Girl audition reading. The boss at the Spotlight Diner, Gunther, tells Santana that she's late as she introduces Rachel to him. Santana explains to Rachel that she always wants to get to Broadway, but now if she wants to, she has to pay her dues. It seems that Rachel agrees as the two work, because Rachel doesn't want her dads to always give her the money and she wants to be grown and pay her own rent and buy things with her own money. Rachel seems so lost and overwhelmed as she carries all the dirty plates and dishes.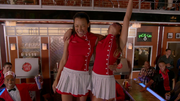 Rachel seems to be fitting into her job at the diner, serving customers with enthusiasm as she gets a text from Blaine. About to spill about the proposal, Santana points to the lower level of the diner and directs Rachel to the Funny Girl directors. Rachel decides to serve them. As she makes so, she splurts out that she's a star and not 'young' or 'green' as they described. The two directors seem clearly tired of her persistant personality, so Rachel decides to show them what she is capable of by singing
A Hard Day's Night
. Santana slips a coin into the jukebox as the two begin to sing and dance, Rachel attempting to prove that she's a star. The diner chimes into the performance as it is transformed into more of a stage than a diner. The directors seem to be interested as Rachel and Santana dance with the other waiters/waitresses. The customers applaud the Spotlight Diner crew as they complete the song. Rachel grabs Santana and says that they have to get home, because there's something special they need to do as the directors look upon the two.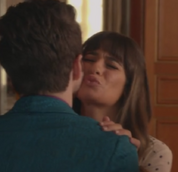 Rachel and Santana are later seen back in Ohio at Dalton Academy, assisting Blaine with his proposal to Kurt during the number,
All You Need Is Love
. Rachel brings Kurt around the school during the song and watches Kurt say yes to the proposal.
Rachel is first seen still working with Santana in the diner. She says her dreams of playing Fanny Brice are over. Santana reassures her, but Rachel still stays pessimistic about it as she says she wanted to get in for McKinley, to show everyone that she can get into this insane business. In the down-time of the moment, Santana reveals she has already got into this business, getting to do commercials for yeast infections. Santana shows Rachel the rough cut of the ad on her phone. Rachel looks a bit envious, but she smiles and says that Santana did a great job. She says that if it had been any one else, she'd be so jealous and the two share a hug. While hugging Santana, Rachel seems to be hyperventilating. Back at NYADA, Rachel sits alone, playing the piano with a tired and droopy expression as Kurt enters the room and questions Rachel. Rachel then asks if Kurt heard about the commercial that Santana did and he jealously says "I'm really happy for her," when really, Kurt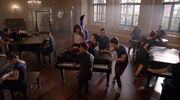 knows the truth. Kurt says that Rachel has lost her mojo by drowining herself over this one part in Funny Girl. When Rachel attempts to deny it, Kurt breaks into
Get Back,
in an attempt to get Rachel's mojo back. Rachel begins to smile as she joins the song. The two leap around the room as their NYADA peers move pianos around. At the end of the performance, the classroom applauds and Rachel, feeling complete, stands on the piano as she grins. When Santana meets fellow co-worker, Dani, Rachel jumps into the fun as she watches them and says she saw some serious energy exchanges between the two. Santana says she's getting that stinky-panty sweat under her boobs and begs Rachel for help. Rachel is confused, complimenting Dani and saying Dani is fit for Santana, but Santana reveals she has never been with a real lesbian, only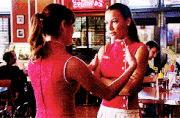 bisexuals and college girls attempting to experiment. Rachel grins as she knows Santana is scared and Rachel has never seen Santana scared before and that it's so cute. Rachel gives some advice and says that Dani is a smart girl and that a smart girl won't miss out on an opportunity like Santana and pushes Santana to go to Dani. Again, Rachel seems to be busy at the diner as Santana notices that finally Rachel has made it through a shift without "collapsing." Rachel says she is over her fear of rejection and is auditioning for every Broadway role that seems right for her. Rachel is about to leave when Santana says she has more work to do. Rachel says she thinks that's something for Santana and Dani to do alone, giving a wink, much to Santana's objection. Rachel just pushes through and leaves as Dani says bye to Rachel as well, leaving Santana shocked. Santana says she needs an agent because it seems the contract signed her up for a life time supply of Yeast-i-stat. Kurt enters the diner, waving a cloth, as Rachel squeals in awe. Santana asks why he has joined them, and Kurt says that Vogue.com doesn't pay and he needs money for his Madonna cover seed band. Rachel says it's so great that she feels like she's on SMASH season one. Kurt says that Rachel shouldn't be so optimistic for she will go back and dump them for the role of Fanny Brice. The pessimism quickly kicks in as Rachel says that is long gone, cause she would've heard by now if she got the part and that she IS positive and that she was always striving to be apart of something special. The three decide to pinky-swear on not bailing out on their dreams and their vote of confidence.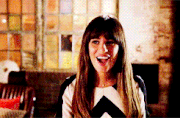 Gunther, the diner's manager, later tells Rachel that someone is looking for her. As Rachel goes to take the order, she is surprised to see the director of Funny Girl there. He orders a whole cake, but asks Rachel to write something on it, "Congratulations Rachel Berry, you are Fanny Brice." Rachel is in awe as she hears the words. She screams and tells the entire Diner about the news as everyone applauds. Santana and Kurt go along to join in her excitement, just as
Let It Be
begins. Rachel joins Dani, Santana and Kurt at the Bushwick Apartment as they sing and celebrate Rachel getting the part. Back in the auditorium, the New Directions sing the same song, dressed in special clothing as Will looks at them.
As Kurt prepares to leave for Lima, Ohio for Finn's memorial week at McKinley, he tells Rachel he is going to which she doesn't reply. Due to Finn's death, Rachel must be incredibly emotional. Later, when Kitty and the rest of New Directions view the memoriam around Finn's locker, Kitty mentions it's a bit too cheesy to which Rachel and Kurt arrive at McKinley and Rachel says that it's rather beautiful. In The Choir Room, Rachel says she is shocked and doesn't know what to say and that she loved Finn and Finn loved her. She dedicates Make You Feel My Love to him because that's the first song they sung together as they drove around together. As she performs, everyone grieves and weeps, including Rachel, who completes the performance, heavily breathing as she remembers Finn.
Once again, Rachel enters The Choir Room as she greets Mr. Schuester telling him that she knows that he's been a rock and hasn't had time to grieve himself. Moving on from him, he asks how she's going. Rachel is unresponsive for a second, but says that she just doesn't know and that she had plans to go to Broadway and fulfill her dreams before coming back to Ohio and living with Finn, having a happy ending. This plan is no longer able to happen due to Finn's death. Rachel is extremely upset and Will says to have a better plan. She decides to present the Glee Club with a placque of Finn with the years 1994-2013 and one of his many quotes from The Night of Neglect. Together they look at the plaque.
Rachel is first seen in the episode pushing Kurt as Kurt is late. Kurt announces his further plans to develop a Madonna cover band to which Rachel thinks is a bit too soon to join. Kurt says Finn wouldn't want Rachel to sit in the side lines as life passes her by, but she says that with whatever strength and creative energy she has, it must go into Funny Girl. She thinks that joining the band is a little too much, but she thanks Kurt, much to his disappointment. Because of Santana's recording, Rachel approaches Kurt about Starchild's performance, speaking sarcastically and in shock that Kurt passed Starchild cause he didn't want to share the limelight on stage with him. Kurt denies this, but Rachel continues to question Kurt, saying that Starchild is something special. Kurt admits it's about Starchild's fashion and that he should tone it down. He explains to Rachel that he's been doing quirky and weird for a while and it got him nowhere. But Rachel insists that it got him to New York and NYADA. Kurt says he wants to be apart of the mainstream now and be what people like because Rachel has Broadway and Santana has a national commercial and he wants to give people what they want to be successful. Rachel says that Kurt is way more specific and that it isn't him, and despite not being the person starting the band, Rachel believes Kurt is the only person who does things differently and makes his own path, unlike others. Rachel reassures Kurt that he will be successful and that he has true talent, but also has to see that Starchild can be as well. She reminds him that it's not too late to call him back.
Rachel returns later to the loft where Kurt, Santana, Dani and Starchild dwell, coming up for a name for his Madonna cover band. Rachel is asked how her rehearsals went, but Rachel replies it was sad because she sang
My Man
all day, which was kind of depressing for her. Rachel jokes to calling the band "
Pamela Lansbury
" as everyone looks at her with an expression of interest. Everyone agrees to the name all of a sudden with Kurt begging Rachel to join this time round. Eventually, Kurt convinces Rachel and everyone is happy. Rachel participates with the Pamela Lansbury band in the final episode performance of
Roar
.
Rachel is first seen in the hairdressers, speaking about needing a transformation and looking completely different as she gets her hair done. She arrives at her Funny Girl rehearsals with Rupert and Paolo ready to rehearse. Rupert is ready for the entire rehearsal and wants to see the sexual stimulation between them. Rachel is confident as she takes off her beanie to reveal her cut down hair as Rupert and Paolo asks if she is kidding. She continues to say she did her research into her character, but Rupert refuses to believe this and says that every change that occurs to Rachel is on his call, his voice and he gets to call the shots. She says she isn't a prop and nees freedom to be able to find and to express herself as Fanny Brice. Rachel pushes his comments away by acknowledging the pain she has gone through in the past month and just wants to rehearse the song to see how it works. Rupert eventually agrees as
You Are Woman, I Am Man
begins. The piano starts as Rachel takes a seat on the red sofa as Paolo sings. As he sings, Rachel expresses her inner Fanny Brice and joins in as they duet while Rupert watches on satisfied. But before the song finishes, as Paolo whispers the final line, Rupert tells them both to stop to their surprise, but then he says that he loves it and that she is definitely Fanny. Rachel is filled with pure happiness.
Later, Rachel returns to the loft as Kurt watches television. She exclaims about having the greatest experience in her life as Kurt is in shock about her hairdo. But Rachel takes off the wig, revealing her normal hair, tight in a bun. She says she needed to rebel a little bit, like Fanny in Funny Girl, to have a bit more room to play. She eventually revealed to Rupert that it was a wig since he didn't realise and he let her wear it in the live shows. Kurt freaks out about Rupert getting angry at her for lying, but Rachel says that Kurt is boring and gives her reasons as Kurt looks on in disapproval. She says he does the same thing every day and that she rebelled and took a risk with this wig, feeling more alive and it was as if she didn't even care. Rachel claims she wants to feel urgent and be able to reach out for their dreams before something comes their way, but Kurt comments that it is a stressful feeling and looks on at her with sympathy. He asks if it has anything to do with Finn. She hesitates, but as she brushes her hair she says if a part of her grieving process is diving head-in into life, then maybe it is. Kurt is then convinced and jumps up and begs Rachel to go out to do something crazy. They both are in agreement and excitement and decide to use Kurt's savings to do it. At the Body Tattoo Parlour, Kurt and Rachel are both excited and nervous about doing it. As they flip through the tattoo choices, Kurt is sure that it's the right thing and that he's an artist and should be more expressive. Rachel takes out a bottle of alcohol, sharing some with Kurt, as they cheer for their rebellion. The two discuss their choices and what they're going to get as a scary, tough store worker at the tattoo parlour greets them and asks who is first as Rachel and Kurt give each other a nervous glare.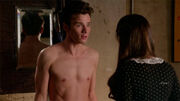 Kurt awakes, tired from two shots last night, as Rachel is cooking pancakes. Kurt forgot about his tattoo and leans on it too hard, making him yelp. He laughs as Rachel asks to see it. He takes off his gown as he reveals his back, saying it's personal to him. Rachel is overwhelmed and goes "Kurt! Naaw, it gets better!" but stops mid-way as she touches it, leaving Kurt scared, asking if it's infected. Rachel says that isn't the case, but that the tattoo says "It's gets better" rather than "It gets better", revealing that they misspelled it. Kurt looks in the mirror in shock and says it's permanent as Rachel insists him to get it removed. They decide to return to the Tattoo Parlour to have them fix it, but Kurt hopes that maybe the man got Rachel's tattoo wrong, misspelling "Streisand". Rachel sighs as she reveals that she didn't go through with it to Kurt's disbelief. Rachel is sorry, but she says that all her idols don't have tattoos and she's willing to go back with Kurt to get his money back. Kurt says he can't get it back and picks up his gown as he leaves the room, upset.
Kurt returns from the Tattoo Parlour as Rachel sits in her bed saying she knows that Kurt is upset about the incident, but the silent treatment is immature. Kurt can barely talk to Rachel's confusion, but he reveals he pierced his tongue to Rachel's disgust. Kurt says that Louis, the tattoo man, also fixed his tattoo as Kurt takes off his shirt to show Rachel that it's fixed. Rachel asks about the tongue piercing to which they both sit together on the bed as Kurt reveals that ever since Finn's death, he has been going about in his business, but he's also in a trance and needed something to jolt him back to life. Kurt jokes about Rachel getting a tongue piercing, but Rachel says that she doesn't have anything she loves enough to put on her body for the next 50 years. Later, Kurt leaves the bed to Skype with Blaine as Rachel is left alone in her bed, but she gets up and goes into the bathroom and stands in front of the mirror. Lifting her shirt up, a tattoo is on her body, saying "Finn" as she touches over it. During On Our Way, Rachel joins Kurt as he shows his tattoo to his friends at the diner.
At the end of Movin' Out, Rachel, Santana and Kurt greet Sam and Blaine as they make it to their New York Bushwick Apartment. Later, at the Spotlight Diner, Santana asks why Rachel is still working after many rehearsals, to which Rachel replies that Fanny Brice was a hard-working girl and she wants to keep the role alive and authentic as possible. While on their shift, Kurt forces Blaine to sing a song in preparation for his NYADA audition. Rachel looks on with interest, as for Santana, who disapproves. Rachel sits next to Sam as he plays the harmonica and also joins in with the performance, dancing and holding candles. At the end of the performance, Rachel applauds Blaine with glee.
In the Bushwick Apartment, Rachel cooks Sam food after he fails to impress at his interview for Hunter College, but he doesn't seem hungry. Rachel attempts to lift Sam's spirit by encouraging him to search for other schools that have scholarships just for him. Sam tells Rachel a secret, saying that he doesn't want to go to college and that he only hates school because he isn't good at it. Rachel advises him that life is not about going for what you want, but crossing out things on the list that you don't want. Sam tells Rachel about what he wants to do: Male-modelling. Sam tells Rachel a vision he sees of himself in Hollywood, that if he's waiting at a bus stop and a bus pulls up and it has his picture, with his junk as big as a car. Sam thinks Rachel might think he is crazy, but Rachel encourages him to eat up because she's going to prepare a photoshoot for Sam to show his photos to agencies. Sam is in doubt, but Rachel assures him: New York is the city where dreams come true.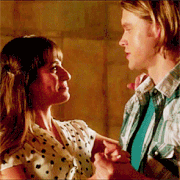 Rachel introduces Sam to Barbara Brownfield, the photographer for Funny Girl. Rachel joins in with Sam as they do a photoshoot together, leaving the future of Sam in Barbara's photography work. Later, Rachel and Barbara encourage Sam to strip it off as Rachel rubs oil over Sam's body. They both share a glance before they continue with the shoot. Once again, Rachel offers food to her roommates while Santana goes on about not having room for Blaine and Sam's gift: the piano. Because of what Bichette told Sam about losing 10 pounds, Sam takes it very seriously, but Rachel and the others tell him that he doesn't need to. Blaine decides that they should sing about the situation as he uses the piano. Rachel seems very optimistic, but as for Santana, she isn't so pleased. Kurt starts singing
Just the Way You Are
as Santana storms off, leaving Rachel to shrug. Together, Rachel and Sam chime in with Blaine and Kurt. Later, Santana returns to join as she isn't able to resist not singing. The five sing with Sam and Rachel and Kurt and Santana as partners, dancing. At the end of the performance, Santana's expression hints that she saw the potential chemistry between Sam and Rachel.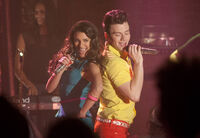 Rachel is first seen at the apartment at an emergency meeting of Pamela Lansbury. She is excited when Kurt says he booked them a debut gig, and is the only one to support his choice of a debut at Callbacks. In Kurt's vision she performs
Into The Groove
with the rest of the band. She is next seen at the actual gig, and is the one to give Kurt the bad news that no one has come to see them. Later, at another meeting of the band, she assumes Kurt called them to retire the band, but is thrilled when instead he announces their second gig to have been booked at a popular venue. After they get a package from Blaine, she seems creeped out by the puppets, but is later seen singing
The Fox
with the puppets while playing a board game with other band members.
Santana and Kurt are seen opening gifts for each other in time for the Christmas Season. Santana mentions that one of the gifts is for Rachel, a Pro-Activ Solution. Later, Rachel enters the apartment loft and is excited to see Santana here. Santana says she wanted to do something a bit different this year, to which Rachel says in that case, she's in luck, because she booked Kurt and herself a Christmas gig as Christmas elves at Santa Mall and Santana can join in. Santana and Kurt agree as Rachel becomes overjoyed: "I'm going to be the best Jewish elf ever!"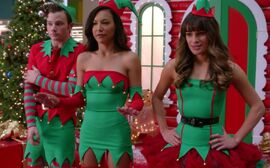 At the mall, all kids are behind a barrier as Rachel, Santana and Kurt, dressed in Christmas elf tights, watch on as the kids protest to wanting Santa. Kurt wonders when Santa will arrive, Rachel later pointing him out as he arrives in a small "Red Caboose Express". Rachel, Santana and Kurt are looking a bit shocked as he arrives in front of them. Santa addresses them as Lady Elves as Kurt greets Santa. He pulls down his beard to howl at Kurt as Santana and Rachel watches on in fear. Santa tells the three of them to take care of the crowd as he walks away without adjusting his beard as kids look at Santa with sad expressions. Santana notes that the crowd is about to get "fugly" and asks Rachel if there is a plan. Rachel, ambitious, says there is always a plan as she tells Kurt to hit it as he goes to a small piano and asks Santana to grab a candy cane as
Here Comes Santa Claus (Down Santa Claus Lane)
begins. As they song advances, the three get up to dance and sing for the children. Little elves surround them with hoola-hoops, candy canes and they also throw fake snow. Despite Rachel's satisfaction, the kids aren't satisfied at all at the end of the performance and start throwing items and food at them. Santana is later bathing in the New York loft as Rachel and Kurt call her to return to play Ms. Claus. Santana suggests that Kurt can play all the parts, but Rachel insists that the mob is becoming restless and needs Santana's help. Later on, Rachel and Kurt reassure the mob of children and parents to say that it's actually Ms. Claus who's been writing the list of who's been naughty and who's been nice as they introduce Santana as Ms. Claus. The kids buy the act and become excited despite Rachel's repeated "Who's excited?" which received no answers. Rachel and Kurt stand by Santana as she acts as Ms. Claus, letting each child sit on her lap. But to Rachel and Kurt's disapproval, Santana criticises the gifts and also gives lousy comments to the children. In the middle of Santana talking to a child that reminds her of Brittany, Rachel grabs the child off Santana. After Santana mentions needing a break, both Rachel and Kurt seem very displeased. Once again, a mob appears in the mall, this time of angry parents out there as Rachel tells Kurt and Santana this, scared. Kurt says that it's all over until a shirtless Santa comes down the escalator and greets them, introducing himself as Cody, but that they can call him Sexy Claus. Kurt checks him out as he tells them that he heard there was some trouble going on here. Santana says they don't need his help, but as he's about to leave, Rachel begs him to stay because they don't want to become trampled by the mob. Cody agrees, but only if they stay for a week as he deputises them as his elves. Before being able to help them though, Cody says he wants to get to know his elves first so he agrees to dinner at their place.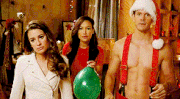 Kurt asks Rachel to take down all of the Christmas ornaments despite Rachel not wanting to. Rachel opens the door after hearing a knock to reveal Cody. Rachel puts on some Christmas music as Cody looks around as Santana and Kurt monitor him. Cody pulls out balloons, helium and costumes from his sack and asks how the three of them met to which Rachel replies "Glee Club". Cody becomes interested and asks if he can request, holding up a can of helium.
The Chipmunk Song (Christmas Don't Be Late)
begins as Kurt, Rachel and Santana use balloons and helium to make their voices higher like chipmunks. They sing and dance in their chipmunk voices around Cody to get his approval, acting as his elves. Together, they dance, dress in costumes, do different activities and drink their egg nogs. At the end of the performance, Rachel, Kurt and Santana laugh and sit together, looking drowsy as Cody looks around, satisfied. Santana and Rachel sit on a couch as they enjoy Christmas, expressing their love for Christmas and New York. Rachel suggests Santana moves here, but Santana does not want to due to her scholarship for Louisville. But Rachel prods Santana on, telling her to stay with herself and Kurt. Rachel realises that Kurt isn't with them and stands up to look for him as she hears some noises. She turns to see Kurt and Cody making out. Santana says she's both disgusted and impressed as Rachel looks at them with excitement. They all give a cheers with their cup as Cody says "Here's to being naughty this Christmas". Rachel later wakes up with tinsel stuck on her face. She wakes Santana up as they feel drowsy and even drunk. They get up to see that the apartment has been ransacked by Cody. They find Kurt tied up on the bed and help him. Kurt calls Cody "Rough Trade Santa" and says that he wanted Kurt to root all over him, but Kurt said no, therefore Cody admitted that he was here to rob them anyways much to Rachel and Santana's shock and disgust. It is revealed later by Rachel that Cody ransacked Santa Land at the mall as well, including the money from the Salvation Army bucket. Rachel proposes a new job and ensures that the three of them will be protected by bullet-proof glass. The three, behind a window in a street, perform
Away in a Manger
as people walk past and watch them.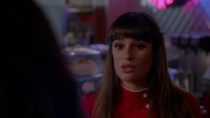 Rachel notices a customer at Spotlight Diner refuses to take the order Santana brought to her and asks her why is she so upset. Santana confesses Rachel she feels guilty about all she did to Rachel in High School and that she was always trying to convince Quinn and Brittany of hating her. Rachel says it's okay and thatshe forgives Santana, and that it's time for Santana to forgive herself. Rachel encourages Santana saying one day she will be on the top, just like Rachel is right now, and says as she's appearing on the cover of New York Magazine, she could make Santana appear too, and Santana accepts the proposal saying Rachel is a really good friend.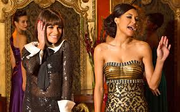 Later, Rachel and Santana are getting ready for the photoshoot. Santana tries to make Rachel relax and tells her she looks amazing, and then Santana imagines them both performing
Brave
during the photo session. Back in the Bushwick apartment, Kurt is impatient for the band rehearsals that night. Rachel tells her friends she won't be able to be there because she has to attend her understudy's audition and she expects them to be more supportive and leaves the apartment, which leaves Santana thoughtful.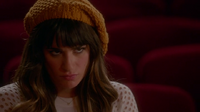 At the auditions, Rachel tells Rupert she can't believe how untalented are people of New York and it isn't surprising that they casted her. Rupert says that there are only a couple of remaining names and calls the following auditionee, Santana Lopez, which disconcerts Rachel. She is visibly shocked when Santana suddenly enters the room singing
Don't Rain on My Parade
and performing a little choreography, similar to the one Rachel made years ago, during their first Sectionals. Rachel is visibly upset and jealous of Santana, and is very confused right after the audition, when Rupert asks her why hadn't she told him about her roommate. Rachel is mad at Santana when she tells Kurt what happened. Rachel thinks Barbra Streisand owns
Don't Rain on My Parade
, but thatt during her absence, she is the only person who can sing it, and that it was completely inappropriate from Santana to audition without telling Rachel first. Rachel starts yelling at Santana when she enters the apartment and tells her it isn't personal, but on principle. Santana says that the last month, with them in Spotlight Diner while Rachel is in rehearsal, has been a revenge for her for all that happened in High School, and that's why Rachel can't stand Santana succeeding. Rachel says that Santana can't stand that Rachel finally made it big, and Santana replies saying Rachel should admit that she's just as good as her, but she can also be popular in school and have success after graduation. After Santana continues saying that Rachel is short and awful and that those things are never going to change, Rachel slaps Santana. Right after that, Santana receives a call saying she is the new understudy of Rachel.
Rachel finds Santana at her vanity and tells her she can't be there. Santana says Rachel's makeup makes her look like a hooker, and Rachel threatens Santana to slap her again, and says that she won't steal her role, not even killing her. Ruperts breaks in the room and orders them to stop fighting. After that, Rachel and Santana start singing
Every Breath You Take
, with competitive looks of antipathy during rehearsals.
Santana and Rachel are discussing again at the apartment, and this time they determine they can't continue living together. Rachel finally decides to leave the apartment before saying Santana they were just pretending to be friends ever since their number in the choir room after graduation, probably referring to
So Emotional
(which would mean this was a mistake of Rachel). In Lima, Blaine, Artie and Tina start singing
Breakaway
, and at the end of the episode Rachel makes her bags and leaves home, breaking a photo of her and Santana in front of her.
The feud between Rachel and Santana continues. Rachel has moved in with Elliott, telling him that she was kicked out and had nowhere else to go. Elliott tells Rachel he has been looking for a roommate anyway, with rent being so high so he doesn't mind if she stays. During one of Rachel's rehearsals, Elliott brings her dry cleaning and some tea. Rachel suggests he stick around to sing some Funny Girl songs with her. Elliott says he would love to sing with her, but suggests they sing something a little more "Rock 'N Roll," so they duet on Heart's Barracuda.
Later on, Rachel is running late for work at the diner and discovers that Santana is running lines for
Funny Girl
with Elliott which infuriates her. Rachel tells Santana that she has already gotten the apartment and Kurt and says that Santana will never play the part of Fanny Brice. Rachel also acts possessive of Elliott, even when Kurt reminds her that she does not own him. The diner manager steps in and asks Rachel to perform the song
Gloria
for a customer named Gloria, for her birthday. Santana thinks that Rachel cannot handle the song on her own, so she says that she and Elliott will do the song with her. Rachel tells Elliott he can use the song as a means of deciding which girl he thinks is better. Rachel and Santana are rather hostile toward one another during the song and vie for Elliott's attention. After the song ends, Rachel and Santana both demand that Elliott choose sides, however he is clearly annoyed by all the drama and demands that both girls "work out their stuff," and adds that he is quitting
Pamela Lansbury
until the feud ends.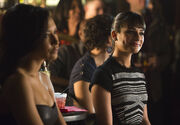 Later on, back at the loft, Kurt is attempting to mediate a discussion between Rachel and Santana in hopes they can come to a resolution to their fight. However, the hostility between the two continues and neither is willing to admit wrongdoing. Kurt then informs them that both are kicked out of the band, as they cannot continue to have fun and play music with them being at odds with one another. Kurt says he will now be exclusively be working with Elliott and
Dani
and invites both Rachel and Santana to come to their first gig as a trio. Although neither Rachel or Santana are happy about the situation, both girls decide, for Kurt's sake, to attend the show and be civil to one another for one night. Both seem somewhat sad during the performance of
The Happening
. Back at the loft, Rachel is sorting through a draw of Santana's lingerie-what used to be her scented candle draw-and is caught by Santana. Although there is still clearly anger between them, for the first time there is a hint that both girls might be regretting their fight. They talk about how they were each other's only other girlfriend in NYC. Rachel and Santana are then interrupted by Kurt, Dani and Elliott who remark about the girls being in the same room without getting into a cat fight. Elliott tells Rachel and Santana that he thinks both of them are amazing and hopes they will patch things up. Rachel remarks that making up probably won't be happening anytime soon and leaves for a
Funny Girl
rehearsal. Rachel is last seen performing
Hold On
.
Rachel appears in one scene at the end of the episode. She is working in the diner with Kurt and Santana. When Kurt suddenly says he has news, Santana assumes it's about the band and Rachel asks her if she is trying to "steal his dream too," in regards to Kurt and One Three Hill. But Kurt tells them that Glee Club has been disbanded due to them losing Nationals and is over, leaving Rachel looking shocked.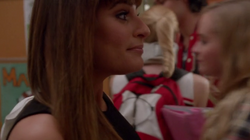 Rachel appears in the very beginning of the episode while she is going to the choir room. She is jealous of Mercedes' success, and believes there can only be one diva in the choir room, and that it should be her. As Mercedes comes up to her, she great. Later on, Rachel and Mercedes are seen on
Fondue for Two
hosted by Brittany. Brittany starts off with pointing out that Rachel has many commitments, but asks Rachel if she thinks it's irresponsible for her to leave New York due to the fact that the Glee Club has been cancelled. Rachel replies back flustered, but is cut off by Brittany stating that the lies are never going to stop and that Rachel doesn't live in New York and has never been to New York. Rachel is outraged at that statement and replies back, but then abruptly changes the conversation to the fact that Brittany's cats are making out. Later in the question session, Brittany asks both of Rachel and Mercedes what song they are going to sing for the Glee Club with both of them replying with
Defying Gravity
. Rachel is outraged and gets mad at Mercedes and tells Mercedes that she can't because Kurt and her are singing it and that they are switching parts, so Rachel can belt out the high note at the end. Mercedes snaps back at her with the fact that is not reinventing a song, so Rachel suggests that they do a Diva-Off.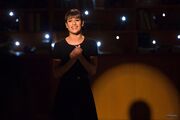 In the choir room, Will announces there will be one last Diva-Off with the song,
Defying Gravity
. Rachel states that there will be a secret ballot for everyone to vote in to see who is the true star of the Glee Club, but also states that it is either her or Mercedes. She then gets up and stands in front of everything and thinks that all she ever wanted was to be chosen while the music for Defying Gravity starts to play and the scene shifts between her, Mercedes, and Kurt singing the song. Later on, Rachel tells the Glee Club why they should vote for her stating that she is on one of the longest Broadway Musicals of all time. She also mentions that she beat Kurt singing Defying Gravity (Season 1) last time and then goes to mention that she is always better than Mercedes and that everyone should vote for her.
When the voting for the Diva-Off occurs, Santana deciedes to say some things about Rachel by stating that she is one of the most horrible people she knows on the planet and Rachel replies upset and confused. Santana also points out that Rachel has won more than half of the members in this room to be the lead soloist or the lead in a musical. She then points out that Rachel doesn't know the names of the other half of the people, and asks Rachel to say who Ryder is when she points to him. Rachel calls Ryder, Rick, and then when she realizes that Santana is telling the truth, she looks down. Santana takes things even further by telling everything horrible about Rachel including how sharing a bathroom and blames her for shaving and leaving stubble in the sink (even though it is Kurt). Rachel then sadly says that, that is a lie, and Santana retaliates with how Rachel won Prom Queen to which Rachel is confused. Santana admits that Rachel did not win, and that Quinn and her stuffed the ballot box, so Rachel would win after feeling bad for her. Rachel replies back with that Santana is cruel and that she is only doing this due to the fact that Rachel is the lead in Funny Girl and that she is the understudy and that she wants to make Rachel feel bad, to make herself feel better. With that Rachel, walks out of the room. Soon, Rachel is seen crying in the bathroom and Mercedes comes in and Rachel while crying tells Mercedes what it is like in New York with Santana and the fact that everyday just seems like she is back in high school again. Mercedes cheers Rachel up with some words of inspiration and Rachel states that she is sad that she was one of Mercedes tormentors and that she always felt like it was Rachel verses Mercedes. Mercedes tells Rachel that she is the best singer she has heard of and that she wants Rachel to be successful, but she wants to be more rich, famous, and bigger. Rachel starts to laugh and then comments that Barbra and Beyonce feel the same way and Mercerdes replies back with that she will ask them when she gets her first gold record. Rachel comments she will have won her first Tony by then, and both of them laugh and then hug.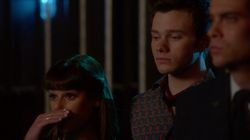 Finally the voting actually occurs and everyone finishes voting right when Rachel and Mercedes walk into the choir room. Rachel apologizes to everyone about her outburst that occurred earlier, and then states that Mercedes and her have been talking. Mercedes states that having everyone vote on who is more talented is ridiculous and Will states that it was a tie. Mercedes and Rachel happily scream and hug. The last scene is with Rachel and the rest of the Glee Club in the auditorium where Finn's plaque now rests and Rachel is seen softly crying.
In the choir room Tina walks in to find Rachel, Artie and Sam packing up the trophies, before she can start to cry, Blaine and Kurt come in with good news: Blaine got accepted at NYADA. Rachel hugs him and everyone congratulates him. Sam accidentally knocks Tina out with one of the trophies and a dream sequel starts. The intro from the sitcom C.H.U.M.S. start, which stars the New York Gang: Santana, Rachel, Artie, Blaine, Kurt, Sam, Artie and Tina, they are shown splashing in a fountain.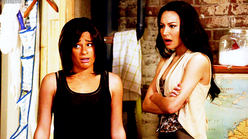 Artie comes in the apartment, complaining about the 10 flights of stairs, until Santana tells him to use the elevator. Sam dressed only in his underwear comes in and Blaine asks him where his clothes are, he says he's forgotten them in the laundry shop to which Blaine only replies: again. Rachel says she will never come out of here, meaning the bathroom. Kurt tells the others that this was what he'd said in sophomore year in high school. When Rachel comes out her face is dark brown from spray tan, causing shocked looks from the others. In the Spotlight Diner Rachel tells Kurt that she will never get a spray tan again. Mike appears and Artie asks him what he's doing in New York. He replies that he's here to win Tina back, obviously he's embarrassed he said it out loud since Tina was right next to him, but he tells them that he's also in NY to teach dance to the homeless and that he brought some additions to the CHUMS:
Mercedes
,
Brittany
and
Puck
, the later who asks Sam where his clothes are, Sam walks away saying that he knew he forgot something.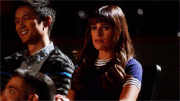 Back in the choir room, Rachel has Tina's head on her lap while Sam is trying to wake her. When she does Sam apologizes, but Tina only smiles and tells them that New York will be amazing. In the auditorium Kurt and Mercedes perform
I Am Changing
after they give a little speech about their friendship, pointing out that they had a little fight, but they made up and now are closer than ever. During the performance everyone, but Rachel and Santana seems to enjoy it, Rachel looks sad and Santana grim, however at the end of the performance when everybody's cheering and Mercedes and Kurt hug, both Rachel and Santana smile and applaud. In the bathroom Rachel tries to make up with Santana, giving her a peace offering, but Santana refuses and leaves the bathroom, when Rachel asks her what this all is about and that she doesn't get it anymore. In the animal club
Holly
walks in and performs
Party All the Time
, dancing with Rachel, the scenery changes and everybody is dressed up and walks down the hall into a big room that's actually a disco.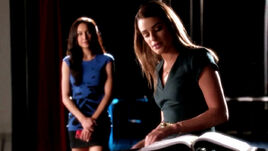 In the auditorium Rachel is practicing her lines for Funny Girl, when Santana comes in she observes that Rachel is really devoted. Rachel says that she cannot afford to slip, because then Santana will get her part. Santana tell her that she doesn't like it and that she knows that Rachel has worked her butt off to get the role and that it has been her dream for years. She just isn't a very nice person and sometimes she makes choices that seem right at the time, but are actually mean. She tells Rachel that becoming a Broadway star isn't her dream and shows Rachel a text where she quits Funny Girl, but asks her not to become sentimental about it. As she is really happy for her, but did it entirely for herself. Rachel asks her to sing a song with her and Santana agrees, but only if they sing something they haven't already sung. In the choir room they perform
Be Okay
. In the choir room
Quinn
and Puck perform
Just Give Me a Reason
, while everyone is smiling, including Rachel. Quinn announces that she and Puck are officially dating now, something they've never did before. Will gets up and tells them that this was the last song that's been ever performed here and that he knows that everybody got more songs to sing, but that they cannot do it here anymore. He sighs and tells them that glee club is officially over, thanks them and says that it's been an honor. Rachel smiles sadly at him.
Will walks into his office and finds a large envelope reading "Will Schuester" on his desk. It's an invitation to the auditorium. He goes there to find a press me sign on the table facing the stage. As he approaches the table a spotlight shines on him, blinding him and he shields his eyes with his hand. He presses the button and a video starts, where the glee club member, current and former, Sue and Holly, tell his not yet born child what kind of person her or his father is. Rachel says that he always took care of them and that all of them love him and no matter where they are he will always with them because they have the same tattoo on their hearts.
Don't Stop Believin'
starts playing and is performed by Rachel, Artie, Sam, Blaine and Tina. Will and the rest of the former and current glee club members join them, dancing and singing. At the end everyone cheers and they all hug in a big group hug. In the auditorium graduation takes place with Sue announcing the names. When Tina's name is announced Rachel holds up a big "Queen T" sign. Will sits on a piano chair and thinks, then he gets up and hears the voices of the glee club kids back when they lost their first regionals, when everybody told him what glee club has done for them. Rachel is heard saying that being part of something special makes you special. He turns out the lights and leaves the choir room behind. But even after the lights are turned out the laughter of the kids who spent so much time in this room can be heard.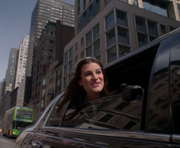 In front of the theater Rachel is presented with a car and driver by the Funny Girl producer Sidney. She is very happy about it and jumps in the car. She starts to perform
Downtown
. When she sees her friends Artie, Blaine, Kurt and Sam the car stops and she runs to them, hugging Kurt. She tells them that her driver never talks to her, but that he takes her everywhere she wants to go. She invites them to lunch and offers a drive in her car. But there's not enough space for all of them in the car, especially Artie. So Artie tells them that he and Sam will meet them there. Rachel comes in the apartment and Blaine offers her some homemade soda, but she refuses because she thinks it is bad for her vocal cords. Kurt tells her that Artie has been robbed and she tries to cheers him up with her story about she gave a homeless man $10 instead of one and how everyone hissed at her when she asked it back. All the while Blaine is making soda and food, much to the annoyance of Kurt. Artie is offended by Rachel's lecture about being a real New Yorker and storms out saying that Rachel isn't a real New Yorker, let alone a real person anymore, with her limousine and all. Rachel is shocked and repeats over and over again that her car isn't a limousine, but a town car. In her "town car" Rachel comes to the realization that Artie is right that she's isolated. She realizes she cannot be a big broad way star if she has no real life experience, so she asks the driver to stop so she can get out and drink some strong black tea she had never had back home in Ohio.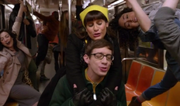 Rachel texts Artie to meet her at the subway. There she apologizes to him and tells him to take the subway together, that she knows that he's a little shaken up because of what happened there, but that she can protect him. Artie ask about her limo and Rachel says that she gave her town car back and that she's taking the subway with her friend every day. Artie surprised, but Rachel says that she will if he lets her and promises her to tell her when she's not behaving like herself, she tells him that she's glad he's in New York because it is a much less scarier place with friends. Artie tells her that he is glad she dragged him there because he actually loves it. They perform
Don't Sleep in the Subway
and hug at the end of the performance. At the apartment Rachel and Artie tell the others how they found the man who mugged Artie and how Artie sprayed pepper spray into his eyes. The man got arrested and Artie got his laptop back. Then Blaine and Kurt that they decided that Blaine will move out to give them some space, but that they are far from breaking up. Blaine wants to move in with Sam, but he no longer has his own apartment, so they decide to find themselves one. Then Mercedes comes in and hugs Rachel who says that she will never leave now.
Blaine and Kurt carry a couch into the Mercedes' new apartment, when Rachel asks them where Mercedes is, they tell her that she is inside alone with Sam. Rachel just keeps texting, joking that it is her publicist, but tells them that she has to go now. She wants to meet them later for dinner to make a new Monday dinner tradition, she then yells texi and gets in it. On the theater's stage she performs
People
. At the end of the performance the gang sits together and has fun, while Rachel smiles. Then the song ends as Rachel is walking on the crowded streets.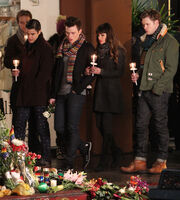 Rachel, along with
Kurt
,
Blaine
and
Sam
, sings
No One Is Alone
in the streets of New York, attending a candle light vigil for Russ, a guy who was beaten up for being gay. Sidney, the Funny Girl producer, gives a speech about how he wants the whole cast to be at their best and make the musical a huge hit. Rachel looks a bit tense, but claps and smiles at the end of it nonetheless. She hurries about Sidney to ask him to give her two hours off for her NYADA winter critique, which will be a main part in her grade. Sidney is reluctant at first, but Rachel convinces him by reminding him that she hasn't given him anything less than a 150%. He agrees stressing that it is a onetime exception. In the apartment Rachel greets Sam telling him how nice their new dinner tradition is. When
Mercedes
finds a flyer about Russ' candle light vigil, they all start to talk about it. Kurt is obviously very upset about it and asks to change subject before he's completely lost his appetite. Kurt begins to talk about their critiques and he, Rachel and Blaine are excited about their assignment: Sondheim. Rachel wants to do something special for it, so Blaine suggests a duet. However, they are interrupted by
Artie
who caught Sam and Mercedes playing footsy.
Rachel starts to perform
Broadway Baby
for her critique. When Blaine joins her, Madame Tibideaux glares at them throughout the whole performance. After it she tells them that it was an excellent performance or it would have been if the assignment would have been a duet. To Rachel and Blaine's great shock she flunks them both and calls "next." However, she changes her mind a moment later and tells them that she gives them the opportunity to give her what she asked for and that they can reschedule their critique this week. Rachel immediately tells her that she's in the middle of rehearsals, but Madame Tibideaux cuts her off, pointing out that she made her point very clear. In Madame Tibideaux's office Rachel asks for scheduling her critique after her opening night. But yet again Madame Tibideaux tells her that it is either this week or she fails. When Rachel starts to protest she informs her that all the professors said that Rachel is barely keeping up and underperforming. Rachel is shocked and tells her that she always wanted to be in a Broadway show and that this was the reason why she fought so hard to get into NYADA. Now that she has her dream role she will let nothing hold her back. Madame Tibideaux tells her that she is very talented and has drive, but no foundation and that she should think long and hard about what she's about to say next. Rachel says she has and quits NYADA. The next day Kurt and Rachel meet up for dinner. He confronts her about quitting NYADA and that she should think about her future, because Broadway is a fickle business and that her first role might as well be her last. Rachel is offended by it accusing him to be on Tibideaux's side and that he doesn't believe in her. She tells him that he needs a place like NYADA, a safe group, so he can avoid the real world and becoming an adult. Kurt only answers with "screw you, Rachel" and she storms out.
Blaine gets a phone call about Kurt being gay bashed and beat unconscious and informs Artie, Mercedes, Rachel and Sam. They all rush to the hospital to see Kurt. Rachel feels guilty for leaving him to walk home alone, but Blaine reassures her that her being there wouldn't have changed Kurt's actions. He starts to sing
Not While I'm Around
to Kurt and lies down next to him on the hospital bed while everyone leaves them alone. When Kurt gets out of the hospital Rachel apologizes to him, stating that he is the most talented person she's ever met and that he took more risks in his life than she ever has or will be. She tells him she loves him and that he's her best friend. Kurt forgives her, telling her that they had worse fights, that he loves her too and that she is his best friend as well. They hug. At dinner Rachel tells the others that she will go to Kurt's critique even though she is no longer a student at NYADA. They all watch Kurt perform
I'm Still Here
for his critique in the round room.
Rachel, while walking to the couch, tells
Mercedes
how nice it is to have a real girl friend in New York. Mercedes asks her about her first time with
Finn
and if it was special, since she wants hers to be special, even if she is no longer in high school. Rachel tells her that they were at his house and that it was special because she knew he loved her, and she loved him. Mercedes wants to know how you can know that you're ready for it. Rachel says that you probably never really are, but that it just happens. In the kitchen Mercedes wants to talk about S-E-X again, Rachel laughs and says that if she can only say sex by spelling it that she definitely isn't ready. Mercedes tells her that she wants to wait a few weeks or even months more and that
Sam
is ok with it. Rachel tells her that Sam must really love her if he, as a 19 year old guy, is willing to wait so long. Mercedes says that she thinks that she should go out on dates again, that it's time for her to move on and that she wasn't even dating Finn when things were going down. Rachel says that they were always dating even if they weren't because they knew that they would end up together. She also states that she has to focus on her career. Mercedes apologizes and asks if she is ok. Rachel smiles and says she is.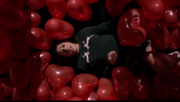 The episode opens with Rachel being woken up by
Kurt
who tells her that she's on now. Rachel opens her eyes to find herself in her bed on the auditorium stage of McKinley High School, obviously in a nightmare. A stuttering
Tina
brings her a costume, but when Rachel asks why she only brought a hanger,
Santana
explains that she isn't wearing anything for her scene. Suddenly Rachel sits between
Karofsky
and
Jacob Ben Israel
and spits out a tooth. Karofski asks if she has trouble chewing on something, while Jacob Ben Israel keeps telling her that all he ever wanted was to be loved by her. Sidney and
Sue
are speaking with contorted voices telling her to go on stage. Rachel notices that her purse and
Finn
necklace is missing.
Becky
screams that she should get on and Rachel once again in her reindeer sweater starts to perform
Lovefool
. Her friends who all are dressed like they were two years ago sing back-ups, while Sue, Becky and "present" Rachel seem to be annoyed by her performance. It ends with Rachel lying in a sea of red heart-shaped balloons while everyone is booing and she wakes up with a start, clearly shocked and out of breath. Kurt and Rachel sit in the kitchen while Kurt is making tea and trying to take Rachel's anxiety away from her, because she is nervous about her opening night and the bed comments she read about herself on dubious blogs. She tells him that actors want to be loved and are like a bottomless cup that always needs to be filled with love and validation. Kurt asks for Rachel's phone and then declares that she's being unplugged until after opening night and that she is forbidden to use the internet for anything. He tells her that none of the successful singers and actors read those bad comments and that they will turn the apartment into a great love bubble and if she needs her cup to be filled she can do it right here from the people who know and love her. Rachel agrees and hugs him.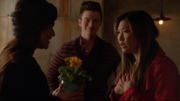 Tina enters the apartment and is greeted by everyone. She presents Rachel with flowers and is worried that Rachel is ill like she was the first year in glee club, but Kurt tells her that Rachel is only resting her voice. Tina goes on about what a big deal Rachel's opening night is, clearly making Rachel feeling uneasy with it.
Mercedes
cuts her off by asking how Brown is. Tina tells them that she loves everything about it, except for her roommate who speaks next to no English and that he doesn't have a boyfriend even though she was dating a guy who turned out to be gay, which the others already guessed and finished her sentence with. Tina keeps talking about how everyone is predicting for Funny Girl to become a huge hit except for a few bloggers, everyone is alarmed, but she continues until she is told to shut up. Rachel says that it's fine and that she will take a nap and if she needs love or validation she will just turn to them. Mercedes then takes Tina, who slightly protests to her place. In the night Kurt wakes up to the sound of comments about Rachel. He runs to her bed and sees her sitting there with countless papers spread around her watching negative and offensive videos about her Funny Girl performance. He collects the things and seems to be worried.
Blaine
,
Sam
, Mercedes and Tina come to the apartment to cheer Rachel up, but none of it seems to work. Rachel only gets mad about the letter apparently Tina wrote and even cuts the strings of Sam's guitar. Sue enters the apartment greeting them with "hello losers." She tells them that she is here to see Rachel choke on her opening night, while Rachel yells that she can hear her. Kurt asks her to stop since Rachel is already freaking out about it. Sue says that she should be, only upsetting Rachel more. Santana returns to the apartment asking where Rachel is and goes to her. Rachel tells her that no pep talks work on her anymore and that she would have never thought that she'd ever be too frail to perform. Santana cuts her off telling her that she doesn't do pep talks. She reads some comments, which Rachel thinks are awful. Santana tells her that these comments were written in 1969 about Barbra. She tells her that she will be awesome since she can't do it badly and even though she can't stand her most of time she knows that when she'll get on that stage she'll murder that crowd. Rachel drags herself out of bed asking her friends what they are moping around for and that it's her opening night, everybody cheers and hug her.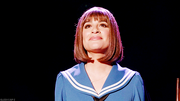 Will
knocks on Rachel's door telling her how proud he is of her. Rachel tells him that she hopes she'll get through the
Who Are You Now
-performance since it always makes her think of Finn and that she is wearing her Finn necklace since she promised him to get a ticket for her opening night. Will receives a call from Emma whose water just broke. Will wishes Rachel luck and rushes off home for the birth of his child. Rachel walks to the stage and the show starts. She begins to perform
I'm the Greatest Star
. During the performance Sue leaves, followed by the man who was also trying to sell his ticket before the show. Backstage Kurt and Mercedes congratulate Rachel for her phenomenal performance in the first act. Rachel is concerned about Sue leaving right at the beginning, hoping that it will not have a negative effect on the audience or the New York Times reporter. Sidney comes in telling Rachel that she was terrific, but that she has to give her everything in the second act because if the critique of New York Times will be bad opening night will be the closing night.
Rachel performs
Who Are You Now
thinking of Finn and crying a little. After the performance the audience claps and cheers. After the show Rachel and her friends meet backstage and Sidney invites them all to an opening night party. Rachel, however, wants to celebrate with only her friends so Blaine suggests a gay bar where everybody loves her. There she is asked to perform a song for them and Rachel starts to sing
Pumpin Blood.
They return to the apartment and Rachel makes coffee when a guy dressed in Kurt's robe comes out of Kurt's space and tells her that he takes his coffee black. Everybody stares in shock at the man. Rachel recognizes him as the man who walked out on her show. Sue walks up to the man and kisses him. Everyone is disgusted as Sue tells them that they had sex all over the apartment. Santana tries to speak, but Rachel tells her that she got this and tells Sue what an awful person she are and that she only can find happiness in other people's misery. She says that she only wanted them to feel bad about themselves so they wouldn't realize what Sue knew all along that no one would be able to love Sue. Sue says that she and Mario will leave now since she suddenly doesn't feel very welcomed anymore. When they are gone Santana starts to clap for Rachel and the others join in.
They go out to buy a copy of the New York Times to read the dreaded and greatly anticipated critique of Funny Girl. Rachel and Kurt are too nervous to read it so Santana starts reading while Sam pays for the paper. When the critique turns out to be positive the group takes turns reading it. Rachel receives a call from Will, who is calling her from the waiting room. Rachel puts him on speakers and he tells her that he got there in time for the last few pushes. Mercedes asks him to tell him if his baby is a boy or a girl. Will says that it's a boy who they named
Daniel Finn
. He then asks about her opening night and she tells him that it was great. He tells them that he is completely happy and Rachel says she feels the same.
The episode opens with Rachel giving autographs and signing bills. She sees a homeless man sleeping on a bench with her face on it and signs the news paper he is holding, so his dream will come true too. She walks in the office of a manager of ICA who is going to take her under contract. He asks her what she wants her career to be like and Rachel tells him that she would like to make it to TV or the big screen. The manager, however, makes it clear that this is no option for her, mostly because she is not good-looking enough. He's planning to keep Rachel staring as Fanny for many years. Rachel is not very happy about it and stays silent.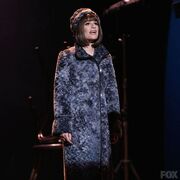 Rachel sits in front of a mirror, putting on her make-up for her shows, she starts to sing
Wake Me Up
while she is shown getting ready for show after show, waking to the stage again and again to perform Funny Girl. After one of the shows a man shows up, introducing himself as. Paul, telling her that he wants to take her under contract, so she could star in a TV show and offers her a role she can audition for in LA the next Tuesday. Rachel doesn't immediately agree with auditioning there because she has a show on that day. Mr. Portland tells her that her understudy will have a show on that day and leaves so she cannot protest against it. After the conversation Rachel meets her producer and tells him that the many shows are taking a toll on her and that she wouldn't want to become sick. Sidney says he will call a doctor so she won't get sick. Rachel asks if it wouldn't be easier if she just took a show off. Sidney agrees that her understudy is beautiful, but that Rachel is the show and that unless her head come of or something similarly alarming would happen she will perform. In the apartment Rachel and
Kurt
have an argument about the TV show audition since Kurt can't understand why Rachel who worked so hard to be the one in a million girl to make it on a big show would throw that away. Rachel tells him that everyone working on Broadway wants to work on film and TV and that many famous actors started off Broadway. Kurt asks her how many of them quit their show less after a month since it started. Rachel tells him that she is just auditioning, not quitting and that he would do the same if he got the opportunity to audition. Kurt agrees and tells her to go for it, but not to lie. Rachel calls in sick so she can audition for the TV pilot, but promises that she will be back for the next show. She then auditions by singing
The Rose
although the show is not a musical show, a fact Rachel didn't know. She didn't get the script either, so Rachel has to read a scene without having been able to practice for it. Rachel gives an awful audition and leaves. Outside she notices she has 15 missed calls from Sidney. She calls him and he tells her that her understudy fell and can't perform for the show. He wants her since she seems to be feeling fine to do it instead. Rachel agrees, but panics slightly while she is trying to get to the airport as quickly as possible. Her taxi gets stuck in traffic jam, so she calls Kurt so he can somehow delay the show until she arrived. The next morning Rachel makes lunch for Santana to thank her for replacing her for the last show and kill two birds at once so to speak. She tells her that she might get fired nonetheless since Sidney wants to meet her the next day. Santana asks what the second bird was, so Rachel asks her she is waiting her to tell her what she wants in return for it. Santana tells her that she is trying to be a better friend and doesn't want anything in return for it. The next day Rachel meets Sidney in his office. He tells her that he won't fire her since she is the star of the show. He warns her that if she ever did something like that again, she will not only be fired, but her reputation will be so ruined that she will never work on Broadway again. He asks her to leave his office. Rachel leaves obviously shaken when she receives a call from Paul telling her that she didn't make it into the show, but that he is planning to do a show developing around her and that he even has a writer.
During lunch Kurt asks if anyone would like to hang out with him the next night, but they all decline. Rachel, who wasn't paying attention, exclaims that she found something horrible and shoves her phone towards the others on the table. Santana takes it and reads it out loud. The blog brands Rachel as a "problem-child" something Rachel says she can't afford so early in her career. Santana tells her that she needs a publicist and a cause and that she doesn't need to worry since she is the right person for the job since she managed to be popular although she is a bitch. Rachel sees a woman trying to put her dog into her purse and confronts her, telling her that there are a lot of people who would like to care lovingly for a dog and not treat them like a fashion accessory. Rachel sits back down and says she just found her cause. Rachel, Mercedes, Sam and Artie visit an animal shelter and Rachel asks if she can have an event to get as many dogs adopted as possible and that she will take care of everything. The owner is happy about it and agrees, even though he seems to sense that this is mostly for Rachel's publicity. When the dogs start to bark all at once, Sam starts to perform I Melt with You, Rachel and Mercedes join in.
In the apartment Santana tells Rachel that she has the perfect plan for "Broadway Bitches" to get started. She wants Rachel to take some dogs for a walk where she will be photographed by paparazzi. She even brought her a dress which she will get for free if she will wear it for the photos. She made some calls and tweeted from Rachel's account to make sure the paparazzi will be there. Kurt comes home and Rachel tells him that she is starting a dog rescue charity and that she, Mercedes and Santana will perform something for it. Kurt asks if he can join, but Rachel wants it to just be the girls. Kurt is hurt and thinks it's because he hasn't made a name yet. He leaves saying that after all this time you would think that someone would through him a bone for a change. Rachel walks with the dogs and Blaine and Artie make the paparazzi notice Rachel. Blaine asks her what she is doing and Rachel tells him that she is starting a dog rescue charity. All goes according to plan until the dogs see a man carrying something to eat and go after him, dragging Rachel behind them lying on her stomach. Rachel lets a few dogs go and all of this is captured by the paparazzi.
In Rachel's bedroom Santana tells Rachel that she should stick to the plan and that now everyone is talking about her activism and that half of the invites she sent are already confirmed for Broadway Bitches. Kurt comes in telling them that he landed a role in Peter Pan as Peter and that he wants them to come to his opening night. Santana says that they can't because Rachel's event is on that day. Kurt says that they can because it is at 4 pm. Rachel tells him that they can't since her reputation is at stake and that she is doing something for the animals. Kurt says that he wants them to support him and that she isn't doing this for the animals, she is only doing this for herself. He is tired by being treated like one of the dogs and storms out. At the dog rescue charity event Rachel is talking to Santana, telling her that everything is going the way it should and that a dozen dogs already have been adopted. Santana shows her the dog she wants her to pose with for her photo shoot and Rachel asks her if she ever thought about doing this, meaning being a publicist, professionally. Santana says she has every time she watched Scandals. When a woman wants to adopt that dog, Rachel doesn't want to give it to her, asking her if she could wait a few more hours. The woman gets angry and tells Rachel that she knows who she is: a fraud and that she doesn't care about the dog or anything else. Santana tells Rachel she shouldn't listen to her. Kurt calls Rachel wishing her good luck for her event and that he is glad to have friends like her and the others because his life would be dull otherwise. Rachel says that's very sweet, but that she has to go since her best friend's show is about to start. Kurt look up and sees his friends sitting in the audience waving at him. After the performance Rachel hugs Kurt telling him he was amazing and that they have a bus waiting outside because they want him and the elderly to perform at the dog rescue charity event. At the diner Rachel gives a short welcome speech and they start to perform Take Me Home Tonight with the retirement home people, giving the dogs to their new families. When the song's over a reporter asks Rachel where she got the inspiration from and she tells her that it was her publicist's idea. Santana steps forward and introduces herself. The reporter says that she will upload the video her camera man shot immediately and that it will get a lot of hits.
The Untitled Rachel Berry Project
In the apartment Rachel and her friends are getting ready for dinner. Rachel talks about ideas for her show, while Artie wonders if it is normal for a network to send a writer to hang out with the star of the show. Rachel thinks it is since the show will revolve around her, she points out that the writer, Mary Halloran, is a genius. Someone knocks on the door, Rachel gets excited thinking it is Mary, but it turns out to be Brittany. Shortly after that, Mary enters the apartment, and Rachel begins to introduce her friends, but Mary stops her telling her that she has problems remembering names. Before she enters the bathroom, she tells Rachel (calling her "Randy") that she is really excited to be working with her. The others watch her, bemused. Later, Mary seats on the floor with a typewriter to begin processing ideas for Rachel's program. She begins to ask Rachel questions about herself, but it quickly becomes clear that she is less interested in the truth than in what would make good television. She rejects Rachel's ideas, telling her that they are old-fashioned, but is interested with her Broadway career. Rachel rapidly becomes aware that Mary is unusual in her creative style, as she hears about her reproduction of the Anne Frank diaries from the point of view of a vacuum. Bored by the minimal amount of work she has done, Mary goes to the bathroom again while Rachel watches her, shocked.
Mercedes arrives home at the apartment to find Rachel, Brittany and Kurt seated on the floor, waiting for her. Rachel explains that they need to have a girl talk. Kurt asks if she's planning to break up with Sam before she goes on tour. Mercedes is shocked. However, they are both set on being together, and pledge their commitment to each other. Rachel advises Mercedes that sometimes it is best to let go of the things you love.
In Rachel's dressing room at the theatre, Kurt advises her to give Mary the boot, telling her that she's insane. He reminds her of the shakey ground she is on with Sidney, but Rachel thinks that she can go to Los Angeles and come back with 10 times the amount of money that she would earn on Broadway. Kurt pleads with Rachel to at least trust her own instincts - not Mary's. At the apartment, Rachel and the group sit down for the first read-through of the script. The others are all slightly put-out to find their names have been tweaked to slightly less attractive alternatives, but Rachel encourages them to push on with the reading. They begin to go through the first scene, but soon realise that the script is beyond the bounds of reality - 'Surt' wears a dinosaur outfit, while Rachel sits in the bathtub, complaining about the forgetfulness of her two gay NASA dads with the extreme use of hashtags. They continue reading other scenes, and somewhat concerned, Rachel moves onto her 'coffee rave' - she has held an impromptu albeit empty party to try and fill the void left by her two gay dads, after they forgot her party. Artie stops reading, unable to continue - he tells Rachel that the script makes no sense. All of the group - except Brittany - agree. Rachel tells them that she has changed her mind and will talk to Mary.
At the Spotlight Diner, Rachel tells Mary about her issues with the script. Mary doesn't really understand her problems, and so Rachel decides to try and express them through song. Mary is not happy about a musical performance, but Rachel tells her that this is the best way to capture her essence - and understand how she wants the script to feel. Disgusted, Mary watches as Rachel begins to perform Glitter in the Air.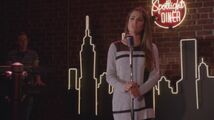 However, she quickly becomes emotionally involved with the performance, and is visibly shaky as Rachel finishes. She explains that she thinks she felt happy during the performance, a new experience for her, and agrees with Rachel's idea. Even though she doesn't think it'll get made, she agrees to rewrite the script. Ecstatic, Rachel hugs her, but is swiftly told by Mary to leave to allow her some room to shame-eat.
At the showcase, Blaine and June perform No Time at All, and then he sings American Boy with Kurt to a cheering audience, where Rachel is present. Back at the apartment, the friends finish reading through the new script that Mary has produced. Apart from Brittany, who maintains that the first draft was better, they are all delighted with the new result. Rachel reflects that she always thought Fanny was the role that she was born to play, but has realised that the script that she holds is where she really belongs. They toast the two years that they have spent in New York, but before they can celebrate further, Sam rushes outside. Following him, they discover him admiring an image of his semi-naked body, plastered to the side of a bus on a 'Treasure Trailz' advert. Sam reveals that he has decided to end his modelling career and tells the group that he plans to go back to Lima - especially since everyone seems to be scattering anyway. There is a moment of sadness, as they all realise that it is the end of another era. Rachel tells the group that what with Finn and the glee club, she doesn't think she can lose anything else, but Kurt replies that he's sure their friendships will survive anything. They agree to meet up back in New York in six months time, Rachel telling the group that if she has learnt anything in the past year, it's that her friends are her life. They hug it out.
Rachel, Kurt, Brittany, Mercedes, Sam and Artie perform
Pompeii
through the streets of New York. Mercedes leaves with Brittany for her tour. Artie continues on at film school. Blaine arrives at the Bushwick apartment, suitcase in hand, having just moved in with Kurt. Sam walks through McKinley's hallways again, looking into the old
Choir Room
. Rachel gets a call from the network. She reveals to Kurt and Blaine that they love the script and want to make it into a pilot. Realising that she's going to LA, she hugs them, delighted. As the song ends, Rachel stares up into the sky, pensive, before continuing to walk down the street.
The episode starts with Rachel's producer driving to her while Rachel's publicist reads only the positive reviews of her TV show, which turn out to be only vaguely positive. When Lee arrives the publicist Nancy leaves. Lee then tells Rachel that he has bad news for her: he has been fired. Rachel expresses her compassion and he says that she managed to offend every special interest group in the whole country. He stands up to leave and Rachel says that she cannot imagine what he is going through to which he answers that she should since That's So Rachel was cancelled and that she's fired too. He gives her the advice to do what everyone who just failed miserably does: blame everyone else and then go home. Saying that she doesn't know where that is anymore, Rachel starts to perform Uninvited while leaving the studio area, picking up the star that had fallen off her door. After the performance she is seen crying before closed doors.
Rachel comes home to find out that her dads are getting divorced and that they put the house for sale a couple weeks ago, but that she can stay as long as she wants with her dad. Her dad tells her that they say that you have to lose everything in order to find yourself, he then leaves her room.
In the Lima Bean Rachel orders a Soy Latte wearing a hat and sunglasses so no one recognizes her, but Figgins does anyway and gives her the latte for free. She puts of her camouflage and talks to Blaine, sitting down. He asked her what that was and she replies the story of my life, now everybody knows her name but only because she failed so badly. Blaine says that no one has heard from her in months. Rachel says that was because she went into hiding but that she is good now and that she is getting her life back together. She asks what he's doing in Lima, if he's visiting his family and where Kurt is. Blaine explains that he and Kurt broke up and he then got so depressed that his grades started to slip and he was cut from NYADA. He wanted to go back home and moved in with his parents. Rachel is mildly shocked and tells him that's she's sorry for him. He tells her that he got a job as the coach of the Warblers and that they should make each other promise that they turn these lemons into lemonade. Rachel agrees and they perform Suddenly Seymour.
In the next scene Rachel is seen shaking her head at the changes at McKinley.
Blaine takes Rachel to Dalton Academy where he and the Warblers perform Sing for Rachel. She tells them that they were incredible, that Blaine is way too old to perform alongside the Warblers and that she thanks them.
Rachel goes to Sam who is now Coach Beiste's assistant, when a football player comes along acting rude and homophobic. Rachel is shocked and tells him that back when she was at this school they worked really hard against any discrimination. Sam tells her that it's cool since the guy is also gay, or as Spencer puts it a gay jerk. Sam then tells her how good the football team is, but Rachel wants to know what happened to the arts and that it's not fair. Sam agrees and tells her that she should take it out at Sue. Rachel walks to Sue's office where she is asked by a female criminal what she can do for her, she walks into Sue's office confronting her about the arts and glee club, saying that she cannot deprive the students of musical, theatre and arts in general, but Sue says that she can and that she did. Also she tells Rachel that it actually is about her, since she was the best the arts had to offer and now the arts don't have to offer much and that there won't be a glee club as long as she's in charge. She then asks Rachel to leave her office.
Rachel visits Will at Carmel High, who tells her he liked a bunch of her TV show, she calls him a liar and they hug. Will offers Rachel some advice and tells her that life's challenges are like a bow that bends, the more it bends, the stronger you can shoot your arrow, and you just have to find it and aim. Rachel tells him that he's still got it but that in her case the bow didn't bend, it broke.
When Rachel comes home, her dad, Blaine, Will and Sam are there for an interventions, telling them that they have to watch That's So Rachel, so she realizes it wasn't that bad. Blaine tells her that it's not terrible, to which Sam replies that it is terrible. Blaine asks when Rachel was going to sing, but she tells him that it was cut. She asks them to stop it, because she can't watch it anymore. Blaine and her dad try to cheer her up, but again Will gives her some very good advice: The TV show was just one small misstep and that she won't be defines by it as people will define her by what she is going to do to come back from it.
Rachel goes to the school board to inform them about the missing of the arts at McKinley High. The administrator agrees that it's not right and that he is willing to get back at Sue, as he has the suspicion that she is trying to get his job. He allows a glee club, but cannot afford it as the budges were already set. Rachel offers to pay for it. He agrees as long as she runs the glee club.
Rachel gets home to find a crying Kurt sitting on her bed. He tells her that he showed up at the spot before their apartment six months after they last met, because they said that no matter what their friendship was the most important thing to them, but he was the only one to show up. Kurt says that he blew it with Blaine, that he ruined the best thing that ever happened to him. Blaine is the love of his life and that he needs Rachel's help to fix it. Rachel is confused asking him how he is going to fix things at long distance. Kurt answers that it don't has to be long distance and that they can find their redemption here in Lima.
Rachel and Kurt are getting the choir room ready as Sue enters the room. Rachel tells her that she went over her head and got admission to start a glee club from the superintended. Sue is angry with her telling her that she crossed a line and that she is going to pay for it. Sue will make her wish she and also Kurt, who spends his 3rd year's work project as a glee club coach, were dead but death won't come and that Rachel's national nightmare has just begun. She tells Kurt that he smells like a nursing home and vandalizes the choir room.
Rachel decorates her office, which is Will's former office, as Will comes in telling her that he never saw it coming that she would take over this place. She tells him that it's only until she gets her feet back onto the ground, then she will go back to Broadway. Will reminds her that they will face each other and Blaine at Sectionals, so she should start recruiting. He leaves and Rachel starts to perform Let It Go, putting up the signup sheet for the glee club.
Rachel walks down the halls, calling out that glee club is back, while Sue is making an announcement over the speakers. When she looks at the signup sheet Becky slushies her.
Will, Kurt, Sam, Blaine and Rachel are having dinner together. Rachel tells them that she forgot how cold slushies were but that it actually felt good being an underdog again. Will asks if Kurt is her co-director, but they don't agree upon that topic, saying that they haven't had time to talk about it. Will wants to set some ground rules since they are all competing against each other at sectionals, so they agree that they won't steal set lists or spy and that they support each other no matter what. Blaine wants to ask them advice about a girl joining the Warblers. Rachel doesn't see the dilemma and they all think that she should just try out.
Rachel and Kurt are arranging sheet music in the choir room arguing about if Kurt is coach or assistant, then about how to arrange the sheet music. Kurt wants to show the students that glee is possible and leaves. Rachel hears a voice and tries to follow it, awkwardly entering the male's locker room but fails to find the boy who belongs to the voice. She runs into Sam who tells her about a ringing in his ear, which he never told Mr. Schue about. Then the voice stops singing and Rachel insists that it has been there. Sam says that he believes her, even though doctors won't.
In the auditorium Kurt and Rachel make up and meet their other friends, Santana, Quinn, Artie, Brittany, Tina, Puck and Mercedes. They have a meeting on how to get the glee club back on its feet, Sam explaining everything they say and start performing Take On Me.
Roderick Meeks looks at the signup sheet when Rachel talks to him and tries to make him try out for her glee club. She keeps on talking although Roderick clearly seems uncomfortable with it. He tells her that he's busy with school, even after class and walks away. Puck tells Rachel that she scared the guy off.
Blaine takes Jane to Rachel so she can help her with her audition, he then leaves them. Jane is surprised that Rachel, who she considers a legend, wants to help her, but Rachel assures her that she is also a woman and that Jane is fighting for all of them. They start on performances, Rachel telling how body language is important, then she goes through her mobile and sees that Tightrope has the most plays and that she found her audition song.
Rachel texts Jane before her audition, telling her that she can do it and that she should remember what she told her.
The gang meets up in the choir room, where Rachel asks them how the recruiting is going and they all tell her that it's going horribly. Then they hear the voice again, Sam tells him that he's in the boys shower in the locker room as they are always there and find the boy, who turns out to be Roderick in the library. This time Rachel succeeds to make him audition for glee club.
Roderick sings Mustang Sally and is welcomed in the glee club by Rachel.
Rachel is in the auditorium listening to Becky's announcement. Kurt joins her and then they want to go to their first glee club meeting, when Blaine walks in accusing Rachel of breaking the rules they made, as Jane is joining Rachel's glee club. He tells them that the friendly competition is over.
During the first meeting two more students Madison and Mason want to join. Rachel tells them that this is the start of something really special, they group hug and perform Home.
Rachel and Kurt are sitting on the floor of the choir room going through sheet music, when they come up with the idea of having a mash-up week of two albums: Tapestry by Carol King and Jagged Little Pill by Alanis Morissette.
In Rachel's office Kurt and Rachel argue about who will introduce the theme and title to the glee club. When they go to the choir room it becomes clear that they haven't agreed on it as they keep interrupting each other, which leads to utter confusion of the students. Rachel wants her and Kurt to demonstrate but Santana offers to do it instead with Brittany. Rachel and Kurt are fine with that.
Santana and Brittany perform Hand in My Pocket/I Feel the Earth Move which ends with Santana proposing to Brittany who happily accepts. Kurt voices his doubts about their engagement as he thinks they're too young to get married which he knows by personal experience.
Rachel tells Kurt that he is not being supportive and Kurt agrees with her. Santana comes after Kurt in the hallways, making Rachel stay to witness. She tells him that she thought about what he said and gives a speech on why his relationship with Blaine ended concluding that Kurt is utterly intolerable.
Jane and Mason perform Will You Still Love Me Tomorrow/Head Over Feet and Rachel tells them how great they were. Kurt who has been crying throughout the song and thinking about Blaine interrupts her and tells them that their vocals could have been better and that they could have worked on choreography. Rachel drags him along the stage and tells him that he should take the day of. Kurt tells her that they are not there to tell these kids what they want to hear but to push them until they're good enough to win the competitions.
Kurt walks into the choir room telling Rachel that he broke the cardinal teacher room of keeping your baggage at home and that heartbreak poisons the brain. He says he has been way out of line. Rachel says that he was right and that Jane and Mason took his advice to heart and that he actually helped them. She needs him as a co-director, to be completely honest with her and that they have different ways of live but they both work. Kurt exclaims after having asked if Jane and Mason really says that: holy crap, we're teachers. Rachel says that they make pretty good ones and pinky-swears that they are going to change the world. So they have a deal. In the auditorium Rachel tells the glee club kids that they are very proud of them and that even though their two teaching styles sometimes clash, they make them learn the lessons intended. Madison tells her that this sounds like they were congratulating themselves. Tina comes in and tells them that they should get used to it. The other alumni follow and they perform You Learn/You've Got a Friend after Rachel says that now they are ready for the road to sectionals.
Will meets Rachel in the auditorium to talk about Invitationals. Rachel asks Will how it is to be back and he answers that it feels good, even if he is on the opposite team this time and that invitationals are only an organized practice. Rachel tells him that this invitational is not for her kids, since they will lose any slither of hope they had if they see Vocal Adrenaline kill their numbers they had all summer to perfect and that her glee club will be dead. They haven't bonded yet or realized how important it is what they are doing. Will tells her that he will think about it and that he would do anything for her. During their conversation a drone flies around them filming them. Rachel says that glee club has done so much for him and that he should consider it pay back.
The Warblers are in the auditorium warming up their vocal chords while Blaine tells Rachel and Kurt that his guys are taking invitationals very seriously and that there is no way for them to go easy on New Directions, even though Kurt says that they not obliged to the show choir rule book. Just then Dave texts him that there is an intruder in their apartmen. When Rachel, Kurt and Blaine arrive there, Dave is standing on a chair appearing hysterical. Blaine goes into the bedroom where a small bear is sitting on the bed.
Rachel and Sam are having dinner at Breadsticks talking about their free time activities, Rachel tells him that she watches Petty LePones early works while Sam blows glass. They decide on talking piano lessons and Sam offers to ask Blaine to give them lessons, because after Rachel says she always wanted to play the piano Sam is immediately hypnotized and full of love for Rachel, telling her that it has always been his dream to learn to play too. Rachel tells that she hasn't spent time alone with a guy in a long time and that it feels good to do so with someone she feels so safe with. Sam responds that he hasn't seen anybody since Mercedes and he broke up.
Blaine plays piano for Rachel and Sam, intimidating them with his skills. He starts teaching after Rachel confesses that she is not a beginner as she had lessons when she was a child but got bored of it and quit. Sue interrupts them telling them that they had no business being here. Blaine wants to reschedule and Sue says that that's an excellent idea and asks Sam, who is again hypnotized if that isn't so. He agrees and leaves.
Sue performs Bitch appearing in the drawer of Rachel's desk when she opens it. Rachel and Sam are practicing piano when Rachel tells him that she hates it. Sam tells her that she has to practice until it becomes second nature and that an instrument has to become an extension of the body and that many famous piano players were blind. He asks her to close her eyes and she plays on his hands. She thanks Sam and tells him that he's pretty amazing.
Kurt and Rachel tell the glee club that they got the first two songs for invitationals. Roderick asks if they don't need more people to even participate but Kurt tells him that they don't since it's just a trial run with no judges or prices. Rachel informs them that her new piano skills will help them out but Kurt only whispers that they are screwed.
Rachel is playing the piano when Sam comes in singing "girl you sound so good" and she laughs. He tells her that she's getting better and Rachel says that it was a great idea and that she's getting the hang of it. They start to perform Thousand Miles and kiss.
Sam is telling a joke to the football guys when Rachel walks up to him so they can talk about the kiss. Sam clearly doesn't remember it but Rachel thinks that it didn't mean anything to him. She asks him out on a date but he declines telling her that he's still in love with Mercedes.
In the auditorium the glee club and the Warblers watch Vocal Adrenaline perform. All the while Will is sending Rachel meaning full, smug looks because he believes Rachel was just trying to play with him. Rachel looks very uneasy as Will's glee club gives an epic performance and didn't go easy on them at all.
After Vocal Adrenaline's performance Sue comes on stage and explains that she will be the judge for the invitationals, that the theme is "old-school" and that they'll be performing over the course of three days. She informs them that the only rule is the 12 member rule because that seems to be the only rule they remember. Kurt speaks up, saying that they should boycott it but Sue tells him that it will go on, no matter what happens, even if one of the co-directors was kidnapped, foreshadowing that he will get kidnapped against his will soon. Kurt looks horrified but Sue just walks off. Rachel goes to Will to confront him about his breaking of their agreement to which Will answered that they never had one and that they should try to beat them on their own terms, which she repeats as he leaves. Kurt goes to Rachel who instructs him that he needs to recruit new members or they'll be humiliated. To Rachel's protest he wants to recruit Kitty but Rachel says that she and the other old members hated her, because she never bothered to learn their names and was awful to them.
The following day Rachel encounters Kitty in the hallway. She talks fast as she lists things she knows about Kitty. Kitty states how if she's trying to get with her, she thinks that the worlds already rooting for her and Quinn and tells her that she's just trying to use her to get more members for glee club. Rachel agrees. Kitty states that Rachel is a selfish person who only asks what people think when it's about herself. Kitty tells her that she joined glee club because she knew that Will was a kind person and that the people in glee club were behind her, despite her reputation. Kitty states how Rachel will leave once she's back. Kitty starts walking away but Rachel keeps up with her, saying that she needs her energy, attitude and will of performing. Kitty starts to cry as she tells her that she really loves performing. Rachel continues that even though Santana did scar her for life, a top-bitch is very needed in a glee club and that she won't leave until the glee club is back permanently.
In the auditorium Sam asks Rachel where Kurt is. Rachel replies that she doesn't know and that he's not answering her. Sue standing on stage states how Blaine is also missing but that the show must go on. So the Warblers start to perform. At the end of the performance Jane looks to Rachel, who returns her look of worry. In the choir room Rachel files a missing report to Kurt. After telling her name, the police officer recognizes her. He is very rude and hangs up. Sam walks in with a set-list. Rachel asks him if he's seen Kurt or Blaine but Rachel assures her that they're probably planning their wedding. Rachel says that they broke up, however, Sam ignores her and tells her that they are endgame, just like them and hands her the set-list. She goes through it, telling him that she doesn't know the songs. He states how, as her future husband, she needs him to do that and tries to kiss her. Rachel backs away, saying that only two days before he told her that he was still in love with Mercedes. But Sam just calls Mercedes a hag. Rachel snaps her fingers and Sam wakes up from being hypnotized. Rachel tells him he's freaking her out, he apologizes. Rachel tells him that he should try to recruit new members for her and that they are not going to use the set-list he gave her. He goes through it looking confused and walks away.
In Rachel's office, Rachel goes through sheet music they covered, trying to find songs for their set-list. Kitty comes in, saying she's in. Rachel hugs her, as Kitty asks where everyone is. Rachel explains that she's trying to find a set-list. Kitty is not sure if she finds that sad or adorable as it is something Mr Schue would do. Rachel says how Sue would hate any song she will choose. Kitty says she knows where can find a set-list. They break in to Sue's office, Kitty reassuring Rachel that she's cut the camera and alarm wires. They open up Sue's laptop, Kitty stating that she's just as ruthless as Sue is, and that she bribed Becky for the password. Kitty explains how Sue has a secreted file for a playlist that she's attached to, once again bribing Becky for the password. They open the file.
The following day, Kitty walks in to the choir room, just as Jane, Madison and Mason are waling in. Madison states how she said that she wouldn't join the club, but Kitty retorts that someone needs to stop her from marrying Mason, the twins looking shocked. Roderick tells Rachel that there's an officer in the office, to which Rachel says finally. She walks in to him searching inside the office. She recognizes him as the head of Haverbrook School for the Deaf. He states that he was, after their budget got cut again, and that he needed to find another job. She begins to explain, yet he states the same things that she says. He continues how they must have gone to New York, where they belong, unlike her for what she did. He then insults Karofsky. He incorrectly believes that she kidnapped Kurt and Blaine, after her failed pilot and how she has more talented friends. She looks astonished by this. Kitty gives them the new set-list, to which the members complain, but Kitty backs her up, that she knows what she's doing. Rachel, relieved, says that Sue hated her, and now hates them, but tells them that it's not about winning, but to face the bullies. She asks if any of them to quit, to which none of them decide to. Spencer walks in, interrupting, and states that he's joining them, all of them planning out what they'll do.
In the auditorium, Rachel speaks to New Directions, as Will walks up to her. She walks to him, and apologizes, saying he was only doing his job, and that she taught him a lot. He lectures her, about how she should be happy with what is happening. He then explains how Sam came to steal his mail, to which Rachel says she didn't tell Sam to do so. At the same time, they both say Sue's name. Sue comes in, and tells them to move on. Will says she needs to appreciate Sue, too. He leaves, as Rachel smiles.
In the auditorium, Sue introduces ND, Sam clapping the loudest. She walks away looking at Kitty. Spencer and Kitty lead It Must Have Been Love. Kurt talks to Rachel, realizing the set-list changed and Rachel explains that Kitty and Spencer are in the club as Roderick performs Father Figure. Blaine sits with the Warbler's. Sue realizes that they're performing her favourite songs, having flashbacks of moments that associated with them, the elections being associated to the song. Clint sees Will moving with the song. Mason, Madison and Jane then perform All Out of Love, Sue taking her seat, beginning to cry, singing along and remembering how she tried out for different roles, but failing to get them. Rachel looks at Sam, as he dances to the song, smiling. Kurt and Blaine also look at each other. Clint watches Will smile at the club.
Later, Sue announces the placings, with the Warbler's coming in 3rd, Vocal Adrenaline coming in 2nd and New Directions coming 1st. Kitty goes to receive the trophy as everyone hugs.
In the choir room, they place the trophy, Spencer saying it's barely one, to which Rachel explains that it's a start. Kitty then talks to them, saying how they won against two of the best show choirs, who worked hard, and went home, disappointed. She states how she may insult them but says how she doesn't want to hear them say anything bad about them as a team. Roderick then thanks Rachel and Kurt with bringing them together, where she thanks them, and starts to talk about how glee club has changed her, Mason and Madison whispering how Rachel always makes things about herself. Kurt then does the glee tradition, of putting their hands in a circle, shouting "Amazing", as they lift their hands up.
Sam meets Rachel in the hallway, starting the conversation with an impression. He wants to confirm their Breadstix dinner later this week, they decide on a day and Rachel and Sam perform I'll Never Fall In Love Again. The performance ends with them facing each other and running off shortly after.
Rachel and Sam apologize for blowing off their date but Sam says that he has a thing for her and that he won't be able to be just friends with her but that he has a bigger thing for Mercedes. Rachel says that she has feelings for him too but that she needs to focus on more important things. Sam remembers that he has to teach and leaves her and says that he loves her. Rachel says she loves him too, looking confused.
In the choir room Rachel and Kurt introduce Mercedes as New Direction's member since they need to get as much help as possible because the Warblers and Vocal Adrenaline are still hard competition. They tell them that their theme for this week is Burt Bacharach.
Mercedes and Rachel are in the teacher's room drinking coffee when Mercedes asks what is going on between Rachel and Sam, to which Rachel replies nothing and what she heard about it. Mercedes tells her that Kurt told her. Rachel then says that they were supposed to go on a date but cancelled because they didn't want to hurt her. Mercedes waves and tells her that she is fine with it and that she should start dating again and that she means Sam. She also tells her that she should audition for a Broadway role but Rachel says that she can't because she is scared. Mercedes says she knows and has prepared a little inspiration for her. She starts to perform Baby It's You. At the end Rachel thanks her and they hug.
In an attempt to make Rachel homesick the boys sing Arthur's Theme for her. When Blaine asks what she thinks she tells him that she's still not ready to go back. Mercedes tells her that she won't be leaving until she is. In the choir room Rachel and Mercedes talk about Rachel starting again. Rachel tells her that everybody always made fun of her but it was ok because she knew she would prove them that she can be a star, but now that she has failed it's just so much worse for her. She can't fail again. Mercedes comforts the crying girl saying that everybody fails and fails again and that when she sings nobody is laughing. She says that there are only two things she needs to remember: her name and the song she will sing. Rachel starts to perform Promises, Promises, ending with her audition.
Rachel, Will and the other Alumni perform What the World Needs Now for Santana and Brittany.
While Emma and Will take a walk with their son in the park they see, in shock, that Rachel and Blaine stand in front of them, saying Vocal Adrenaline kept the tradition of "egging" the competitors. It cuts to a flashback of Blaine and Rachel getting out of their cars. The first egg hits Blaine, thrown by Clint. Both Rachel and Blaine try to shield themselves from the oncoming storm of eggs, thrown by VA.
Rachel sits alone in the staff room, looking annoyed. Sam walks in asking if she's still angry about the egging. She states that it's something worse than that. She explains that she was having an amazing dream about being once again on Broadway, but woke up to a knocking. In a flashback, Rachel watches the word "SOLD" on her property. Sam states how it's a good thing, because it was on the market for a long time. Rachel reveals that she would stop them from buying it. Sam tells her it's insane what she did, but Rachel replies that she did it because it was the house she grew up in, hating how someone else will live in. Sam begins to explain about how he didn't have a house at times, but Rachel interrupts him, saying how he can't guilt her, and will be damned if her dads go through with it.
In the choir room, Rachel begins to introduce the assignment, but Kurt says there's a change in plans. Rachel states how he can't just do that, but he tells her that sometimes that life throws them a curveball and they should make the most of it. He states that the week is about "Transitioning." He states how they know she's been having problems about her home. Blaine states how it's holding her back, from being a proper adult. Sam then tells them all that they're throwing her a farewell party in the basement. Rachel states how its sweet, but its unnecessary. Mason and Madison realize that the lesson is for Rachel, not them, to which Kitty tells them to shut up. Sam brings out a "Wheel of Musical Fortune," with all the names of the people in the choir room (at that moment). Artie introduces it, stating that whoever spins it, sings a duet with the person it lands on. Sam whispers to Artie, saying he promised him that he'll be singing a duet with Rachel. Spencer questions him about how they couldn't just pick the names from a hat (Jane shushing him). Mercedes states that she'll go first, spins it, where it lands on Roderick. They all spin the wheel to find out who their duet partner is.
In Rachel's basement, Sam makes drinks, as everyone that was invited are there. Kurt hands Rachel a drink, as Artie introduces the party, thanking them for coming, as everyone claps. Mercedes and Roderick then begin to sing All About That Bass, everyone singing along with them. They all dance together as Mercedes walks off the stage, Mason juggling at one point, with Jane and Madison dancing with Roderick on stage. Roderick walks off the stage, and everyone gathers around them except Sam and Rachel, where the talk about something. They walk upstairs, as the song finishes, where everyone claps for them.
In Rachel's room, Sam walks in stating how it is weird that one day it will become a Broadway museum. They see the old photos that are on the wall still, Sam commenting on how she hasn't touched that wall, even after boxing everything else. Rachel says that all her best memories are on that wall. She states how she dreamt, as a child, of having photos with all her favourite stars, but says how that meeting them (her friends), filled up the wall with reality. Sam states how they need to get a bigger wall, as an impression. Rachel fails at guessing who he's impersonating, as he sits. She moves in close with him, as he tells her that the wall doesn't go away, but gets bigger, reassuring that she's going to go back to New York, on Broadway. They kiss then.
Rachel begins to sing Time After Time, everyone sitting around. Sam then begins to sing with her, as they both share glances with each other. Kitty walks up to them, taking a photo of them, where it is placed on her wall. It goes to a flash-foward, the song is still being sung, but as everyone is helping her pack, moving the things out. Rachel then closes the door to her room. The song ends back in the basement, where Rachel and Sam hug, as everyone applauds them.
Blaine storms into the choir room and Rachel then asks what he is doing there. Blaine questions where they're going. Rachel states that they're going on a double-dates. Kurt then states how Blaine could bring Karofsky and triple-date it, as they walk out. Rachel, remembering, asks if he wanted to ask her something. Blaine states how he doesn't remember. He still stands in the choir room, as they all go away on their date. In the auditorium Rachel amongst her friends watches Unique and her transgender choir perform I Know Where I've Been.
Will walks to the choir room, with Rachel and Kurt behind him. He gazes inside, Kurt asking what he's going to do now. Will walks in saying he has to find a job, but since Carmel paid him nicely, he can be fine for a few months, so he can figure things out. He tells them that he's proud of what they're doing. Rachel then tells him that Kurt and her were wondering if he had the time to help around with the New Directions, Rachel giving him the title of Special Alumni Consultant. They state how they need his help, to which he agrees to help. They sit next to him. Will tells him that they have to make the major decisions and have to call him Will, to which Rachel states she can, Kurt saying he can't, as Will laughs. He tells him that the choir room is where he belongs, and asks what they want to do for next week's lesson. Rachel states that Kurt wants to do 'Britney 3.0,' but says there's no more songs left to do. Will asks if the kids have personal problems. Kurt answers that they don't talk to them that much. Will says they should, as they may become the best friends they could ever have, referring to themselves.
In a wedding shop, Santana talks to Rachel, Tina and Mercedes about how she and Brittany will try out wedding dresses, for the wedding, Brittany stating that there should be no peaking at each other's dresses. They walk out in different dresses, to which the 3 girls judge their dresses. Brittany walks out, where all of them agree that the dress she is wearing, is the right one. Santana walks from behind, talking to Brittany about how beautiful she looks, to which Brittany and the others react superstitiously about how she's seeing her in her, dress, all of them ushering Santana to go back in change.
In the choir room Rachel, Brittany and Mercedes try to figure out the seat order. When Mercedes asks why Rachel isn't sitting next to Sam, Rachel tells her that she is scared that it might hurt Carol's feeling because she dated Finn. Mercedes tells her that she surely wants her to move on and will be fine with it. Rachel reluctantly puts Sam's seat next to her.
When Blaine, Kurt, Santana and Brittany start to sing Our Day Will Come, Rachel is hesitant to dance with Sam but when Carol sees them, she presses her hands to her heart, showing Rachel that she is ok with her being with Sam. She then dances with Sam, alongside everyone else in the room.
In the auditorium, Sue stands with a child next to her, with the glee club (and Rachel and Will) gathered. She introduces the child as the Superintendent's nephew, Myron. She continues, saying that he's going to celebrate his Bar Mitzvah (Rachel looking happy), explaining what it is. Myron states he's performing for them, and tells him its just a rehearsal. He begins to perform Lose My Breath, wearing a suit of white and gold underneath, as female dancers in gold dance around him, with perfect sync. Everyone watching are surprised at what he's doing, Sue looking horrified surprised; Kitty, Spencer and Roderick laughing slightly and dancing along, Will clapping his hands. At the end of the song, everyone applauds for him, Rachel saying it was amazing. He thanks her, saying he's a fan of hers. He then states he needs it to be perfect, asking him how he can improve. Kitty suggests his dancers could smile a bit more, everyone else agreeing. He states that he's already told them that, firing them, sending them off stage, asking to speak with the adults. Sue then whispers to Rachel, saying she should do anything he says. Myron states how he wants to perform in the auditorium (saying this to Rachel, Will and Sue). Sue agrees. Myron states he wants the glee club to help, willing to pay for them to perform. Will states that its against the rules. Myron then states they'll get performing experience. He sees one of the dancers still there, sending her away rudely. Rachel begins to tell him that they can't, but Sue interrupts, saying that they accept.
In the staff room, Will and Rachel sit. Rachel states ideas, wanting a bit of Broadway in the performance. Will questions if the kids like Broadway. Rachel then explains that they're great and energetic, but quiet. Will unconsciously asks if she's always talking, to which Rachel agrees. He tries to take back what he said, meaning that the bar mitzvah will band them together, telling her that they should make the choices themselves. In the choir room, Rachel and Will walk in with the members seated, saying they have exciting news. She explains that Myron has decided to have them for their bar mitzvah, the kids surprised. Spencer states she wants them to sing in a spoiled kids birthday party, but Rachel repeats that it is a bar mitzvah. Will states they should be more excited. Kitty then states if they're actually going to sing, or will the alumni walk through the door (again). Rachel states it's all about them, Will explaining that the bar mitzvah will help them with Sectionals. Rachel and Will ask them to pair up, choose good songs to perform.
The following day, in the staff room, Sheldon eats with a big appetite, as Rachel, Sam and Will are engrossed by this. Sheldon stating that the best thing about being a dude, is that it isn't lunch, but when she licks her lips, she can taste it all day. Everyone looks mildly disgusted. Sue stands, near the coffee machine, pouring coffee to the floor. Will asks if she's doing okay, to which she replies that she hasn't slept for 3 days. She tries to put her coffee cup down on the table, yet it falls and breaks. Sam asks whats going on, to which Sue replies that she's become a slave to Myron. In flashbacks, she tries to give ideas for his bar mitzvah. Myron states angrily that he wants it to be fresh, not unoriginal, and wants it to be about him, asking Janet (the jail secretary) to get him his espresso. Every night, Sue reads to him, so he can read his bit for his bar mitzvah, so he doesn't have to memorise it himself. Will tells her it has to stop. She states it will, once they all perform with her. Surprised, they ask they want them. Sue states that he blew his budget on getting new dancers. Sheldon states that he understands that they want everyone else, but he wonders why he's chosen. Sue states that since she's doing it, Sheldon also has to do it, so she doesn't look like a fool. Sam states he's in.
Spencer then begins to sing Friday I'm In Love, watching Alistair in different places, and performing the song in the choir room. Mason and Madison share annoyed glances. Spencer finishes the song, everyone applauding him. Rachel then says how they wouldn't expect a love song by him. Will says that it was great, but not what they'll do at the bar mitzvah. He then says he's looking for a new combination, suggesting him with Jane and Roderick. Spencer states that he'll do it with Jane, but not with a quitter like Roderick, to which they begin to fight, Roderick once again calling Spencer a dick. Rachel looks horrified by this.
The next day, the auditorium is decorated for Myron's bar mitzvah. Myron is introduced to the audience, Superintendent Harris clapping happily.
In the dance room, Will choreographs Rachel, Sam, Sheldon and Sue. Sue tries to leave, but Will tells her that she's almost got it. Sue tells him to stop talking, and tells him she doesn't care about what he's doing, questioning on why he's still at the school. Will states that she asked him to help, Rachel telling her that she asked them all to help. Sue tells her to shut up, and then asks Will why the others think highly of him, when he's done nothing for them, except make it worse. She continues, saying she secured a good job for him at Carmel, but he destroyed it in minutes, coming back with his 'reach for the stars' attitude. Will then calls him Susie Q, explaining that its Superintendents Harris' fault, and that she should go after him, but she's not, because she still has a crush on him. He tells her that she's losing her mind. Sam and Sheldon try to lead her away, and when he begins to start to choreograph again, Sue jumps on him, both of them fighting. Superintendent Harris walks in, asking if there's anything wrong. Sue and Will state its part of their rehearsal. Reassured, he tells them its showtime.
On stage, Sam calls everyone to their place, as Will and Sue talk, Sue stating that her plan is about to commence. Will states that it will starts when he trips her up, on stage, in front of 13 year olds. Sue tells him that he wouldn't dare, but he replies that he would. Rachel then begins to sing Break Free (with the word 'MYRON' in the background), everyone else joining her on stage, and singing. Myron comes on stage with his stage-pod, everyone in the audience screaming happily. As the song ends, ribbons fall all around the place, Spencer and Mason lifting Myron on their shoulders.
In the choir room office, Will and Rachel are discussing something, as Myron and Sue walks in. Rachel asks if they were here to thank them for his bar mitzvah, but Sue states that Myron is now a new student at McKinley, who wants to join the club. Myron screams that Sue's not her mother, saying he can say it himself, and asks her for his inhaler, kicking her. He runs into the choir room, Rachel screaming to him to not touch the piano. Will asks how its possible, saying he's 13 years old. Sue states that she told Superintendent Harris, but he ignored her and made his old middle school get a petition, to state the Myron is extremely talented, that he needs to go to high school. Will then states that they got a new member, and he's also part of the Superintendent's family, to which Sue looks annoyed. Sue states that this is just the first battle to end all wars, saying she does not retreat, but reload. Will then asks if she'll jump on him again, to which she states she may or may not.
In the choir room office, Will sits as Rachel states that the glee club has changed for the better, since Alistair and Myron have come. Will tells her that some kids will disappear, while others will touch their lives, saying that its best to make a difference. Rachel states that he made a difference with her, to which he says the same thing about her. Will states that she's evolved to an intelligent person, and is happy to work with her, she agreeing. They hug, as New Directions begin to sing Cool Kids, Jane and Mason leading, with Madison and Roderick singing after. Kitty and then sings, Myron trying to sing. Spencer and Alistair also sing, with Myron finally singing. They all dance together, and as the song ends, they join together. Will and Rachel applaud them.
The Rise and Fall of Sue Sylvester
In NYADA, Rachel (in voiceover) says that a lot has happened since she was back there. She sees a couple of people walking together with eagerness, and states that she was once as naive as them, and just another stepping stone to her dream. She continues, saying that she's learnt her lesson, and she wants to get a second chance from Carmen Tibideaux, knowing that she can do this, sitting in front of the door of her office. The door opens, and her assistant states that Madame Tibideaux is ready to see her, (Rachel looking happy), but the assistant tells her that she's been waiting for this moment for a long time.
In the staff room; Blaine, Sam, Mercedes and Rachel sit, discussing about how Carmen Tibideaux told her to get out of the office. Rachel says that they're missing the point, as Tibideaux said she saw how sorry Rachel was for leaving, which means that she still has a chance. Mercedes tells her that she's thinking too much about it. Sam agrees, stating that with a name like that, they wouldn't change their mind easily, once believing that NYADA was a school of witchcraft. Blaine states they he also got cut from NYADA. Rachel states that she was moved momentarily, and she could see herself back there, which is why she is writing a letter to her about her good and bad experiences, knowing that she'll get back in. Mercedes states that everyone is all behind her, but Rachel is interrupted by a call from New York (believing it is NYADA). She runs outside. Mercedes discusses to Blaine and Sam about its not helping, to which Blaine agrees, as her experiences are just by Jacob Ben Israel's mom. Sam tells them that they should support her. Rachel comes back in, and tells them that the audition she did for the show Mercedes recommended for her, was the caller. She states that she got the part, and want her to start in a few weeks. Mercedes goes to hug her. Sam asks what about NYADA, to which she states that she doesn't have to go back, and goes to tell Kurt, to which Sam looks worried.
The following day in the auditorium, Will teaches dance moves to the ND and the Warblers, the Warblers synchronizing perfectly. When ND fail to keep up, the Head Warbler states that the choreography is easy, and states that ND weren't even close. Will stops them, saying that they're a team. Jane states that if they are really a team, as the Warblers are wearing different uniforms. Kurt, Rachel and Blaine come on, Kurt saying they have to make changes. The Head Warbler states that teams were uniforms, saying they should get a blazer, to which Blaine agrees. Jane and Spencer state that its McKinley, and their "sexist empire" doesn't exist anymore. Enraged, the Head Warbler states that their look is iconic, and has tradition; also becoming sexier, (Myron asking for one) to which the girls like (Kitty asking rhetorically if girls really do like it). Kurt tells them they've welcomed them with open arms (Kitty saying semi-open arms) and states that they can't ask them to change their look for them, as McKinley is a different school, but Blaine states that it would save trouble of finding new clothes. Rachel tells them that they'll just wear their uniform for the the competition, but the Warblers disagree, as their outfit is not for competition, but just as costumes, (Madison being pulled back by Mason, as she tries to get them). Will interrupts, stating that they attend McKinley now, and they need to get rid of the blazers. The Head Warbler states that they're thankful that they're performing with them, but they didn't choose to come there, stating that they're blazers mean something to them. Beiste interrupts them, saying they have bigger problems. He's learned that Sue is the new coach of Vocal Adrenaline.
The next day in the choir room, Rachel goes through outfits that has still to be decided for the competition, asking Sam for help when he walks in, making him wear a Warbler jacket. Sam tells them that she's making a mistake. Rachel states that its just a jacket, and they should be sympathetic to the Warblers, after their school burnt down. Sam tells her that he meant the show, asking about NYADA. Rachel states that Mercedes was right, about being desperate and pathetic to go back. Her phone rings, and she goes to answer, as Sam states that its not pathetic. She listens to the person on the phone. When the person hangs up, Rachel tells Sam that it was Carmen, who is letting her go back in NYADA if she wants to. Sam, happy, tells her that he knew she would, but she tells him that she's not, wanting to go back as a winner, than with her tail between her legs. She states that everyone but him is happy for her. He states that he's just telling the truth, and wants her to back to New York, but not through the show. Rachel states that she wanted to get the show, but Sam corrects her, saying she wanted to back to NYADA, to which Carmen is allowing her, telling her that she's going to make the same mistake all over again, if she doesn't go back to NYADA. She walks out, saying that going back is not a mistake.
Sue and Will start to perfom The Final Countdown. Outside their dream-like performance, Sam has gathered the New Directions the Warblers, Blaine, Kurt and Rachel to the audience, Rachel stating that they've gone crazy. As the song ends, Sue walks off stage. Will then realizes that everyone have just been watching them, Kurt shaking his head sideways, while Rachel shaking her head up and down.
The next day in the staff room, Blaine talks to Will about his and Sue's fantasy battle. He apologizes to him, feeling awful. Rachel and Kurt come in, stating that they have worse things to worry about, as Myron told her (in the flashback), that Superintendent Harris told him, that if ND doesn't win, then not only would the glee club be gone from McKinley, but all arts programs as well. In the flashback, Rachel states that she's paying from her money, but Myron states that he said that too, but his uncle said that its too big for Rachel, and the choir room will go back to the computer lab it once was. Back in reality, Will states that they've survived worse things. Kurt then states that they've fought for everything in their lives, and a new one is just beginning. Will says that he's proud of them. Rachel then states they still need to figure out on their costumes, to which Blaine states they may have fixed it.
In the auditorium, Rachel and Kurt sit watching the supergroup come out in the Warblers' outfit (without the blazer), singing Rise. Blaine brings out a lighter red blazer, to represent both McKinley and the Warblers. They are all singing and dancing in sync, finally being united as a team. The song ends with them putting their hands up, with Blaine, Kurt and Rachel hugging.
In the choir room, Will and the members of ND do a dance rehearsal for Sectionals. Rachel encourages them, saying they're doing well as they do it. When they finish, Rachel applauds them and Will says they should take a break. A member of the Warblers says they don't take breaks, another member reminding them that glee club will no longer exist, as well as saying that Sue would not be allowing Vocal Adrenaline to take breaks. He states that he saw them walking on hot coals. It goes to flashback, as VA walk over hot coals, screaming from the pain. Sue, using her megaphone, states that if Oprah can do it, then so can they. Back in the present, state that they all suck. Myron states that they suck, to which another member retorts, which breaks out a fight over the two sides. Kurt stops them, saying they're doing well, but its not time to panic. The Head Warbler states that it is a problem, and they won't win the competition with the moves they have (Will looking shocked, where Madison and Mason stick up for him). He continues, stating that the Warblers have discussed who should be at the front and back. Jane, Madison and Kitty state that the only 3 girls (them) will not be at the back. The Head Warbler (his name revealed to be Skylar) says he wasn't talking about them, but about Roderick. Spencer sticks up for Roderick, stating that they need to give him time to get the moves. The Warblers then also say that he's also a bad dancer, saying he's worse. Spencer states that he only has to look good, but Super Gay Warbler states that they all look good, even Alistair (calling him Julianne Moore because of his long hair). Kitty states that she agrees with Super Gay Warbler. She turns to them, saying that if they can't get better that second, they should go to the back. They move to the back, while Kitty looks guilty.

In the auditorium, Sam walks in to find Rachel sorting out sheet music, asking her for help with a list . Rachel states that she thought that Kurt had already finished with choosing the setlist for Sectionals, but Sam hands her the list, stating sarcastically that he needs her help with former graduates of college before they went to Broadway. Rachel hisses that they've already talked about it. Sam, ignoring her, reads the names of the list. Rachel, knowing that Sam would do that, reads a list that she prepared of people that dropped out of college, and still became successful. He gets out another list, where he reads off names of people who were big once, but are not anymore. Rachel tells him that he knows what he's trying to say and that he's being a really good friend, but doesn't want him to talk about it anymore unless he supports her. He states, as he leaves, that they all do support her, but she should think about her future, and if her future self would be happy with her dropping out of NYADA. Rachel looks worried, and it is seen that Brad was witnessing the whole scene at the piano. He begins to play, and Rachel goes the centre of the stage and starts to sing Listen to Your Heart. Jesse interrupts her, singing with her, standing by the chairs. He runs to Rachel on stage, and they sing together. When they finish singing, Brad walks out, as Rachel says his full name. Rachel questions why he's there, to which he states that he's in Lima for his mother. He then asks what she's doing there. They walk over to the piano, where she states that she's helping the glee club get ready for Sectionals. Jesse interrupts, saying that he heard that she was going to star in a new Broadway musical, and are still waiting for her answer. Rachel questions how he knows that. He reveals that he's playing opposite her. He states that they continued to find people, but he reminded them that she was the right person for the part. Rachel states that she appreciates him for recommending her, but she still hasn't made up her mind. Jesse sits with her, saying its nice to come back to Lima, but she belongs on Broadway, and needs to go back there. She states she will, but isn't sure which path she'll take: college or Broadway. Jesse tells her that she can't be serious, and she explains that she has the chance to heal her mistake of leaving NYADA. Jessie states her mistake was leaving Funny Girl, for her sitcom. He continues, saying NYADA may be a good place and that Carmen personally rejected him, the school has a record of not having very talented people (implying himself). He says that she doesn't need to go to college, but Rachel states that she wants to make the decision herself. Jesse states that she's right, but says that they have great vocal chemistry and that she should think about the offer. He leaves.

In the auditorium dressing area, Kurt walks up to Rachel, accidentally scaring her. He asks her what he's doing, to which she replies that she's organizing brushes and foundations for the performance. He tells her that he wants to talk to her. She assumes correctly that its about NYADA and Broadway. Kurt explains that he doesn't want to fight her, wanting her to happy, remembering that she wasn't happy after quitting. Rachel tells him it was hard after the things that happened. Kurt agrees, but tells her that a lot of good things happened too, but she didn't have time to appreciate it that much. He continues, saying that he wants to her to appreciate the present. Rachel then states that she's worried if she'll never be in a show again. Kurt laughs, saying that it won't happen to her. He states that she'll do well with whatever she chooses. When he heard that she and Blaine moved back to teach the glee clubs, he thought they were crazy. But he realized that he was glad that it happened, as it inspired not just the kids, but himself too. He continues, saying what they're doing is helping the kids, saying they only have a few more years to enjoy college to be inspired. He asks her to think about it, saying that he's going back to NYADA, and Blaine's going to NYU now, so they get to start again. He states that they're lucky enough to go back to the same crossroad, to choose the different path. She thinks about it.
Will goes inside the choir room, where boxes are piled around the room. Rachel states that they were got a special delivery, Kurt assuming they got it from the trans-choir. Madison exclaims tha they should open it up together, to which they all agree. Will hearing a ticking sound, cries "NO!" out loud, as he pushes the box from Rachel's hand to the floor. It bursts open, with glitter exploding out. The other boxes open up with glitter, Mason the only one looking happy, while the others scream with horror. He tells to them to be quiet, as another ticking sound is heard. He screams for them to take cover, as the final box opens up, breaking the piano. Kurt asks who would do such a thing. Will reads the note "It's Not Fun To Be Glitter Bombed, Is It?" on a box, realizing that Sue did it. He runs out, Kurt asking Blaine if the piano was insured, but Blaine replies that it
After a couple of days, in the auditorium full of people for Sectionals, the host introduces the judges: Donna Landries, Rod Remington (who have both previously judged competitions) and Butch Melman, with her dog Trixie. The host then introduces The Falconers, who sing Broken Wings, with falcons on their arms. Sue goes up to Will, saying that it's not too late to quit. He comments on her wig, to which she states that it's made specifically by her Malaysian hair slaves. Rachel states that she doesn't scare them. Sue suggests that New Directions say their prayers as their end is here, and walks away, as The Falconers finish. The host then introduces Vocal Adrenaline. Clint leads We Built This City, with all the members dancing in sync, and with props to help them. Will and Rachel look stunned and shocked by their performance, Donna looks disgusted. Sue claps, as VA begin to sing Mickey, changing from their silver clothing, to blue. Everyone in the audience (but the competitors) clap for them, as they dance extremely well. Rachel looks shocked, and she glances at Sue, who looks at her, with the same, but fake, expression. Roderick looks at Spencer, who looks at first stunned, but nods to himself. Someone jumps around with feet springs, as cannons are brought out, and people waving flags. At the end of the performance, people are shot from the cannons, to which the audience react horrified, but after seeing the members are fine, they all clap enthusiastically, while ND look shocked.
In the choir room, Spencer (on crutches) goes in. Roderick asks how he's doing, to which Spencer states he'll be better when he's been injected. Roderick looks worried as Myron walks in, saying he'll murder the performance. Will walks in, gathering everyone, introducing the show circle to the newer members of the group. Kurt states that there's a pep talk. Will laughs, but says it's not his place to say anything, as Rachel's the one who brought them here. Rachel then explains that she originally returned to bring her groove back. She states that it came true, as the world's opening up to her, but that she only cares about them right now. She tells them to enjoy themselves, as they've earned the applause the cheers that they'll get. Continuing, she states that it may be the last time that they perform, she tells them that they're proud of them. They all put their hands in, and do the traditional "AMAZING" ritual. In the boys' locker room, Sheldon, Sam, a person who came to inject the serum, and Spencer are gathered. Sam asks if he's sure about it, to which Spencer states that he is. Roderick runs in, saying there's an alternate way, to which Spencer looks curious.
As the New Directions are introduced, Roderick walks out on stage and gets into position. When the curtains opens, Roderick begins to sing Take Me to Church, with the other members dancing and singing in the background. He dances smoothly, as Will, Kurt, Rachel and Blaine look proud. As Kitty walks out and sings with him, Myron changes with a wig in front of him. Kitty walks to the rest to the ND, where the transparent curtains opens up behind them, Jane belting out the song with Roderick. The song ends, Roderick looking happy. Madison leads Chandelier, Kitty joining in later. Myron runs out in a nude unitard with the wig, as the song continues to be sung. Everyone applauds Myron and the members of ND, while Donna looks horrified by this, especially when Myron dances behind her. When Myron runs out, Spencer comes in, swinging from a chandelier at the top, Jane joining in, with members of the Warbers doing back-flips in the background and Madison finishing the song. They all gather together (Spencer and Myron back with the group), while Sue looks worried, as Mason begins to sing Come Sail Away. He walks out to the center of the stage singing, with Madison joining him later. As the song progresses, Kitty and Spencer also sing solo lines, and the members dancing in sync. When the song ends, they all gather in a straight line, everyone applauds them, apart from Donna, Sue and VA. When the curtains close, the members cheer.
In the auditorium, the teams are gathered, with the trophies and judges on the side. The host brings out the sponsor, Wayne's Waffles (Kitty saying to herself "I love Waffles"). The 3rd place goes to The Falconers, where Donna hands them the trophy. Everyone else looks restless, waiting to know who wins: Will glaring at Sue, Sam and Beiste sitting, Skylar putting his hand on Jane, Rachel with her eyes closed. It is revealed that New Directions win (Myron jumping on Kitty), Rod handing them the trophy, as they all jump and down and confetti falling, as VA look at them in disgust. Sue walks away, smiling slightly.
In the auditorium, Rachel walks to the exit, but pauses. She walks down, and sees Jesse sitting. Jesse begins to tell her about how he misses it all, with his friends singing. Jesse stands up and faces her, saying that they have bigger things to do. He then says that if she wants to, she can stay at his apartment while she finds one, with no strings attached. Rachel states that she turned down the part, deciding to go to NYADA, as Jesse looks slightly disappointed. Rachel explains that she thought that college would be a step back, but she believes that its a step in the right direction. She asks him to not be mad, but he states that even though he may not be singing with her, he's proud with her, as she's not taking the easy way back to Broadway. She stands up and hugs him, thanking him for understanding. She states that she'll be there for the opening night, with an egg in her purse, to which Jesse states that she's not going to let it go (referring to when he egged her). Jesse states that they'll run into each other in NY, and they kiss. He leaves.
The next day in the choir room, the trophy is placed in the cabinet, as everyone around cheers. Will states that some day, they may come back and see the trophies, hoping they'll remember the time when they came together, putting their differences aside. He states that some of them are leaving (referring to Blaine, Kurt and Rachel who are returning to New York together), and that their chapter may be ending in glee club, but it's the beginning for them. They all applaud them. Rachel looks at the trophies of the previous competitions at the back, as everyone else talks. Kitty, noticing, says they should put the rest of the old trophies with them. They bring them, a flashback to that specific victory with each one put back in the case. They all clap at the filled-up cabinet. Sue watches from the doorway, smiling. She nods to herself, and walks away, no one noticing. Rachel leans her head against Will, both beaming with pride, as they all continue to clap.
In the cafeteria the next day, Kurt goes to find a seat. He sees an empty spot and places his tray, as the jocks come. Intimated, he moves, where a girl (Rachel) sits alone, working on posters. He asks if he can sit with her, which she agrees to, telling him not to ruin the posters. He notices that she's in the speech club, where she then rapidly lists the other clubs she's in, saying she's an actress. Kurt states that he knows, complimenting on her performances on MySpace. They both introduce themselves, and Kurt explains his situation with his dad, telling her that he's also experimenting himself with acting. Rachel, offended, states that she's not toying with acting, knowing she's going to be a star, telling him that the speech club is full. They then begin to discuss about how the glee club is running again, with Will being the coach of it, telling him that she's reserved the auditorium to practice their audition. It cuts to the next day, where they stand, as Rachel begins to sing Popular. Kurt later joins in singing with her, both of them relating their moves to the song. At the end of the performance, Kurt tells her that the performance was incredible, and can't wait for their audition tomorrow. Rachel abruptly tells him that they're not doing it together, comparing themselves to the stars in the sky: "some shine brighter than others, but they all shine not their own." Rachel thanks him for singing with her, but tells him that every person is for themselves. She walks offstage, telling him that it's show choir.
Later on that day, the bell rings, as Mercedes walks out of her classroom. Rachel, who was waiting for her, introduces herself, and says that she noticed that she signed up for the glee club. She then rapidly compares how her size is good for her voice, making her talented, like her. Mercedes tries to avoid her by saying she'll see her in glee club, but Rachel says that they're both going to compete for the female lead, confusing her with genuine kindness. Mercedes, believing that she's making her confused on purpose, states that she's experienced all this before, and knows how to deal with it. Rachel, seeing that Mercedes performs in a church choir, says that one of her dads is black. Mercedes, further confused, asks her what she said. Rachel repeats, but Mercedes walks away in disbelief, saying that she has to go to gym class. Rachel runs up to her, saying she wants to go to her church. Mercedes, once again in disbelief, says if she really wants too, to which Rachel shrugs.
Rachel walks in to the church and sits, and Mercedes begins to perform I'm His Child. Other people walk in and sit, as the church choir sings with Mercedes. Rachel, seeing how powerful Mercedes' voice is, is astonished. The people in the church also begin to sing along with her, nodding their head to the music. Mercedes finishes the song, to which Rachel is slightly threatened by how good she is.
At the end of church, Mercedes talks to the members of the choir, as Rachel walks up to her. When the members finish talking and go away, Rachel compliments Mercedes on how she is, and that knows her audience will love her in the future, accidentally offending Mercedes. Mercedes tells her that where her voice goes, her voice will be there as well. Mercedes' mother, from afar, watches their discussion. Mercedes walks away, as Rachel looks slightly hurt.
Back to the cafeteria, when Kurt and Rachel were sitting together, a pair of goths pour food on top of them. They walk away as everyone around laughs, and go sit with Tina and Artie. Artie, surprised, says that he can't believe they did what they just did. One of them, a girl, says that he dared them too, and because they didn't care about them. The other goth, a guy, says they had it coming, referring to when Rachel made fun of him about how he's not a werewolf. Artie agrees, saying she shouldn't have. The girl tells them its time for them to do their dare, as Kurt and Rachel walk out. She dares the both of them to sign up for the glee club to which they reply that they will.
In the choir room, the five members sit, not talking to each other. Will walks in, welcoming them. He give them gloves, and tells them that they're doing Sit Down, You're Rockin' the Boat, saying when he was in glee club, they performed that song and got a standing ovation. He says that Artie will lead. Rachel interrupts, saying she should lead because she was a member in the original glee club, and the first song sets the tone for the group as a whole. Will firmly tells her that Artie will sing, and that everyone will have turns of singing solos. When Will states he may do Grease for Sectionals, he asks who wants to be 'Sandy.' Rachel and Mercedes both raise their hands, (Kurt raising his slightly). Rachel, infuriated, states that she's the only person who can play Sandy. Mercedes comments on if its because she's white. Rachel begins to explain that they need to be taken seriously, about who has the best voice. Mercedes states that she has the best voice. They glare at each other, when Will tells them to warm up.
The following day, Rachel walks up to Will, asking how he is doing on finding the male lead, giving him a list of potential people that she finds attractive from the yearbook. Will tells her that he's heading to the locker room, to see if any of the guys had signed up for it. She gives him another list, with reasons why she should get the first solo. Puck and Karofsky walk by, Puck with a slushie, as she states that he should inform the rest of the members that she's the real star. Puck slushies her when she finishes, Will asking if she's okay, as everyone around laughs. She walks away, reiterating that everyone hates her.
Will walks into the choir room saying that they're moving to the auditorium, informing them that Principal Figgins believes that they are important, which is why he's giving it to them for a little while. He tells them to get sheet music for "You're the One that I Want." Mercedes asks who gets to sing the solo, to which Will replies that Rachel will. Angered, Mercedes says that she can belt higher than Rachel. Rachel interrupts that she belts just as good or even higher than her. Mercedes tells her that they should have a sing-off right at that moment. Will cuts in, saying they won't have a sing-off, but he'll keep the idea with him for later exercises. He tells Mercedes that Rachel has the solo, and that everyone else will have one eventually. Mercedes, hurt, states the white girl always goes first.
In Rachel's room, she exercises, saying to herself that the sun is not the brightest star, but the closest, while there are bigger and brighter stars. She states that she'll be the biggest star of them all, as she begins to exercise faster. Later, she opens her laptop, saying that MySpace is helpful for making them famous, to which she uploads a video. She also states that the internet has created hate, as she receives some anonymously. She continues, wiping her tears away, as she says that she's starting to ignore the cruelty, and starts to explain how there is a rumour that Will will leave because of his wife's child, as he needs more money to provide for them, stating that glee club won't be around without him. She decides to go talk to his wife.
Terri sits on a bed in Sheets-N-Things ordering Howard around because she is "pregnant," and that her doctor told her to take it easy. After Howard asks if she's on bed rest, she answers that she will be soon, and will be sooner if he can't do her job. He quickly apologizes, saying that he'll take the night off sleeping. Rachel walks up to her, introducing herself about how she's a student in Will's glee club. She tells her that she's working. Rachel also congratulates her on the baby, saying that she's already getting the pregnancy glow, to which Terri is flattered. She continues, saying that she should reconsider making Will become an accountant. Terri, annoyed, tells her that after she left high school, she learned that there are two types of personalities: who you are, and who you think you are. She explains that she makes Will be who he is than make him chase dreams. Rachel asks her that isn't life about doing things that you want to do. Terri agrees, but says if they are within reach. She explains that she wants a bigger house, but she won't be able to get it if she allows Will to continue at the glee club, not helping themselves. Rachel tells her that he'll be helping her. Terri, becoming stressed, says that Rachel is stressing out her baby. She begins to walk away, but Rachel begs her to let Will continue run the club, and that she's the decider. Terri agrees, saying that its her job to bring structure to the family, and Will's job to listen to her. She walks away. Howard appears, saying that he's always wanted to be in an all acapella group, but his dream is dead. Rachel looks saddened.
The following day at the emergency meeting, Kurt, Mercedes, Artie and Tina talk about the things that Finn has done, Kurt saying that he wants them to do "Don't Stop Believing." Rachel walks in, offended at how they started without her. Mercedes states that she's ten minutes late. Rachel states she should be glad that she came, and that they shouldn't have emergency meetings without Finn. Kurt tells her that the meeting is about that. Rachel states they cant kick him out again, because she brought him back in. Kurt tells her to kick him out again, knowing that Artie and himself are not her ideal male lead, and he states that he doesn't care, but doesn't want an evil jock in their midst. Mercedes interrupts, saying that she doesn't consider him to be an evil jock, but his girlfriend, Quinn, is a bitch. Artie tells them that when the other jocks locked him in a Port-a-loo, Finn saved him and wheeled him home, apologizing to his mom about the incident. Mercedes says that Finn never called her fat, unlike the other jocks. Kurt also tells them that he let him take off his Marc Jacobs jacket, before getting thrown in the dumpster. Tina finishes off, saying he's cute. Rachel states that he may not be as different as them, and that he just wants to be accepted for who he is than who other people label him for. Rachel continues, saying if they exclude him, then they're just like the other people who excluded them, and states that in McKinley, her life sucked, but not that week, because she now has made friends. She tells them that the club may become special to them, forming them to become who they want to be, and that when they look back at their time in the club, they should be proud of what they accomplish. They all decide to keep Finn in the club.
In the auditorium, the New Directions, (with Finn), perform Don't Stop Believin'. Will walks in, watching from a distance, beginning to cry again, as they all perform in sync, and seeing how good they are. Unseen, Sue watches from afar, with Quinn and Santana, from above. Puck also watches from the other end of the auditorium, walking out before they finishes. When they finish, they bow their heads.
In the present time, Will is seen getting ready while having flashbacks of his own Nationals when he was in the glee club, remembering his director, Lillian Adler's words about how glee club is something special as he finishes. Kurt walks in to the dressing room saying "It's time", Rachel helping Will out, Blaine also getting ready. Will puts on his jacket, and they all walk out, Rachel asking if he's ready. He replies he is. As they walk from their building to the main building (where the competition is held), a voiceover of the host announces the top 3 show-choir schools of that year out of the 20 that participated in the competition, one of them being the New Directions (as well as the Harmony Busters and the Sopranogasms). When they reach the building, they walk inside and Will heads to his team while the rest of them stand on the side of the stage. The host announces that in 3rd spot was The Harmony Busters, as Jane and Mason hold hands. Everyone on (and on the sides) of the stage look tense, as the host begins to announce the winner. He reveals that it is the New Directions. Rachel, Kurt and Blaine rejoice, coming on stage to the New Directions and Will congratulating each other, jumping up and down. They hold up their trophy high.
Will walks into the packed choir room, Rachel announcing he's inside. Everyone claps for him as he walks to the center of the room, everyone crowded around. Will states that it's the most exciting day of glee club since the alumni had joined (Kitty, Tina, Artie, Mercedes, Sam, Blaine, Kurt and Rachel being present in the room). Will asks them to take a seat, to which Rachel asks him when they'll start auditions, Kurt pointing out how the rule "whoever wants in, gets in" rule. Will corrects him, saying that he'll form new groups along with the New Directions, bringing back The Troubletones and making a new all-boys' equivalent called The Duly Noted, as well as a Junior Varsity group for those who need more practice before joining the "big leagues". Mercedes asks how he'll be running all those groups, and the school. Will explains that he's not going to be running the groups, Artie asks if he'll teach the New Directions, but Will tells him that he's interviewed a candidate that he likes. He picks up his ukulele, saying he's prepared a song to say farewell to them. He heads to the back of the room, saying that his life changed in that room and learning about how the message of the lyrics of a song contributes with it. Sam gets his guitar, and they both sit at the back of the choir room, playing, as Will begins to sing Teach Your Children. The alumni begin to cry along with Will as he sings the song. At the end of the song, everyone applauds for Will. Will stands up and blows a kiss to Rachel, who mouths a "Thank you" to him.
In the auditorium, Artie, Blaine, Kurt, Sam, Rachel and Tina walk in. Mercedes, on stage, tells them to stop, and explains to them that they need to listen to her, because she doesn't want to cry. They walk to the middle of the auditorium. Mercedes informs them that she's been picked up to be the opening act for Beyoncé's new world tour. They all cheer for her, and Mercedes tells them that when she came back, she's been trying to remember who she was. But, she can't remember the "old Mercedes" that well. When getting the call, she didn't think it was a mistake, as the "old Mercedes" would have done, but because of them, she was able change, and make her know that good things are possible, and that its not common to find people like them. They begin to go up to her, but she stops them again, telling them that she'll lose it, and start crying. She tells them that with all the things that are happening in her life, she won't be able to see them for a while. She dedicates a song to them, wanting to walk out like she'll see them all the next day, like its not goodbye. She begins to sing Someday We'll Be Together, with a church choir singing from behind. They all dance along to her singing. Mercedes walks up to them and hugs them all as she continues to sing. She then walks up the auditorium steps, to the top entrance, as the alumni begin to cry, while she still continues to sing. She stops at the top, belting out the final note. They all look at each in silent sadness. Mercedes blows a kiss to them, and walks out. Artie officially states that Mercedes has left, and they all stare at the entrance that she walked out of.
Back in the present, in the auditorium, Rachel plays on the piano. She sings This Time as she continues to play. Throughout the song, she is shown in different places of the school, reflecting on the things she's learned and cherished, walking by Finn's and Lilian's plaques. She finishes the song, staring out in the distance.
They knock on the door to Rachel's room, where Rachel is getting ready. Kurt walks to her as Rachel tries to get up, telling her to not stress herself. Rachel states that she'll be fine, and can't wait till the baby comes out. Blaine states that they've brought food to help the baby's brain grow. Tina asks Rachel (after hearing from Kurt and Blaine) about why she agreed to be their surrogate. Rachel informs her that its a full circle of how she was raised, but tells Tina that Blaine and Kurt have helped her out in her life, and wants to make them happy. She tells them that they'll be lovely parents. Jesse walks in, saying he can't wait for the moment and that he's ready to start their own family with Rachel , and is revealed to be Rachel's husband. He tells her that they'll be late, and they walk out as everyone else says goodbye to them.
At the Tony Awards ceremony, Rachel and Jesse walk in the crowded room, Jesse giving her tips about what she should do when she gets on stage. They reach the room where it is held, and they take their seats. In Will's apartment, the TV plays the show live with Sam being present, playing with Will's kids as Emma walks to the living room holding the youngest addition in the family. Andrew Rannells present the awards for the Best Actress. In Rachel's apartment, Artie, Tina, Mercedes, Kurt, Blaine, Kitty and Roderick are also gathered, along with other people, watching. Andrew Rannells reveals that Rachel is winner, to which everyone at the ceremony, and from Will's and Rachel's apartment, cheer for her. Rachel walks upstage in disbelief and happiness, hugging Andrew, and thanks Jesse, her dads, Carmen Tibideaux, and to all her friends. She dedicates her award to Will, who helped her be the person who she has become, teaching her the strengths, helping her in her dark times. Will, watching, begins to tear up, to which Sue, gives him a handkerchief. She concludes, saying that being a part of something does not make you special. Something is special because they are a part of it, and tells the viewers that dreams do come true. Will watches with happiness as Rachel finishes.
Will runs on stage as the curtains open, where Artie, Tina, Quinn and Sam stand. Will joins them singing
I Lived
. Sam and Artie join in, with Rachel, Mercedes, Jessie, Kurt and Blaine coming on stage, hugging Will. In the chorus, Roderick, Alistair, Madison, Jane, Spencer, Mason and Sugar come on. Mike and Matt Rutherford dance on, joining the line, where the put their hands up. Brittany, Santana, Puck, Kitty, Lauren, Jake and Karofsky come in from the 4 entrances of the auditorium, forming a line in the middle behind the front seats. Rachel belts out, with Jesse beside her, as they line of people come onstage, high-fiving the two lines that have been formed onstage. Joe, Unique and Ryder come from behind, walking down the steps to the middle of the stage, and walk to the sides, as the older adults come on, joining them. Terri hugs Will, to which Emma looks shocked. They all move to the back of the stage, Sue and Becky joining them, where they bow their heads, once the song finishes. Cheering and laughing of all them can be heard, when the camera zooms out of the plaque of their performance, where they all look happy in the picture. Finn's and Lilian's plaques are beside it, as the camera focuses on it. The cheering stops, and the screen goes black, ending both the episode and the series.
Personality
Socially awkward, self-involved, egotistic, hard worker, sweet and forgiving, Rachel can often come off as a bit intense to the other Glee Club members. First competition while still in diapers, Rachel's one true desire is to become a famous singing star and she has spent almost every moment of her life obsessively going for that goal. She is the best singer in Glee club and has faced Kurt Hummel, Sunshine Corazon, and Mercedes Jones in diva-offs. Rachel is so energized by her ambition that she often speaks at a rapid pace, often without any tact to what she says. Rachel can also be manipulative in her actions, such as getting the previous glee teacher fired because he touched a student and she didn't get a solo and using the fact that she has two gay dads and therefore a connection to the civil rights union to force a business to get Finn hired for a waiting job. Ironically, she has difficulty seeing when other people are manipulating her, such as when Kurt gave her bad advice to gain Finn's attention. She is easily angered for not getting her way, and at such occasions, she will leave the room with a dramatic exit (though, as Artie once pointed out, they get less dramatic every time she does it). Yet despite her less than appealing tendencies, Rachel is not a bad person. Deep down, like so many other teens, she only wishes to be loved and to have friends. When others are hurting or feeling rejected, Rachel often is willing to come to their side and offer them help, even if the manner in which she does it is less than smooth, such as offering Quinn her support and friendship when she found out she was pregnant and was kicked off the cheerleading team, despite all the years of emotional torment. Rachel is a vegan, a fact revealed to fans in Funk before Vocal Adrenaline eggs her. (Although a minor error, she was seen eating pizza with pepperoni in the episode The Rhodes Not Taken. It was mentioned by Finn as he said: I think they import the pepperoni from, Michigan or something.) But she could have become a vegetarian after The Rhodes Not Taken. This was also confirmed in Duets when Finn tells Rachel that the vegan meatballs at Breadstix are "okay." She is also quite intelligent and is an overachiever.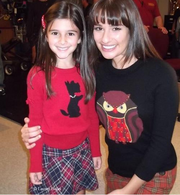 Rachel's romantic feelings towards certain people, like her core personality, can be somewhat intense. Upon meeting and singing with Finn for the first time, she became obviously enamored, causing Finn to become somewhat fearful for his safetyh er as she sang to him. However, despite her overbearing nature, Finn found himself attracted to her "Swimfan" personality and encouraged her attention. Rachel also got a school crush on Will at one point, after they sang a duet ballad together, and like Finn, Will became concern, but for very different reasons. The only person who has not shown fear in regards to Rachel's romantic advances was Jesse St. James, who not only welcomed the advances, but apparently returned them as well as instigated them intentionally, due to their similar personalities. Jesse even admitted to being in-love with Rachel, which Rachel admitted in return, after only knowing him for a few days. It was later revealed that Jesse was trying to reconnect Rachel and her mother, making it unclear how much of their relationship was real and how much was part of the plot (though it is hinted at that Jesse genuinely cared for Rachel). In Theatricality it is discovered that her mother is Shelby Corcoran, the coach of their rival show choir, Vocal Adrenaline. Her mother, however, upon realizing how much she missed in Rachel's life, and how painful it was trying to continue a relationship that never existed, decided it was best that they not continue seeing each other. Despite Rachel's diva personality, the members of New Directions came to care about her even if they still treated her badly at times. When Jesse cracked an egg on her head, the club members were furious and even threatened to rip his face off. Later she has been trying to improve her personality. In Duets, she let Sam and Quinn win, but as Finn pointed out it was, in a way, for personal reasons. This behavior continues as she offers Kurt some friendly support and invites him to do a duet with her. In Special Education, she helps him try for a solo at Dalton Academy, and offers him immense support during the Dalton Academy Warblers' performance, urging him to smile and giving him a standing ovation. Rachel is very protective of her Jewish roots and her two fathers. She often speaks about them and her upbringing, her unconventional life has given her a solid grounding, but she was still pleased to find her mom in Season One. Despite her being incredibly beautiful, it has been shown many times she's insecure of how she looks, like in Born This Way when she wanted to get a nose job and in Silly Love Songs when she said Quinn was prettier than her.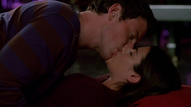 By Season Three, Rachel still has her determined and self-centred wits. At the first half of the season, she was very determined to get Maria in the West Side Story musical at McKinley. Afraid she won't get the role, she runs against Kurt and Brittany for Senior Class President, thinking for herself, instead of for Kurt, which is generally angry, as Rachel promised she would vote for him. But Rachel's selfishness pulls in, as later she drops out of the candidates and tells everyone to vote for Kurt. When it's time to vote, Rachel knows Kurt will lose to Brittany and cheats by stuffing many votes for Kurt, which Kurt is blamed for. At the end of I Kissed a Girl, it seems Rachel has admitted to Figgins that she did the dirty work and she will be disqualified for Sectionals. She seems to care about Shelby and Quinn a lot, as when Quinn was out to get Shelby for having an affair with Puck, Rachel stops Quinn and they become friends afterwards. On the second half of the season, Finn pops the big question and asks Rachel to marry him, in which she doesn't answer, until Michael, she says yes. When Sebastian decides to blackmail Rachel with a photoshopped, naked picture of Finn and threatening to post it up if Rachel does not withdraw from Regionals, Rachel seems to not care about Finn and says she will go sing and won't matter if Finn's picture is uploaded which angers Finn. At the end of On My Way, Rachel and Finn's wedding has come, but Quinn ends up in a car accident, leaving Rachel completely scarred and the wedding is cancelled. Rachel is saddened and continues to feel bad that it was her fault that caused Quinn to be injured, but Quinn reassures her. By the end of Season Three, Rachel's development from that self-centred, determined person in Season One to the more caring, determined leader that everyone respects.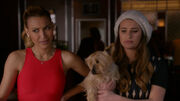 In Season Four, Rachel has definitely changed. She is a big fish in a big ocean as she goes to New York, Finn sending her off in Season Three's finale. She goes by herself as her best gay, Kurt, did not make it in. In The New Rachel, Rachel can already see how hard she is being tested as her teacher, Cassandra July, pushes her hard to the point that she can't take it anymore. In New York, Rachel is not the boss, she is the learner. Brody Weston, a fellow NYADA student, tells Rachel that the only reason she's in New York is because she's changed into a new, improved girl and she should look at shaping the future rather than always dwelling in the past.
In the third episode of Season Four, Makeover, Rachel has a makeover from Isabelle and Kurt, getting rid of her old looks from Lima, Ohio, and readying herself as the New Rachel, the fresh, changed one. She is seen with a different hairstyle, new looks and particularly different clothing. Before Brody and her sing A Change Would Do You Good, Brody comments on her change, saying that New York City isn't New York City until you have a makeover. When Brody and Rachel have a date/dinner at Rachel and Kurt's NYC apartment, they continually flirt and speak about secrets and changes. When Finn knocks on the door during the Brochel moment, it leaves Rachel shocked. This is because, although Finn is Rachel's first love, Rachel has changed a lot upon coming to New York, especially with a new love interest, Brody.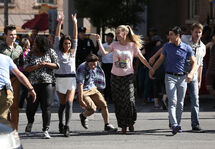 In Season Five, Rachel is finally making her dream come true, playing Fanny Brice in Funny Girl. Even though she loses Finn, she proves to be very mature and strong. During the second half of the season, however, some of her old attitude kind of returns because of fighting with Santana over the startdom at Broadway, but later, in New Directions, they make up and remain friends. Ever since, she has progressively returned to the way of being she had at the start of the season.
Relationships
Main article: Finn-Rachel Relationship (Finchel)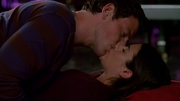 Throughout the first season, Rachel and Finn are heavily on and off. During the first half, their relationship is generally kept a secret, but is then cut short when Quinn, Finn's then-girlfriend, finds out she is pregnant. Rachel and Finn's relationship resumes after sectionals due to the fact that he finds out he isn't the father, instead being Puck. This, however, is also cut short when Finn is uneasy about the pace of the relationship and ends it. Soon after, he realizes she is the one he wants, but comes to the grim discovery that she is going strong with Jesse St. James. Their relationship continues and subsequently ends, allowing Finn and Rachel to be together through the season finale, Journey, and into the next season.
Their relationship lasted for a little while in the beginning of Season Two, then abruptly ended when Finn found out that Rachel cheated on him with Puck in retaliation for what Finn had done with Santana during her own previous relationship with Jesse. The two are broken up until the season finale, New York, where they share a kiss on the Nationals stage due to their apparent everlasting love for one another, costing them the Nationals trophy, but rekindling their love once again.
The two are strong throughout the heavy majority of Season Three, Rachel even losing her virginity to Finn and the two getting engaged. Finn, however, sets Rachel free to follow her dreams in New York in the season finale, Goodbye, realizing their relationship is keeping her from her greatest potential.
In Season Four, Rachel is in New York, but misses Finn a lot. This can be seen when Brody talks about his failed relationship with his girlfriend, to what Rachel quickly comments, saying that she'll never turn her back on Finn. She continually looks through pictures of her and Finn on her iPhone.
As time goes by, Brody and Rachel's relationship strengthens, Brody able to admit his crush for Rachel, but Rachel, still remembers Finn. In Britney 2.0, as Rachel and Kurt decorate their NYC apartment, Rachel paints Finn's name and draws hearts around it, indicating that she still loves him. Kurt reminds her that Finn let her go to give her space and because he loves her, Rachel trying to take that in. But at the end of the episode, she paints over Finn's name. Rachel is beginning to shift her thoughts.
In the episode, Makeover, Rachel goes through a makeover and changes her ways, her appearance and she and Brody's relationship grows further. While Brody and Rachel have dinner at Rachel and Kurt's NYC apartment, all of a sudden, they make out, and then the door knocks. Rachel, assuming it's Kurt, answers the door, only to see Finn at the doorstep, grinning. Brody gets up behind Rachel as he watches the two. Finn sees Brody and his eyes shift back at Rachel, full of confusion and hurt. Rachel has changed and even though Finn was her first love, upon entering New York City, she decides not to dwell in her past and this impacts Finn, because Rachel can't take it anymore.
In The Break-Up, Finn is still unaware of Brody and Rachel's kiss, but does suspect something. Rachel is told about Finn's experience in the army and how he was shot and she decides to let him have a "NYADA experience" to see if maybe he would want to be in NYADA. But Finn knows it won't work out. When Rachel, Finn, Kurt and Blaine go to a NYADA student hang-out bar, Callbacks, Brody and Rachel sing and Finn can see the chemistry between them. Afterwards, Finn forces Rachel to admit what's going on and she does, leaving Finn disheartened. They both go to sleep without talking. Just like last time, Finn leaves Rachel and doesn't answer her calls and texts and when she finds him back at McKinley's auditorium, she is infuriated at how he keeps making her chase him and she's tired of being confused and she doesn't need him to give her freedom, and with that, Rachel says she can't do it anymore, at least for not for now and says that she and him are done.
In Glease, Rachel and Kurt return to Lima, Ohio knowing that Finn is directing and Blaine is being featured in the school production. Upon entering McKinley, Rachel and Kurt have an awkward scene with Blaine and Finn where they greet each other nicely. When Marley and Ryder and the rest of the cast perform You're The One That I Want, Rachel fantasises her and the rest of the old members of New Directions and their lovers singing. She and Finn sing for the audience and at the end of the performance/fantasy, she runs into the female bathroom. After a phone call and learning of Brody and Cassandra's affair, Rachel comes out of the bathroom in tears. Finn comes out of the corner and calls for her. Finn says she missed the curtain call. "Have you been crying?" Finn asks. But Rachel denies, saying she's fine. "For two years, I was the guy you came to for every little problem. Are we just gonna, pretend that we're not even friends anymore?" Finn says.
"I just, I shouldn't have come here." Rachel replies. "It's just, it's too weird." Finn asks then why did she come.
She says for Kurt and for him, Finn. She says that everything was really, really good, but she had a couple of notes, but they were small. Finn thanks her coming and says that the whole time he was directing he was basically thinking of what would she do because she's kind of his moose. She corrects him and says it's a muse. He says he knows and he wanted to see her smile. Finn asks if she can tell him what she's so upset about, but Rachel says she rather not. He asks if she was crying about him, but she replies and says it wasn't. "Oh.. it's about him, isn't it? Brody?" Finn says with a smirk. "I just didn't think you would move on that fast.."
Rachel says he doesn't know that, but Finn says that he knows her and the four different types of crying: Fake crying, Singing crying, Disappointed crying and the crying over a guy which Finn knows very well because Rachel reserved it for Finn. Rachel then lets it out, "Well, I told you we shouldn't talk about this." Finn says then maybe they shouldn't talk about anything anymore. He says that no contact and not even in song and when she comes to visit, he doesn't want to know about it. Rachel replies and says it's a good idea and despite not knowing what will happen between them, she'll know that he's the guy who made her feel like the most special thing in the whole world and it doesn't feel that way anymore. "It just feels sad and confusing and the worse part is... it doesn't really feel that bad anymore.." Rachel says. Finn, full of hurt, replies that whatever made her cry for that Brody guy it made sure she didn't cry for himself.
Despite Finn asking Rachel not to talk to him, they have a small phone call after Rachel announces that she won her Winter Showcase at NYADA. This takes place in the episode, Swan Song. Finn, angry and uninterested to talk, gets motivated by Rachel as she says that Glee Club isn't all about competing after their loss at Sectionals. She says that he shouldn't give up on their dream and not on New Direction's either.
In I Do, Finn tells Rachel about him kissing Emma in the previous episode. She believes it's because he was angry that she and Brody moved in together, but he lashes out at her saying that not everything is about her. They soon meet up in the auditorium, and decide to do a duet together at Will and Emma's wedding reception. Emma leaves Will at the altar, though the reception still goes on. Rachel tried to tell Finn that it is not his fault Emma left. When Finn realizes how much he misses Rachel and that they were meant to be, he gave her a speech about it and they went to the stage to start singing their duet, We've Got Tonite, which leads to them getting a hotel room and getting intimate. Rachel leaves while Finn is sleeping and returns to New York and Brody, who decorated the apartment. She does not tell him anything that happened with Finn, just that he was doing good.
In Sweet Dreams, Rachel calls Finn and asks him about how things are going on at college and sounds shocked when she hears that Puck is there with him and is roommates with him. She asks him about her Funny Girl audition and wants to know what song he thinks she should sing, telling him 'No Barbra." He suggests she go with something that takes her back to her roots, something that will make the producers fall in love with her in that moment on the stage. She replies with a thank you and tells him that was "perfect advice."
In Love Love Love, Rachel is seen walking around New York singing Yesterday walking by Sardi's and longingly looking into the restaurant (presumably remembering her date with Finn). She is then seen on the Central Park Bridge taking out her phone and looking at a picture of the New Directions' first win at Sectionals.
In
The Quarterback
, many of the New Directions are gathered at Finn's locker memorial and place red drumsticks in honor of him. Kitty remarks that this is sort of cheesy, but Kurt appears with Rachel who said "No it's beautiful. I just had to see it." Rachel is then seen standing in front of her friends in the choir room, telling them that she doesn't really know what to say either. She says that she loved Finn and that she knows Finn loved her, too, and that he also loved everyone in glee club, past and present. She goes on, explaining that before Finn came into her life, she used to sing alone in the car and when she and Finn got together, the first song they sang while driving was
Make You Feel My Love
, which she then sings for Finn. Later, Rachel finds Will alone in the Choir Room. When she asks him how he's doing, he says that he's okay and asks her about her. Rachel says that she doesn't know how she feels, but that she had their future together all figured out. She says that she was going to make it big on Broadway, and maybe even do a Woody Allen movie. He was going to take over Glee Club at McKinley and when they were ready she was just going to walk through the door of the Choir Room and tell him "I'm home." and they would've lived happily ever after. When Will asks her if she told Finn about this, Rachel says that she didn't have to tell Finn, that he knew. She then shows Will a plaque with a picture of Finn and a quote of his, "The show must go...all over the place...or something," which she had made and together, they hung it up in the Choir Room.
Main article: Puck-Rachel Relationship

(Puckleberry)
They start dating in Mash-Up because Puck's mother wants him to date a Jewish girl. Later that night he has a mysterious dream, in which Rachel climbed through his window wearing a Star of David necklace. He thinks that this is a message from God and they embark on a short-lived romance, and Puck sings Sweet Caroline to her during Glee. Rachel ends the relationship because she still has feelings for Finn and suspects Puck has feelings for Quinn. She admitted that the reason she agreed to date him was because she wanted to make Finn jealous. Rachel then offered Puck to be friends again, but Puck turned her down, claiming they had never been friends in the first place.
In Bad Reputation, it is revealed that Rachel is ironically turned on by Puck's bad boy image. They almost kiss while Rachel is dating Jesse. He is later very hurt when he finds out he was used to recreate Rachel's image to make her seem like a bad girl along with Finn and Jesse.
In Special Education, they have another make out session, but Puck turns her down because he doesn't want to hurt Finn again by sleeping with another of his girlfriends. This causes Finn and Rachel to break up for the second time. In an effort to make Finn jealous, Rachel gets Puck to perform a duet with her in The Sue Sylvester Shuffle.
In
Born This Way
, Puck, with Kurt's help, is the one to organized the Barbra-vention for Rachel in an effort to try and talk her out of getting a nose-job.
Main article: Jesse-Rachel Relationship (St. Berry)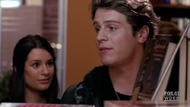 Jesse St. James is the popular lead male singer of
Vocal Adrenaline
. After Finn breaks up with Rachel (though they never officially had started dating), she ends up meeting Jesse while at the music store. After dismissing her performance at Sectionals, he invites her out on a date, and the two quickly become a serious item, claiming to be 'in love'. The rest of
New Directions
, however, are uneasy about the relationship, believing Jesse to be a spy for their rival school. When Rachel tries to find this out for herself, Jesse claims it not be true.
However, when Rachel refuses to have sex with Jesse, he drops out. of his old school and moves to his uncle's so he can transfer to McKinley, be with Rachel and join the Glee Club. It is interesting to note that the leader of Vocal Adrenaline gave Jesse a look which presumably meant to stay with Rachel to not blow his cover. Later, Rachel looks through boxes of her childhood and infant memorabilia in search of the identity of her birth mother. What she doesn't notice is the fact that the tape that she uses to identify her mother, Shelby Corcoran, does not come from the many boxes, but from Jesse's shirt pocket. This is later addressed when Jesse climbs into Shelby's car, proving that he wasn't there as a spy for Vocal Adrenaline, but to lead Rachel into finding her birth mother. Jesse confesses to Ms. Corcoran that, while originally he developed a relationship with Rachel to hone his acting abilities, he admitted starting to have feelings for her.
This was contradicted in Funk when he and the other Vocal Adrenaline members egged her, though he did tel her that he loved her, though it is unknown if he was telling the truth or not.
Jesse returns to Lima toward the end of Season Two, telling Rachel that losing her was his "one great regret." He tells her that she is what is most important to him. He asks if he can go to Prom with her and they do. He gets thrown out though when Finn starts a fight with him for nuzzling Rachel's neck. In New York, Rachel says that he had been texting her all day. In the end Rachel, Rachel and Finn kiss in the finale and although they lost the championship, they both claimed that it was worth it. Towards the ending of the episode, the two rekindle their relationship.
Main article: Brody-Rachel Relationship (Brochel)
At the beginning of Season Four (The New Rachel) Rachel and Brody meet in the NYADA bathrooms. Rachel hears Brody sing Sister Christian in the showers as she listens intently. He comes out of the shower naked which distracts her and they both have a small conversation. Rachel and Brody both have many things in common. It seems Rachel and Brody are both students at NYADA, both majoring in student theatre and there are many other points. Brody is a junior while Rachel is a freshman and Brody has been on broadway, which surprises Rachel. Later in the episode, Rachel is asked to perform in front of the class and in front of Carmen Tibideaux. Brody watches her intently as she sings New York State of Mind and is the only one to applaud her when she finishes. In New York, Rachel scrolls through her photos and is reminded of Finn. Brody questions if that's her boyfriend and she talks about Finn. Brody then takes her phone and takes a picture of the both of them, saying that she should remember this day when he told her to not dwell in the past and instead realise that she is the best of the best and she came to New York because she has changed into a new and improved girl. He offers to walk with her their classes back at NYADA.
In Britney 2.0, Brody begins to loosen up to Rachel. Dancing with her in Oops!... I Did It Again, calling her sexy and bringing her orchards at her apartment. He is about to kiss her before she stops him and Brody knows that Rachel is not over Finn and he should respect her boundaries instead of going ahead. He reminds Rachel that even though he fails now, everytime they do something, sing something or talk together, he's thinking of kissing her.
Makeover reveals that Brody and Rachel have become a lot closer. During A Change Would Do You Good, Rachel and Brody are seen exploring New York together along with dancing in the studio. Brody and Rachel take pictures using their phones and Brody also buys Rachel some ice-cream. Rachel cooks Brody dinner the next evening and the two share an intimate moment towards the end of the episode after reflecting on their childhood, changes and secrets.
In The Break-Up, Finn and Rachel are feeling awkward after Finn caught Rachel with Brody. However, Rachel insists that they are just friends. Later, when Rachel and Finn double dates with Kurt and Blaine at the karaoke bar, Callbacks, Brody runs into the foursome, providing an awkward situation. Finn then insists that Rachel and Brody sing a duet together on the karaoke, in which they are hesitant, but they agree. They sing a pleasant rendition of Demi Lovato's Give Your Heart a Break, which is well received by the patrons. After the date, Rachel admits that she and Brody may be something more than just friends which upsets Finn leading them to sing Don't Speak.
In Glease, Brody and other upperclassmen/juniors are permitted to enter Cassandra's freshmen class so the upperclassmen can help the freshmen with their dancing. Rachel and Brody meet and are happy. Cassandra overhears Rachel's conversation with Brody about audition for an off-Broadway audition of The Glass Menagerie and Cassandra is filled with jealousy. She asks Brody to help with her audition, but at this point, Cassandra says Rachel doesn't have enough wounds for the audition. Rachel says she does. Cassandra convinces Rachel and Kurt to go to McKinley to watch Grease. After going to McKinley's Grease School Production, Rachel calls Brody after she fantasises her and Finn singing You're The One That I Want. Instead, Cassandra picks up and tells Rachel of her and Brody's affair and that Brody is at Cassandra's house, leaving Rachel very distraught.
In Thanksgiving, Brody and Rachel discuss their situation the adult way and Rachel soons forgives him. Brody helps Rachel with their Thanksgiving, even dancing togeher in the performance, Let's Have a Kiki/Turkey Lurkey Time.
During the episode, Swan Song, Rachel prepares for her winter showcase, but before she takes to the stage, she kisses Brody, saying that she's decided to do things when she has the chance and opportunity. They even hold hands during Kurt's re-audition at the showcase. In Sadie Hawkins, at the beginning of the episode, Rachel reveals to Kurt that Brody spent the night because it was a long commute from his apartment to hers. Throughout the episode, Rachel has become too busy to hang out with Kurt due to investing all of her time with Brody. Kurt explains that she runs off to help Brody with something that will no doubt have Brody shirtless. Later on, Rachel cooks a turkey burger for Brody, but he arrives forty-five minutes late which angers Rachel. Brody apologizes for missing the dinner and tells her that she is priceless and he would go to the end of the world for her.
The two later dance with each other during a montage scene to Ryder's I Only Have Eyes for You and Brody tells her that he will try to find a place closer to Rachel, to which Rachel asks him to move in with her. In Naked, Brody comes out and sits in front of Kurt, completely nude. Kurt scolds him and tells Rachel off for letting her boyfriend sit his bare ass down on his vintage flea market chairs. When Rachel talks about her topless scene in a student film, Brody supports her, but Kurt does not. Brody defends her by saying that in order for Rachel to win an Oscar, she has to expose herself. Rachel says she'll do the scene regardless of whether Kurt wants to support her or not. In Diva, because of Rachel's insufferable attitude since the Winter Showcase, Kurt has decided to knock Rachel down a peg by challenging her to a diva off at an event titled 'Midnight Madness'. Rachel asks Brody what a Midnight Madness is and he explains that it is basically NYADA's fight club, but with singing instead of punching. When they later perform Bring Him Home, Brody is seen smiling at both of their performances, not showing any biased favor towards his girlfriend. Even when Kurt is voted the winner, he remains impartial. In I Do, Brody does not attend Will's wedding in Lima, however, he is mentioned by Rachel several times during her meeting with Finn. She mentions that Brody felt weird about going to a stranger's wedding.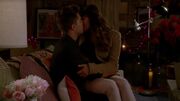 Once Rachel comes home, Brody has decorated the entire house for Valentine's Day. They share a few kisses and Brody notices that she is kissing differently and asks if Rachel has seen Finn. Rachel denies anything has happened between the two. When Rachel asks if Brody has done anything interesting, he denies and says he's been at home watching work-out videos, but a cutaway scene showing Brody leaving a hotel with money, the implication being that he has been prostituting himself. At the end of the episode during Anything Could Happen, Brody and Rachel are seen sleeping in the same bed. Then, Rachel gets up to go to the bathroom and take a pregnancy test.
During the later episodes, it's found out that Brody is actually a male prostitute and has not told Rachel about it. Santana finds out this, at first Rachel does not believe her, but at the end she realizes it's true. She discuss this with Brody, who apologizes about it since he feels sorry, but also tells her that he meant every word that he said about the way he feels about Rachel. At the end of their fight, Brody in sadness asks her if it is over, Rachel replies that it feels like it and she walks out of the room. After that, they start to sing Radiohead's
Creep
.
Main article: Cassandra-Rachel Relationship (Julyberry)
In Season Four, Rachel starts NYADA classes in New York upon being sent by Finn to go to Lima, Ohio. At the very beginning of The New Rachel, in her dance class, her dance instructor, Cassandra July, always picks on
Rachel, calling her "Little Miss David Schwimmer" implying that she looks like the female version of Ross from
Friends
. Eventually Rachel bursts out and asks why Cassandra picks on her, to which Cassandra denies, saying she motivates her. Cassandra continually picks on Rachel, calls her "God Almighty Schwimmer" or "David Schwimmer" or just "Schwimmer." She promises to make Rachel's every minute in NYADA a living hell. Even Brody says that she is tough.
In Britney 2.0, Cassandra accuses Rachel for having no sex appeal. This motivates Rachel to perform Oops!... I Did It Again, at NYADA in front of Cassandra with Brody. Cassandra is unimpressed, saying Rachel was okay, but Brody was incredible. Rachel then bursts out and says that Rachel and the NYADA students are still part of the business and Miss July is just angered and jealous cause of her fail career (explained by Kurt to Rachel at their New York apartment). Cassandra then sends Rachel out of class. Later, Rachel comes back to apologise, and Miss July lectures her calmly and explains that she only puts pressure on Rachel because she wants Rachel to understand that life isn't as easy as it is out there. Rachel is now on probation and according to school policy, cannot be kicked out, only to be warned. Towards the end of the episode, during Everytime, Cassandra asks a boy to dance with Rachel, instead of always letting Rachel sit out.
Cassandra returns in Glease and welcomes the upperclassmen to her class to teach the freshmen real dancing. Among these upperclassmen is Brody Weston and he conversates with his fellow friend/love interest, Rachel. Cassandra overhears and knows that Rachel is auditioning for the off-Broadway musical, The Glass Menagerie. She tells Rachel that she doesn't have enough wounds, but Rachel says she can cope. Rachel tells Cassandra to audition and maybe "get back in the game" to which Cassandra doesn't answer. Jealousy feels her eyes. She asks Brody to be her "TA" to try and make Brody not help Rachel's audition, but Brody does help, making Cassandra more jealous. Cassandra later pushes Rachel to go back to Lima, Ohio to watch McKinley's School Production of Grease as Kurt insisted, and maybe even visit her "loser ex boyfriend." In There Are Worse Things I Could Do, Brody and Cassandra dance and we witness a kiss. After Rachel fantases about her and Finn and is distraught, she attempts to call Brody, but Cassandra picks up, explaining her affair with Brody, and that this is a life lesson for Rachel, leaving Rachel further distraught.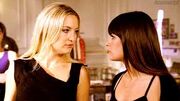 When Cassandra returns in Swan Song, Rachel decides to show Cassandra how good she's gotten. They have a sing and dance off with the song from Chicago, All That Jazz. Cassandra says she is the best dancer and that Rachel can't even outdance her. Rachel agrees, but now Cassandra has shown Rachel the way and that Rachel has the best voice and will win the showcase with it. Cassandra doubts it. And to top it off, she wins the show case.
In
Wonder-ful
, Cassandra finds out about Rachel's broadway callback, and decides to crush her by making her do her mid-term early, forcing her to do the hardest routine so she can fumble with both activities. But unexpected, Cassandra lies, and the mid-term is actually a booty camp to prepare Rachel as the whole class congratulates her with a song. Cassandra and Rachel later have a conversation to which it is revealed that Cassandra only pushed Rachel harder to get her to her full potential and Cassandra knows that Rachel will get the part.
Main article: Rachel-Sam Relationship (Samchel/Evanberry)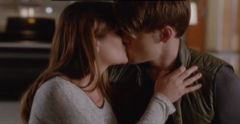 Sam and Rachel first meet when Sam comes as a new student in McKinley. In
Rumours
, Rachel buys chapsticks for Sam and she asks him to go out with her to prom but he rejects her. She later finds out it's because he cannot pay for it; so, she pays for her own ticket but ends up bailing for Jesse. After Jesse and Finn are kicked out of the prom, Sam and Rachel dance together during
Dancing Queen
. During
Hold on to Sixteen
, Rachel and Finn go to Kentucky to bring him back to McKinley but both of them are really surprised when they see him working as a stripper, Rachel gets a dollar from Finn to get Sam's attention and he finally recognizes her. Later Rachel, along with Finn, talks with his parents to let Sam returns to Lima. In
Movin' Out
, Rachel finds out Sam wants to be a model so she helps him by introducing him the photographer from Funny Girl for a photoshoot, later during
Just the Way You Are
, both of them share several glances and dance together. In
The Hurt Locker, Part One
, Sam is hypnotized by Sue in an attempt to mess with Rachel's head and destroy the Glee Club. Sue makes him believe he's in love with Rachel and he eventually kiss her, later Rachel asks him out but Sam rejects her saying he is still in love with Mercedes. In
What the World Needs Now
, It was revealed that Sam and Rachel have feelings for each other but Rachel has to think about the New Directions more and Sam is still confused about his relationship with Mercedes. But when Mercedes tells Sam she's dating someone, Sam moves on and begins to get stronger feelings for Rachel. Mercedes gave Rachel her blessing, telling her that she should go out with Sam. At the end of the episode they are seen talking at Will's house in a flirty way. In
Transitioning
, Rachel was talking to Sam in a corner at her Good-Bye house party, they later went in her room. Sam was talking with Rachel about letting go and starting new memories. Sam kisses Rachel for a second, then Rachel stares at Sam and starts making out with him. Later in the episode they are seen holding hands confirming they are officially a couple.
Songs
Total - 206
Solos
Duets
Solos (In a Group Number)
Season One
Song
Episode
Solos with
Push It
Showmance
Artie, Finn, Mercedes, and Tina
Somebody to Love
The Rhodes Not Taken
Artie, Finn, and Mercedes
Imagine
Hairography
Jump
Mattress
Smile
You Can't Always Get What You Want
Sectionals
My Life Would Suck Without You
Finn and Tina
Hello, Goodbye
Hell-O
Finn and Mercedes
Express Yourself
The Power of Madonna
Mercedes, Quinn, Santana, and Tina
Like a Virgin
Emma, Finn, Jesse, Santana, and Will
Like a Prayer
Finn, Jesse, Kurt, and Mercedes
Run Joey Run
Bad Reputation
Finn, Jesse, and Puck
Total Eclipse of the Heart
Any Way You Want It/Lovin' Touchin' Squeezin'
Journey
Artie, Finn, Kurt, Mercedes, and Puck
Don't Stop Believin'
Artie, Finn, Kurt, Mercedes, Puck, and Santana
To Sir, with Love
Artie, Finn, Kurt, Mercedes, Santana, and Tina
Unreleased songs
Solos
Duets
Solos (In a Group Number)
Season Two
Song
Episode
Solos with
Empire State of Mind
Audition
Artie, Finn, Mercedes, Puck, and Santana
Toxic
Britney/Brittany
Brittany, Santana, Tina, and Will
One of Us
Grilled Cheesus
Finn, Kurt, Mercedes, Quinn and Tina
There's a Light (Over at the Frankenstein Place)
The Rocky Horror Glee Show
Finn and Kurt
Start Me Up/Livin' on a Prayer
Never Been Kissed
Brittany, Mercedes, Santana, and Tina
Marry You
Furt
Artie, Brittany, Finn, Mike, Quinn, Sam, and Tina
Welcome Christmas
A Very Glee Christmas
Artie and Mercedes
Deck the Rooftop
Glee: The Music, The Christmas Album
Artie, Finn, Mercedes, Santana, and Tina
Last Christmas
Finn and Mercedes
God Rest Ye Merry Gentlemen
Mercedes, Quinn, Santana, and Tina
Thriller/Heads Will Roll
The Sue Sylvester Shuffle
Artie, Finn, and Santana
Afternoon Delight
Sexy
Carl, Emma, Puck, and Quinn
Loser Like Me
Original Song
Brittany, Finn, Mercedes, and Santana
Don't Stop
Rumours
Finn, Quinn, and Sam
I Love New York/New York, New York
New York
Artie, Brittany, Finn, Mercedes, and Santana
Light up the World
Artie, Brittany, Finn, Santana, and Tina
Unreleased songs
Solos
Duets
Solos (In a Group Number)
Season Three
Song
Episode
Solos with
We Got the Beat
The Purple Piano Project
Brittany and Santana
You Can't Stop the Beat
Artie, Finn, Kurt, Mercedes, and Tina
We Are Young
Hold on to Sixteen
Finn, Mercedes, Quinn, Sam, and Santana
Do They Know It's Christmas?
Extraordinary Merry Christmas
Artie, Blaine, Brittany, Finn, Kurt, Mercedes, Puck, Santana, and Tina
My Favorite Things
Blaine, Kurt, and Mercedes
The First Time Ever I Saw Your Face
Yes/No
Mercedes, Santana, and Tina
Ben
Michael
Finn and Kurt
Black or White
Artie, Kurt, Mercedes, and Santana
Love Shack
Heart
Blaine, Brittany, Kurt, Mercedes, and Sugar
Fly/I Believe I Can Fly
On My Way
Artie, Blaine, Finn, Mercedes, and Santana
How Will I Know
Dance with Somebody
Kurt, Mercedes, and Santana
Big Girls Don't Cry
Prom-asaurus
Blaine and Kurt
Paradise by the Dashboard Light
Nationals
Blaine, Brittany, Finn, Kurt, Mercedes, Mike, Puck, and Santana
Tongue Tied
Artie, Finn, and Santana
We Are the Champions
Finn, Kurt, Quinn, Puck, and Santana
You Get What You Give
Goodbye
Finn, Mercedes, Puck (episode) and Sam (album)
Unreleased songs
Solos
Duets
Solos (In a Group Number)
Season Four
Song
Episode
Solos with
The Way You Look Tonight/You're Never Fully Dressed Without a Smile
Makeover
Isabelle and Kurt
Don't Speak
The Break-Up
Blaine, Finn, and Kurt
The Scientist
Blaine, Brittany, Emma, Finn, Kurt, Santana, and Will
You're the One That I Want
Glease
Blaine, Brittany, Finn, Kurt, Marley, Ryder, and Santana
Let's Have a Kiki/Turkey Lurkey Time
Thanksgiving
Isabelle and Kurt
Let's Have a Kiki
Glee: The Music, Season 4, Volume 1
Love Song
Naked
Quinn and Santana
We've Got Tonite
I Do
Artie, Betty, Blaine, Finn, Jake, Kurt, Marley, Quinn, and Santana
Mamma Mia
Guilty Pleasures
Blaine, Kurt, Kitty, Marley, Sam, Santana, and Unique
At the Ballet
Lights Out
Isabelle, Kurt, and Santana