The ReWalk is a device that was given to Artie Abrams as a Christmas present from an anonymous gift-giver. Artie receives the ReWalk in the episode A Very Glee Christmas. It is revealed in Extraordinary Merry Christmas that it broke the day after.
Description
The ReWalk is a powered exoskeleton developed and manufactured by the real-life company Argo Medical Technologies to help paraplegics stand and walk. It costs approximately 100,000 United States Dollars.[1] It is currently only available for sale to hospitals and rehabilitation centers.[2][3]
Appearances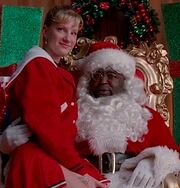 Artie discovers that Brittany still believes in Santa Claus. Eager to not break her Christmas Spirit, the rest of the Glee Kids (except Finn and Rachel) take Brittany to the mall to see Santa. Brittany says that the only thing she wishes is for Artie to be able to walk. After a pause, the mall Santa agrees, despite Artie's silent protests.
Desperate to help Brittany and not wanting to break her Christmas Spirit, the New Directions go to Coach Beiste for help. Beiste dresses up as Santa and goes to Brittany's house. She finds Brittany (who thinks it's Santa), and tells her, "There are some wishes that even Santa can't make come true."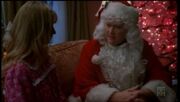 The next day, Brittany's Christmas spirit is crushed. Artie is concerned about her so he takes Brittany home. While the rest of New Directions are singing Welcome Christmas for the staff, Artie and Brittany find the ReWalk under her tree. They bring it to school, surprising the other Glee kids by having Artie get up out of his wheelchair. Brittany's belief in Santa is restored, as she believes Santa got Artie the ReWalk. At the end of the episode, Coach Beiste is shown watching the New Directions through the window, tearing up. This could mean that she bought the ReWalk as she wanted Brittany's Christmas wish to come true.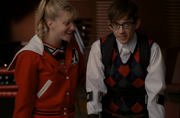 Tina mentions that the ReWalk broke the day after Artie received it, most likely because it was a prototype.
Artie mentions the ReWalk broke again during an argument with Tina.
Trivia
Though it is never actually said in the episode or anywhere in the show, it is hinted that Coach Beiste was the one who got the ReWalk for Artie.
References
Community content is available under
CC-BY-SA
unless otherwise noted.