This article is about the hockey player. You may be looking for Rick Denham.
Richard "Rick The Stick" Nelson is an alumnus of McKinley High and a former member of the hockey team. He graduated at the end of Season Three. 
He is portrayed by Rock Anthony.
Biography
Rick leads the hockey team in throwing slushies at Finn Hudson.
Rick, along with the rest of the hockey team, bullies new exchange student Rory Flanagan.
Rick is running for senior class president, saying that because of their parents paying taxes, the teachers should listen to the students. It seems his only supporters are his team mates.
Rick doesn't appear, but is mentioned by Jacob Ben Israel by saying that he is in a medically-induced coma after being "brutally checked in a hockey game." He is 17 points behind Kurt Hummel in the student president election, however, they both lose to Brittany Pierce.
Rick slushies Sam Evans, laughing at him for joining the synchronised swimming team.
Rick is one of three nominees for Prom King, along with Finn and Brittany. During the announcement of the nominations over the speaker system, he is seen in a classroom, flipping his desk to the floor. He is then seen at prom with a girl, smiling and dancing.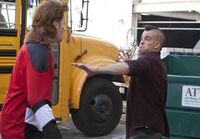 Rick provokes a fight with 
Noah Puckerman
, claiming he has fallen from being the top bad ass and is now a "Lima Loser." They fight in the parking lot of the school. Rick starts off with mocking Puck's father and his brewery. He wins the fight and throws Puck in a dumpster. He then proceeds to chant "loser," along with several other students. Rick begins to back away, when Puck brings out a prop knife.
Finn makes a bet with Rick that New Directions will win Nationals. Rick ends up losing and gives Finn the money he owed him. This is the last time Rick is seen in Season Three and on Glee, as in the episode Props, he says he was accepted into a hockey college, therefore implying that he graduates with the rest of the seniors.
Trivia
It was stated that he went into a coma after losing the senior class presidency to Brittany in I Kissed a Girl.
In Mash Off, he is credited as Rick "The Stick" Nelson.
He got a scholarship to play hockey at Ohio State University.
Gallery
Community content is available under
CC-BY-SA
unless otherwise noted.