Ride wit Me
by
Nelly
 is featured in Throwdown, the seventh episode of
Season One
. It is sung by the New Directions.
The New Directions miss each other, because Sue has separated them and told them not to speak to each other. Finn plays the drums and Puck plays his guitar. This performance is more "natural" than others, showcasing the Glee-clubbers jamming out with each other for fun instead of really performing.
Lyrics
New Directions:
Hey, oh, Hey Oh!

Where they at, where they at,
Where they at, where they at,
Where they at, where they at,
Where they at, come on now

If you wanna go and take a ride wit me
We three-wheelin' in the fo' with the gold D's
Oh why do I live this way?
(Hey) Must be the money!

In the club on the late night, feelin' right
Lookin' tryin' to spot somethin' real nice
Lookin' for a little shorty hot and horny
So that I can take home (I can take home)

She can be 18 (18) wit an attitude
Or 19 kinda snotty actin' real rude
But as long as you a thicky thicky thick
Girl you know that it's on (Know that it's on)

I peep something comin' towards me up the dance floor
Sexy and real slow (hey)
Sayin' she was peepin' and I dig the last video
So when Nelly, can we go; how could I tell her no?
Her measurements were 36-25-34

I like the way you brush your hair
And I like those stylish clothes you wear
I like the way the light hit the ice and glare
And I can see you moving way over there
Trivia
It wasn't originally scripted to be in the show, but inspired by the cast having fun on the set.
It was sung live during filming, instead of being pre-recorded and edited.
This is the second song out of five songs that have been sung live on the show, during filming. The first was Le Freak, and the last three being Teenage Dream (Acoustic Version), The First Noel, and Against All Odds (Take a Look at Me Now) respectively.
Several verses of the original lyrics were cut due to explicit content.
Gallery
Videos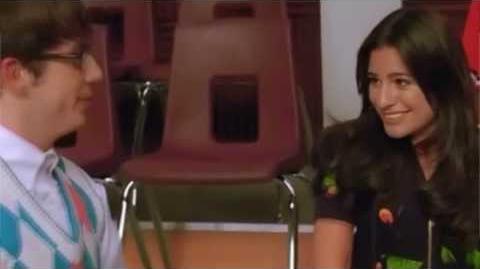 Community content is available under
CC-BY-SA
unless otherwise noted.