Rod Remington is a recurring character on Glee. He made his first appearance in Preggers, the fourth episode of Season One.
He is portrayed by Bill A. Jones.
Biography
Rod is a co-anchor with Andrea Carmichael on WOHN News 8 for Lima, Ohio. He also appears on the fictional news station with Sue Sylvester, who has a spot on the show called "Sue's Corner", where she voices her opinions.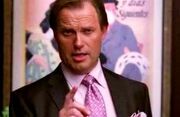 Relationships
Main article: Rod-Sue Relationship
In Mash-Up, Sue falls for Rod. He takes her on a date and invites her to a "Swingers" contest. The relationship fails when Sue finds him cheating on her with Andrea Carmichael.
Rod took Andrea to the Swingers contest the year before Sue, getting second place. Sue catc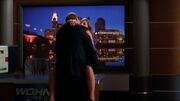 hes Rod and Andrea making out at the news station late one night. He marries Andrea in Season Two episode Furt, but it is implied they may have broken up prior to Naked.
Rod is a judge alongside Miss Ohio 5th runner-up, Candace Dystra. He tells stories of when he saw a guy get stabbed at a Rolling Stones concert and she is turned on by Rod's charm. He is later seen asking for her email address.
Wife
He had a wife, who, he claims, drowned. He now "has the condo to himself".
Freddie Mercury
In Journey, Remington says that in the seventies he and Freddie Mercury partied together "hard", fondly reminiscing that people weren't so occupied with labels back then.
Trivia
Rod has been seen judging at three of the Competition events and may have even judged in Special Education.
He has a tiger tattoo.
He claims to have witnessed the murder at the Altamont Festival in 1969.
He claims to have "partied hard" with Freddie Mercury in the 70's. (Journey)
Gallery
Community content is available under
CC-BY-SA
unless otherwise noted.