"

I thought America was all about different, unique people coming together and accepting one another.

"

—Rory Flanagan, Pot o' Gold
Rory Flanagan is a recurring character on the third season of Glee. He was an Irish exchange student who attended his sophomore year at William McKinley High School.
He is an Irish foreign exchange student. He resided with the family of Brittany Pierce during his time at McKinley. He was introduced in Pot o' Gold, the fourth episode of Season Three and was a member of the New Directions until the last episode of that season. During this time, Rory had a relationship with Sugar Motta. At the end of Season three, he departed the United States and went back home to Ireland. His last appearance was in Glee, Actually, the tenth episode of Season Four, where he reappeared in Artie's dream. He is also seen during flashbacks in City of Angels in Season Five and also in We Built This Glee Club in Season Six.
He is portrayed by The Glee Project Season One co-winner, Damian McGinty.
Biography
Personality
At first glance, he appears to be very calculating, especially when it comes to girls, since he tried to manipulate Brittany into sleeping with him. He also either lied about being deported at the end of the school year, or used the fact in order to win Sugar Motta as his "Valentine's Date." 
Most of the time he seems to be friendly, however, making an effort to befriend his fellow glee-club members and being grateful every time someone approaches him. He even sort of looked up to Finn and Sam after they tried to become his friends. But he also seen eating with a large group of the New Directions in "Heart", meaning that New Directions do value him to some degree.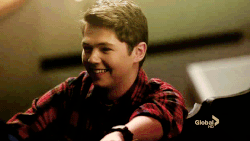 Rory appears to be rather naive, due to his lack of knowledge about the life in America, which became apparent when he asked Finn to become his friend, though it isn't the way here. This could be culture shock, although it's implied that he was socially awkward before arriving in America.
He also appears to have little self-esteem, since Santana had an easy time threatening him and declined having a solo in the Mash-Off at first, since he thought he wasn't ready for it yet.
Relationships
Songs
Total = 8
Appearances
Trivia
The name "Rory" is Irish for "famous ruler of red." Red happens to be Damian McGinty's favorite color, as evident in many of Rory's items of clothing.
Following their The Glee Project wins, Damian McGinty and Samuel Larsen mentioned in an interview that they wanted a storyline with either Dianna Agron or Heather Morris. When their characters were introduced, Damian received a storyline with Heather while Samuel received a storyline with Dianna.
He is the only former male member of New Directions to not appear in the series finale.
Gallery
Quotes
Main article: Rory's Quotations
Community content is available under
CC-BY-SA
unless otherwise noted.