Sarah Drew, born October 1, 1980[1], is an actress. She is known for her roles as Hannah Rogers in Everwood, voiced Stacy Rowe in Daria, Dr. April Kepner on Grey's Anatomy, and she guest starred on Glee as Suzy Pepper in 2009.
Personal life
Drew was born in Charlottesville, Virginia to Dr. Jean Drew and Rev. Charles Drew. Her mother is now teaching biology at the independent private school for girls, Brearley, in Manhattan. Her father is the senior pastor at Emmanuel Presbyterian Church in New York City. She grew up in Stony Brook, New York, on Long Island.[2] Her second cousin is actor Benjamin McKenzie.[1]
She received a Bachelor's degree in Drama from the University of Virginia in 2002.[1]
Drew married Peter Lanfer in 2002 and their son, Micah Emmanuel, was born in January 2012.[3] Drew gave birth to her second child, Hannah Mali Rose, on December 3, 2014[4]; despite begin born three and a half weeks early, Hannah is healthy and happy.
Drew is good friends with fellow Everwood star Emily VanCamp.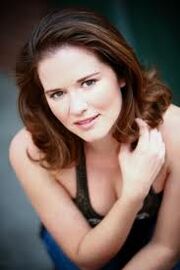 Career
Drew began her acting career in 1997, while still in High School. She voiced the animated television series Daria with the television movies Is It Fall Yet? and Is It College Yet? as Stacy Rowe.
She later had her stage debut as Juliet in Romeo and Juliet at the McCarter Theater in Princeton, New Jersey, in 2001 and her Broadway debut in Vincent in Brixton,2003. The Broadway debut later took her to London's West End.
She made the move to television with a guest-starring role in the series Wonderfalls, and was in the feature film Radio, starring Cuba Gooding Jr. She appeared in the theatrical feature American Pastime, as Katie Burrell, the daughter of a Japanese relocation camp sergeant.
On June 9, 2010 she was promoted to a series regular on Grey's Anatomy.
She filmed Moms' Night Out in summer 2013.
Filmography
Year
Title
Role
Notes
1997
Daria
Stacy Rowe / Various
voice, 1997 - 2001 (26 episodes)
2000
Daria: Is It Fall Yet?
Stacy Rowe
voice and TV movie
2002
Daria: Is It College Yet?
Stacy Rowe
voice and TV movie
2003
Radio
Mary Helen
2004
Wonderfalls
Bianca Knowles
(Karma Chameleon)
Everwood
Hannah Rogers
2004 - 2006 (38 episodes)
2005
The Baxter
Serena
2006
Locked Upstairs
Jo
short film
Cold Case
Jenny
(Static)
2007
Reinventing the Wheelers
Becky Conner
TV movie
American Pastime
Katie Burrell
Law & Order: Special Victims Unit
Becca Rick
(Responsible)
The Violin
Judit
short film
2008
Medium
Suzie Keener
(Wicked Game: Part 2)
Wieners
Karen
Privileged
Caryn
(All About Insecurities)
Hallmark Hall of Fame
Nancy Lazarus
(Front of the Class)
Mad Men
Kitty Romano
2008 - 2009 (4 episodes)
Private Practice
Judy
2008 - 2009 (Know When to Fold and Nothing to Fear)
2009
Inside the Box
Molly
TV pilot
Castle
Chloe Richardson
(Nanny McDead)
Numb3rs
Piper St. John
(Angels and Devils)
In Plain Sight
Rachel Rosenzweig
(Aguna Matatala)
Glee
Suzy Pepper
(Ballad)
Grey's Anatomy
Dr. April Kepner
2009 - (113 episodes)
2010
Supernatural
Nora
(Swap Meat)
Miami Medical
Emily
(What Lies Beneath)
Seattle Grace: Message of Hope
April Kepner
Tug
Ariel
2014
Moms' Night Out
Allyson
Waking Marshall Walker
Charlotte
short
Gallery
Social Network Links
References
Community content is available under
CC-BY-SA
unless otherwise noted.