Season One of Glee first aired on September 21, 2009, four months after the Pilot was broadcasted on May 19, 2009. The season officially concluded on June 8, 2010.
The series focuses on a high school Glee Club called the New Directions, set within the fictional William McKinley High School in Lima, Ohio.
Major themes of Season One included the characters' desires to escape the confines of small-town Ohio life and make an impact on the world rather than remaining a "Lima Loser." Many of the story arcs, most notably Quinn's pregnancy and the New Directions' rivalry with Carmel High's Glee Club Vocal Adrenaline, are related to this concept. The other major motif of season one was the characters concealing and revealing their true selves. This includes major events like the blossoming romance between Finn and Rachel, Quinn's lies about her child's father, Kurt's coming out, and Terri's fake pregnancy.
Dianna Agron (Quinn Fabray), Chris Colfer (Kurt Hummel), Jessalyn Gilsig (Terri Del Monico), Jane Lynch (Sue Sylvester), Jayma Mays (Emma Pillsbury), Kevin McHale (Artie Abrams), Lea Michele (Rachel Berry), Cory Monteith (Finn Hudson), Matthew Morrison (Will Schuester), Amber Riley (Mercedes Jones), Mark Salling (Noah Puckerman), and Jenna Ushkowitz (Tina Cohen-Chang) were introduced as the main casts in this season. It made them the original main cast of Glee.
Cast
Main Cast
Recurring Cast
Special Guest Stars
Guest Stars
Naya Rivera as Santana Lopez (22/22)
Heather Morris as Brittany Pierce (21/22)

(episodes 2-22)

Harry Shum Jr. as Mike Chang (19/22) 

(episodes 4-22)

Dijon Talton as Matt Rutherford (18/22) 

(episodes 4-9, 11-22)

Iqbal Theba as Principal Figgins (17/22) 

(episodes 1-7, 9, 12-15, 17, 19-22)

Patrick Gallagher as Ken Tanaka (10/22) 

(episodes 1-4, 6, 8, 12-14, 17)

Josh Sussman as Jacob Ben Israel (10/22) 

(episodes 2, 5, 7, 9, 13-15, 18, 20-21)

Stephen Tobolowsky as Sandy Ryerson (7/22) 

(episodes 1, 3-5, 9, 17, 21)

Max Adler as Dave Karofsky (5/22) 

(episodes 8, 12, 14, 17, 20)

James Earl III as Azimio Adams (5/22) 

(episodes 8, 12, 14, 17, 20)

Mike O'Malley as Burt Hummel (5/22) 

(episodes 4, 9, 16, 18, 20)

Romy Rosemont as Carole Hudson-Hummel (5/22) 

(episodes 1, 2, 10, 16, 20)
Co-Stars
Episodes
Image
Title
Original Airdate
U.S. Viewers
(in millions)
1. "Pilot"
May 19, 2009
9.62

Plot: Optimistic high school teacher Will Schuester tries to refuel his own passion for the performing arts while reinventing McKinley High School's Glee Club and challenging a group of outcasts to realize their star potential. Going up against McKinley's cruel high school caste system and facing harsh criticism from everyone around him, Will is determined to prove them all wrong. This episode introduces major plotlines such as Will's motivation to build the New Directions, Rachel and Finn's relationship, choosing between Football/Cheerios and Glee Club, Sue's motivation to tear the Glee Club apart, and Quinn desperately trying to get Finn back.

Singles: "On My Own" (Rachel), "Can't Fight This Feeling" (Finn), "Rehab" (Vocal Adrenaline), "Leaving on a Jet Plane" (Will), "Don't Stop Believin'" (Rachel and Finn with New Directions)

2. "Showmance"
September 9, 2009
7.50

Plot: The Glee Club performs in front of the school for the first time and surprises everyone in the audience. When Rachel realizes her feelings for Finn, Quinn goes to great lengths to keep her man at the time. Meanwhile, Will's wife, Terri, reveals some surprising news, leaving Will to figure out a new way to make ends meet. The title is a pun on the words show, referring to New Directions performing in front of the school, and romance, alluding to the different love triangles.

Singles: "Gold Digger" (Will, Mercedes, and Artie with New Directions), "Push It" (New Directions), "I Say a Little Prayer" (Quinn with Santana and Brittany), "Take a Bow" (Rachel with Mercedes and Tina)

3. "Acafellas"
September 16, 2009
6.69

Plot: The episode sees the Glee Club director Will Schuester form an all-male a cappella group, the Acafellas, spending more time building his own confidence while neglecting the club. Will tells his parents that Terri is pregnant, and Rachel hires Dakota Stanley, due to Quinn and Santana's advice and "concern" on their choreography, to help coach them to Nationals. Will is slowly being pulled away from Glee Club as he works with the Acafellas. Meanwhile, Mercedes is bitten by the love bug, but her feelings aren't reciprocated.

Singles: "Mercy" (Vocal Adrenaline), "This Is How We Do It" (Acafellas), "Bust Your Windows" (Mercedes with Cheerios), "I Wanna Sex You Up" (Acafellas)

4. "Preggers"
September 23, 2009
6.63

Plot: Kurt takes center stage when he tries out for the football team in order to impress his dad. Sandy and Sue join forces to carry out their plans for destroying the Glee Club by luring away a disillusioned Rachel, who quites when Will refuses to take back the solo from Tina. Meanwhile, Finn and Quinn's relationship is tested when they receive some life-changing news.


Singles: "Taking Chances" (Rachel)

5. "The Rhodes Not Taken"
September 30, 2009
7.40

Plot: Will thinks the New Directions desperately need more of an edge, as Rachel thinks about defecting to the school musical, so he brings in his former high school crush, April Rhodes (guest star Kristin Chenoweth) to spice things up. Will's plan seems to be going smoothly until he realizes he may be losing a key member of the club. Meanwhile, Finn flirts with Rachel in an attempt to convince her to return, and although Rachel is angry when she discovers Quinn is pregnant, she ultimately rejoins the club.

Singles: "Maybe This Time" (April and Rachel), "Alone" (April and Will), "Last Name" (April with New Directions), "Somebody to Love" (New Directions)

6. "Vitamin D"
October 7, 2009
7.28

Plot: Will challenges the kids to a healthy dose of competition with boys against girls in a mash-up showdown. Meanwhile, Terri takes a job as the school nurse to keep an eye on Will, despite having no medical experience, and hands out drugs to the New Directions, which causes a serious boost of energy, but comes with consequences.

Singles: "It's My Life/Confessions Part II" (Finn, Artie, and Puck with New Directions Boys), "Halo/Walking on Sunshine" (Rachel and Mercedes with New Directions Girls)

7. "Throwdown"
October 14, 2009
7.65

Plot: To cause dissent amongst the glee club, new co-director Sue Sylvester forces the students to compete against each other, but the real showdown happens when she and Will get called into Principal Figgins' office. Meanwhile, the kids rally to support Quinn after some shocking news is revealed, and Terri must deal with Will's desire to see their unborn baby, as she is not really pregnant.


Singles: "Hate on Me" (Mercedes with Tina and Sue's group), "No Air" (Rachel and Finn with Will's group), "You Keep Me Hangin' On" (Quinn with Cheerios), "Keep Holding On" (Rachel and Finn with New Directions)

Absent: Jayma Mays

8. "Mash-Up"
October 21, 2009
7.15

Plot: Will is approached by Emma and Ken to mash-up two songs together for their wedding and to teach Emma how to dance. However, Ken begins to have trust issues with Will around Emma and subsequently forces the guys on the football team to choose between Glee Club or football. Meanwhile, Finn and Quinn's popularity suffers after getting dethrowned by David Karofsky, and struggle to get it back while Puck and Rachel begin an unexpected relationship that quickly hits a speedbump.

Singles: "Bust a Move" (Will with New Directions), "Thong Song" (Will), "Sweet Caroline" (Puck), "I Could Have Danced All Night" (Emma)

Absent: Jessalyn Gilsig

9. "Wheels"
November 11, 2009
7.53

Plot: After the Glee Club is denied a special, handicapable bus for Artie to go to Sectionals, Will challenges the kids to experience life from a different point of view. Quinn and Finn struggles with financial problems when their doctors' bills begin to pile up, so Puck steps in to try to help. At the same time Sue accepts a student with Down Syndrome onto the Cheerios leading Will to question her motives. Meanwhile, the glee club hosts its first "Diva-Off" between Kurt and Rachel as they compete for a solo performance at Sectionals.

Singles: "Dancing with Myself" (Artie), "Defying Gravity" (Rachel and Kurt), "Proud Mary" (New Directions)

Absent: Jessalyn Gilsig, Jayma Mays

10. "Ballad"
November 18, 2009
7.36

Plot: Mr. Schuester splits the Glee Club into pairs to sing their favorite ballad, but when Matt gets sick, Mr. Schue is forced to step in and winds up in a sticky situation as Rachel develops a crush on him. Meanwhile, Finn and Quinn have to face the music when dinner with her parents goes awry. Quinn's parents learn that their daughter is pregnant, and she moves in with Finn and his mother when her own parents throw her out. Puck reveals to Mercedes that he is the father of Quinn's baby, not Finn.

Singles: "Endless Love" (Will and Rachel), "I'll Stand by You" (Finn) "Don't Stand So Close to Me/Young Girl" (Will), "Crush" (Rachel), "(You're) Having My Baby" (Finn), "Lean on Me" (Mercedes and Artie with Tina and New Directions)

Absent: Jane Lynch

11. "Hairography"
November 25, 2009
6.17

Plot: Concerned that Sue is up to no good, Will pays a visit to an instructor (guest star Eve) of a competing Glee Club, Jane Addams Academy, to see what information she might be leaking. This in turn leads to the club getting a look at their hair-rising competition between both schools, as well as a competition between the New Directions and the Haverbrook School for the Deaf. Meanwhile, Kurt gives Rachel a makeover to impress Finn, but he may have ulterior motives. Quinn reconsiders having her baby adopted, and letting Puck be a part of her life, but ultimately recommits to the idea. The episode ends with Sue giving the New Directions' set-list for Sectionals to the competing clubs in order to damage New Directions' chances of progressing to Regionals.

Singles: "Bootylicious" (Jane Addams Girls Choir), "Don't Make Me Over" (Mercedes), "Papa Don't Preach" (Quinn), "Hair/Crazy in Love" (Mercedes and Artie with New Directions), "Imagine" (New Directions), "True Colors" (Tina with New Directions)

12. "Mattress"
December 2, 2009
8.15

Plot: When the Glee Club is left out of the yearbook because of budget cuts, everyone seems to be relieved that they won't have to suffer the ridicule of years past. Everyone except Rachel, who wants her legacy cemented in print. Meanwhile, Quinn makes it her mission to be in the Cheerios yearbook photo despite her pregnancy, and Terri and Will's relationship is shaken to its core.

Singles: "Smile" (Rachel and Finn), "Jump" (New Directions), "Smile" (New Directions)

13. "Sectionals"
December 9, 2009
8.13

Plot: Sectionals is finally here for the Glee Club, but when Quinn's secret unravels, the club may not be able to recover in time to compete. Since Will has been disqualified from the competition, Emma steps up and tells him that she will take the kids to Sectionals as the club's faculty adviser even though her wedding is on the same day, and Will makes a potentially life-changing decision. Meanwhile, Sue's scheming hits an all-time high as Jane Addams Academy and Haverbrook School for the Deaf perform the New Directions setlist.

Singles: "And I Am Telling You I'm Not Going" (Mercedes), "Don't Rain on My Parade" (Rachel), "You Can't Always Get What You Want" (New Directions), "My Life Would Suck Without You" (Rachel, Finn, and Tina with New Directions)

14. "Hell-O"
April 13, 2010
13.66

Plot: Fresh off their monumental win at Sectionals, New Directions is on top of the world. With an extra spring in their step, they get to work on new numbers for Regionals. But when Rachel and Finn's budding romance hits a bump in the road after she becomes involved with a competitor, Jesse St. James (special guest star Jonathon Groff), it threatens to derail the entire club. Mr. Schuester pays a visit to Shelby Corcoran (guest star Idina Menzel), coach of Vocal Adrenaline, to confirm Jesse's motives. Meanwhile, Will is newly single, but is he ready to take his relationship with Emma to the next level? And to top it all off, Sue Sylvester returns from her condo in Boca with a renewed focus on destroying Will and disbanding the glee club.

Singles: "Hello, I Love You" (Finn), "Gives You Hell" (Rachel with New Directions except Finn), "Hello" (Jesse and Rachel), "Highway to Hell" (Jesse with Vocal Adrenaline), "Hello, Goodbye" (Rachel and Finn with Mercedes and New Directions)

15. "The Power of Madonna"
April 20, 2010
12.98

Plot: It is a tribute episode to the artist Madonna, only featuring songs by her. After Sue uses her love and inspiration for Madonna, she begins to train and ask her Cheerios to emulate her. Mr. Schuester is concerned that the girls in the glee club are being disrespected and bullied by the guys. Looking at Madonna and her musical message of equality as inspiration, he challenged the entire team to choose Madonna songs as their assignment in the hopes that the girls embrace her strength, independence, and confidence and that the guys will see the error of their misogynistic ways. The Glee Club takes the assignment to heart as they perform some of Madonna's greatest hits.

Singles: "Express Yourself" (New Directions Girls), "Borderline/Open Your Heart" (Rachel and Finn), "Vogue" (Sue with Mercedes and Kurt), "Like a Virgin" (Rachel, Jesse, Santana, Finn, Emma, and Will), "4 Minutes" (Mercedes and Kurt), "What It Feels Like for a Girl" (New Directions Boys and Will), "Like a Prayer" (New Directions and Church Choir)

Absent: Jessalyn Gilsig

16. "Home"
April 27, 2010
12.18

Plot: When Kurt sets his dad, Burt, up with an unexpected partner in order to have a real family, his plan for an average family backfires. Sue demands that Mercedes go on a diet and lose ten pounds in preparation for a big interview with Splits Magazine. Mercedes and Quinn discuss body issues while Kristin Chenoweth returns as April Rhodes to help Will save the Glee Club.

Singles: "Fire" (April and Will), "A House Is Not a Home" (Kurt and Finn), "One Less Bell to Answer/A House Is Not a Home" (April and Will), "Beautiful" (Mercedes with WMHS), "Home" (April with New Directions)

Absent: Jessalyn Gilsig, Jayma Mays

17. "Bad Reputation"
May 4, 2010
11.62

Plot: Mr. Schuester starts an investigation when a salacious list about members of the Glee Club circulates the halls of McKinley High. Meanwhile, Sue is mortified when a video of her performing the Olivia Newton-John classic, Physical surfaces thanks to Kurt who steals a video from Sue's computer. Sue is embarrassed as the Glee Club and the student body jokes with her, and she retaliates with a "Glist" ranking glee club members on their sexual quotient. This causes drama and Will tries to find the creator of the Glist. Some of the students who are ranked low or aren't even on the Glist try to boost up their bad reputation. Will also has the students find songs with bad reputations and to attempt to make them better.

Singles: "Ice Ice Baby" (Will with New Directions), "U Can't Touch This" (Artie with Kurt, Mercedes, Tina, and Brittany), "Physical" (Olivia Newton-John and Sue), "Run Joey Run" (Rachel, Puck, Jesse, and Finn with Santana and Brittany), "Total Eclipse of the Heart" (Finn, Rachel, Puck, and Jesse)

Absent: Jessalyn Gilsig

18. "Laryngitis"
May 11, 2010
11.57

Plot: When a sore throat affects Rachel's singing voice, she goes into panic mode and Finn takes her to the doctor in order to find out what's wrong with her, not without trying to show Rachel how much he still really likes her. Meanwhile, Kurt tries to change his personality to impress his father, and Puck makes a strategic move to elevate his social status by dating Mercedes after his Mohawk is cut off.

Singles: "Jessie's Girl" (Finn), "Lady is a Tramp" (Puck and Mercedes), "The Boy is Mine" (Mercedes and Santana), "Rose's Turn" (Kurt), "One" (Rachel, Finn, and Sean with Mercedes and New Directions)

Absent: Jessalyn Gilsig, Jayma Mays

19. "Dream On"
May 18, 2010
11.47

Plot: Will's former high school nemesis, Bryan Ryan (guest star Neil Patrick Harris), causes trouble for the Glee Club by trying to figure out which programs to cut out of the school's arts department and has his eyes set on the glee club. Meanwhile, Artie makes the decision he will never achieve his dream to dance, for his incapability to walk despite Tina's attempts to give him hope that he will regain functionality of his legs one day. With Jesse St. James' help, Rachel undergoes further attempts to find out who her biological mother is.

Singles: "Dream On" (Will and Bryan), "The Safety Dance" (Artie), "I Dreamed a Dream" (Shelby and Rachel), "Dream a Little Dream" (Artie)

Absent: Jessalyn Gilsig

20. "Theatricality"
May 25, 2010
11.37

Plot: Tina struggles when Figgins tells her to not dress in her gothic fashion anymore, as he believes that she's a vampire. Rachel reveals to the New Directions that Vocal Adrenaline is planning to do Lady Gaga for Regionals and Will encourages them to express themselves using the music of Lady Gaga, which would also act as a way for Tina to find a new style. Meanwhile, Rachel has a life-changing encounter when she finds out that the coach of Vocal Adrenaline, is her mother. The boys, sans Kurt, decide to do KISS instead of Lady Gaga, while Finn and Kurt face new challenges after Burt and Carole decide to move in together.

Singles: "Funny Girl" (Shelby), "Bad Romance" (Kurt and New Directions Girls), "Shout It Out Loud" (New Directions Boys except Kurt), "Beth" (Puck and Finn with New Directions Boys except Kurt), "Poker Face" (Rachel and Shelby)

Absent: Jessalyn Gilsig, Jane Lynch, Jayma Mays

21. "Funk"
June 1, 2010
9.02

Plot: The New Directions get some news that's sure to rattle a few nerves as Jesse St. James returns to Vocal Adrenaline, which shakes Rachel. Vocal Adrenaline intimidates New Directions by 'decorating' their choir room with toilet papers, leaving them in a "funkification." Will motivates the Glee Club to perform funk numbers as that is Vocal Adrenaline's main weakness. Meanwhile, Quinn connects with her "funky" side with a little help from Mercedes, and Sue begins to have a crush on someone she always calls an enemy. Jesse and Rachel's relationship goes even further down in the dumps and Will and Terri finalize their divorce.

Singles: "Another One Bites the Dust" (Jesse with Vocal Adrenaline), "Tell Me Something Good" (Will), "Loser" (Finn and Puck with Sheets-N'-Things workers), "It's a Man's Man's Man's World" (Quinn), "Good Vibrations" (Puck, Finn, and Mercedes), "Give up the Funk" (New Directions)

Absent: Jayma Mays

22. "Journey"
June 8, 2010
11.07

Plot: The moment the New Directions have been waiting for has finally arrived: it's time for Regionals. When Sue pulls a fast one on Will and the Glee Clubbers, becoming one of the judges, their chances at the title could be compromised. Meanwhile, Quinn's life changes forever and Finn and Rachel begin to rebuild their relationship.

Singles: "Faithfully" (Finn and Rachel), "Any Way You Want It/Lovin' Touchin' Squeezin'" (New Directions), "Don't Stop Believin'" (New Directions), "Bohemian Rhapsody" (Jesse with Vocal Adrenaline), "To Sir, with Love " (New Directions), "Over the Rainbow" (Will with Puck)

Absent: Jessalyn Gilsig
Major Events
Finn and Quinn relationship, Finn and Rachel relationship, and Quinn and Puck relationship, and thus arising the Finn/Quinn/Rachel love triangle and Finn/Puck/Quinn love triangle.
Quinn's teen pregnancy. She insists that Finn is the father, but it's actually Puck. 
Rachel's feelings for Finn.
Rachel meeting her biological mother, Shelby. 
Rachel and Jesse relationship and Finn/Jesse/Rachel love triangle. Jesse joining New Directions, then abruptly quitting.
Will bringing in members and keeping the team together in the first half.
Terri's fake pregnancy leading to Will and Terri's divorce.
Will and Emma relationship.
Ken and Emma's failed wedding plan.
Kurt coming to terms with his sexuality.
Kurt and his relationship with his father, Burt, about his sexuality.
Kurt's feelings for Finn.
Kurt arranges Burt and Carole relationship to make him closer to Finn.
The relationship of Tina and Artie.
The friendship of Kurt and Mercedes.
Kurt and Mercedes join the Cheerios, leading Mercedes to not being herself. Puck takes advantage of Mercedes' new popularity after he shaves his mohawk, creating Puck and Mercedes relationship.
Will and Sue's rivalry.
New Directions and Vocal Adrenaline rivalry.
New Directions lose Regionals, but are given another year thanks to Sue.
Trivia
Dianna Agron, Chris Colfer, Kevin McHale, Lea Michele, Cory Monteith, Matthew Morrison, Amber Riley, Naya Rivera, Mark Salling, and Jenna Ushkowitz are in all the episodes.

Naya Rivera was present in all episodes, though she was a recurring character.

This is the only season:

Not to feature any original songs.
Santana didn't have a solo.
Matt appears as a member of New Directions.
Brittany didn't sing lead in a song.
Rachel was not seen with bangs.
Nobody is rejected from the New Directions.
Not to feature any New York scenes.
Not to feature Blaine, Sam, Shannon, or the Dalton Academy Warblers.
Not to feature a Klaine duet.
Brittany didn't perform a duet.
A mash-up appears in the first and last episode.
Albums
Videos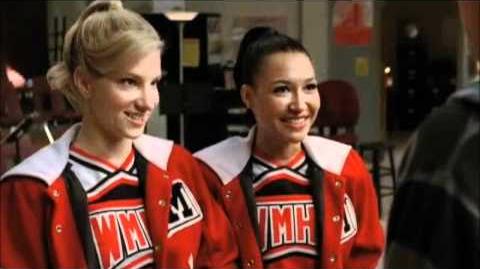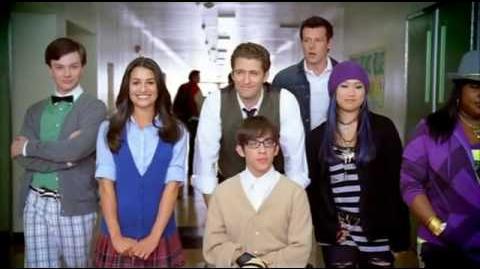 Community content is available under
CC-BY-SA
unless otherwise noted.