"

I love the sound of applause, even if I have to buy it.

"

—Sugar Motta, Heart
Sugar Motta is a recurring character on the TV show Glee. She is an alumna of William McKinley High School. Her father, Al Motta, is the wealthy owner of a piano business. Sugar claims to have self-diagnosed Asperger's syndrome, which she mostly uses as an excuse to say whatever she wants. Her father created a new glee club for her after she was rejected by the New Directions. Mercedes, Santana and Brittany soon join this new club, directed by Shelby Corcoran, and name it The Troubletones.
Sugar then joins the New Directions together with the other Troubletones after they place second at Sectionals. She is a Student Council Treasurer alongside Blaine, Tina and Sam and joined different clubs like The Secret Society of Superheroes Club and the formerly Too Young to be Bitter Club.
She is portrayed by actress and singer Vanessa Lengies.
Biography
Personality
Sugar has self-diagnosed Asperger's Syndrome, stating that she can "pretty much say whatever she wants." Her condition gives her an excuse for the constant insults she hands out. She initially believes she is talented and better than everyone in the Glee Club despite her clear lack of musical ability. However, after a while she seems to have mellowed, becoming a generally nicer person; in I Kissed a Girl she not only performs with the New Directions' girls to help Santana but also seems to be talking in a friendly way with New Directions members throughout the episode. In Props, she appears to have acknowledged her lack of singing talent, saying she wants a solo even though she "can't sing."
She also is seen enjoying the performances of Perfect, Girls Just Want to Have Fun, and Constant Craving, and her singing seems to have improved to the point that she can sing backing vocals as she sings along in the background to "I Kissed A Girl, as well as her backing vocals in Troubletones performances. In Yes/No, she gets a solo line in Summer Nights. In Choke, she sings and dances in Cell Block Tango as one of the six merry murderesses, and sang the 'Six' story - although her part is not featured in the episode.
Sugar tends to be rather quirky, making exaggerated gestures and odd faces in the background. While she is usually self-centered, she does show concern for others, like in Sadie Hawkins, when she invited Tina to dance with her and Artie after her date left her.
Relationships
Main article: Artie-Sugar Relationship (Sugartie/Abramotta)
When Sugar auditioned for
New Directions
, Artie seemed to despise her. However, he seemed to have developed a crush on her since then. In
Hold on to Sixteen
, when
The Troubletones
disband and the girls are "gui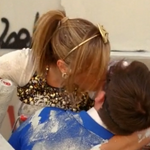 ded" back into
New Directions
by someone "special," Artie takes this role for Sugar. He asks her out in
Heart
and competes against Rory for her heart, but can't establish himself against the Irishman. In
Makeover
, Artie states that Sugar had invited him to go horseback riding for a date. In
Dynamic Duets
, the two are seen making out during the paint fight. In
Sadie Hawkins
, Sugar gains the courage to ask Artie to dance with her thanks to Coach Beiste. He says yes, and the two are then seen dancing and hanging out with each other for the rest of the dance.
Main article: Rory-Sugar Relationship (Sugory/Flamotta)
In
Heart
, Rory announces that he plans to make Sugar his valentine's date for her own party, taking himself on with Artie who has a crush on Sugar himself. After he and Artie try to outmatch each other several times, Rory moans how much he misses his family, but how he's sad that he won't be able to spend the rest of his schooldays at McKinley. Sugar then feels really sorry for him and becomes his girlfriend.
Songs
Total - 7
Solos (In a Group Number)
Season Three

Song
Episode
Solos with
Candyman
Pot o' Gold
Brittany, Mercedes and Santana
Survivor/I Will Survive
Hold on to Sixteen
Summer Nights
Yes/No
Finn, Kurt, Mercedes, Puck, Rory, Sam, Santana and Tina
Love Shack
Heart
Blaine, Brittany, Mercedes, Kurt, and Rachel
Cell Block Tango
Choke
Brittany, Mercedes, Santana and Tina
Unreleased Songs
Appearances
Trivia
Her name may be a reference to the song, and perhaps the band as well, Sugar Water by Cibbo Matto, which was played in the final episode of Nip/Tuck, a show created by Glee show runner Ryan Murphy.
She is one of seven New Directions that has not been slushied on screen. The other six being Brittany Pierce, Lauren Zizes, Matt Rutherford, Joe Hart, Kitty Wilde and Ryder Lynn.
Although she admits she can't sing in Props, Sugar demonstrates some vocal talent in several group numbers. Her singing approved in later in the fourth season and mostly she usually sings in the background.
Sugar and Joe did not appear in the fifth season with no explanation. However, they both returned for the sixth and final season.
Sugar was the only member in the New Directions to not sing a solo at Regionals. (All or Nothing)
Sugar and Matt are the only former New Directions members to never appear in any Christmas or prom episodes.
She was only supposed to appear in The Purple Piano Project, but the writers liked her character and decided to write her into more episodes.
She's the only character that managed to be in the New Directions for a long time despite not having the ability to sing (she is tone deaf).
She was meant to sing Sugar, Sugar by The Archies in Pot o' Gold and Mr Saxobeat by Alexandra Stan in The Spanish Teacher.
Gallery
Quotes
Main article: Sugar's Quotations
Community content is available under
CC-BY-SA
unless otherwise noted.