Swan Song is the ninth episode of Glee's fourth season and the seventy-fifth episode overall. It premiered on December 6, 2012.  
After Marley's onstage faint at Sectionals, the New Directions learn of their loss at the competition. Back at NYADA, Kurt and Rachel are both extremely nervous, Rachel about the Winter Showcase and whether she will be chosen and Kurt, re-auditioning for the school. The New Directions begin to split apart as their competition season is over but Finn and Marley attempt to bring the spark back. 
The episode was directed by Brad Falchuk and written by new co-executive producer Stacy Traub. 
Plot
Immediately after Marley's onstage fainting incident at Sectionals, the glee club carries her backstage, both concerned for her health and unsure how to proceed with their performance. As Santana accuses Kitty of getting into Marley's head and causing her to starve herself, Will joins them backstage and tries to tell them to return to the stage before they're disqualified - a rule Finn was unaware of - but Sue reveals that the judges have already declared the Dalton Academy Warblers the winners.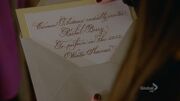 Meanwhile, Kurt and Rachel, while cleaning up after the Thanksgiving dinner they threw, worry about their friends back in Lima, but choose to focus on their own futures. Kurt's going the extra mile to prepare for his next NYADA admission audition, while Rachel assures him that as a freshman she stands virtually no chance to get a Golden Ticket to Carmen Tibideaux's Winter Showcase, traditionally the starting point where superstars launch their careers. She is later shocked when Carmen hands her one of the elite handwritten invitations to perform.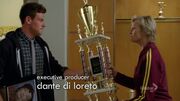 With New Directions out of competition for the rest of the school year, Sue quickly claims the music room - and all of its contents - as her own. Finn and Sue battle over the glee club's Nationals trophy, which she wants to run over with her Le Car. Figgins tells Finn and Will that there's no longer a location for the glee club to practice: they must turn over the key to the music room to Sue, who confides to Becky that she finds it an empty victory. But Sue receives the guilt-relieving validation she sought when piano player Brad tells her how much he hates the glee kids and that he finally feels free.
As Tina and Artie begin to heap blame for the defeat on Marley, Finn tries to keep the glee club motivated by prepping for the upcoming holiday concert - but they were expecting a triumphant Sectionals coda, not "a pity party." Finn wants to regroup and start focusing on next year, but graduating seniors like Brittany, Sam, Artie, Tina and Blaine don't have a next year.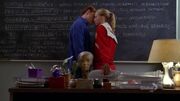 Brittany follows a trail of Cheerios cereal to Sam, where he makes a play for her - she's the only one who understands him. He hopes to finally share a song just with her, and the two sing the Frank and Nancy Sinatra duet Something Stupid. Brittany stops short of kissing him, worried that the worldwide lesbian blogger community would go after Sam.
Cassandra pushes Rachel in dance class yet again, believing she's a diva who's not ready for the opportunity she's been offered, but Rachel pushes back, insisting Cassandra's not appreciating how good she's gotten. The two face off in a dance showdown to All That Jazz from "Chicago": Rachel holds her own, but admits she's not the dancer Cassandra is; she's a better singer, however, and has a chance to win the contest with her voice. Kurt is shocked when Carmen is unimpressed by his second audition - she finds him talented on the surface, but lacking the soulful depth she's looking for in an artist.
Looking for purpose, Artie becomes a drum major; Tina and Blaine become Cheerios; Ryder and Jake make the basketball team; Unique joins the floor hockey team; and Joe joins the interfaith paintball team - but they wrestle with telling Finn about moving on. Finn's disappointed and urges them to continue with glee club, joining him in the only time slot he was able to book the auditorium for (late Friday night), but only Marley seems committed. Meanwhile, Brittany and Sam finally give in to their feelings.
As she prepares to take the stage for the Winter Showcase, Rachel impulsively kisses Brody - she's going to do things as if she'll never have another chance. She performs Barbra Streisand's Being Good Isn't Good Enough, prompting a standing ovation from the audience. Her encore, O Holy Night, thrills the audience and earns praise from Carmen, who stuns Kurt by announcing him as the next performer.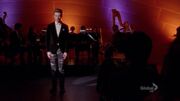 Panicked, Kurt settles on Being Alive from "Company" but worries that he can't pull it off without his usual props and costumes. Rachel convinces him that he doesn't need any of that, and his emotional performance succeed in earning him enthusiastic applause.
In contrast, Finn's defeated after clearing the glee club's belongings out of the music room. Rachel calls him, wanting to hear his voice, and he unloads, feeling like he's failed - and she reveals that she won. She reminds him that if they'd never won a competition together, it was still the experience they all shared that mattered. She urges him not to give up on his dreams.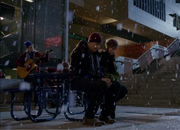 Finn waits in the auditorium, but only one student - Marley - shows up. Finn sends a heartfelt email to the glee students, urging them to continue on with him, using Rachel's unprecedented victory as inspiration, and inviting them to join him in the new rehearsal space Marley located: the plaza by the steps outside the school. Finn and Marley wait alone in the falling snow, regretting their mistakes.
They sing Crowded House's Don't Dream It's Over and are soon surprised as the rest of New Directions arrives to join them. Meanwhile, Rachel discovers a stunned Kurt staring at a letter from NYADA: he's finally been admitted. 
Songs
Background Songs
Guest Cast
Special Guest Stars
Guest Stars
Co-Star
Absent Cast Member
Trivia
Deleted Scenes
Errors
Quotes
"

Yeah, it's a rule. One of the bylaws actually. As all of you were spiraling into a self created K-hole of crazy, the judges by unanimous vote have declared the Warblers victorious. Hey. Congratulations, Finn Hudson. For the first time in this chart yet pitiful existence, the New Directions has lost Sectionals. But here's the good news. Christmas came early for one Sue Sylvester.

"

—Sue Sylvester to Finn Hudson and other members of the New Directions
"

Sue Sylvester? I cannot thank you enough! I can't tell ya how much I hate those kids! Do you know how demeaning it is when they just turn to ya and yell, "Hit it!" and you just supposed to know what song they're gonna sing?!! I'm free! I'm free!!!

"
"

Kurt: Madame Tibideaux, I hope it's okay that I'm dropping by your office. I'm not sure that you remember me, but -
Carmen: What can I do for you, Mr. Hummel?
Kurt: Oh! I applied for the second semester.
Carmen: I received it. I reviewed it.
Kurt: And the accompanying video?
Carmen: Of you doing the acoustic version of Wham!'s Wake Me Up Before You Go-Go.
Kurt: What'd you think?
Carmen: I thought exactly what I thought the first time you auditioned for me last spring - here's a very talented young man who knows how to sell a number, but who is devoid of complexity and depth.
Kurt: What?
Carmen: You gave me surface when I was looking for soul. We are training artists here, Mr. Hummel. Performers who are not afraid to show their vulnerability and, yes, even their heart.
Kurt: Madame Tibideaux, I have all those things.
Carmen: I rarely give anyone a second chance, and when I do, it is on my terms. Now thank you for your continued interest in NYADA, but as you can see, I'm busy preparing for the Winter Showcase. Good afternoon, Mr. Hummel.

"
"

If you give me a stage to sing on, I know in my gut, that there's no one that can beat me.

"
Gallery