The Terri-Will Relationship, most commonly known as Werri, is the formerly romantic relationship and marriage between Terri Del Monico and Will Schuester.
They were high school sweethearts who got married. Their marriage is strained throughout the first half of Season One and eventually ends in a divorce when Will discovers Terri had been lying to him about being pregnant. She faked the pregnancy for a month or two, taking Will about to fake appointments. Also telling him about all of her "symptoms" that went along with the supposed pregnancy. They separate in Mattress and Will files for divorce in The Power of Madonna, which is finalized in Funk, when they sign the divorce papers at Will's apartment. Their relationship has not been explored further.
Overview
Will and Terri met in high school (where he was the Glee "golden boy" and she was head cheerleader) and later married. Five years into the marriage, they begin to grow apart due to their differences. Terri is not supportive of Will's passion, and is obsessed with money, while Will develops feelings for his co-worker
Emma
, the school guidance counselor. Terri soon discovers she is pregnant, only to find out that she is actually having a hysterical pregnancy. Seeing how happy the news of the pregnancy makes Will, Terri panics. Instead of telling Will the truth, she begins to fake the pregnancy in order to keep them together.
In Mattress, Will finally discovers she has been lying to him and was planning to adopt his pregnant student, Quinn's baby behind his back and pass it off as her own. Will is angry and hurt and leaves her.
In Sectionals, Terri tries to reconcile but Will tells her that he can no longer feel as he once did for her and later shares his first kiss with Emma.
Will files for divorce in The Power of Madonna.
In Funk, they finalize the divorce, though Terri kisses him saying he will always be the sixteen-year old boy she knew back then, before leaving.
In Britney/Brittany, Terri interrupts Will's car ride with Emma and starts an argument with him in front of her, claiming that he doesn't have enough money to spend on expensive things and that the car will be repossessed. This argument turns into Terri stating that she believes Will still has feelings for her and will return to her one day, and she doesn't want him to have blown all their savings by then. Will leaves, flustered and upset.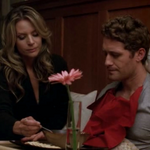 In The Substitute, Terri drops by Will's house when she finds out he is sick. She makes it her mission to take care of him, and though he declines at first, he realizes that he's lonely and lets her be his temporary caretaker. The two end up sleeping together. While Will's substitute Holly Holiday is over at Will's house, Terri drops by, mistaking them for a couple and ends up insulting her. She then insists that the only woman Will will ever love is her and Will kicks her out of his house, telling her to never come back and what they did was a mistake.
In Blame It on the Alcohol, it is revealed that Terri drove Will to drink in high school.
In A Night of Neglect, Terri becomes a member of Sue's League of Doom, probably to get Will back.
In Funeral, Terri makes sure the Glee Club get their tickets to Nationals. Will gives her a hug and tells her he loved her. Later he walks away with Emma, leaving Terri upset.
Episodes
Trivia
Terri was Will's first girlfriend.
It is implied that they were each other's first back in high school, as Will states in Hairography, that they "did it in the back seat" of his car on prom night.
They were married for about five years, although they had been dating since high school.
Their prom song was Hello Again by Neil Diamond.
They've known each other since they were 15 years old, maybe even longer. 
Terri took care of Will while he was sick, not Emma.
Quotes
"

Will: What is this?

Terri: It's a pregnancy pad! They have them at maternity stores for trying on clothes so you can see how you look when you're showing! Kendra stole it from me to see if any her old clothes could fit-
Will: Pick up your shirt.
Terri: What? No!
Will: (throws pad) Pick up your shirt.
Terri: You're scaring me, Will. Think about what you're accusing me of, think about it, and then turn around and go find your pocket square. (Will grabs Terri) Please?
Will: (He lifts up her shirt and sees the pregnancy pad. Will starts to cry; then, he rips the pregnancy pad of of Terri's stomach) Why did you do this to us? I don't understand!
Terri: I thought you were leaving me! We're so different, Will! We're so different I can feel you're pulling away from me!
Will: Because I started to stand up to you? Making this a relationship of equals!
Terri: No, because of the damn glee club! Ever since you started it you're walking around like you're better than me!
Will: I should be allowed to feel good about myself!
Terri: Who are we kidding, Will? This marriage works because you don't feel good about yourself!
Will: This marriage works because I love you. Because I've always accepted you! Good and bad.
Terri: No. You loved the girl you met when you were fifteen! I'm not that girl!
Will: You made yourself a stranger to me now. Are you happy? Are you satisfied?!
Terri: It didn't start as a lie. I really thought I was pregnant, and, the doctor, he said it was a hysterical pregnancy, and I just panicked!
Will: What were you going to do when the due day came?
Terri: Quinn Fabray. It was so perfect! She didn't want hers, and I needed one. I had the doctor use her ultra sound dvd at the appointment you came to.
Will: I loved you Terri. I really loved you.
Terri: I'm so sorry, Will. I'm so sorry. Do you remember that appointment? Do you remember what we said? That no matter what happened we loved each other. We could get that feelings back again! (Will storms out) You can love me back Will! Please, Will. Please don't go! Please don't go. Please!

"
"

Terri: Get out of the car!
Will: What is this? (Looking at Emma then getting out of the car)
Terri: I'm taking this back to the dealer. (Spotting Emma in the passenger seat) Oh! Hey, Homewrecker!
Will: Do I have to remind you that we are divorced?!
Terri: I get reminded every month when I get my spousal support check! The one I know you can't send me if you're buying a car that you can't afford!
Will: (Emma gets out of the car and storms away) Emma!
Terri: You know what actually, I think you should keep this car. You should enjoy it, you know, at least until they re-possess it. But just don't buy anymore big ticket items, okay?
Will: And why's that?
Terri: Because someday you are going to come to your senses Will. And you're gonna get over that little Miss Crazy Pants. And you're gonna come back to the one woman who really knows how to love you. And I just don't want you to have blown all our savings when you do. (Puts sunglasses on and walks away)
Will: (grits teeth and kicks the air) Damn!

"

—Terri and Will, Britney/Brittany
Gallery
v - e - d

Glee Relationships




Character relationship(s) displayed:

Adam

Artie

Becky

Betty

Blaine

Bree

Brittany

Brody

Burt

Cassandra

Chandler

Cooper

Dani

Dave

Elliott

Emma

Finn

Holly

Jake

Joe

Kitty

Kurt

Lauren

Mario

Marley

Mercedes

Mike

Millie

Puck

Quinn

Rachel

Rory

Roz

Ryder

Sam

Santana

Sebastian

Shannon

Shelby

Sue

Sugar

Sunshine

Tina

Terri

Unique

Will
Community content is available under
CC-BY-SA
unless otherwise noted.