"

Dr. Phil said people could change!

"

—Terri Schuester, Pilot
Terri Del Monico (formerly Schuester) is a major character on the first and second seasons of Glee. She is the ex-wife of Will Schuester.
Terri is first introduced as Will's wife. She is a manipulative and parasitic wife, consistently undermining Will and his ambitions. In Season One, she is notorious for faking her pregnancy, after fearing that Will would leave her for another woman. The plan eventually backfires after Will finds out about her fake pregnancy and he ends up leaving her. After several failed attempts at winning Will back during Season Two, she comes to accept that they are over and moves on.
Terri was a main character in the first two seasons of Glee before being written out starting in Season Three. She made a cameo appearance in Season Four and she returned for the two-part series finale in Season Six. She is portrayed by Jessalyn Gilsig, who starred in another show for Ryan Murphy. 
Biography
Personality
Terri is portrayed as the demanding and nagging wife of Will Schuester. She is shown to be extremely manipulative and selfish, even going as far as lying about being pregnant to keep Will from leaving her. Although she loves Will, she discourages his ambitions, because they get in the way of her plans for their marriage.
Although she never truly changes herself as a person, she has shown a caring side, such as getting first-class tickets to New York for the New Directions.
Relationships
Main article: Terri-Will Relationship (Werri)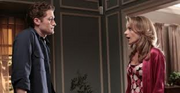 Will was Terri's first boyfriend. After graduation, they got married. As the years went on, their marriage began to crumble to the point where Terri lies about being pregnant in order to force Will to stay with her. Terri has also shown that she is very manipulative, trying to find inventive ways to keep Will away from his colleague, Emma Pillsbury. After he learns that Terri lied, he leaves her and claims that he no longer loves her. They get a divorce soon after. After the divorce, Terri makes several attempts to get back together, but eventually accepts the fact that their relationship is over. Years later, when Terri attends the rededication ceremony, she shares a friendly hug with Will and the two end on good terms.
Trivia
The name "Terri" comes from Brad Falchuk's old fifth grade school teacher.
In Preggers, when Terri is about to reveal her hysterical pregnancy to her sister, Kendra, the latter asks if the baby is black. This is a reference to Jessalyn Gilsig's role of Gina Russo from Ryan Murphy's previous show Nip/Tuck, where the child she supposedly conceived with Christian Troy ended up being black.
She along with Artie, Carole, Emma, Figgins, Kurt, Mercedes, Noah, Quinn, Rachel, Santana, Sue, Tina, and Will are the only characters to appear in the first and last episode.
She is similar to Quinn Fabray in the series.
Gallery
Quotes
Main article: Terri's Quotations