The Break-Up
is the fourth episode of
Season Four
 and is the seventieth episode overall. It premiered on October 4, 2012. After this episode, there was a five-week hiatus.
Glee
 returned with
The Role You Were Born to Play
on November 8, 2012.
When Finn returns to Rachel unexpectedly, it causes their relationship to shake, due to Rachel and Brody's developing friendship while Finn was in the army. Meanwhile in Lima, Blaine misses Kurt and feels left behind causing him to act in an insensible manner. As he visits his boyfriend in New York, he acts differently, making Kurt suspicious. Santana and Brittany struggle with their relationship because of the long distance, therefore they decide to finish it off in a mature way. Marley admits to Jake that she isn't too keen with Kitty, and Emma and Will deal with conflicts when Will is accepted into the Blue Ribbon Panel for the performing arts show choir and wants to pull Emma from being the school counselor to join him in Washington. 
The episode was directed by Alfonso Gomez-Rejon and written by Ryan Murphy.
Plot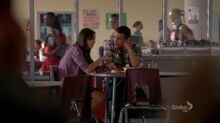 While Marley is trying to hide her free lunch tickets Jake comes and sits beside her and says "too late, I saw that" and it is revealed that he signed up for free lunch as well. He says that being poor sucks and that he and his mom were a solid middle class. He also reveals that she is now the only black waitress at the country club, but she works double to pay Jake's dance classes. Marley is surprised by this but Jake says to keep it between them. They are then seen flirting from the next table by Blaine and Brittany who commiserate about the state of their own relationships with their absent loves, Santana and Kurt.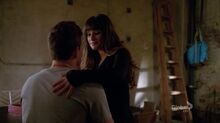 Rachel and Finn share a tense morning in the wake of his surprise arrival in New York. Finn reveals what's happened to him over the past four months: as planned, he did enlist in the Army but only lasted 16 days because he accidentally shot himself in the thigh with his rifle (which he'd named "Rachel"). After a semi-honorable discharge, he backpacked through Georgia, too embarrassed to tell Rachel what had happened. Rachel urges him to move in with her, attend her classes and possibly pursue his passion for acting. She insists that something's been missing in her life since they parted, and she's determined not to let him go again.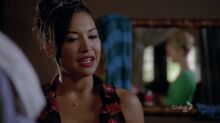 Santana visits Brittany, insisting that she's enjoying college and wants to stay closer to Lima because of their relationship. She notices Brittany's increasing exhaustion due to long hours spent reading a series of post-apocalyptic Christian novels.
Blaine and Kurt plan to be together in New York in two weeks' time, but Blaine is still bothered by Kurt's distraction with his heavy new workload at Vogue.com. Meanwhile, after attending some of Rachel's classes, Finn sees that she's finally found the place where she belongs and worries that there's no room for him in her new world. The two sing Barely Breathing, summarizing their feelings. Blaine is seen talking to someone on Facebook named "Eli.C."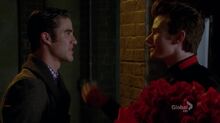 As Finn, Rachel, and Kurt prepare to hit a karaoke bar, Blaine makes a surprise appearance in New York. When they run into Rachel's classmate/hookup Brody at the bar, Finn's concerns grow deeper when he sees their chemistry as they duet on Demi Lovato's Give Your Heart a Break. The mood gets even more awkward when Blaine performs a very emotional rendition of the song he shared with Kurt when they first met, Katy Perry's Teenage Dream - Kurt clearly senses that something's wrong.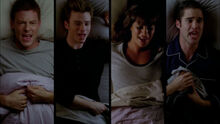 On the walk home, Finn reveals that he doesn't feel he fits into Rachel's new life. Finn questions Rachel about Brody, and she admits having kissed him. Meanwhile, Blaine drops an even bigger bombshell: during Kurt's absence, he hooked up with someone else - he insists that it didn't mean anything and he only acted out of loneliness. Both couples' frustrations overwhelm them, and they face an uncomfortable, tight-lipped night at home. The four sing Don't Speak, walking through New York City streets and lying in bed, not talking. Later, Kurt discovers Finn sneaking away in the early morning hours.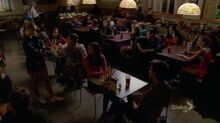 Kitty invites Marley and the other Glee club members to attend her Left Behind Club's meeting. Kitty believes that the End of Days are imminent, and she wants to educate and convert her fellow students, even staging a fake Rapture to make her point. Marley can't stand being around Kitty, so she says she is gonna leave but Jake tries to hold her back. Marley confesses that she really doesn't "like that Kitty girl" and tells him she can't believe he does like her. She leaves and Jake is left speechless. While Santana tries to convince a stubborn Brittany to abandon Kitty's club, Brittany says she is not leaving and that being left behind sucks, which is what Santana did to her and it hurts her.
Finn turns up at McKinley, seeking out Will. Blaine discovers Finn in the music room and reveals that he, too, felt compelled to leave New York.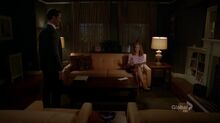 Later, Will reveals to Emma that he's been selected to join the blue-ribbon government panel designed to improve arts education, and he wants her to join him in Washington, D.C., for several weeks. She's surprised that he simply expects her to leave her job behind - they argue, and when Emma thinks Will doesn't respect her decision, she storms off.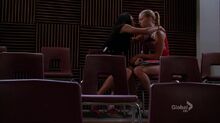 Santana calls Brittany to the music room, singing a moving version of Taylor Swift's Mine to her. Santana says that she has not been a very good girlfriend to Brittany and while she was at the library in Louisville she had what she called an "energy exchange" with a lesbian and she said she had an attraction and the same may happen with Brittany in the future. But then reveals the painful truth: she believes that ultimately their long-distance relationship will become unworkable, and she opts for an "unofficial" breakup.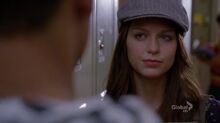 Meanwhile, Jake comes up to Marley's locker and apologies to her about the rapture. Marley says that she can't see someone like him being with someone like Kitty. Jake says that Marley doesn't understand what it's like being on the outside since the black kids think he is "too white" and the white kids think he's "too black" and that Kitty is hot, funny, and can be crazy but she likes him. And when he stands next to her no one makes fun of him. Kitty, overhearing the conversation, comes up and begins insulting Marley. Jake tells her to ease up but Kitty says something about Marley's mom so finally Jake tells her to stop. Jake threatens to break up with her and Kitty claims that he does not want to do that, but anyways, Jake says he will take his chances and calls off their relationship. Kitty, angry, gives back Jake's jacket and says that it was Marley who "did this" and is seen pushing a student and screaming down another hallway. Marley, shocked, says that Jake didn't have to do that but Jake says he thinks he did. Marley invites Jake to go find sheet music for Grease since she was auditioning for Sandy. Jake politely says he can't but says he will see her in Glee club.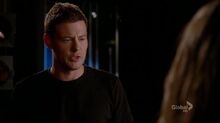 Rachel arrives in Lima to discover Finn on McKinley's auditorium, the site of so many of the key moments in their relationship. She's angry, admitting that when he left her months ago, she hated him at first but then realized that stepping out of her way showed her "how a man loves." His four-month absence, however, has showed her otherwise. She tells him he is her first love, and she wants him to be her last, but she can't continue together the way they've been going.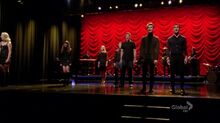 As Rachel breaks up with him, claiming that they're "done," Finn feels like he's lost everything important to him, but she offers him another scenario: "You have you, and that's better than anyone else on the planet, as far as I'm concerned."
Rachel walks away as the music to The Scientist begins to play. Finn, Blaine, Santana, Kurt, Brittany, Will, Emma, and Rachel sing, and it shows flashbacks of each couple throughout the years but at the end, it's revealed that Finn is singing by himself and all the couples were imagined. The spotlight closes as the episode ends.
Songs
Song Title
Original Artist
Performer(s)
Barely Breathing
Duncan Sheik
Blaine Anderson and Finn Hudson
Give Your Heart a Break
Demi Lovato
Brody Weston and Rachel Berry
Teenage Dream
(Acoustic Version)
Katy Perry
Blaine Anderson
Don't Speak
No Doubt
Blaine Anderson, Finn Hudson,
Kurt Hummel, and Rachel Berry
Mine
Taylor Swift
Santana Lopez
Coldplay
Blaine Anderson, Brittany Pierce,
Emma Pillsbury, Finn Hudson, Kurt Hummel, Rachel Berry, Santana Lopez,
and Will Schuester
Guest Cast
Guest Stars
Co-Stars
Brad Potts as Drill Sergeant
Absent Cast Members
Trivia
Teenage Dream is the second song that got released a second time with a different arrangement (The first was Don't Stop Believin'). Darren Criss played his own arrangement of "Teenage Dream" on the show.
When Blaine is singing Barely Breathing in the auditorium, he imagines Kurt sitting watching him. Kurt is wearing the same jacket he wore the first time they met on the Dalton stairs in Never Been Kissed.
When Emma says "Oh my goodness, Mr. Schuester goes to Washington," it is a reference to Mr. Smith Goes to Washington, a 1939 film.
This is the first fourth episode of a season in which no new member joins the glee club, where in Preggers, Puck, Mike, and Matt joined; Duets (Sam), and Pot o' Gold (Rory).
Originally, Brittany and Santana were supposed to be on a break, but it is considered a break-up. However, in Diva, Santana accuses Brittany of cheating on her with Sam, even though it was said by Santana that they could see other people because they were on a "break."
Kurt's Work number is (212) 555-1452 according to Blaine's phone.
This episode got a 2.6 rating with a total of 6.07 million viewers. Source
Quotes
"

Unique: Unique wants to do Hedwig.

Tina: Tina wants to do Flower Drum Song.

"
"

Finn: Wow. What am I going to do with my life? I don't have my girl. I don't have a job. I don't have a place in this world.

Rachel: You have you, and that's better than anyone else on the planet as far as I'm concerned.

"

—Finn Hudson and Rachel Berry
"

I needed you. I needed you around and you weren't there.

"

—Blaine Anderson to Kurt Hummel
Gallery
Videos
Community content is available under
CC-BY-SA
unless otherwise noted.