Spider-Man: No Way Home Trailer Dropped - The Loop
Play Sound
Faberry is the friendship between Rachel Berry and Quinn Fabray










Rarely referred to as Quinchel/Quinnchel.
♥Welcome To The Faberry Team!
Hello! Welcome the peaceful community that is the Faberry Team! The people here ship Quinn and Rachel as friends. Please don't be shy! We don't have any ship wars here, nor do we encourage you start them. This place allows us to express our love in comments and talk about them in general! Contact BforBerry if you have any questions! :)
Note: This team was made for friendship, however, it is also a popular relationship in the fandom, therefore you can sign either way.
<tabber>Rules=
♥Team Rules
No spamming or inserting false information.
If you don't ship Faberry, please go on a different page; please do not bash or vandalize here
You can't sign more than once
No inappropriate pictures
You cannot sign for someone else
Please abide by these rules to keep the Wiki a happy and safe place for all Gleeks to enjoy!
WE ARE ALL ONE BIG FAMILY! |-|
Reasons= ♥Reasons To Ship Faberry


Credit goes to them:
Because the way Quinn says Rachel's name is just beautiful
Because Quinn used Finn for his popularity, Sam for his popularity, and Puck to question his ability to father her baby
Because at Quinn's lowest point (finding out she was pregnant), Rachel was there to pick her up the best way she knew how: by singing a song with the message she wanted to convey. (She sang Keep Holding On to her.) Even as she was chasing Quinn's boyfriend, she was by Quinn's side and tending to her.
Because Quinn can't help but fangirl whenever Rachel is performing
Because they fail at subtlety.
Because Quinn drew pornographic pictures of Rachel in the bathroom stall. (Vitamin D)
Because their first duet was Crush.
Because whenever Rachel asks Quinn to do something for her, she always does it. This includes spying on Vocal Adrenaline, testing Finn's loyalty to Rachel, and doing the duet with Sam.
Because of the many times Quinn or Rachel have smiled or acted friendly towards the other, despite being enemies
Because Rachel's name in Hebrew means 'innocent lamb.'
Because Quinn was Rachel's halo during My Life Would Suck Without You
Because Quinn blackmailed Sue Sylvester to get a yearbook page for the Glee club, even though everybody in the club except for Rachel didn't want to be in the picture.
Because they held hands during Dog Days Are Over
Because Rachel wants Quinn's nose on her face.
Because they both deserve better than Finn.
Because Quinn lied to all the guys she dated, but was always honest with Rachel.
Because Quinn sang a duet with Sam after Rachel told her to do so, just to make her happy.
Because in Theatricality, Quinn wore a gold star necklace while Rachel had a little lamb on her head.
Because Get It Right is inspired by Quinn.
Because Quinn was able to name another good thing about Rachel besides singing.
Because they have chemistry
Because Quinn drew a hateful picture of Rachel in her notebook. However, there are 20+ hearts drawn around it. Platonic or hateful feelings don't result in hearts.
Because Rachel wanted to know what it felt like to kiss Quinn.
Because Rachel knew what color Quinn's eyes are.
Because Quinn doesn't mind sitting on the floor as long as it means she gets to sit next to Rachel
Because it's alright with Quinn if Finn cheats on her. Just not with Rachel
Because they wear their chastity charms as clip-on nipple rings.
Because Quinn went to Carmel with Rachel even though she was afraid she would get arrested and was raging on pregnancy hormones.
Because true love always springs upon true hate.
Because I Feel Pretty/Unpretty was their first duet.
Because even with Rachel's power house voice and Quinn's alto-falsetto, both voices mingled so well in I Feel Pretty / Unpretty
Because Quinn agreed to test Finn's loyalty for Rachel even thought if it meant she could get rejected.
Because Quinn wants Rachel to get out of Lima and make her dreams come true than letting her suffer in Lima with Finn.
Because Rachel wanted Quinn to have gardenia, and gardenias mean "secret love."
Because in Prom Queen Blaine helped Kurt, Brittany helped Santana, and Rachel helped Quinn. Blaine and Kurt were in love, as were Brittany and Santana (even though they were denying it).
Because during Do You Wanna Touch Me (Oh Yeah) they shared more than just a few looks
Because in Rumours, Quinn got upset about Rachel singing a love song to Finn.
Because Quinn told Santana and Brittany that she was "not interested in boys."
Because Rachel was sad because of Quinn's hurting, and without having her in the Glee club.
Because when The Mack offered Quinn 10 bucks to let her beat Rachel up, Quinn did not take the offer.
Because during Last Friday Night they danced on tabletops together
Because of the moments during We Are Young. In the beginning, Rachel had her hand on Quinn longer than anyone else. Also, she stayed right behind Quinn until the Troubletones arrived. At the end, when Rachel sang "Carry me home tonight," (which was Quinn's repeated line), she looked directly at Quinn.
Because several people had told Quinn that she had issues or that she needed help, but she had not listened to anyone until Rachel did. Rachel convinced her that Quinn's actions would hurt others and succeeded in keeping her from doing something stupid, which Quinn thanked her for.
Because they are now officially "friends."
Because Rachel was the first person Quinn ever talked about future plans bigger than staying in Lima. Even though Quinn is not as good a singer as Rachel, she still wants to study drama. She chose Yale University, which is less than a two-hour drive away from New York City. NYADA is in New York.
Because Quinn told Rachel that she got accepted to Yale before telling anyone else
Because Rachel hugged Quinn and didn't even tell her she was going to. She just went for it.
Because Rachel sought Quinn's advice on Finn's proposal.
Because Quinn kept a picture in her locker of her showing off her gardenia with the green ribbon.
Because Finn panicked when Quinn was making eye contact with Rachel during Never Can Say Goodbye.
Because Quinn asked Rachel if she was thinking of Finn, and only Finn when she performed Here's to Us. Rachel replied that she was, so Quinn decided to give Rachel her support even though she doesn't agree with the marriage, because she wants Rachel to be happy.
Because Rachel was stalling at her own wedding so Quinn would be there.
Because Quinn still wants Rachel to break up with Finn and go live her dream
Because Quinn was on her way to Finchel's wedding when she got hit by a truck
Because Quinn was still texting Rachel even though she knew that it was dangerous to do so
Because Quinn asked Rachel how she looked in her Cheerios uniform immediately after Blaine said she looked good
|-|
Signatures=
♥Faberry Team Signatures
♥Relationship Signatures

Sign here if you want a relationship. Friendship signatures are below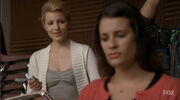 Click here to view the first 100 signatures; Click here to view the second 100 signatures
201. Gleekgirllosersam
202. Rivergron
203. Pokerface96
204. Gleekforever1018
205. Megjfreedman
206. LittleBees (talk) 14:58, April 3, 2013 (UTC)
207. Nayaforever
208. MrSecondPlace
209. Astra9lua
210. Hannahbanna1993
211. FABERRITTANA♥HEYACHELE
212. Breatt
213. Gleexoxo15
214. BeeBumble3
215. CamayaEclareforever98
216. PhoebeGleek
217. Gleewikiyaywoot
218. Teenagediva101
219. Doctor-D666
220. Bramlover
221. KurtanaLove1998
222. MarauderingGleek
223. MMStar2246
224. PeonyPetals
225. Lyzashipper
226. LilGleek

227.
Flymetothemoon44
|-|
Quotes= ♥Faberry Quotes
"

I'm not mad at you. All you did is what I wasn't brave enough to do, tell the truth.

"

—Quinn, Sectionals
"

You don't belong here, Rachel, and you can't hate me for helping to send you on your way.

"

—Quinn, Original Song
"

You have nothing to be scared of. You are a very pretty girl, Quinn. Prettiest girl I've ever met, but you are a lot more than that.

"

—Rachel, Prom Queen
"

I know everyone expects us to be enemies and be in competition but...I don't hate you.

"

—Rachel
"

I'd hate the idea of- of dragging an anchor from my past into the bright lights of my future. Rachel, you have an amazing life ahead of you.

"

—Quinn, Michael
"

You are a lot better than you know.

"

—Rachel, Hold On To Sixteen
"

Everybody keeps talking about staying in touch. I wanna make sure that we do.

"

—Quinn, Goodbye
"

Do you not understand what you mean to me?

"

—Rachel, Prom-asaurus

|-|
Fan Fictions= ♥Fan Fiction
Feel free to put safe sources for Faberry fanfics
:
Rated K:
Rated K+:
Rated T:
|-|
Gallery= ♥Faberry Photo Gallery:
|-|
Film Festival= ♥Faberry Film Festival
thumb|290px|right thumb|290px|leftthumb|290px|left thumb|right|290px
|-|
Templates= ♥Faberry Templates
{ {faberryfan} }







{ {faberryfans} }







{ {faberryotp} }







| | |
| --- | --- |
| | My OTP is Faberry. |

{ {FaberryDemand} }







{ {LovesFaberry} }







{ {FaberrySoulmates} }







{ {QuinnRachel} }




{ {AcheleComingOut} }







{ {FaberryDuets} }




This user wants more


Faberry

duets.

{ {MissesFaberry} }




{ {faberrywedding} }




| | |
| --- | --- |
| | This user wishes for a Faberry wedding |