The Role You Were Born to Play
is the fifth episode of
Glee's
fourth season
 and the seventy-first episode overall. It premiered on November 8, 2012, after a five-week hiatus.  
After a tiring break-up with Rachel, Finn is working full-time at Burt's auto shop. Artie, however, suggests that he assists with directing the school musical, Grease, as, after all, it was his idea to do the production. They hold auditions, but Blaine is sentimental over his actions and how he treated Kurt and his relationship. Mike and Mercedes are welcomed back as the choreographer and vocal coach of the musical, and Finn has an eye on a sophomore student to audition for the musical. But when this new student enters the scene, will his presence impact and expand the Kitty, Jake and Marley love triangle?
The episode was directed by Brad Falchuk and written by Michael Hitchcock. 
Plot
Finn's working full-time at Burt's auto shop after his breakup with Rachel Berry the pervious episode, feeling like a complete loser. Artie won't let Finn to wallow in self-pity, however. Hoping to help Finn find his way again, Artie asks him to help him co-direct the high school musical production of "Grease" and refuses to take no for answer. Reluctantly, Finn agrees.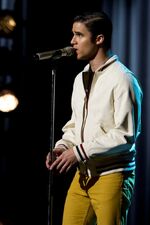 At McKinley, Blaine, brokenhearted, doesn't think he has it in him to take a big role in the musical after his split from Kurt. His lament, Hopelessly Devoted To You, turns into an audition, and Artie wants to cast Blaine as Danny Zuko, but Blaine's not up for a romantic leading role performance. Finn wants to back out because he doesn't feel qualified to direct, but Artie assures him the secret is surrounding himself with people who know what they're doing: he reveals that Mike and Mercedes have returned to McKinley to lend their talents as choreographer and vocal coach respectively.
Will and Emma discuss their differences with a counselor, with Will making his case for Emma to join him while he's in Washington, D.C., and Emma resisting uprooting her life and career just to follow him. Their counselor - Shannon Beiste - urges them to resolve their problem through compromise. Will agrees: If Emma follows him now, he promises to follow her when she needs him to. Emma hesitantly consents.
Casting Danny Zuko proves a challenge; Finn turns to the football field looking for a fresh face and spots sophomore player Ryder Lynn, a loner who nevertheless has impressive moves. Although Ryder insists he's not musically inclined, Finn challenges him to try out for the musical.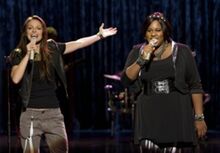 Marley, hoping for the role of Sandy, learns that Unique longs to play Rizzo despite the gender switch. She urges Wade to be open with the desire to play the part, but Sue confronts them with a hard-line anti-gender-confusion rant, insisting that she won't allow such casting to happen. Marley and Unique's resultant duet to P!nk's Blow Me (One Last Kiss) becomes their energetic audition for the musical, impressing the directors.
Finn and Artie consider jukeboxes for the production, but such questionable choices further rattle Finn's confidence. Finn reveals to Ryder that, like him, when he first became involved in the glee club he didn't believe he had it within himself, but once he joined, something just began to happen for him. As they duet on Foreigner's Juke Box Hero, Ryder's confidence and enthusiasm grow - he's ready to audition. Finn tells him that he just did.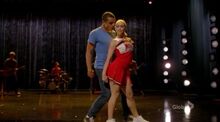 As Ryder meets Marley and they click immediately, Jake watches and broods from afar. Kitty taunts Jake about losing his girl to "the new guy with old-school Justin Bieber hair." Intent on making Marley miserable over luring Jake away, Kitty decides to go after the role of Sandy herself. Kitty tells the jealous Jake she's got the perfect audition number in mind for them, and their dancing duet on Neon Trees' Everybody Talks impresses. Although a strong dancer is needed to play Cha Cha, Tina is still hurt by her recent split from Mike and refuses to participate as long as he's involved, despite his entreaties to put aside her personal feelings.
Finn lobbies for Marley as Sandy and Unique as Rizzo, and an angry Sue pulls Finn into the
Principal Figgins
' office, objecting to the casting of Unique. She argues that it will set the precedent for Unique to join the Cheerios, endangering Sue's bid to become the all-time winningest cheer coach in history. Sue's racked up an impressive stance of tolerance in recent years, but she's tired of McKinley being a testing ground - and, in truth, she's worried about the backlash that will come down onto Wade/Unique as a result of the controversy. Will stands behind Finn and Artie's choice, and Finn defies Sue, who warns him about "the daily nightmare that is being my enemy." In standing his ground, Finn accidentally refers to her "retarded" baby - he tries to apologize, but she silently storms out.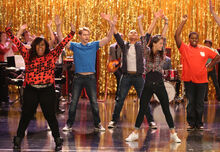 Mike and Mercedes put the finalists for the lead roles through a last set of musical paces, testing their choreography skills with Born to Hand Jive. Kitty continues to antagonize Marley during the routine, and Jake's jealousy toward Ryder flares, but a near scuffle is avoided and all the aspirants make a good showing. Finn offers Wade the role of Rizzo and promises to deal with anyone who tries to stop them. Wade becomes emotional, telling Finn: "It sucks to never know your place... It's just nice for once to feel like I found one." The casting is revealed: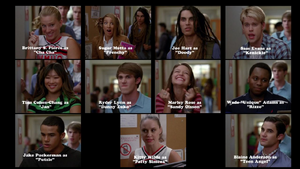 Will finds Emma in manic homemaker overdrive, and she admits she doesn't want to go to Washington with him. She has bigger issues about what it will mean to be Will's wife, but in the end she realizes she'd rather feel close to him while he's physically far away, than be close by him but feel far in spirit. They agree to make it work through the distance.
Finn is finally feeling good about himself, especially about helping other people achieve their dreams. Will explains that he sees Finn as the leader the glee club needs in his absence - because it's not an official teaching position, Finn can replace him in overseeing the glee club. And, just like that, Finn finds the role he was born to play.
Songs
Cast
Starring
Guest Stars
Adina Porter as Mrs. Delaney
Co-Star
Ric Sarabia as Mr. Clippenger
Absent Cast Members
Trivia
This episode marks the first appearance of Blake Jenner as Ryder Lynn, who would later become a member of the Main Cast.
Born to Hand Jive has the same background as You Can't Stop the Beat.
This episode aired exactly one year after The First Time and both of them are the fifth episode of their respective seasons.
Mike Chang and Mercedes Jones appear for the first time in this season.
This is the first episode Rachel does not appear in.
Kitty's surname is revealed to be "Wilde" in this episode.
The roles of Marty and Sonny are never cast or mentioned in this episode or Glease.
In the UK airing of this episode, Finn's line about Sue's baby being 'retarded' was omitted. However, in the following episode Glease their conversation regarding this incident was left in with the word 'retard' being crudely cut-out from the dialogue, leaving the conversation seeming pointless.
During the Glease casting scene, the roles the characters were cast with were omitted out on the Netflix stream.
In The Break-Up, Finn says to Rachel that he "barely graduated high school", but in this episode, he tells Ryder he graduated with a B+ average and credits being in the glee club for "opening his brain somehow".
First episode of the season where the sole focus is in Lima.
Cultural references
Errors
During the bathroom scene when Sue reaches into Marley's bag, she grabs the lip balm first but when the camera goes back it shows her with a compact.
Whenever Kitty pushes Sam out of the way to get to the cast list he's seen doubled over, but in the next shot he's seen standing upright, with no real time to adjust.
Continuing the constant confusion between the plays and the movies, Jake Puckerman is listed as playing "Putzie," when in the musical he is called Roger, and Marley is listed as playing "Sandy Olsson" as opposed to the musical's "Sandy Dumbrowski."
There is a spelling error when they reveal the Grease cast list. They spell it as Sandy 'Olsson' when it is actually Sandy Olsen.
Quotes
"

Finn: It's nice helping other people's dreams come true.

Will: It's called being a teacher.

"
"

Mike: You're so talented.

Tina: I'm sorry, you'll have to survive without my talent.

"
"

I would rather be here, far from you, but feeling really close, rather than close to you, but feeling really far away.

"
"

I'm not as stupid as you look.

"
Gallery
Community content is available under
CC-BY-SA
unless otherwise noted.