'Glee' Profile: Tina Cohen-Chang
Play Sound
"

It takes a lot of crystals to make something shine.

"

—Tina Cohen-Chang, Props
Tina Cohen-Chang is a major character on Glee. Tina was a series regular up until Season Six, where she became a recurring character. She is an alumna of William McKinley High School, where she actively participated in the school's Glee Club and was one of the New Directions' original members. She currently attends Brown University, and is best friends with Blaine Anderson, Sam Evans, and Artie Abrams. At the beginning of Season One, she pretended to have a stutter, which she claims to have started when she was younger, to push people away due to her shyness. Now, she appears to get along with most of the other members in the Glee Club. Since Season Two onwards, her character seems to become more confident and outgoing. In Season Four, she develops a feisty, sassy personality, that continued in Season Five and Six. She is also the winner of 'Diva Week' in Diva. She won Prom Queen in Tina in the Sky with Diamonds. 
Tina dated fellow glee club member, Artie Abrams, but she started seeing Mike Chang before breaking up with Artie (whom she later dumped in the lunch line at school), as they had fallen in love at Asian Camp during the summer. The relationship between Tina and Mike has been the longest-lasting relationship of any to appear on the show to date, lasting two entire seasons, without any break-ups. However, by the start of Season Four, Tina has broken up with Mike, choosing not to commit to a long-distance relationship. She also said that she is still in love with Mike and they remain close friends after the school's production of Grease after they agreed to talk. She develops a crush on Blaine Anderson later on in the season, which then develops into a close friendship.
She graduated in the 2013 McKinley High School Class in New Directions, along with Blaine, Sam, Brittany, Artie, Becky and the rest of the seniors. She was accepted to Brown University.
She returns in the last season of the series to help Rachel and Kurt recruit new members for the rebooted glee club. Later, she helps Becky (alongside Quinn) in her relationship with her boyfriend (Darrell), and then she returns for Brittany's, Santana's, Kurt's and Blaine's double wedding, while, at the same time, she proposes to Mike, who declines her offer, much to her dismay. In Dreams Come True, it is revealed that in 2020, she stars in Artie's film, which got into a film festival, also she and Artie are getting back together.
She is portrayed by actress, singer, and author Jenna Ushkowitz.
Biography
Appearance and Fashion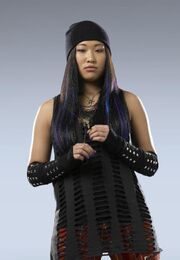 She has long black hair with purple, blue, light brown or shocking pink streaks, and brown eyes (except for the episode, Born This Way where she wore blue contacts). Her style is a mixture of punk, emo, goth and Lolita styles. She prefers colors such as black, blue, gray, and occasionally red, lurid yellow or purple. She is frequently clothed in chains, skulls, locks, cameos, studs, and other things with gothic nature. In Theatricality, Principal Figgins bans her from wearing goth clothing, as a result of his fear of vampires. However, she gets back at him by convincing him that her father is a vampire and will hurt him if the principal bans her fashion anymore. She occasionally wears hats and she sometimes uses vibrant eyeshadow such as a lime green or an orange. It is mostly steam punk.
Whilst through the first two seasons, her style is generally considered "emo" or "goth," her style alters slightly throughout the seasons.
In Season One, her style is considered "punk rocker." This would be better described as a rebellious and dark twist on tom-boy style. It mainly consists of studs, arm warmers, black, fish nets, beanies, converse, spiked shoes, rips/tears and more vibrant/neon colors in her hair (Like neon pink, red and purple). It is a quite aggressive form of goth, sometimes compared to an emo-"skater chick" look. Tina has also been shown in one episode sporting an altered silver cross on her necklace.
In Season Two however, her style dramatically changes as Tina goes from casual-emo to a more feminine "Victorian goth" style. This is a lot more elegant and "lady like" look, although it is still genuinely considered part of goth fashion. This style usually involves veils, fish-nets, dresses, frills black, and more discreet colors in her hair (namely dark blue). It is not similar to real Victorian fashion, only slightly more bohemian and dark. It is also a little more modern. There are two episodes in Season Two where the above does not apply. In Comeback, Tina briefly takes a break from her typical outfits, and replaces them with "librarian chic" clothes, to follow Brittany's trend. This short style Tina used is basically a more tight and seductive version of Rachel's clothes. In the next episode, her goth-wear is reinstated without a mention of what happened to the trend she was following.
In Blame It on the Alcohol, Tina wore shorts and sleeveless tops during the song Tik Tok and in the song Blame It (On the Alcohol) were all members are wearing leather and it is her usual style but she wore shorts and sleeveless which is not her usual clothing.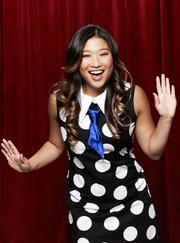 In Season Three, Tina appears to have abandoned the goth look in favor of retro '60s fashion, wearing bright colors and polka dots. She has also used many surprisingly optimistic accessories (e.g. ties and jumpers). She appears to have replaced her hair-highlights with curls. In Props, while Tina is dreaming, she visualizes Rachel as herself, though she is wearing her "Victorian Goth" style, similar to what she wore in Season Two. Tina keeps this look and style during Season Four; however, after the events of Shooting Star, she decides to try a new style, called "Steampunk." This style tends to synthesize modern styles influenced by the Victorian era, like vests, top hats, and so. After the events of Sweet Dreams, it seems like she has returned to her '60s fashion, style that keeps wearing during Season Five and Season Six.
Personality
In Season One, Tina is very much the awkward outsider; shy, soft spoken, and meek. Tina has spent most of her life doing her best to stay under the radar of everyone else around her, whether it be social or academic. Her fears of being noticed were so great that when she was still in elementary school, she devised a fake stutter to aid her in getting out of doing an oral presentation. Seeing how effective the stutter was on that specific occasion, Tina began to use it in order to protect herself from having to interact with anyone who she didn't feel comfortable with. As a result Tina's only friend for a long time was Artie, who felt they shared a connection through their mutual disabilities. The only time that Tina seems to allow herself to come out of her shell is when she sings. When on stage, she is bold, brash and without fear, even going so far as to sing I Kissed a Girl in a surprisingly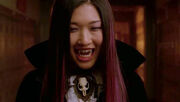 aggressive manner at Glee auditions. Upon joining Glee, Tina has slowly started to relax her defenses, to the point where she has formed other friendships with Kurt, Mercedes, Brittany and a few other members of the Glee Club. She has even 'lost' her stutter, which was her greatest social defense. Her brief romantic relationship with Artie was the final step in over-coming her anxiety, as she admitted to him for the first time that her stutter was fake. Unfortunately, this admission resulted in an abrupt end to the relationship, which could have possible sent her back into her shell. According to Tina's Facebook profile, she enjoys listening to emo-core and speed metal music, cutting the hair off her dolls, and spending time with her speech therapist, by the name of Judy (due to the fact she admitted to Artie her stutter is a lie, this could very well be a lie as well).
In Season Two, Tina has become much more bold and open about her feelings. However, she is not without her personal insecurities, as seen when she suspects Mike of cheating on her with Brittany during Special Education. Tina feels that she is not good enough to be with Mike, a popular football player, which causes her to go so far as to dress like a cheerleader for him. Tina has always been open about being Asian and is proud of it but on many occasions she has also shown annoyance at being stereotyped as one. Her insecurities have gotten the best of her on several other occasions as well, most notably during her performance of My Funny Valentine for Mike and her performance of I Follow Rivers when she was heckled by the audience.
In the start of Season Three, we can see how Tina is completely committed to her relationship with Mike, helping him to get into a Dance School and trying to convince Mr. Chang, who didn't want Mike to go there, without telling to her boyfriend. Also, she is slowly growing up and standing up for herself, like she did in the events of Props, where is revealed she wanted more attention that what she was receiving. However, it isn't until the Season Four premiere that Tina seems to finally have opened completely about her feelings and thoughts. She is not afraid to say what she thinks, developing a much more sarcastic, sassy and Santana-ish personality, to the point that she is now considered one of the main Divas of the Glee Club, earning the "First Annual William McKinley High School Diva Award." During her senior year, she develops a crush on Blaine, which later leads into a very close friendship; he's the person who still can see the most of her emotional side. She also seems to be in great terms with Sam and Kitty. Her popularity also seems to be growing, as she is nominated for Prom Queen, award that she ends winning, not without being Carrie'd by Bree, Dottie, and The Cheerios
Relationships
Main article: Mike-Tina Relationship (Tike)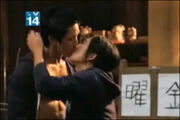 Their relationships started at Audition, Tina started becoming attracted to
Mike
during the summer at Asian Camp, where both of them were counselors teaching tech-savvy Asian kids about the arts. Tina found herself attracted to Mike, due in large part to his amazingly cut abs, which he revealed during a song and dance number. It resulted in them making out in front of their own students. When they returned to school, blogger
Jacob Ben Israel
attempted to confirm their relationship, but they called him racist for implying that they were only dating because they were both Asian. However, as they walked away, they clasped hands, unaware that they were still being filmed, and thus confirming the relationship. In the end of the episode (
Audition
) they are seen dancing together in the music room.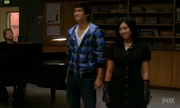 In Duets Mike doesn't want to sing in a duet but prefer to dance because he is really not confident with his voice. When it's time to show their duet song Tina comforts Mike because he is still scared to sing. In their duet song they sang Sing!, the result was successful and they hugged after the song. In
Never Been Kissed
, they are making out in the empty classroom Tina is imagining
Coach Beiste
and saying the name out loud, Mike is a little bit confused and Tina ran quickly ran out of the empty classroom, implying that Tina may be bisexual. In
Furt
they attended the wedding of
Carole Hudson
and
Burt Hummel
. They also had a short duet in the group number Marry You. In
The Sue Sylvester Shuffle
, Tina joined the
Football Team
with Mike, because the other players left. When they began to play, Tina picks up the ball and ran for the goal but is hardly tackled leaving her unconscious, Mike was so worried for Tina but after a few seconds, Tina woke up and Mike was very happy. In
Silly Love Songs
, Artie sings
P.Y.T. (Pretty Young Thing)
while Mike is dancing to it, they dedicate it to
Brittany
and Tina. After the song Tina sang
My Funny Valentine
to Mike to show him how much she loved him. In
Blame It on the Alcohol
, Tina and Mike both attended
Rachel
's party. In
A Night of Neglect
, they are both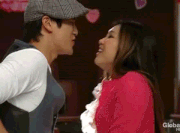 in the
The Brainiacs
. When Tina performs
I Follow Rivers
but is booed out by the
The Heckling Club
,
Mike
comforts her when she is crying because of the result of her performance. In
Born This Way
, Mike calls Tina a "self-hating Asian" because she's wearing blue contacts but in the end of the episode it is shown that they're kissing and
Mr. Schue
stops them. In
Prom Queen
, Mike escorted Tina to the dance and they are both caught again kissing in the song
Jar of Hearts
. In
The First Time
, she reveals that she lost her virginity to Mike over the past summer. Mike again escorted Tina to their second prom in
Prom-asaurus
and shared a kiss during
Take My Breath Away
. In
The New Rachel
, Tina reveals she broke up with Mike over the summer, despite getting a tattoo before saying 'Mike Chang Forever', which she changed to 'Make Change Forever' after their break-up. Tina makes clear that she still in love with Mike, and still remain good friends. However when he returns to help out with the musical, Tina tries to avoid him altogether as it is still slight uncomfrontable. At the end of the musical, Mike and Tina re-think their break-up and consider doing some further talking.
Main article: Artie-Tina Relationship (Tartie)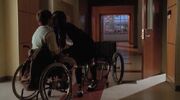 Tina and
Artie
were friends long before joining Glee. Upon seeing the notice board, it was Tina who helped Artie sign up, due to his being unable to reach the sign-up sheet in his wheelchair. After joining, Artie and Tina began to show a mutual attraction to one another, with Tina having immense respect for Artie being handicapped and yet not letting it stop him from living his life. Artie meanwhile feels a kinship with Tina, because of her stutter. When the Glee is forced by
Mr. Schuester
to use wheelchairs, Tina's respect grows and at last the two go on a date, which culminates with a kiss. After the kiss, Tina admits that her stutter is fake, which disappointed and angers Artie, who breaks off the relationship. Afterwards, it appears the two of them have remained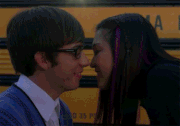 friends, as there has been no obvious ill-will between the pair. Later, Artie becomes a bit sexist and doesn't treat her well, which leads to her "going over the edge," but the two make up and kiss for a second time. In Season Two, it's revealed that Tina broke up with Artie over the summer, during which time she started dating
Mike Chang
. She says that he was a bad boyfriend who only wanted to watch
Coming Home
whenever they hung out. She also stated that he didn't call her for several weeks, to which Artie weakly defends was because there was a Halo marathon. Hating the fact he lost Tina, Artie has sworn to find a way to win her back, however Artie has moved on, started dating
Brittany
, but later they broke up. They appear to be good friends in Seasons Three, Four, and Five.
Main article: Kurt-Tina Relationship (Kurtina)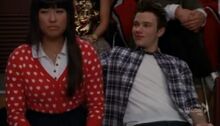 Tina pretended to be
Kurt's
girlfriend in
Preggers
to hide Kurt's homosexuality from
his father
. Though it was not an actual relationship, the two appear to be friends. Kurt also stands up for Tina in
Theatricality
. In
Never Been Kissed
, they walk through the hallway while they talk about sweater trends. In
Hold on to Sixteen
, Tina and Kurt sing together with Mike and Quinn at the Sectionals
ABC
. During
Tina's Dream
in
Props
, Tina and Kurt switch roles with Rachel and Finn, making them a couple in her warped fantasy.
Main article: Blaine-Tina Relationship (Blina)
They join the cheerios together in
Swan Song
. Despite only spending a single day on the cheerleading squad, they remain friends after that. Tina even realizes that she feels for Blaine as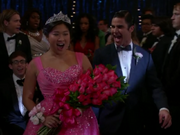 more than a friend, and even organizes a sadie-hawkins dance, with the sole purpose of being able to ask Blaine to go to the dance with her. Blaine rejects her at first, but agrees to go with her later on. Despite the fact that Blaine is attracted to men, and even shares having a crush on Sam with her, Tina works herself up on her feelings for Blaine. In
Diva
, she helps him with a cold he's struggling with. In return, Blaine helps her with the weekly glee-club assignment. While they are brain-storming ideas, Tina tries to find a way to get clsoe to Blaine, although Blaine falls asleep while she is doing so. She then spreads vapor on his chest. Furious at Blaine for not reproducing her feelings, she dedicates
Hung Up
to him. It makes her realize that her crush on Blaine has no future, and she does gives up on it. They remain friends following that, and make their final days at school count together with Sam.
Songs
Total = 80
Appearances
Trivia
Jenna revealed in a podcast that Ryan originally wrote Tina to have Tourette's syndrome but this was scrapped for unknown reasons.
I Kissed a Girl marks Tina's first and last solo of the series.

However, the first time she performed it the song was unreleased.

In the novel Glee: The Beginning, it is revealed that Tina has an older sister.
Tina is of Korean origin, as stated by Marley (Previously Unaired Christmas).
She and Artie were in glee club the longest, they joined in their first year and left when they graduated.
Rachel and Tina are the only members of New Directions who have each sang a solo, a duet and in group performances in Competitions. 
In New Directions, it is revealed that Tina was adopted.
Tina was the second character to hit 100 episodes. The first being Artie.
Tina is the only one of the original six, who sang less than 100 songs.
Alongside Mercedes, Will, Rachel, and Artie, she is one of the only characters to have at least one solo per season, however, unlike the others, her Season Five solo, Revolution, was never released.
Season 4 is the only season where Tina doesn't kiss anyone.
Jane Lynch stated that Tina was her favorite character.
She is the only female member of the original New Directions to have never kissed or been romantically involved with Puck.
She is the only female member of the original New Directions to have never left the club.
Gallery
Quotes
Main article: Tina's Quotations
Community content is available under
CC-BY-SA
unless otherwise noted.