'Glee' Profile: Tina Cohen-Chang
Play Sound
"

It takes a lot of crystals to make something shine.

"

—Tina Cohen-Chang, Props
Tina Cohen-Chang is a major character on Glee. She was a series regular up until Season Six, where she became a recurring character. She is an alumna of William McKinley High School, where she actively participated in the school's Glee Club and was one of the New Directions' original members. She currently attends Brown University, and is best friends with Blaine Anderson, Sam Evans, and Artie Abrams. At the beginning of Season One, she pretended to have a stutter, which she claims to have started when she was younger, to push people away due to her shyness. Now, she appears to get along with most of the other members in the Glee Club. Since Season Two onwards, her character seems to become more confident and outgoing. In Season Four, she develops a feisty, sassy personality, that continued in Season Five and Six. She is also the winner of 'Diva Week' in Diva. She won Prom Queen in Tina in the Sky with Diamonds.
Tina dated fellow glee club member, Artie Abrams, but she started seeing Mike Chang before breaking up with Artie (whom she later dumped in the lunch line at school), as they had fallen in love at Asian Camp during the summer. The relationship between Tina and Mike has been the longest-lasting relationship of any to appear on the show to date, lasting two entire seasons, without any break-ups. However, by the start of Season Four, Tina has broken up with Mike, choosing not to commit to a long-distance relationship. She also said that she is still in love with Mike and they remain close friends after the school's production of Grease after they agreed to talk. She develops a crush on Blaine Anderson later on in the season, which then develops into a close friendship.
She graduated in the 2013 McKinley High School Class in New Directions, along with Blaine, Sam, Brittany, Artie, Becky and the rest of the seniors. She was accepted to Brown University.
She returns in the last season of the series to help Rachel and Kurt recruit new members for the rebooted glee club. Later, she helps Becky (alongside Quinn) in her relationship with her boyfriend (Darrell), and then she returns for Brittany's, Santana's, Kurt's and Blaine's double wedding, while, at the same time, she proposes to Mike, who declines her offer, much to her dismay. In Dreams Come True, it is revealed that in 2020, she stars in Artie's film, which got into a film festival, also she and Artie are getting back together.
She is portrayed by actress, singer, and author Jenna Ushkowitz.
Biography
Tina and Artie sign up together. It is notable that Tina has a conspicuous stutter and even stutters when she is writing. She auditions for the Glee Club with the song
I Kissed a Girl
by Katy Perry, in which she finishes the performance with a thigh slap. She makes it into the club. The first song the Glee Club sings together is
Sit Down, You're Rockin' the Boat
, which they are all frustrated by as they feel their talents aren't being put to good use. Later on Tina, along with everyone else who auditioned moves on to watch
Vocal Adrenaline
perform a show-stopping rendition of
Rehab
, which leaves the club speechless. After
Mr. Schuester
attempts to quit Glee, because his wife
Terri
told him she was pregnant, Tina performs alongside her fellow Glee Club members in
Don't Stop Believin'
which convinces him to stay.
Tina first appears practicing runs with Mercedes and Artie in the parking lot. She later rehearses Le Freak with the Glee Club and performs Push It with the Glee club in front of the whole school at their assembly. At the end of episode, Tina can be seeing doing back-up vocals for Take a Bow along with Mercedes.
When Will is too busy with the Acafellas and has no time for the Glee club, Tina and the girls go in search of Dakota Stanley, the choreographer of Vocal Adrenaline. She and Rachel tell Mercedes not to pursue a romantic relationship with Kurt because he is gay and Mercedes will very likely be disappointed, but Mercedes rejects their advice.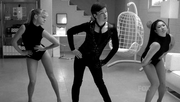 In the beginning of the episode Tina dances to
Single Ladies (Put A Ring On It)
with Kurt and
Brittany
in his basement, but his dad catches them. Kurt attempts to hide his sexuality by saying that Tina is his "girlfriend" and he told him that he auditioned for the
Football Team
and got in, he also told his dad that their dresses are actually the costumes for the football team.
Burt Hummel
, Kurt's father, tells Kurt to get him tickets for his first football game. Later in the episode, Mr. Schue awards Tina her first solo,
Tonight
, from
West Side Story
, because she hasn't had a solo yet. Rachel is incredibly angry at Mr. Schue, and threatens to quit if he has Tina sing Tonight instead of her. Later in the auditorium, when she performs the song, she is too sharp on the last high note and insists that she is bad and that the solo has to be given to Rachel. Mr. Schuester points out that her stutter is getting better from her boosted confidence. In the end, Mr. Schuester sticks with Tina, causing Rachel to leave the club to do the musical with Sandy.
April Rhodes,trying to win the trust of the club, teaches Tina and Mercedes how to shoplift, and the rest of the Glee club through a handful of methods. After April has Tina and Mercedes' trust, they tell Mr. Schue that she can stay. Tina worries that Quinn doesn't like them (referring to her sickness), but Puck instead reveals she is pregnant. Tina sings Last Name and Somebody to Love with the club.
Mr. Schuester proposes a mash-up competition, pitting the girls against the boys, and promises that the winning group will get to choose the opening number for the upcoming Sectionals competition. It is also shown that Mercedes is giving Tina a manicure and they are both laughing at a joke that Brittany told them. When time comes for the boys to perform their mash-up performance, the girls were all shocked at the amazing performance and will be a tough performance to beat. Terri gives Tina and the other New Directions girls a pseudoephedrine, enabling them to perform a hyper version of Halo/Walking on Sunshine, like what the boys did. In the end, Mr. Schuester finds out that Terri gave them all pills and is furious with both of the teams. As a result, there is no winner since both teams cheated.
Tina is chosen by Sue to be part of her "elite" Glee Club, the Sue's Kids, along with the other 'minority' students in the New Directions: Santana, Artie, Kurt, Mike, Mercedes and Matt. Sue refers to Tina as "Asian," but is somewhat confused with Mike because they're both Asian; however, Sue then calls over "Other Asian," ending any confusion. Tina is also present in the performance Hate on Me in which she belts in and she dances with the Glee Club members. Sue and Will have an argument and when the whole club heard Sue's insults about them, Tina leaves behind Mercedes. Finally, they all return to be a single group and perform Keep Holding On for Quinn.
At the beginning of the episode Tina along with Kurt, Mercedes, and Rachel are afraid to be slushied by Karofsky, but Finn is the one who ends up being slushied. Tina, Mercedes, and Artie wore raincoats to protect them from being slushied. Tina is one of the girls who defended Kurt from Finn along with Mercedes, Rachel, and Artie. She opens the door of the girl's bathroom when Kurt slushied himself. Tina later watches, happily, as Puck sings Sweet Caroline, and is later disappointed when Finn briefly quits the club.
Tina and the rest of the Glee club are given an assignment by Mr. Schue to ride in a wheelchair for at least 2 hours a day, to be in Artie's shoes after the seemed insensitive to his condition. Tina later takes an interest in Artie and his disability, and admits to Artie after rehearsal: "I really admire you, Artie. How did it happen?" Artie then confesses to Tina that he was caught up in a car accident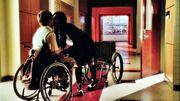 when he was eight, and that was how he got in a wheelchair; Tina is probably the first student he told. He also adds "I still have full use of my penis," which causes Tina to blush out of embarrassment and leave. Eventually, she goes on a date with him in the hallways of McKinley after the school closes. They have a wheelchair race which Artie wins. She kisses him and reveals that she has been faking her stutter in order to avoid talking to people due to her shyness, starting in the sixth grade. Artie is hurt, as he finds it offensive to fake a disability, and comments that as while Tina can just go back to normal, he can't, and out of rage and shock, he leaves Tina. Tina later sings in the performance dedicated to Artie,
Proud Mary
, where she is given a considerably large solo, and during the performance, Tina smiles at Artie sadly.
The students draw names out of a hat to pick partners for their ballad assignment. Tina is paired with Mike Chang. However, instead of singing their ballads, they end up singing Lean on Me with the rest of the club to Finn and Quinn. In this episode, Tina reveals that she has rosacea, which is currently "acting up" in this episode during all the "baby drama," as Tina puts it.
Tina and the rest of the club watch the Jane Addams Academy girls perform. She receives lessons in "hairography" from Brittany, and then performs Hair/Crazy in Love with New Directions, and is partnered up with Mike Chang. Finally, she gets her first complete solo when she performs True Colors, with the rest of the club on back up vocals.
At the beginning of the episode Kurt is showing the whole club the Thunderclap (McKinley High's yearbook) and telling them that they better not to be in it due to all previous years' photos being defaced by the whole school, and it will also save them from hours of countless ridicule. Tina along with the rest of the club, (except for Rachel) is scared of the yearbook photo because photos of unpopular kids/groups always end up being defaced. In the end, she poses for the yearbook photos with the Glee Club, but is defaced by Karofsky. She, along with the whole club, also help with the mattress land advert, providing backup vocals and dancing with Brittany, Mike, Artie, Finn and Mercedes.
Tina and the club discover that that father of Quinn's baby father is really Puck. At Sectionals, she, along with the rest of the club, find out that the other teams have stolen their set-list. She can be seen in the background crying and Artie comforting her. Along with the rest of New Directions, she creates a new set list and performs You Can't Always Get What You Want (in which she gets a reasonably small solo) and wins the competition. Finally, the club dedicates My Life Would Suck Without You to Mr. Schue.
After winning Sectionals, Tina and the club set their sights on Regionals. When Rachel sings Gives You Hell, Tina sings with the club providing background vocals for Rachel. She later threatens Rachel alongside Kurt, Artie, and Mercedes for the risk she is taking dating Jesse St. James. Tina later sings in Hello, Goodbye.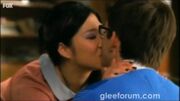 Tina and the other Glee girls discuss their boy problems, and she tells them about her troubles with Artie, in which Artie states he forgives Tina for faking her stutter, but wants her to wear tighter/seductive clothes if she wants him to be her boyfriend, which angers her. Later in a Glee rehearsal, when Will talks about the Glee Club boys not treating the girls nicely, she looks pointedly at Artie. She and other glee girls perform Express Yourself, and she attends the rehearsal in which Jesse joins the club. Artie's misogynistic attitude leads her to confront him angrily, but Artie later apologizes and the two mend their relationship after Artie admits he'd propose to her if he could and Tina then kisses him.
Tina and Artie, concerned for Mercedes' health after she begins to starve herself under pressure from Coach Sue to lose weight, express their unwanted concerns. In a hungry haze, Mercedes imagines Tina as a cupcake. When kicked out of the auditorium, Tina and the club practice at April Rhodes' new roller rink. She also watches and harmonizes during Mercedes' performance of Beautiful. Later, Tina and the rest of the club sing backup to April during the song Home.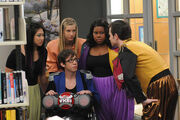 When Mr. Schuester later interrogates Tina over a "Glist," she insists Puck posted it. She also attempts to gain a bad reputation by singing
U Can't Touch This
in the library with Kurt, Brittany, and Artie, and she blushes and looks embarrassed when the librarian claims their performance is "cute."
Tina is mostly seen in the background throughout the entire episode. She also performs backup vocals in One.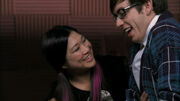 Bryan Ryan visits the club and tells them that their dreams will never come true, greatly upsetting Tina, who cries because performing is the career she wants to pursue. She is also present during the fantasty performance of Safety Dance that took place in the mall while Tina went to get ice-cream for Artie, although she does not provide vocals, she does back-up dance. She later confronts Artie on his dream to dance and attempts to make a dance routine with him. She tries to tap dance with him, and Artie feels more confident, leading him to try and walk using a pair of crutches. However, he stumbles and falls in front of Tina, causing him to shout tearfully "Go away!", which upsets Tina, but she leaves. The next day she apologizes, and tells him she's been doing research on cure's for broken spines. She says she believes one day their will a cure for his condition, saying "If you can dream it, it's real." She then kisses him again and goes with him to purchase tap shoes. After Artie realizes his dream won't come true for a long time, he asks Tina to dances lead with Mike during Dream a Little Dream of Me instead of him.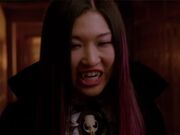 Principal Figgins orders Tina to lose her goth look or be suspended, as he believes her style of dress encourages vampires. Tina goes into a slump, not knowing how to dress. She comes into school the next day dressed plainly, which causes concern for Mr. Schuester, and for the rest of ND to stare at her. The Glee Club then suggest different styles for her to wear, none of which she approves of. She becomes inspired by Lady Gaga and, along with the other Glee girls and Kurt, sings Bad Romance, in which she gets a considerable solo to sing by herself. She is wearing Lady Gaga's bubble dress for the performance and for the rest of the day. She is also picked on by two bullies, but is defended by Kurt. Despite this, she still gets pushed up against the lockers, and it is heavily implied Karofsky and Azimio beat up her and Kurt. Sick of the Gaga look, Tina pretends to be a vampire and scares Figgins into letting her dress the way she wants. She claims that her father is a vampire, and that Asian vampires are the worst. She is then able to wear the clothes she likes again. She announces this in Glee Club, and the whole club cheers for her as she takes a bow. She also confronts Karofsky and Azimio with the rest of the Glee Club when they harass Kurt.
Tina then goes into yet another slump when Jesse leaves the club and returns to Vocal Adrenaline, but soon gets over it and performs Give up the Funk to scare her competitors. While performing she pauses and looks at Artie. She says that when Vocal Adrenaline toilet-papered the choir room that "It feels like someone invaded our home."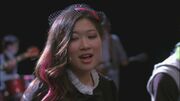 Just before Regionals, the club learns that Sue will be a judge and is planning on destroying them, which causes Tina to cry. She tells the club that before joining, she had two Facebook friends—just her parents—and expresses her belief that being a part of the Glee Club made her special. She sings the medley of
Faithfully, Any Way You Want It/Lovin' Touchin' Squeezin'
and
Don't Stop Believin'
with the rest of the club and is confident of their upcoming success. Tina accompanies Quinn to the hospital and waits for her to give birth before returning to Regionals and discovering that they have lost. On returning to school, Tina and the New Directions tearfully sing to
To Sir, With Love
to Mr Schue (In which Artie harmonizes for her while she sings her solo part), fearing that because they didn't place at Regionals the club will be disbanded. She also confesses that before Glee Club "I had a stutter." Artie stares at Tina as he admits that before Glee Club he never kissed a girl before. However, Sue allows the club an extra year and Tina happily holds hands with Artie and listens as Mr. Schue, overjoyed, sings
Over The Rainbow
to them.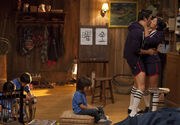 At the beginning of the episode, Jacob Ben Israel aggressively questions the Glee Club members about their summer activities. He asks Tina and Mike, "What can you say about the rumors that you two are dating?" and Tina replies, "Because we're both Asian? That's racist!" The camera catches them holding hands as they walk away, passing by Artie who is looking on in dismay. Artie wants to impress Tina by joining the football team, and goes to Finn for help. He tells Finn that Tina and Mike fell in love over the summer at Asian Camp, where they taught Asian kids about the arts. In a flashback, Tina sings Getting to Know You from The King and I while Mike dances, and they spontaneously begin kissing in the middle of the song. In another flashback scene, Tina breaks up with Artie, explaining that she was tired of his lack of attention as well as repeatedly watching the film Coming Home when they did spend time together. (In contrast, Tina and Mike share a mutual interest in Mike's abs.) Later, Tina and Mike discover through their connections in the Asian community that Rachel sent Sunshine to a crack house, and they alert Will. Disappointed, Will says that Rachel is better than such tactics, but Tina says, "No, she's an ambitious little freak who'll do anything to hold onto her power." At the end of the episode while Rachel sings What I Did For Love, Artie sadly watches Tina and Mike dance in the classroom happily. She also performs backup vocals in Empire State of Mind.
When Mr. Schuester tells the Glee Club that he wants them to do a song from Christopher Cross for an assembly, Tina says quietly to Mike, "Never heard of him, don't wanna hear about him," and Kurt instead proposes singing a Britney Spears song, which Tina looks excited about.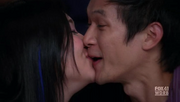 At Mr. Schuester's suggestion, Emma's new boyfriend
Carl
, a dentist, visits the Glee Club to talk about oral hygiene. Carl gives each of them a chewable capsule which will turn any plaque on their teeth blue. Tina and Mike have no blue on their teeth and proceed to kiss in celebration. Tina later appears in Artie's nitrous-oxide-induced Britney Spears hallucination, in which Artie sees Tina, Brittany, and Britney Spears talking about ranch dressing on pizza. Then Britney chastises Tina for breaking up with Artie, and Tina says, "I know, Britney. Artie, I'm sorry." Artie replies, "And I'm stronger," then gives Spears a high five. Tina is left looking sad. At the end of Artie's performance of
Stronger
, Tina is seen looking angry on a bleacher behind a sign reading "Loser." During Rachel's performance of
The Only Exception
, Tina and Mike sit together with Mike's arm around Tina, while Artie watches them sadly. Tina also provides backup vocals in New Directions' and Mr.Schue's performance of
Toxic
.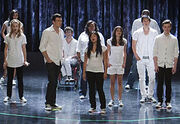 When Tina and the rest of the Glee members find out about
Burt
's heart attack, Tina gives Kurt a hug. Mercedes tells Mr. Schue that she wants to sing a spiritual song (
I Look to You
) to express to Kurt what she wants to say to him, with Tina and Quinn for back-up. When Kurt tells Mercedes that she did a great job, he admits to not believing in God. Tina says, "Wait, what?," which suggests that Tina believes in God. At the hospital, Tina is one of the people praying for Burt. After Sue intervenes to stop the club from singing religious songs during school, Tina says to Mr. Schue, "Last week we were too sexy, this week we're too religious? We can't win!" At the end of the episode, Tina sings the first and final solo parts in
One of Us
, standing next to Mike.
When Mr. Schuester tells the Glee Club that Puck is in juvenile hall, Tina says, "It really was just a matter of time." Later, Tina and Mike have a loud argument in the library about the duets competition and their relationship. Mike doesn't want to sing in a duet and would prefer to dance only. Tina has been to Dim Sum too many times with Mike and his mom, and wants to go to Breadstix, where she can get a salad without chicken feet in it. Mike tells Tina that they should go to Asian Couples Therapy to deal with their frequent arguing, and Tina asks rhetorically, "Why does the couples therapy have to be Asian?" Because Mike is reluctant to sing, Tina approaches Artie to be her duet partner, but he is already paired with Brittany, which Tina looks unsettled about. Tina and Mike remain duet partners, and though Mike is scared to sing in front of the group for the first time, Tina reassures him, and they perform Sing!. When it is time to vote for the best duet, Mike votes for himself and Tina by writing "Tina" inside a heart. Unfortunately, Tina and Mike do not win the competition.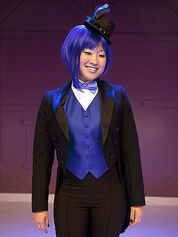 Mr. Schuester impulsively decides to have the Glee Club perform The Rocky Horror Show for the school musical in order to impress Ms. Pillsbury. When Mike says he wants to be Frank-N-Furter, Tina asks him if he is serious and he tells her that he is confident with his singing voice thanks to their duet, which makes Tina smile and hold his hand proudly. Tina and Brittany play Columbia. Tina and Mike dance together with the other couples during Carl's audition song, Whatever Happened to Saturday Night?. During the performance, Carl puts Mike's arm around Tina as he sings, "Your arm around your girl, you'll like to sing along!" In Sweet Transvestite, Tina plays one of the Transylvanians, wearing a tuxedo with a blue wig, a blue hat, and a blue vest. At the end of the episode, they all sing Time Warp. Tina and Brittany split Columbia's part, each having solo lines and a brief tap dance sequence.
Tina and Kurt are talking and walking down the hall together, when Karofsky shoves Kurt into the lockers, and Tina asks him if he is okay. When Mike and Tina are in the hallways alone, Mike tells Tina that one way to "cool off" while making out is by picturing Shannon Beiste. When Tina gets turned on during their subsequent makeout session, she imagines Beiste and says Beiste's name out loud. Mike is startled, and Tina runs out of the room. When Will tells the Glee Club that Coach Beiste quit after hearing about their cool-off technique and that they should be ashamed, Finn clarifies that it was only the boys (and as Mike points out, Tina) who did it. Tina is present during the "glee girls meeting" and performs Start Me Up/Livin' on a Prayer with the girls for the mash-up competition.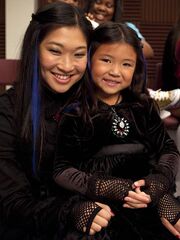 Will gets sick during school and hallucinates the entire Glee Club, including Tina, as small children. Before Glee Club starts, the students plan to play pranks on the substitute teacher; Tina, Artie and Mercedes decide to all swap their names. However their substitute, Holly Holliday, wins most of them over with her performance of Forget You, in which Tina is partnered up with Sam, who she playfully pushes away. She also provides backup vocals. When Will returns to his job after recovering from his illness (as well as being fired, then re-hired, by Sue), Tina tells him, "Don't get us wrong Mr. Schue, we always want you as our teacher. She was just kind of a nice break." Tina performs back up vocals in Singing In The Rain/Umbrella.
Rachel gathers the Glee girls with boyfriends on the football team (Tina, Quinn, and Brittany) to propose that they tell their boyfriends to defend Kurt from Karofsky's bullying. Tina asks Brittany if she and Artie are officially dating, and Brittany coolly replies, "Deal with it." Later in Glee the guys are recounting their fight with Karofsky in the locker room, and Tina explains to Mr. Schuester that all the guys present, except Finn, helped take on Karofsky. Tina is paired with Mike and performs in Marry You at Burt and Carole's wedding. During this performance, she gets a small dance and vocal duet with Mike. She even gets a line to sing by herself. At the reception, Tina and Mike sit together while Mr. Schue performs Sway, and she performs with the rest of New Directions in Just the Way You Are. When Kurt informs the club that he is transferring to Dalton Academy, they are shocked and upset; Tina tells him he can't leave, but Kurt has made up his mind.
Mr. Schuester tells the Glee Club that they are going to feature Mike and Brittany's dancing at Sectionals in order to stand out from their competition, and then announces that Rachel and Finn will not be singing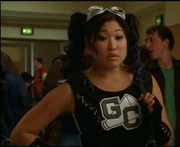 the leads. This information makes Tina smile. Finn tries to object, reasoning that "you don't take the star quarterback out before the big game," but Tina replies with "Easy to say when you're the star quarterback." While the group discusses their low expectations for Sectionals, Tina says that that they shouldn't clap if the
Warblers
win, because it would only be because Kurt left McKinley and joined the Warblers. Tina also claps for
Lauren
when she joins New Directions. Later, Tina warns Artie about her suspicions that Mike and Brittany are cheating on them with each other. She is suspicious because Mike is wearing the same Lip Smackers Brittany does. Out of insecurity that Mike prefers cheerleaders to goths, she dresses as a (gothic) cheerleader to try and impress him. Artie however taunts her dress sense, saying she looks like a "cheerleader zombie corpse," and ignores her advice. At Sectionals, tensions are high among the Glee Club members; Tina tells Mike that he is a jerk and joins Rachel and Artie in threatening to not perform. After Mr. Schuester steps in, they all go onstage to perform their songs. Tina does back-up with the rest of the Glee club for
(I've Had) The Time of My Life
and
Valerie
. It is later revealed that Mike and Brittany were not having an affair. The club ties for first place with the Warblers, and when Mr. Schuester offers Rachel a celebratory solo in Glee, she defers to Tina and Mercedes, whom she calls "unsung heroes." Together, Tina and Mercedes sing
Dog Days Are Over
with the rest of the Glee club as their back-up.
Christmas spirit, though Mercedes says that everyone still says that they are losers. (In a flashback, Mercedes, Tina, and Mike get hit with neon green slushies.) After Brittany tells Artie that she still believes in Santa Claus, Artie, Santana, Brittany, Quinn,
Sam
, Mike, Tina,
Lauren
and Mercedes all go visit the Santa at the mall. When it is Tina's turn to sit on Santa's lap, she asks, "When does Asian Santa arrive?" Later in Glee, Tina tells Mr. Schue that someone took everything that the Glee Club was going to give to the homeless, not knowing that Sue had secretly taken all of the presents back and ransacked the club's Christmas decorations. To make up for the loss, the club decides that the boys will sell their watches, and the girls will cut their hair for money. Tina unhappily says that she will look like Jackie Chan once she cuts her hair, and criticizes Quinn for complaining, as according to Tina she can "pull off that look." When the Glee Club comes back from singing
Welcome Christmas
to the teachers, Tina becomes emotional at the sight of Artie standing up with the aid of a
ReWalk
.
the Glee girls want to join the football team. Tina tells Mr. Schuester that they convinced their parents to sign permission slips allowing them to play. The girls' plan is that they will lie down on every play in order to avoid being hurt; unfortunately, this allows the other team to score easily. During a huddle, Tina says that she is tired of lying down on the ground and wants to play. On the very next play, she picks up a fumbled ball and heads down the field with it, but is tackled hard by an opposing player and appears to have been knocked unconscious. Mike and the others hover over her, concerned. Mike fusses over her immensely asking "Is she breathing?" She slowly wakes up and asks if they won, and Mike smiles with relief and helps her up. Tina performs in the halftime show with New Directions and the football team, singing
Thriller/Heads Will Roll
.
Finn sets up a kissing booth to help raise money for the Glee Club. Santana mocks Finn about it, but the others push back against her habit of insulting people; Tina says, "Last week, you said Mr. Schue belonged in a twelve step program." When Mr. Schuester assigns the club to sing love songs, Artie and Mike decide to sing PYT (Pretty Young Thing) to Brittany and Tina. Tina sings My Funny Valentine to Mike, but is overwhelmed by her love for him and cries through the entire song, eventually collapsing on the floor in tears as Mike runs to her side and the rest of the club watches awkwardly. At the end of the episode, Tina, Mike, Mercedes and Rachel sit together at Breadstix, watching Kurt and the Warblers sing Silly Love Songs.
Sam sings Baby to Quinn in Glee Club, and Tina comments, "This is actually a really good song." The boys are mostly skeptical, but after seeing the girls' reactions, Mike, Artie and Puck want to join Sam's Justin Bieber cover band. Mike explains that all of their relationships are in a lull after Valentine's Day; in a flashback, Tina is more interested in playing "Angry Birds" than in kissing Mike or admiring his abs. Shortly after in Glee Club, Tina asks Finn why he's dressed like Justin Bieber. Like Finn, Tina also ends up imitating the fashions of her fellow Glee Club members; she, Quinn, and Santana dress in plaid skirts and carousel horse sweaters after Brittany popularizes Rachel's style. However, Tina and the others point out that Rachel's reindeer sweater is definitely not in fashion, and they are very disappointed in Rachel when she tries to take credit for the trend. Tina and Brittany sing and dance backup for Lauren's first solo, I Know What Boys Like. At the end of the song, Lauren gives Brittany and Tina choreographed shoves to the floor, but they are both quickly on their feet to be the first to congratulate Lauren on her performance.
Tina's goth-gear is back, as she no longer follows the "librarian chic" trend. Tina and the Glee members all attend Rachel's party, but they find it boring until Puck convinces Rachel that the party needs more alcohol. During the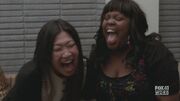 party, Finn identifies Tina as "The Happy Girl Drunk," along with Mercedes. At school on Monday, everyone is still suffering from lingering hangovers; Tina leaves her locker open because closing it will "sound like a gunshot," and pleads with Santana, Mike, and Mercedes to talk about anything else, but barf. Later they perform
Blame It (On the Alcohol)
and Tina is shown dancing with Puck. Rachel also attempted to hit on Mike, telling him he's great, while Tina came along and removes him from her. Tina performs in
Tik Tok
, the Glee Club's number for the school's alcohol awareness assembly.
Brittany thinks she's pregnant and reveals this to Santana, asking that it be kept secret, but Santana immediately turns around and tells Tina, who tells Puck, who tells Lauren, who tells Artie. During Holly Holliday's performance of Do You Wanna Touch Me (Oh Yeah), Tina joins in the dancing with the rest of New Directions.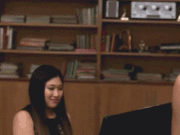 Rachel proposes that the club write original songs for Regionals, so Tina and Santana write a song called Trouty Mouth, about Sam's mouth. Tina plays the piano while Santana sings the song, but Sam is offended by the song and Mr. Schuester feels it isn't epic enough. Mr. Schuester is also skeptical about Puck's song, Big Ass Heart, and Mercedes' song, Hell to the No (for which Tina and the other girls sing backup vocals). He prompts them to write about times when they felt hurt—specifically, times Sue had hurt them. Mercedes tells him that Sue literally throws sticks at her, Santana tells him that Sue filled Santana's and Brittany's lockers with dirt, and Tina says that Sue called the Ohio Secretary of State saying that she was Tina and that she wanted to change her name to "Tina Cohen-Loser." These events become the inspiration for the song Loser Like Me. Meanwhile, Rachel writes Get It Right, inspired by a discussion with Quinn. At Regionals, Tina and Brittany sing backup for Get It Right, and Tina and the rest of New Directions perform Loser Like Me. New Directions wins, and Tina and Brittany are prominently shown celebrating. Tina is part of the unanimous vote for Rachel for Regionals MVP.
Nationals
, and will raise the money by selling saltwater taffy.
The students complain that the Glee Club is unpopular and will never be able to sell that much candy. Mike gets sick of the Glee Club's whining, and he says that he, Tina, Artie and Brittany are on
The Brainiacs
(the Academic Decathlon team), and they are even more ignored than Glee. The Brainiacs need $250 to go to their finals in Detroit, so Mr. Schuester decides they will sell more taffy to cover the Brainiacs' costs as well. However,
Holly Holliday
tells Mr. Schuester that a benefit concert would be a better way to raise money, and Mr. Schuester agrees, specifically saying that the Glee Club must do songs by neglected artists.
Tina says that she wants to do Lykke Li. She sings
I Follow Rivers
, but is booed out by
The Heckling Club
and
Sandy Ryerson
, who are part of Sue's plan to take down the Glee Club. In the green room, Tina says it is the worst she's ever felt in her life, and Holly later says Tina spent a whole hour crying. However, Mercedes' performance of
Ain't No Way
causes Sandy to have a change of heart, and he funds the
Brainiacs
' trip to Detroit. The Brainiacs go to the Academic Decathlon finals, and it is implied that they win.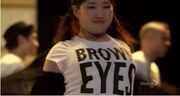 During Glee Club practice, Santana says that she's sure that Tina has been trying to get her eyes de-slanted, and Tina replies, "That's extraordinarily racist. Sorry Santana, I'm a beautiful person, I'm in love with myself and I would never change a thing." However Mike calls her out, asking her if that's why she's wearing blue contacts, and mutters under his breath, "self-hating Asian." She protests that there aren't many Asian sex symbols and she's only trying to be in fashion. After Rachel shows the Glee Club photos of what she'll look like with Quinn's nose, Tina tells Rachel that they all think her nose job is a terrible idea. Rachel says that Tina is a hypocrite, and Tina admits that she doesn't like the shape and the color of her eyes sometimes, but Rachel's self-hatred has made Tina see the light. Her new goal is to "be the change you want to see in the world" – if she doesn't see many Asian sex symbols, she'll have to become one. Mike then says "I love you so much right now" and they passionately make out, Only to be pulled away Will. Later at the mall, Tina dances along with Mike, the rest of New Directions, and dozens of mall-goers as they all try to convince Rachel to not get a nose job with a flash mob performance of
Barbra Streisand
. The week's Glee assignment is about self-acceptance, and for their final performance, they all wear white shirts saying something about themselves they're uncomfortable with. Tina's shirt says "Brown Eyes." Tina has a solo in
Born This Way
.
Tina and Mercedes are Brittany's first guests on her new internet talk show Fondue For Two, where she introduces them as "the school's biggest gossips." Tina asks Brittany, "Shouldn't it be 'Fondue for Three'"? Brittany begins the show with a rumor about the janitor drinking vodka from a teapot. Tina adds that the janitor is a "hot mess" and then changes the subject, saying, "the rumor about Asian men: not true." Tina and Mercedes are both shocked when Brittany says that she can confirm a rumor that Santana "plays for the other team," evidently thinking that Brittany has just outed Santana as a lesbian. However, they are distracted by the arrival of Lord Tubbington, and then react with disgust when Brittany allows him to eat directly from the fondue pot. Later, Tina is at The Lima Bean with several other Glee Club members discussing the rumors about Sam. Tina wonders about his background and speculates that Sam could very well be a serial killer given what they know of him, though Quinn insists he is not having any secret affairs. At the end of the episode she sings background vocals in Don't Stop.
Tina tries on prom dresses with
Santana
,
Brittany
, and
Lauren
, and they get
Kurt
to come with them. Tina explains that getting a thumbs up from Kurt is like getting a thumbs up from Joan and Melissa Rivers. In home economics Tina and Brittany sit together and make cupcakes. Brittany doesn't want to crack her egg because she doesn't understand the difference between an egg with a baby chicken in it and an egg without it. Frustrated, Tina says that there is no difference, confusing Brittany even more. Artie goes into the classroom and sings
Isn't She Lovely
to Brittany to ask forgiveness for what he did in
Rumours
. Tina and the rest of the students are surprised and charmed by the performance, but Brittany declines Artie's invitation to go to the prom. On prom night, Mike escorts Tina to the prom and they dance together throughout, though during
Friday
Tina has to pull Mike away from an overenthusiastic Brittany. Tina and Mike are shown kissing passionately while slow-dancing along with other couples to Rachel's performance of
Jar of Hearts
. Later at prom, Tina sings
I'm Not Gonna Teach Your Boyfriend How To Dance With You
with Brittany and Blaine. Tina whispers to Mike that she feels bad for Kurt when he gets elected prom queen. During
Dancing Queen
, Rachel and Tina start to dance and Tina invites Mike to dance. Tina and Mike have their prom picture taken, and they are shown enjoying themselves with the rest of New Directions as the song ends and balloons drop onto the crowd.
Tina attended Jean Sylvester's funeral with the entire Glee Club. During Jean's funeral, the Glee Club perform Pure Imagination. Tina begins the song with the spoken words from the film: "Hold your breath. Make a wish. Count to three." Tina also has a solo in the song, along with Finn, Kurt, and Artie.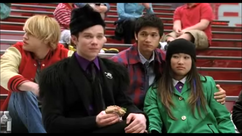 The whole club has lunch in Times Square and discusses their plans for New York City. Tina says that she wants to go to Central Park and get her frolic on, but Finn reminds them that they still have to write two songs for Nationals. At the hotel, Mr. Schuester likewise tells them they need to stay in the room and write. Tina asks Mr. Schuester if he'll help them write the songs, but he makes excuses and leaves. Not long after, the whole club watches Brittany and Artie's performance of
My Cup
in confusion and disbelief. Tina asks Brittany if they are singing about a cup, and when Brittany says yes, an exasperated Quinn says they need to find inspiration outside of their hotel room. They go out into the city, and Tina is shown pushing Artie in his wheelchair as the New Directions run around singing
I Love New York/New York, New York
. Afterward in the girls' bedroom, Tina joins in a pillow fight with the other girls, and Kurt, while Rachel tries to write a song. At Nationals, Finn and Rachel sing a duet (
Pretending
), then New Directions performs
Light Up the World
, in which Tina has a brief duet with Artie. After the song, the whole crowd cheers for them and Tina hugs Mike and Brittany. But to everyone's disappointment, the club doesn't place in the top ten, and consequently does not move on in the competition. Back in Lima, Brittany is philosophical about the club's loss and explains to Santana that she loves everyone in the club like family; for example, she knows that she'll be a bridesmaid at Mike and Tina's wedding, and will be anxiously waiting to see if their babies will also be Asian. At the final Glee Club meeting of the year, Tina cheers and applauds with the rest of New Directions when Mr. Schue shows off their tiny 12th-place trophy from Nationals.
It is shown that Tina is no longer goth. In Jacob's interview, Tina explains that she and Artie are juniors. She also says Mike is a senior. When Tina starts to sing a song while playing the piano, Sue rips out the piano strings. Later, Tina performed with New Directions in We Got the Beat and at the end of the song a food fight occurs. In the end, Tina and the others receive Blaine Anderson's arrival at the club and everyone sings You Can't Stop the Beat, where Tina gets a solo.
Tina encourages Artie to be a co-director of the play and he accepts.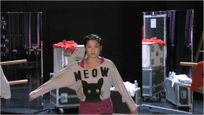 We see that Tina has joined the
Booty Camp
.
Principal Figgins
says that Tina is a bad influence. At the same time we remember that she, dressed as a vampire, forced him to make her pass PE. During Mercedes' solo, Tina sings in the background with Brittany. Tina then asks Mike if he is ready to audition for the role of Riff. Mike says he will not make the audition, even though Tina has been helping with his voice. At that time, Mike says he got an A-, which Tina calls an "Asian F." Tina encourages Mike to tell his father that his real dream is dancing and not to lie anymore, but Mike reminds her that she pretended to stutter in Season One. Mike leaves and Tina stares at her boyfriend, with a sad expression. Tina dances with Brittany, during
Run the World (Girls)
. While Mike is practicing his dancing, he imagines
that Tina is with him. She tells him she loves him because of who he is, and tells him to follow his dreams, they share a hug. After Mercedes gets angry with Mr. Schuester, she resigns from the Glee Club, and imagines that she's singing
It's All Over
in which Tina is present however she does not get any lines. In the tie-breaker between Mercedes and Rachel, Tina and New Directions are present. Finally, when it is revealed that Mike has won the role of Riff, Tina happily hugs her boyfriend. At the same time, she sings along with New Directions and Will, during
Fix You
.
Tina is shown crying because Mercedes left the Glee Club. She said she's sad because Mercedes is one of the original members of New Direction and she feels naked without her, so Santana tells her to suck it up. She also blamed Artie for not giving the role of Maria to Mercedes. Later in episode, she, Artie, and Kurt are visiting Mercedes while The Troubletones practicing. Tina also sings Last Friday Night with Blaine and New Directions. In the end of the episode, Tina watches the audition of Rory Flanagan to be part of New Directions.
Tina reveals that she lost her virginity to Mike over the summer and tells Rachel it was one of the best things that has happened to her. She also plays Consuela in the school production of West Side Story and has small solos in America.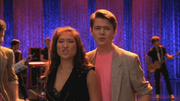 When Will Schuester and Shelby Corcoran call both groups to inform them that they should compete with each other, while singing You and I/You and I. Finn had agreed to play dodgeball against The Troubletones, in which all of the members of New Directions compete and sing Hit Me with Your Best Shot/One Way or Another. New Directions presents a mash-up of I Can't Go For That/You Make My Dreams, in which Tina sings a duet with Rory. During the speech of candidates for class president, Tina is with Mike. When The Troubletones finish their presentation, all are surprised when Santana slaps Finn.
When Santana gets mocked by a guy in the hallway, Tina, along with Rachel, Mercedes, Quinn, Brittany, and Sugar all come and defended Santana. Later, they start to sing I Kissed a Girl and dance from the hallway to the choir room, in which she is partnered with Quinn. Later in the episode, she asked Quinn if she's alright.
Red Solo Cup
. Later, she encourages Mike to send application to dance school. Mike reveals that he plans to study pre-med and become a doctor to please his dad. Tina doesn't agree and tells Mike to follow his dream and not to be a coward. Then, she goes to Mr. Chang's office and gives him a bootleg of McKinley's performance of West Side Story. She tells him that Mike is doing something he hates just to please his dad. She also says she wants to be a performer, because that's what she was born to do, same as Mike. Mr. Chang rejects the bootleg,
but before leaving the office, Tina asks Mr. Chang to honor his son's gift. Before sectionals, Tina and the others prepare in the choir room. Mike's angry because Tina talked to his father, making things worse. They then perform
ABC
, which Tina leads. Mike's dad walks in to watch the performance. After the performance, he talks to Mike and Tina, and says he's proud of him and now will support him to follow his path. After Mike says that he missed the deadline, Tina said she already sent applications to a dancing school for Mike, just in case. At the announcement of the winner, she stands front and holds Artie's shoulder. At the end, the Glee Club performs
We Are Young
. She along with the rest of the club greet Mercedes, Santana, Brittany, and Sugar back into New Directions.
Tina is present at the glee rehearsal, where she reminds her fellow club members of the less-than-ideal Christmas the year prior. She attempts to say that this year's Christmas will be better, but is interrupted by Mr. Schuester as he announces that the Glee Club has been selected to star in the Christmas special for the local television station. She later stars in the Christmas special, acting as one of the three star dancers in Christmas Wrapping, alongside Brittany and Santana. Following the Christmas special, Tina and the other Glee Club members join Sue, Sam, and Quinn at the homeless shelter, where they join in Do They Know It's Christmas?
proceed to perform
Summer Nights
. She is later seen in the choir room when Will announces he is planning on proposing to Emma. She is next seen with Santana, Mercedes, and Rachel with their idea for how Will should propose to Emma. They then sing
The First Time I Ever Saw Your Face
. After which Mercedes runs out. Tina, Santana and Rachel follow Mercedes to the bathroom where she is crying and ask her why she is. Tina is last seen with New Directions during
We Found Love
.
Tina is seen during Wanna Be Startin' Somethin' as back up vocal and back up dancer. She is next seen dancing during Bad. She is last seen with the rest of New Directions questioning if there is a some sort of Show Choir Council they can complain to due to the Warblers stealing their idea. She is not seen in Black or White for some unknown reason.
Tina and Mike perform a duet of
L-O-V-E
. When Rachel and Finn announce their engagement, Rachel expresses her sadness that she wouldn't see Quinn or Kurt as bridesmaids. Tina interjects that she'd be happy to be a bridesmaid for her. She says she may not be ready to get married, but she does know what love is, as she looks to Mike and takes his hand. She and the other New Directions look in with Artie performance of
Let Me Love You
. She witnesses Mercedes' performance of
I Will Always Love You
. Later she looks sad as Rory announces that he won't be able to stay at McKinley next year, as he starts his version of
Home (Michael Bublé)
. Next she is seen at
Breadstix
with Mike. It can be observed she is very happy in the performance of
Cherish/Cherish
. Later during
Love Shack
, she dances along with the other guests at the party.
When Mr. Schue had to tell everyone what they want, Tina said she would like to sing a song, resulting in the New Directions laughing along. Then she sang at the
Regionals
with New Directions, backing up. Before the wedding Finn and Rachel, when he entered Mercedes told him to go because he can't see the bride before the wedding, Finn said that he saw her, and Tina said it was bad luck. Her absence in The Spanish Teacher was explained in the Lima Bean when Sebastian confronted Rachel and Kurt that she had the flu, but was said in an offensive dialogue.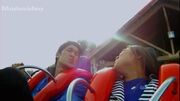 Tina cries when Quinn discusses her accident, and Quinn said that she doesn't need to cry. Later, she sits between Mike's legs when the seniors discuss ideas for Senior Ditch Day. Tina is the only junior present. Later, she is happy when
Cooper Anderson
will teach the Glee Club about acting, and she sings the last refrain of
Hungry Like the Wolf/Rio
with the other members of the Glee Club. She later attends Cooper's "Master Class" on acting, and is seen to take several notes. Tina is used as the dead body for the groups NCIS scene, and joins the seniors during Senior Skip Day at Six Flags.
At the beginning of the episode Tina is watching the You Should Be Dancing performance sung by Blaine, Brittany and Mike. She sings and dances in Night Fever with New Directions in the Dance-off for the John Travolta white suit. Tina and the rest of the Glee Club later enjoys Mercedes, Brittany, and Santana's rendition of Disco Inferno and also Santana's solo of If I Can't Have You. She dances with Mike during More Than a Woman. Later Tina asks who won the John Travolta white suit replica, and then she performs Stayin' Alive with the rest of the Glee Club in the auditorium with the John Travolta white suit.
In the choir room, Will tells the group they will be singing Whitney as a way to say goodbye to her and to each other and the high school. Tina is seen consistently with Mike. After the performance of
Saving All My Love For You
, in the girls bathroom, Tina and the others girls confront Quinn about her and
Joe
's relationship. Quinn tells them that she thinks Joe isn't into her because of her chair. When Blaine sings
It's Not Right, But It's Okay
, dedicated to anyone who has been cheated on, Tina joins the rest of New Directions in directing confused/shocked/worried looks at Kurt and eventually joins the back-up singing. Tina and Mike arrive in the auditorium to join the rest of the group in singing
My Love Is Your Love
.
Tina is seen in the hallway with the girls (excluding Rachel and Quinn). She laughs when Santana makes a comment about Beiste looking like she's been beaten up based on her black eye, she is present when Roz tells them off because domestic violence isn't a laughing matter. She acts the role of Christine in Kurt's performance of
The Music of the Night
which he is considering for his NYADA audition. Sue and Roz tell the girls about how serious and how abuse is such a threat, and they assign the girls a number to perform about women who have become weak due to being in a relationship where they feel trapped. Tina performs solo lines in
Cell Block Tango
, with the girls, but their performance makes Beiste uncomfortable, giving her no other choice to leave, they are also told how they misinterpreted their assignment in which Sue and Roz are disappointed. Tina seems hurt when Beiste confesses to being beaten by Cooter. The girls perform
Shake It Out
in honor of Beiste, because they owe her a song, which leaves Beiste in tears.
Tina is there when Brittany announces the theme. She later walks in to prom with Mike, excited. Tina performs
backup to Santana for
Love You Like a Love Song
with Brittany. She is seen enjoying the guys performance of
What Makes You Beautiful
. She pours some punch into a cup and Sue accuses her of spiking her annual prom punch but she re-assures her, she was just getting a drink because she was dehydrated from all the crying, but Sue doesn't listen. As she dances with Mike, she starts crying saying she doesn't want the year to end. She and Mike kiss, and take a picture together to remember the year.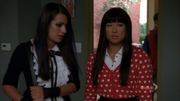 Tina is beginning to grow tired of Rachel always getting the solos, and when Will says that anyone who isn't up for trying and 'working their butts off' can leave, she stands up and tells them that they don't need her. Rachel attempts to make her stay by saying she 'needs this' but Tina snaps back saying her choked audition is not a reason for her to get a solo at Nationals suggesting the rest of them may want a solo too. Mike tells Tina that Rachel is a senior thus she deserves the solo, before she answers back saying he is too but he will be sidelined to a dance break with Brittany. She then sarcastically answers back to Will about her being in charge of the costumes and tells him she is tired of being a 'human prop'. She finally storms out after Sue insults her and Mike chases after her, and argues that it is the 'Senior's time to shine' while Rachel attempts to bribe her into staying with $50. They have an argument before Tina leaves saying she just wants to just feel like Rachel for once. She then meets Blaine and Kurt at the mall, arms loaded with fabrics for the Nationals costumes and arguing with Mike on her phone. She turns down an offer to get Pretzels with Kurt and Blaine and she angrily says 'I can do everything Rachel Berry'can before falling into the fountain and hitting her head on the bottom.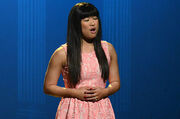 When she surfaces, she finds that Kurt and Blaine are now Finn and Puck dressed in their clothes as they attempt to help her up and bring her back to the choir room to prepare her solo for Nationals, before she realizes she is Rachel. While she seems to still be Tina in her head, as she returns to McKinley, She interacts with her fellow Glee Club members, all switched including Finn as Kurt, Artie as Santana, Santana as Artie, Brittany as Mercedes, Mercedes as Brittany and finally Rachel as Tina herself. Upon entering the Choir room, She is confused by her Nationals solo, and is comforted by Kurt as Finn before singing
Because You Loved Me
to the visibly impressed Glee Club members and receives her 'first standing ovation'.
After this, she seems to have fully committed to Rachel's personality, as when she approaches Rachel as Tina in the Hallway, complimenting her on her backing performances and telling her that next year is all her. Rachel as Tina says she is sorry about her NYADA audition not going well and tells her to not give up on convincing Carmen Tibideaux to give her another chance. After this she wakes back into the normal world, from when she falls into the fountain. She is relieved to see Kurt and Blaine in their normal bodies as they help her up. With Tina back to normal, she visits Rachel in the auditorium as she is doing vocal runs and tells her about her own 'body-swapping' dream and what she said to herself in it. She tells Rachel that Tibideaux is teaching a master-class and that she will drive her there to confront Tibideaux. Rachel apologizes for not making her feel important to the group, but Tina has abandoned her earlier feelings and embraced that everyone has their part to play and that this is hers before they share a hug. In the car, Tina asks Rachel how the wedding plans are going and if she believes they are going to win Nationals. Tina agrees that they must win for Will and reassures her that Tibideaux will not say no to her request. Rachel says she is really glad they are doing this together and Tina requests that they sing together before they leave for Nationals. When they finally meet Tibideaux, upon seeing Rachel's dreams continue to crumble, Tina tells Tibideaux that she knows how she feels about Rachel's irritating personality, but she gets what she wants because she is 'exceptional'. She continues to stick up for Rachel and leaves with her. Tina, Sugar, Joe and Rory are later sewing the club's National outfits, and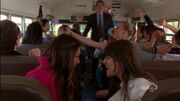 Sugar complains that they shouldn't have to do all the Seniors work. She tells Sugar, Joe and Rory that they should show Rachel some respect and that if they play their part and are good team players they will get their solos next year. Mike witnesses Tina sticking up for Rachel, and smiles at her and she smiles back. To cement Tina and Rachel's new found friendship and granting Tina's request, the two perform
Flashdance... What a Feeling
before getting onto the Nationals bus, and departing for Chicago.

Tina comforts and helps Mercedes when she is ill with food poisoning. Will decides to put her into the Troubletones for Nationals, along with Quinn to replace Mercedes. Later, she is seen on the sidelines as the majority of the group fight and argue with each other. When Will tells the group to take a half-hour break, Tina asks if they can continue to rehearse as they have the 'death slot' and need to be amazing if they want to stand a chance at winning, something Will accepts. Tina is delighted when Mercedes reveals herself to be well enough to perform at Nationals, expressing her joy by saying 'You're Alive!" excitedly. She remains in the Troubletones to perform Edge of Glory, singing a short solo with Quinn, due to Mercedes' insistence. She supports Quinn when she got out the wheelchair and dances for the first time. She also sings backup with several members in Rachel's solo of It's All Coming Back to Me Now and with the rest of the club during Paradise by the Dashboard Light. She celebrates ecstatically with the rest of the group upon learning of their Nationals win. Upon returning to McKinley, Tina shares a loving kiss with Mike, as they are cheered on down the hallway by the rest of the school. Later, when the group are celebrating with sparkling cider, Mike sprays Tina with the liquid, as she laughs with him and they hug. Tina looks on happily with the rest of the club as they place their Nationals trophy into the cabinet. At the Teacher of the Year ceremony, Tina performs We Are the Champions with the club and hugs Will as everyone else as the episode closed.
Tina performs
Sit Down, You're Rockin' the Boat
with the original five members of the Glee Club at the beginning, and she shares a sad glance with Rachel as Will sets them their assignment. She later dances to
Single Ladies (Put A Ring On It)
with Burt and Brittany as Kurt's graduation present and is seen singing backup to Kurt's performance of
I'll Remember
. She says to Santana she must be happy to ditch her Cheerios uniform and put on the one at the University of Louisville when she goes to congratulate Mike on getting his scholarship, to which she says she can't wait for.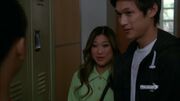 The next day, Tina happily watches the Seniors performance of
You Get What You Give
and shares a loving moment with Mike as he dances towards her. He then takes her up and dances with her with the whole club. Later she performs a solo in the underclassmen of Glee Club's performance of
In My Life
, dedicated to Finn and shares a few loving gazes with Mike during the performance. She cheers on all the graduating Seniors as they receive their diplomas and hugs Mike at the Graduation Ceremony. At the end of the episode, Tina says goodbye to Rachel with the rest of the club (she briefly holds hands with her as she says goodbye) at the Train Station as she departs to New York. (
Goodbye
)
At the beginning of the episode, In Jacob Ben Israel's blog, Tina reveals she is using a freshman (
Dottie
) as a personal assistant and that she broke up with Mike over the summer, forcing her to change a tattoo on her hip from 'Mike Chang Forever' to 'Make Change forever', being quoted as saying 'change is good'. Tina is present in the first glee meeting of the year, and Tina is not happy when Wade joins New Directions. She informs Will of the group competing to be the 'New Rachel' and organises a sing-off with Brittany, Blaine, and
Wade
, with Artie judging them to decide who will ultimately be the 'New Rachel'. She mentions the fact Rachel herself chose her to lead the glee club after she has graduated, and chooses the song
Call Me Maybe
for the four competitors to perform. Tina pushes Artie to make his decision at the lunch table but is swiftly turned down, and she rudely patronises new student,
Marley
when she approaches the glee club to tell them she will be auditioning. However, Tina seems to be very uncomfortable when the jocks and cheerleaders make fun of the new overweight lunchlady, who turns out to be
Marley's mother
. At the glee club auditions, Tina is clearly worried and intimidated by Marley's performance of
New York State of Mind
.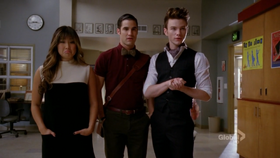 Later, Tina bribes Artie with a dessert and loudly pointing out again that Rachel had already picked her to lead the club for the year. But, she is dismayed to learn Artie has selected Blaine as the 'New Rachel' (with help from an online poll) with Brittany in 2nd, meaning she had come 3rd. She angrily takes back her dessert, but welcomes Marley to the glee club. Tina is slightly offended by
Kitty
's comment of making an 'popularity homecoming float' with all-white people, and is again uncomfortable when the kids make fun of Marley's mom. When Marley angrily sticks up for her and reveals that she is the woman's daughter, and leaves the lunch table saying 'I thought you guys were different', making Tina and the other glee members visibly guilty for not sticking up for her. Tina and the rest of the club apologise to Marley for their actions and ask her to sing lead vocal on a number they have been working on. She admits she let the popularity get to her head and happily dances and performs back-up, as Marley sings lead on
Chasing Pavements
, finally gathering in the group hug as the episode ends.

Tina is visibly excited by the prospect of a second 'Britney' week in glee club, and is seen dancing along to and enjoying Artie and Blaine's performance of Boys/Boyfriend. Later, she is seen chatting and flirting with Jake but after he promptly leaves her to flirt with a different girl, she angrily joins Unique and Marley in their rendition of Womanizer directed to him. She shakes her head when Marley eagerly agrees to meet with him immediately after the performance.
Tina is next seen in the choir room, leading a performance of 3 with Joe and Sam. She looks confused when Brittany goes to the side of the room, in order to plug in a razor and shave her head as they finish their performance, but Will stops her. She then watches with Blaine and Artie, visibly disturbed as Brittany beats Jacob up in the hallway, commenting that 'he deserves it' when Blaine asks if they should do something, referring to all the times he has harassed the glee club over the years. She is present in the glee club meeting, where they offer to make Brittany the lead vocalist at their pep assembly to help her get back on her feet, though she insists on the glee club lip-syncing. Tina attempts to give Brittany a 'baby-wipe' just before their performance of Gimme More, due to her 'Cheeto hands and mouth'. Brittany refuses, while a frustrated Tina sighs heavily. Tina helps pull down the curtain in order to stop the performance as it become apparent that Brittany is lip-syncing. When Will gives the group a stern scold, Tina is clearly upset about what happened and gives Brittany a reassuring look. She later welcomes Jake into the glee club, before watching Marley's performance of Everytime.
In glee club, Tina responds to Will announcing they will be hosting the 'Annual Show Choir Rules Committee' meeting, asking him to ask what the '1/3 vintage' meant last year, referring to the Nationals theme from the year before. She is in the audience for the Election Debate and at Blaine and Sam's celebration party, near Sugar and wearing a pink-black dress.
Like Sam, Brittany and Artie, Tina hugs Finn with happiness upon arrival in the choir room, saying she thought he'd joined the army. She then requests the school musical to be Pacific Overtures, Miss Saigon or Flower Drum Song, when they begin to suggest ideas for the show. Though, she claps with the rest, when Finn suggests Grease as the musical.
The Role You Were Born to Play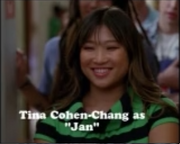 When Artie, Finn, Mercedes and Mike are casting the musical, Mercedes suggests that Tina would make a 'great Jan' but is disappointed she wouldn't audition because she refuses to be in the same room with Mike. Mike tries to confront Tina, but she tells him that although she was fine with their break-up, she was upset that he had returned to McKinley to choreograph
Grease
without telling her. He says they have to stop things being 'weird' if its what is keeping her from auditioning for the musical, saying she is 'so talented'. Despite this, she still refuses and isn't present with the rest of glee club at the
Born to Hand Jive
callback. Despite refusing to audition, Tina looks at the cast list for the musical and is still pleased to be cast as 'Jan', sharing a friendly look with Mike.
At a Glee Club meeting, Will announces he is leaving the school at the end of the week to join the 'Blue Ribbon Panel' to fight for the Arts all over the country, prompting a shocked reaction from Tina, who is then horrified when he says he'll be back 'after' Sectionals. Her anger reaches a breaking point, when he announces Finn will be filling in his position for the time-being. She questions his decision ruthlessly, saying that Finn does not know what he is doing at all, exaggerating when expressing how she'll be 'dead' by Sectionals and how he can't direct the school musical, firing the club into an argument. At a costume fitting for the musical, it is revealed Tina is the costume designer for the show, as she attempts to help Marley fit into her 'Sandy' costume which suddenly doesn't fit (thanks to scheming by Kitty), suggesting that she is 'stress bloating'. Sugar and Brittany arrive, expressing their happiness at their costumes for the musical to Tina. Kitty invites Tina and the girls to a sleepover at her house, in order to make some 'real' friends. Kitty eventually lets Unique attend, to the delight of Tina, Marley and the others. While Kurt is helping Rachel rehearse for her audition, he receives a 'Grease' update from Tina via text, informing him of Marley's sudden weight gain. Tina and the others arrive at Kitty's sleepover that evening, loaded with junk food, excited for the night. She performs energetic backing vocals and dancing in character as 'Jan' while Kitty makes fun of Marley singing Look At Me I'm Sandra Dee. She and the other girls move off guiltily as Marley reenters the room.
Tina excitedly walks into the choir room, announcing her preparation for replacing Wade as 'Rizzo' when he is pulled out from the musical, but is bemused to learn Finn has called Santana to McKinley to play the part, saying if she took the part, they wouldn't have a 'Jan'. Tina is clearly disgruntled, saying 'You have got to be kidding me'. Minutes before show time, Marley rushes to Tina, shocked to have seemingly gained two inches of fat in the course of a day, despite starving herself all week. Tina is clearly shocked and rushes off to find elastic to adjust the size of Marley's costume. She then appears on stage as a backing dancer/singer ('Angel') during
Beauty School Drop Out
. Mike approaches Tina near the end of the show, telling her that her performance as 'Jan' was amazing and that no-one could play the part better than you. He says that over the week he's been thinking that they shouldn't have broken up and that it was maybe premature. She admits maybe, but she says in the end, they did break up and it has really tested who she is and she likes who she is. She then admits she misses him too and agrees to talk about it with him, before embracing him in a loving hug. In the shows final number
You're the One That I Want
, Tina is seen in character as 'Jan', flirting with Jake's character 'Putzie' and singing along with the cast. She is also in the 'dream sequence' of the number, dancing with Mike and the other old New Directions numbers, happily. After the show, Tina sits in the choir room with the rest of the cast and crew of the show, listening to the glowing review given by the school reviewer and Will's speech before he leaves to Washington.
In the first scene, Tina is shown to be a member of The Secret Society of Superheroes Club, and introduces her superhero persona as 'Asian Persuasion' and her superpower as being 'The mistress of manipulation'. She sends Blaine a text in character asking if 'he's talked to Kurt yet', showing her concern for their relationship, only for Blaine to refuse to answer. When Dottie arrives telling them to come to the choir room, she along with the rest of the glee club run there, to discover their Nationals trophy has been stolen, by none other than the Warblers.
Later, still as her superhero, Tina tries to break up the fight between Jake and Ryder with the help of Becky, persuading them to stop fighting immediately. In the next glee club meeting, Tina questions Finn allowing Ryder and Kitty into the club, without as much as a vote. He explains that they were needed in order to complete the twelve member lineup to compete at Sectionals, prompting Tina to sarcastically snap back, telling him to call Santana back from Kentucky again, because shes apparently 'better than anyone actually enrolled here', referring to Finn calling Santana to play Rizzo in the musical, when Wade dropped out.The next day, Tina comments with Artie that Finn's theme from the day before for Sectionals was worse than 'Funk' or 'Night of Neglect' (referring to two previous themes in the show). Finn's new idea of 'uniting together against evil', is deemed better by Artie, though Tina still believes it could be 'horrible'. Later, she watches Jake and Ryder perform Superman and stands back nervously with Sugar and Brittany when they start fighting. She is shown to enjoy Kitty and Marley's take on Holding Out for a Hero, clapping enthusiastically once it has ended. When Finn begins to say Blaine has been having a rough time, Tina is clearly tired of Blaine's mood. However, when Finn finally reveals Blaine is transferring back to Dalton, she is visibly shocked and worried.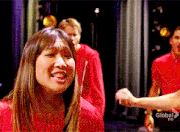 In the montage during Sam and Blaine's performance of Heroes, Tina is present with the rest of the glee club, as they paint over a graffiti filled wall (presumably within McKinley's grounds) and partakes joyfully in the paint fight that occurred, happily throwing it over everyone and being painted on herself. When Blaine and Sam take back the Nationals trophy, she smiles happily at Blaine's apology, and applauds Finn as their 'new leader', getting over her past grudges with him. She gives him the present of a 'Superhero Utility Belt' (disguised as a 'fanny pack') on behalf of the rest of the club, full of goodies. After partaking in their group huddle, Tina performs solo lines in Some Nights as the episode draws to a close.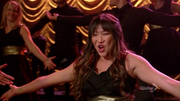 Tina is seen in the choir room when Finn introduces the alumni to the new kids as legends and cheers them when he introduces them. Later she is seen with the girls when Quinn is giving them advice for Sectionals. She is clearly excited and cheers for the prospects of an Unholy Trinity number, and is seen enjoying their performance of Come See About Me. Later she is seen backstage with the rest of the group and says that it's a tradition to do the group circle before every competition. Before the New Directions perform, she is visibly excited to go onstage sharing joyful smiles with Finn, Marley and Sugar. She performs lead on their opening number of Gangnam Style, sung in Korean to a wildly enthusiastic crowd, though as the performance ends, Marley faints leaving the episode on a cliffhanger.
The episode picks up from the last cliffhanger, as Tina and the other members of New Directions panic-struck by Marley's fainting, hastily try to help her (Tina saying she has leftover Halloween candy for her to eat) so they can continue with their performance. They are too late though, and Sue announces they have been disqualified. The next day, in the now empty choir room, Finn and Will announce that glee club is over until the next school year. Tina brings up what everyone is thinking - that it is Marley's fault the club is finished. She tells her that she refuses to believe she is the 'New Rachel', comparing her to the real Rachel. She then admits it's hard to get motivated in the club without a competition to prepare for, and is clearly upset her dream senior year has been ruined.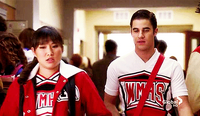 Later, it is revealed she has joined the
Cheerios
with
Blaine
, to be part of a team for their senior year now glee club is over. She tells Artie it was easier than expected to get on the team, as it is cut to a scene in her office where Sue willingly lets them on, though for twisted reasons. At a brief meeting in the auditorium, Finn is upset they have all ditched the glee club so hastily. Tina argues that glee is over now there is no competition to compete in and that it is 'healthy' to move on. She then lays a snarky comment to Marley about her 'faceplant' at Sectionals, showing she is still holding a grudge against her. She is the first to leave before the end of the meeting, leaving the club almost disbanded. While rehearsing in the old choir room with the Cheerios, Tina receives Finn's heartfelt email inspired by Rachel's phone call, and looks at Blaine uncertainly. In the school courtyard, Tina and Blaine arrive happily singing
Don't Dream It's Over
together revealing their return to New Directions, to Finn and Marley's delight. Eventually the rest of the club arrive, and slowly make their way down the steps of the courtyard together. Tina gives Finn a warm hug and has apparently forgiven Marley, appearing to be in as high spirits as ever as the episode closes.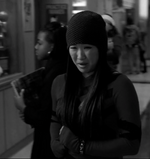 In Artie's 'Wonderful Life' dream, Tina is the first person who he interacts. She is shown to still be pretending to stutter and wearing her season one goth clothes, showing without the glee club and Artie as a friend she never had the confidence to be honest about herself. This leaves Artie confused until his 'guardian angel' (in the form of Rory) explains the dream to him. Tina is one of the people present in the choir room (The 'craft room' in this universe) where Artie calls all of the members of the club to get them together and make things right. He attempts to dance with her when he performs Feliz Navidad, but she is too shy to join in, again like her season one persona. Back in the normal universe, when Brittany gives her an expensive car for Christmas, Tina questions what she is doing and is clearly dumbfounded by her belief of the Mayan Apocalypse happening.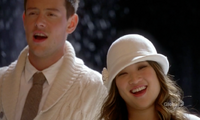 Later, at the meeting of the apocalypse club Sam and Brittany organised where they plan to tell the glee club what they really think about them, Brittany tells Tina her decision to pursue acting is an irresponsible career choice for her, to an insulted and hurt reaction. She leaves frustrated with the rest of the glee club before the couple can insult them any more.At the end of the episode, Tina is part of the remaining glee club group singing
Have Yourself a Merry Little Christmas
for Sue to thank her for her kind gift to the Rose family.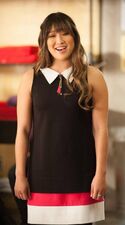 At the beginning of the episode, Tina is shown to be the secretary of the student council, and proposes a Sadie Hawkins dance as opposed to a normal prom as suggested at a meeting of the 'Too Young to be Bitter' club. The idea is supported by the majority of the council enthusiastically to her delight. Later Finn has the New Directions gather in a science classroom for a glee club meeting. Both Blaine and Tina laugh at Sam's unintentional statement about sitting under "Uranus." Tina sends Blaine a look of smiling adoration that he doesn't notice. Finn then suggests that the girls sings to the guys as a way to ask them out, to which Tina serenades I Don't Know How to Love Him to Blaine, though he is completely clueless. The rest of the club are dumbfounded as she asks him to the dance. He rejects the offer, leaving her humiliated and heartbroken. After, she performs Tell Him with the rest of the girls in New Directions, and looks sad as Marley and Brittany ask Jake and Sam to the dance. Later on, she apologizes to him at his locker for not taking into account what happened to him at a Sadie Hawkins dance at his old school (which prompted him to transfer to Dalton Academy), but admits that she thinks he owes her one too after he humiliated her after the performance. He thanks her for her apology but tells her its not the reason he didn't want to go with her, and it is because he has a crush on a straight guy. Tina manages to convince him to tell her who it is, and learns his crush is Sam. She relates to him, knowing how it feels to crush on someone who will never love you back and tells him that he just misses Kurt and needs somewhere to put his love. Finally, she tells him they will go to the dance together as 'best friends' to have the best night ever, to which he agrees.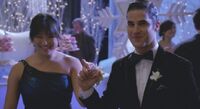 At the dance, Tina tells Blaine she got the idea for the dance's decorations from how Sadie Hawkins dances are sometimes called 'snowballs' making her give the dance a 'snowball' theme. He admits he's glad she invited him to the dance, and she happily takes him onto the dance floor for him to perform
No Scrubs
with Artie, Joe, Ryder and Sam. She is seen enjoying the performance and dancing at the front of the stage with Brittany. Later on at the dance, when Tina and Blaine are dancing together, they throw compliments at one another and she leans in for a kiss but is interrupted by Sam who needs Blaine immediately. She is again left heartbroken and alone on the dance floor as he leaves with Sam. She goes on to perform back-up on
Locked Out of Heaven
with the rest of the New Directions girls (excluding Kitty). Tina is left relatively glum by herself, but Blaine returns and informs her that he, Sam and Finn may have just saved the glee club, prompting her to remark 'is there anything you can't do?'. He takes her for a slow dance to her happiness while Ryder sings
I Only Have Eyes For You
, and she is content in Blaine's arms. After the dance, Lauren and the other members of the 'Too Young to be Bitter' club thank her for the dance and she tells them she thinks she has found 'the love of her life'. She disbands the club happily, and dances with the other excited girls as the episode closes.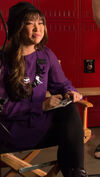 At the first glee club meeting back in the choir room since Sectionals, Tina is seen cheering and clapping Sam and Blaine for getting them another shot at competing. When Finn informs them they will have to raise money for Regionals, she dismisses the other bizarre ideas, and suggests a 'Men of McKinley' calendar featuring the male members of the glee club. It is implied that it may be for ulterior motives though, as she asks Blaine to be December so he can dress as a 'Sexy Santa' excitedly. Later in the hallway, she asks Blaine to go to the mall with her after school, to shop for clothes. When Sam walks in half-naked despite it being January, she seems to be confused as to why he is dressed that way. When he implies that Blaine is jealous of his body, Tina defends him passionately, saying that he has 'an awesome body and a perky and delicious behind that looks like it got baked to perfection by some sort of master chef' to bemused reactions from the two boys. She is next seen in the choir room, enjoying the boys racy performance of Centerfold/Hot in Herre. While Jake and Ryder are competing to see who has the 'best shoulders' in the locker rooms, Tina arrives with Kitty to talk about the concepts of their Calendar shoots, suggesting 'heart boxers' for February and 'sexy Uncle Sam' for July, for Ryder's pictures. They depart after to tell Artie about his concept. Later in the choir room, Tina is present when Jake performs Let Me Love You (Until You Learn to Love Yourself) to Marley, seemingly touched by his performance. At the calendar shoot, Tina is shown to be passionately getting involved, gazing at Blaine and shouting poses for Ryder to do. She asks Artie if he's sure he doesn't want to pose and suggests Blaine comes into the August shoot. She is shown to get frustrated at Sam's 'diva' attitude during the shoot. However, she is one of the people who recorded a message of his accomplishments to put in his University essay, saying about him saving Sectionals for the last two years. In the choir room, her calendar is shown to be a triumphant success as she collects money off girls trying to buy one. Finally, she performs back-up with the New Directions in This Is the New Year at the end of the episode.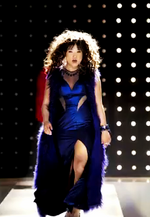 Tina is clearly excited about a 'Diva' week, though she becomes engaged in a war of insults with Wade, responding to him by making fun of his 'transgender' personality. She quickly engages in the performance of
Diva
, strutting out of the choir room with Wade, Brittany and Blaine and singing solo lines on the catwalk in her outfit. The next day, she visits Blaine at his locker, giving him a 'cold-buster' kit after she noticed him gradually getting ill. She tells him he continues to inspire her, by powering through the illness to prove men can be divas. As he performs
Don't Stop Me Now
she is seen clapping along and thoroughly enjoying the performance.
When Santana arrives to show the club how to be a 'Diva' by performing Nutbush City Limits, Tina is shown to be disgruntled by her sudden appearance. It is revealed that she informed Santana that Brittany and Sam were dating, which prompted her to return to McKinley. Later, in her voice-over, we see she was annoyed by Santana returning to steal her spotlight once again (referring to the incident in Glease) and is continuing to fall in love with Blaine. She decides to continue to pursue him since 'Diva's always get what they want'. She approaches Blaine to offer some 'VapoRub' to help him with his cold after he admits he was feeling worse. He calls her 'sweet' to her dismay, admitting she wants to be the girl 'who kicks open a door, makes demands and gets what she wants' and that no-one considers her to be a diva. He lists various 'Asian-divas' to her before inviting her over to his house to bring out her inner-diva, to Tina's delight.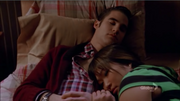 Later at his house, she asks if he's ever been with a girl, and although he says he's 'perfect, gold-star gay', Blaine admits he does love women just not in a romantic manner. She is thankful to him creating a playlist of songs she could sing, but is unsure whether she could pull them off. He seems to become more tired, so Tina tells him to lie down before admitting to she is falling in love with him and asks him to be in a 'sexless' relationship showing her desperation and loneliness. However, her efforts to be honest are futile as he falls asleep. In his slumber, she lovingly applies the vapo-rub to his chest before lying beside him in tears, knowing that he'll never be with her. The next day, Tina confronts Blaine, becoming sick of his lack of affection to her despite her being there and caring for him. She performs a spirited rendition of
Hung Up
in the courtyard, directed to him but to the delight of Finn, Emma and the glee club as she seems to have finally accessed her inner-diva. Later, in the next glee meeting, Finn and Emma announce the winner of the 'Diva competition'. Tina seems to expect it to be Santana again, but is gobsmacked when she is announced to be the winner. She excitedly accepts the award as the club cheer for her. Later in the hallway, while she is admiring her award, Blaine presents her with a flower to congratulate her on her win. He apologises for being ungrateful to her during the week and admits she is the most important person in the school to him to her happiness. She accepts his invitation to be his date to Will and Emma's wedding the following week.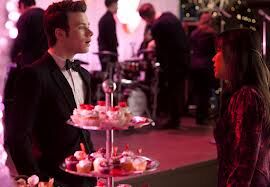 Tina is seen at the beginning of the episode, when Will says that some of the members aren't there because they had the "Asian Bird Flu," which some members looked at her, which she replies it wasn't her. She is later seen at Will's wedding. She watches the performance of Blaine and Kurt, when they're singing Just Can't Get Enough, with an angry face. She confronts Kurt saying how much she cared about Blaine, and the fact that Kurt is living in NY, and not in Ohio, as she's the only who worried about Blaine. She reveals that she applied the vapo-rub to his chest when he was sick, with Kurt looking surprised, because he didn't know that as Blaine fell asleep, so he didn't know it either. After this, she doesn't say anything and leaves Kurt confused and angry at her. Tina finally comes to her senses when Kurt visits McKinley and apologizes to Kurt for attacking him and apologizes to Blaine for throwing herself at him, but Blaine explains that they've all. Kurt offers to let Tina accompanying them for a double-feature at the Revival House and Tina laments that she'll be a hag forever, but Blaine says that he's going to help her get a boyfriend.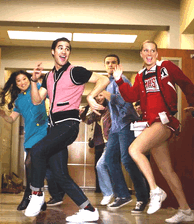 Tina is present when Will announces the Girls vs Boys Movie Music Competition. She is shocked when Artie says the winning team will star in his Movie that he is making. She quickly joins the girls, planning what they are going to sing. Laughing when Sugar suggests they do the Artist because they do not have to sing. Tina is talking to Jake and Marley, when Brittany and Blaine suggest a Girls vs Boys Collab number. They all suggest different song ideas, which are gender specific. Tina's suggest "Let the River Run" from Let the River Run. Blaine eventually decides on
Shout
from Animal House. They all dance around the school, gathering other New Direction members ending in the Cafeteria. Tina watches while the boy's perform
Old Time Rock & Roll/Danger Zone
. A homage to two famous Tom Cruise movies. She is clearly impressed by their performance. Especially, fond of Ryder who jumps out of the stand. She joins the rest of the girls while Marley and Unique provide lead vocals for their number
Diamonds Are a Girl's Best Friend/Material Girl
. She is standing next to Kitty for pretty much the whole performance. She is backing up Will when he serenades Emma with a rendition of
In Your Eyes
. She quickly leaves, when Will tells them to "get out of here." She was highly confident that the girls had won and was clearly mad that the competition ended in a tie. But, Overall was happy that she will be in the movie with everyone although she and Blaine immediately try to get the starring roles. She sings and dances with the rest of the members while Sam, Artie, and Joe provide lead vocals in
Footloose
.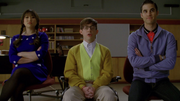 Tina with Blaine and Artie, have Finn and Will sit down to announce that they are giving them a musical assignment this week, with the assignment, being Musical Feuds. To correlate with them feuding, they think the number will help them get out all the pent up anger they have towards one another. When Sue is trying to threaten Blaine into joining the Cheerios, she interjects saying she could join if she wanted her to. Sue asking why she was here and eventually tells her to get the hell out. Continuing her onslaught on Blaine, afterwards. Tina watches Ryder and Unique sing a duet of
The Bitch Is Back/Dress You Up
. Clearly, super happy when Unique gives her a tiara to wear. Later, she is getting items from her locker, when Sue is trying to threaten her in a Minaj persona. When Finn and Will are battling each other with
Bye Bye Bye/I Want It That Way
. Her along with Marley, Unique, and Kitty are seen fangirling the whole time. At times, she is looking specifically looking at Ryder. While Sue and Blaine are singing
I Still Believe/Super Bass
, she is clearly rooting for Blaine the whole time. She agrees with Blaine at the end that Sue cheated. Extremely disappointed, when Blaine loses with only her being the one who voted for him. While Ryder and Jake are singing
Closer
, she eventually joins them with the rest of the group singing and dancing around the auditorium.
While
Sam
is showing
Blaine
the art he has created, Tina comes into the room to inform them that
Will
has fallen ill with the Asian bird-flu. Sam then teases her, by asking if she will rub vapo onto Will's chest, similar to how she had done it to Blaine in
Diva
. Tina can later be seen watching
Kitty
being interviewed in
Fondue For Two
eagerly. She and the rest of the
New Directions Girls
confront Kitty and
Brittany
the following day, eager to know what Kitty's guilty pleasure is (she had only whispered it into Brittany's ear on the show). After it is revealed that the Spice Girls are Kitty's guilty pleasure, Tina confesses being a fan of the band herself. She and the girls then agree to perform a song by the "Spice Girls" for the week's assignment. Tina runs into a rehearsal they are holding late with the news that
Jake
is planning to perform a "Chris Brown" song. They then angrily confront him, and try to talk him out of the idea. The New Directions Girls are assigned a specific Spice Girl they are meant to dress up as for their performance, and Tina is allocated to be "Scary Spice." Dressed as such, she performs
Wannabe
with the other girls. Tina, who is dressed up as "Vicky the robot girl" from
Small Wonder
, and
Marley
then surprise Kitty after the lesson. Tina gives Kitty an impression of the robot girl. Tina is present in the final scene, in which the
New Directions
perform
Mamma Mia.
Tina is first seen when Mr. Schue is announcing their competition for Regionals, she mades a snide remark that the name of the The Hoosierdaddies is very clever, as it is a pun on "Who's your daddy?." When Brittany announces her discovery of a deadly asteroid heading straight for Lima she along with the Glee Club dismiss her idea and asks Brittany if she and Sam indeed got married in Christmas but Brittany shut's her up pretty quickly.
In
More Than Words
, Tina can be seen lighting a candle and handing it to Artie. She is confused when Brittany begins to sing to Lord Tubbington, but continues singing. At the moment of the shooting she's not in the choir room, she's later seen outside the school, trying to get back inside. She tries to talk to Principal Figgins into letting her go in, but he doesn't let her in, saying she has to wait until the police say it's all clear, and she begins to cry. Tina is later seen talking to Blaine about the shooting. She tells him that she wanted to be in the Choir Room with them. She then begins crying, and says they're her family and she hated the thought of not being able to say goodbye. She tells Blaine that she didn't want the last thing anyone heard about her was some snarky comment about how she didn't get solos. Blaine hugs Tina and tells her that he was there with them and that he loves her. They walk off holding hands. She is last seen walking into the auditorium with Blaine, singing very closely to him in
Say.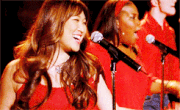 Tina is first seen talking to Brittany about MIT, the university Brittany might be going to. Marley notices that she has a new look, called "steam punk." Tina tells Marley and Brittany that she has no idea if she's on the Cheerios or not. She is present when Mr. Schue announces the Regionals theme and setlist. Tina is then again present during the secret Glee club meeting, making an specific gesture remark about
You Make My Dreams
and agrees when Artie suggests that they need to do newer songs. She's in the choir room when Blaine tells Will about the alternative songs they've looked at, which leads to Will snapping at them. During Rachel's audition for
Funny Girl
, she performs
Don't Stop Believin'
and as she performs the song, the original New Directions appear, including Tina. She's later seen when Will apologizes to the Glee club for making them feel as if they don't have a voice and reintroduces Finn to them as his partner. She finally takes part of the
Outcast
performance.
Tina is first seen when Mr. Schuester discussed about Frida and the assignment for the week. When Rachel, Kurt and Santana were talking about Santana's future, there is a flashback of Tina telling Rachel and Kurt about Santana working as a bouncer and a go-go girl. She is then seen watching the performances for the assignment given in Glee Club. While Ryder is performing his solo, Tina is seen getting slushied in a flashback. Tina and the rest of the girls defend Ryder when Sam and Artie show facetious manner towards Ryder's personal secret. Meanwhile, Tina is seen performing We Will Rock You with New Directions and Longest Time at the end of the episode, sharing many moments with Ryder and Blaine.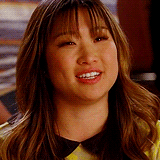 When Mr. Schuester shared the "Wonder-ful" news about Rachel's callback, Brittany's early acceptance at MIT, and his successful re-proposal, Tina tells her Wonder-ful news that she got wait-listed at the Columbus College of Veterinary Medicine, a fallback if she decides not to pursue acting. After Mercedes critiques Kitty's performance of
Signed, Sealed, Delivered I'm Yours
, the conversation led as to why Mercedes, Mike, and Kurt were even back at McKinley. When Mike tells Kitty Mr. Schue asked him to come back to help choreograph, Tina answers, "I love you Mike, I love all my exes but this isn't Wonder-ful news. It's shocking." She then brought up why they need a guy to help them choreograph saying, "#gleehatesgirls." When she asks Kurt if he's there to lecture them about horrible-tasting clothing, Kurt answered, "My dad has cancer." She danced back-up in
You Are the Sunshine of My Life
. When Mike and Jake perform
I Wish
, she is seen sitting at the back, crossing her arms and seemingly not enjoying it as the others. When Mercedes was introducing the lesson of the day about how crazy the singing business is, Tina interrupted saying, "If you're gonna tell us to not even try because it's too hard..." and Mercedes just kept going on. When Mercedes sang and did vocal runs, Tina applauded and is enthusiastic when they reviewed what they learned from the assignment. She then sang and danced with the group in
For Once in My Life
.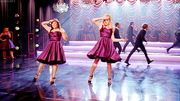 Tina is seen when
Will
reveals that the Regionals competition will now be held in the McKinley High auditorium and reminds New Directions that they need to bring everything they've got to the stage: "All or Nothing." She appears when Ryder demands to know who Katie is. Later she also goes ring-shopping with Blaine, along with Sam, saying that if Blaine buys a ring for her it would have to be the right one for her type of fingers, leaving Blaine confused. She also appears during Brittany's goodbye speech, where Brittany calls Tina her "sister." During the speech, Tina is seen crying. She also performs during the Regionals setlist, getting a solo in
I Love It
. She is happy when New Directions win Regionals again. At the end of the episode, Tina is present during Emma and Will's surprise wedding.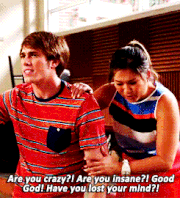 Tina is seen in the choir room towards the beginning of the episode. She appears very excited about the week's assignment. Later, she is seen enjoying the carnival with the rest of the
New Directions
. During the performance of
You've Got to Hide Your Love Away
, at the end Tina walks by Artie in the hall and seems to catch on that there is something happening between Artie and Kitty
.
Later in the choir room, when
Blaine
announces he's going to propose to
Kurt
, she seems unsure about the idea but still helps him gather the other show choirs during
Help!
. Later Tina confronts Artie about his relationship with Kitty and he confirms that they are dating - but in secret. Tina demands to know why they have to keep the relationship under wraps and Artie tells Tina that she may be trying to help, but asks her to "Butt the hells out!" Back in the choir room, Tina exposes the secret relationship between Artie and Kitty and declares the fact that Kitty wanted to keep their relationship a secret is "emotional abuse" and goes on to say that Artie is a great guy who deserves to be loved openly, proudly and without conditions. Kitty agrees, although she is obviously annoyed with Tina. Kitty tells the New Directions that she wanted to keep it a secret, but only until she knew that she really liked Artie and was willing to risk her social standing at the school and getting hurt - by allowing Artie to "wheel into her heart." Kitty apologizes to Artie and tells him that they are "officially, publicly, shockingly - a thing." Everyone applaudes, happy for Artie and Kitty, except Tina who seems unhappy that her plan did not go according to what she wanted.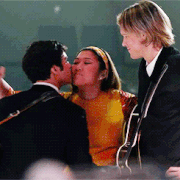 Blaine
plots an intervention with
Sam
,
Jake
, and
Ryder
over Tina's growing bitter attitude. Having spotted Tina eating junk food alone in the
Too Young to Be Bitter Club
room, Blaine takes it upon himself to get the guys to cheer her up by getting her a date to the prom. After making her dress up in 60s fashion, the guys serenade her with
I Saw Her Standing There
in the auditorium with the
other girls
. When the performance finishes, Blaine tells Tina that he wants her to be happy and offers up himself, Ryder and Sam to be her prom date as Jake is already taken. Ultimately, Tina chooses Sam because he is the least "gay or Asian" of the three and she wants to break her usual patterns and then thanks the boys, admitted 'she really needed this'. Afterwards, she accompanies the New Directions with
Vocal Adrenaline
,
Haverbrook School for the Deaf
, and the
Dalton Academy Warblers
to sing
All You Need Is Love
for Blaine's proposal to
Kurt
.
Tina can be seen with the rest of New Directions in the choir room in the beginning of the episode. Over the P.A. system, Sue announces the nominees for prom court, and Tina cheers in delight when she finds out that she got nominated. However, she dumps Sam as a prom date because she's determined to win prom queen. She begins to sing Revolution for the glee club members, but the bell rings, interrupting her performance, and everyone exits the choir room. Tina receives the poll numbers for prom queen from Dottie, and is curious as to how her numbers were so low. She confronts Kitty in the hallway, and noticed all of the Photoshopped posters that were suspiciously put up. Tina is angered that Kitty didn't support her like she said she would.
Tina shows up to prom while New Directions perform Sgt. Pepper's Lonely Hearts Club Band, and she takes a few prom photos. She goes up on stage with Kitty, Blaine, Artie, and the other nominees for prom court as they announce the winners. Once Sue announces that Tina won, alongside Stoner Brett, everyone is cheering for her, and she is delighted as a crown is placed on her head. However, Dottie goes forward with Bree's plan, releasing a bucket of red slushie over Tina (in a reference to Carrie). She is angered and upset as she watches everyone laugh at her, before going off stage to the choir room in tears.
New Directions confronts Tina in the choir room, and she is crying and telling everyone that she wants to go home. Blaine convinces her that she could go out there and "be that girl" that she wants to be. The girls offer to give up their dresses, since she doesn't have another one to wear. New Directions gets Tina dried and dressed up, and performs
Hey Jude
, as she has Kitty's dress on and goes back out to prom. Tina cheers in the microphone once she makes it back on stage, and cheers with the other students. She performs with New Directions as they, along with Santana, Kurt, and Rachel (in New York), perform
Let It Be
.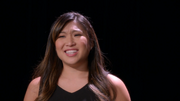 The episode begins with New Directions, old and new, singing Seasons of Love to pay tribute to Finn's death. In the choir room, Will has gathered everyone for an assignment in Finn's memory: they will sing for and about Finn to express their feelings and remember him together. She later sings back-up vocals for Mercedes when she is singing her dedication song for Finn, I'll Stand by You. Tina also sings in the background during the Artie and Sam duet for Hudson, Fire and Rain. Tina visits Emma to talk about her grief, but remains reductive by commenting that she hates wearing the color black as it reminds her of her goth years. Emma, not realizing Tina's denial of her grief, gives her pamphlets about her callousness and Tina leaves the room. She later watches when Santana breaks down while performing If I Die Young and during the solo of Puck, No Surrender. Once Puck is done singing, she goes to hug him with everyone else before Santana storms in asking him where Finn's jacket is. Along with some of his glee club friends, she places some red drumsticks at Finn's locker memorial in his honour where they are visited by Rachel. During Rachel's emotional Make You Feel My Love, Tina is seen finally coming to terms with her grief and begins to sob with her exes Mike and Artie comforting her.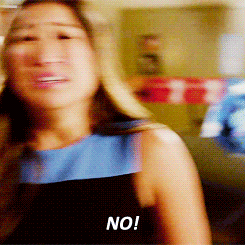 Will comes by with a short list of competitors the New Directions will be facing at Nationals and mentions that Throat Explosion is one of them, causing Tina to scream overdramatically. Tina and Blaine explain that Throat Explosion are a new show choir that have qualities of
Vocal Adrenaline
and
New Directions
who push the envelope and act like "mini Lady Gagas," leading Tina to believe that the New Directions cannot compete as they lost their biggest Gaga, Kurt, last year and are a room full of "Katy Perry's." This leads Will to make his next assignment where he has the New Directions split into two teams: Team Gaga (Tina, Jake, Kitty, and
Unique
) and Team Katy (Artie, Blaine,
Marley
, Ryder, and Sam) and have them singing the opposite artist of their team.
Tina, Unique and Kitty get really into the assignment, but Jake remains uninterested. After the over-the-top performance of Applause from Team Katy, Team Gaga struggles to find a performance that can really top them, but Tina comes up with the idea to strip down the song into an acoustic number. When Team Gaga sings Wide Awake in front of the audience, it ends up being a successful hit. Later, Tina, dressed up in Katy Perry garb, runs into the choir room with news that Throat Explosion plans to do Applause for their opening number in a way to mock New Directions. After inspiring words from Will, Sue comes in with news that the New Directions have been suspended for their provocative clothing. Despite this, New Directions sing Roar to show that they are not backing down.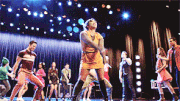 While Blaine is cleaning out the choir room, he is spied on by Tina, who films him twerking and shows it to the glee club, making them all laugh uncontrollably. Despite Blaine's embarrassment, Will decides that this would be the perfect assignment. At a twerk tutorial in the auditorium, Tina and Ryder are shown to be very bad at twerking. Nevertheless, she is shown to have gotten better by the time the glee club sings
Blurred Lines
all over the school. During Unique's performance of
If I Were a Boy
, Tina looks sad and on the brink of tears. When Mr. Schue explains to the school board why they shouldn't let Sue ban twerking, Tina, with Sam as her dance partner, presents the waltz. When Unique asks
Sue
for a unisex bathroom, Sue implants a portable toilet in the middle of the choir room. While many are disgusted, Tina loves it and even uses it during glee rehearsals. At the end of the episode, Tina participates in the song
On Our Way,
in which she sings a small solo.
Tina only plays a minor role in this episode and is first seen in the choir room when Mr. Schuester comes in to give the weeks lesson. Tina then enjoys herself when Sam and Blaine start the week off by singing Movin' Out. She is seen watching Jake perform My Life and also, when Ryder came into the choir room to begin singing An Innocent Man, she is seen to be looking confused with Kitty. At the end of the episode when Sue is telling Will about how none of the New Directions will be big stars, she is the first to charge up to Sue and telling her off, saying that everyone in glee club will grow up to be successful performers. When Blaine and Sam comes back from New York, Tina is the first to notice them and shouts "Blam! They're back." smiling and greeting them both. When Becky calls all of the glee club crazy and Will says "You may be right, We may be crazy." Tina and the New Directions break out into the performance of You May Be Right although she doesn't actually have any solo lines, she is seen singing back up, and dancing with everyone.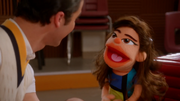 Tina is goofing off with the rest of the New Directions in the choir room when Blaine enters the room with ideas for Nationals. New Directions, including Tina, are not pleased with Blaine wanting to feature himself heavily at Nationals. Tina accuses him of being a dictator, even going as far as calling him "Blaine Jong-il." When Blaine hallucinates from the gas leak, he imagines Tina as a puppet, along with the rest of New Directions, and begins to sing You're My Best Friend with all of them. After the hallucination, the real Tina wakes him up from his dream and New Directions begin belittling him for not participating in glee club. Near the end of the episode, Tina catches Blaine talking and flirting with a puppet version of herself, and is mildly creeped out. She informs him that New Directions is sorry for being so harsh on him and agree to let him take a lead role in one of the Nationals performance. As an apology, Blaine gives Tina the Tina puppet and everyone in New Directions a puppet and sing The Fox.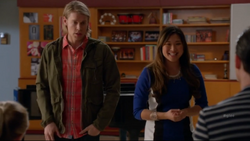 For the annual Christmas Tree Decoration Contest at McKinley, Will names Tina and Sam as leaders for decorating the club's Christmas tree. Tina points out that the prize is for a rare, hand-blown Christmas angel that is said to have magical powers, in which Tina becomes wildly competitive and plots to win that angel so she can use its "magic" to get her a boyfriend or win prom queen (as this is set in
Season Four
). At the Christmas Club,
Coach Beiste
and Artie reveal that the Christmas manger has been vandalized, causing Tina to freak out, but after they suggest that they audition for a live nativity, Tina happily declares that Christmas has been saved. Running through some ideas for the Christmas tree, Sam and Tina run into
Becky Jackson
in the hallways where she tries to force them to kiss her. Tina accuses Becky of using "special needs" as an excuse to do whatever she wants. Afterwards, Sue arrives to see Becky off and informs Tina and Sam that she will be judging the Christmas tree contest, plotting to make sure that the glee club loses. Tina, Unique, and Marley all perform
Mary's Little Boy Child
for the part of the Virgin Mary, but Marley is the one who gets the part, much to the anger of Tina, who was cast as a shepherd.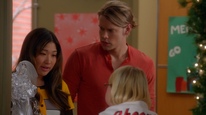 When it's time for them to judge the tree, Tina and Sam knock the contest out of the park with an amazing "Goin' Green" Christmas tree. They are then declared the winners. However, their celebration is short lived after they run into Becky, who gives them her baby teeth, and says that she was really disappointed that she lost. Afterwards, they realize that Becky needs the angel more than them and agree to give her the award and cast her as the Baby Jesus for the living nativity.
In the hope that they can get Kitty to be the Virgin Mary, Unique headlines Love Child with Tina and Marley in a sacrilegious and tacky performance. The performance works and everyone gathers around to hug Kitty after she says that she will play Mary. At the end of the episode, the New Directions sing Away in a Manger as everyone watches them as the living nativity.
We first see Tina and Artie having lunch in the auditorium, which is revealed to be their Tuesday tradition since they dated. They're both proud they managed to keep that tradition after their breakup and sad that their tradition is coming to an end. Tina tells Artie she's worried about not being accepted in Brown University as there's little possibility for her to get in, so Artie starts singing Whenever I Call You Friend to her, and Tina joins him. When the performance comes to an end, Becky enters and tells Artie and Tina that Sue wants them in her office. Sue informs them that they are tied for Senior Valedictorian, and both are shocked. Sue then tells them that they will have to settle it, and that they will both present their speeches infront of a panel, who will choose the winner. Later Tina and Artie fight in the hallway since Tina wants Artie to let her be valedictorian so she can get into Brown University, but he refuses and they viciously trash talk each other, Artie saying Tina is McKinley's biggest bitch since sometime between Junior and Senior year, and Tina saying Kitty is using Artie and he is using her to become popular. This leads them to start a rivalry.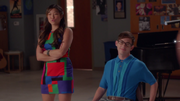 Later in the choir room, Mr. Schue says that they will do two solos for Nationals this year, and one of them goes to Blaine, so they have to decide who will sing the other one. Immediately, Tina nominees herself, and Artie follows her. Then they sing
My Lovin' (You're Never Gonna Get It)
as a sing-off, and at the end of the song Tina accidentally pushes Artie out of his wheelchair, presumably by accident. Tina says she is sorry but Artie leaves the choir room, angry at Tina. Next scene is Tina and Artie's speech-off to decide who would be valedictorian. Both of them write speeches which glorify the other and drop out to give the other the chance. Sue reacts by saying she hates them and the reading was awful and the judges will decide. Later on, Sue calls Artie and Tina into her office. Sue announces that the vote was a tie. She then says that the student who was rank three will be the Valedictorian, which turns out to be Blaine. In the hallways, Blaine apologises to the two, saying that he feels things are handed to him. Blaine feels bad and decides to perform a song with Artie and Tina at the graduation ceremony instead of giving a speech, which would also help with Tina's acceptance into Brown University. Tina and Artie make up. At the end of the episode, in the auditorium, the three of them sing
Breakaway
.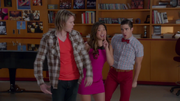 The episode opens with Tina, Sam and Blaine performing Jumpin' Jumpin' in the halls of McKinley High. They eventually end up in the choir room. There they explain to their fellow glee-club members that they're performing this song in order to strengthen the bond between them. Will praises that they are trying to make the most of their senior year which is almost over, the thought of which makes Tina cry. Blaine and Sam thus pull her into group-hugging. Tina then finds Sam and Blaine trying on their graduation robes, which reminds her of being separated from them in a couple of weeks, and makes her break into tears, again. In order to cheer her up, Blaine suggests that they and Sam spend the night locked inside school with all the seniors. They propose this idea to Sue, but she announces that she's not giving them permission to do so. Tina breaks into crying once more, and expresses her worries of never seeing them again soon to Blaine and Sam. Sam and Blaine then present Tina a plan to have their own lock-in, to which Tina agrees to.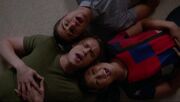 Blaine, Sam and Tina climb into the choir room through a window during dusk. When they sing
Don't You (Forget About Me)
they can be seen in Sue's and Emma's offices, the teacher's lounge, and the hallways. They are eventually caught by Becky, who had broken into school at night herself. They are forced by Becky to play
Twister
with her, although only Blaine ends up playing with her, while Tina manages to get away with Sam. When Blaine goes to see where they had disappeared to, he finds Tina and Sam making out with each other in a class-room. Grossed out, Blaine returns home, angry with both of them.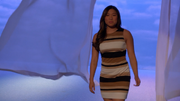 Sam and Tina approach Blaine the following day, in order to make an effort to apologize. Blaine turns down their apology, and reproaches them for making a night the was meant to be about the three of them about just the two of them. Tina and Sam assure him that it was a mere fling, but Blaine doesn't want to hear about it. He tells them that he turned down a night of bumper bowling with Artie and Kitty in favour of them, since he would feel like a third wheel alone with a couple, but that they made him end up feeling like a third wheel anyway. He leaves them in fury. Later Blaine approaches Tina and Sam in the choir room to apologize to them, and that he'll make sure they stay in touch after graduation. At the end of the episode, in the auditorium, she sings, along with the seniors, Hold On.
City of Angels Tina is first seen in the choir room at the last Glee Club meeting before they go to Los Angeles, with encouraging words from Burt and Carole, Tina along with the New Directions travel to Los Angeles, California for Nationals, singing I Love LA while sightseeing.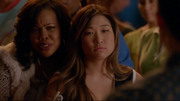 She is then in the lobby of the hotel with the rest of the New Directions waiting for Will to fix the situation with the rooms that Sue had sabotaged,
Mercedes
walks in and is happily greeted by Tina. Later that night, Tina and the New Directions sneak on stage in the middle of the night to get a feel of their atmosphere, where they are confronted by
Throat Explosion
and their arrogant leader,
Jean Baptiste
, once again. Sam and Tina are with Burt and Carole in their room, discussing their future where Tina accidentally makes a comment about her future life, prompting Carole to speak out loud about her lamenting not having one. Tina apologizes for being insensitive, but Carole reassures her that she said nothing wrong and the two teenagers leave to let Burt and Carole talk things out. Later she is seen in the bus during Sam's pep talk, and watching the competition choirs perform before the New Directions take the stage. Just before their performance, Tina expresses her concern when Burt and Carole are shown missing from the audience, causing her to believe it was something she said. However, Burt and Carole show up to give the kids words of encouragement and they all take center-stage to perform songs that
Finn
loved, as a tribute to their late friend. Tina and Blaine take the lead on
More Than a Feeling
and dance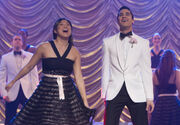 to
America
. Finally, accompanied by a montage of Finn's moments throughout the series, the seniors perform
I Still Haven't Found What I'm Looking For
. After their performance, the New Directions placed second to Throat Explosion, leaving them disappointed. Tina and the New Directions travel back to Ohio to wallow in their grief over the fact that glee club is now over for good, but Burt and Carole assure them all that they did Finn proud.
The New Directions, old and new, gather around to celebrate the good memories they had when the glee club was active. Tina is first seen in the Choir Room, talking to Rachel about her Broadway debut. Will then informs the club that
April Rhodes
will be making a surprise appearance to assist them with one final assignment, and also assist in helping save the club next year. As she enters, Tina whispers to Marley about how April once taught her how to shoplift meat in her vagina. She then dances and sings backup during
Raise Your Glass
. Later we see Tina enjoying the performances of
Toxic
,
Defying Gravity
,
Valerie
and
Keep Holding On
. Later in the choir room, New Directions are finally voting for the diva off, she votes for Rachel saying that she is the "real Fanny Brice." After April introduces
Holly Holliday
to the Glee Club, Tina sings along with the others
Happy
, with Holly leading the song. By the end of the episode, Tina and the rest of the New Directions prepare to say goodbye for good, unknowingly being watched from above by April and Holly.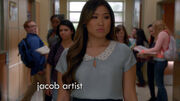 Tina expresses concern for her future when she has yet to receive a letter from Brown, and after being rejected by her back-up schools, she then becomes to desperate to find a way to get to New York. It's revealed through a voiceover that Tina is adopted and Jewish, and she plans to use this information to get into a Jewish college university, Mitzvah.
She then meets up with her New York-bound friends in the choir room and expresses how excited she is to go to New York with them, seconds before she is knocked out by Sam, who accidentally hits her in the head with a trophy. Much like in a
previous episode
, Tina awakens in a dream sequence, a parody of
F.R.I.E.N.D.S.
called
C.H.U.M.S.
. Here she imagines herself as Rachel Green and how her life in New York would be with her six friends, Artie, Blaine, Kurt, Rachel, Sam, and Santana. There is even special appearances by the other New Directions alumni. As she awakens from her dream, she tells everyone that New York is going to be great. Tina appears when Mercedes and Kurt dedicate
I Am Changing
to Santana and Rachel. Later on, Tina joins Artie, Blaine, and Sam in the choir room and laments how she couldn't get into Brown and how big of a loser she is, when the guys decide to comfort her with
Loser Like Me
and encourage her to go to New York with them, which she agrees to. During Rachel and Santana's version of
Be Okay,
Mike and Tina dance together, enjoying the song. Once
Just Give Me a Reason
has finished and Quinn announces about her and Puck, she seems happy and claps with everyone. In hopes to cheer Will up, all of the New Directions, new and old, gather to put together a special video to Will's unborn child, expressing their gratitude and love for Will. Tina mentions that she would've still had a fake stutter if it wasn't for Will. Afterwards, all the New Directions and alumni, including Will, come together to sing one last performance of
Don't Stop Believin'
.
On graduation day, after Tina hurries the sophomores to get to graduation, the seniors all accept their diploma, with a surprise diploma for
Brittany
. Seconds before graduation ends, Tina tells the guys she can't go with them to New York because she got her acceptance from Brown, and they all embrace her with a hug, excited for her.
Tina is briefly mentioned in this episode by Mercedes when referring to Sam's past trysts.
Tina briefly appears in the episode recap, along with Brittany and Kitty - the ex-girlfriends of Artie.
She is first seen in Rachel's nightmare dressed as she was in Season One and stuttering. She gives Rachel her "costume," but actually there is nothing on the hanger. She then watches her performance and dances to it.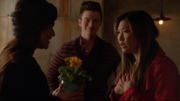 Next we see her when she comes to visit her friends in New York to watch Rachel's show. She brings Rachel flowers, and when Rachel doesn't say anything because she is resting her voice, Tina reminisces about the time she had laryngitis. This bothers Rachel, but she tries to act like that's not the case. Tina then notices Artie isn't there, and starts naming all the friends that aren't there, saying how they are not being supportive, not noticing that is making Rachel uncomfortable. Mercedes interrupts her and asks about Brown University. Tina gladly accepts that topic, saying she loves everything about it except her dormroom and her roommate. She then goes on to tell them she currently doesn't have a boyfriend, but was dating a really nice guy that turned out to be gay. As all of her friends assumed he was gay even before she finished the sentence, she feels a bit offended, and starts talking about Rachel's show again. She tells her about the amazing story she read on Broadway.com that predicts
Funny Girl
is going to be a huge hit, but she doesn't stop at that but starts mentioning the bloggers and commenters that disagree with that. Blaine tries to stop her from talking about it, but she doesn't respond to that, not noticing how much all this is bothering Rachel. She only stops talking after Sam bluntly tells her to shut up. Rachel excuses herself from their company, clearly shaken, saying she needs to sleep. Mercedes then decides Tina is going to stay at her place so she wouldn't accidentally make Rachel even more nervous.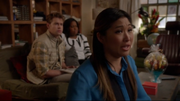 Next day she comes to the
apartment
along with Blaine, Sam and Mercedes, and tries her best to make Rachel feel better so she could go on stage that night. After they all fail at cheering her up, they talk about how bad the situation is, not knowing what to do next. She is shocked when Sue comes into the apartment and asks her what she is doing there. She is obviously offended when Sue calls her "Asian number one" and doesn't like the fact that she will be staying in the apartment. When Santana manages to cheer up Rachel, she participates in the group hug.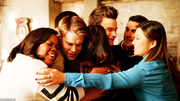 She watches Rachel's opening night and enjoys her performance. After the show, Tina and the others congratulate Rachel on her Broadway debut, and they all together go to a club in Greenwich Village. She has fun there and dances happily. After the group comes back to the apartment early in the morning, she mentions she got the DJ's number. To her disappointment, Blaine tells her the DJ was gay and takes the paper with the number on it from her. After Rachel's confrontation with Sue, Tina claps to show how great Rachel was at standing up for herself. When the group gets to the newspaper stand and buys The New York Times she is both nervous and excited to hear what the critic thought of the show. She reads a part of it, visibly happy that it's good news. When Mr Schue calls Rachel, she's glad to hear everything is fine and that Mr Schue now has a baby boy. This episode marks the last appearance of Tina in Season Five.
In Season Six, Jenna Ushkowitz was demoted to recurring cast.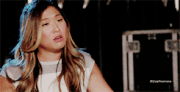 Tina first appears in this season for the homecoming week. She showed up later than the other alumni. Everybody has greeted
Kurt
and
Rachel
in the auditorium, seemingly leaving her behind, which leads her to complains to them for not waiting for her while she parks her car. Everyone's cheers for her and she slowly turned smiling and joins them. She is next seen in the choir room and participates in
Take On Me
, as part of the mission to recruit students for glee. She alongside
Puck
,
Quinn
,
Mercedes
, and
Sam
then try to recruit the
Tea Party Patriot Club
to join the Glee Club. When a girl told them that this club is the most popular club in the school, Tina yells to herself "Oh My God this is terrible! What is happening to America?!" Then the club leader replies with an offensive and racist comment which leads to Mercedes confronting them and they cancel the recruitment of the Tea Party Patriot Club, then leaves the place. She is next seen in the choir room when she and her friends hears a singing voice turned out to be
Roderick Meeks
's. All of them convince him to audition for the Glee Club. She is present at Roderick's audition. Later she makes a comment at the first meeting of the newly reformed
New Directions
because it only contains 2 members.
Santana
then enters the room and tells her to shut up because she,
Brittany
and Quinn have found 2 more members,
Madison
and
Mason
. She is last seen singing
Home
in the courtyard with the whole group, for the Homecoming bonfire.
She is present when Kurt and Rachel announce the club's first assignment which is Alanis Morissette VS Carole King. Tina yells "TEAM ALANIS" and high fives Jane and Roderick. After the glee club meeting, Tina approaches Quinn and questions her comment about Brown University when they find Becky in the hallways where she insults them but also asks them for help. Becky tells them she lied to her new boyfriend that she was the president of all club in WMHS and a member of the glee club. Both of them agree to help. She is in the choir room when Santana and Brittany performs Hand in My Pocket/I Feel the Earth Move. She seems happy when Santana proposes to Brittany and even quips Kurt for interrupting their proposal, saying that "as somebody who has lived their life jealously attacking the happiness of others even I can't hate this engagement" also adding that she ships them. She is thanked by Santana who secretly staring at Kurt in a serious manner. Later when she, Quinn, and Becky are rehearsing for their performance, Becky quits after just 10 minutes practicing, saying she would go for a date. Together with Roz and Sue, Quinn and Tina confront Darrell, Becky's boyfriend, about his intentions with Becky, in which he states that she should be treated like normal people do. After that, Tina, Quinn and Becky are preparing to perform So Far Away, Tina tells Becky not to be scared and to burst in like Mercedes but during the performance Becky gets scared and runs away. Quinn and Tina along with Brittany and Santana chase her to see if she is okay. In an empty classroom, Becky cries while all of them comforts her and suggest that she told the truth to Darrell. Tina adds that Darrell seems to really like her, and states that she sees him looking at Becky in the way she wants a guy to look at her. Brittany objects in a serious cynical way, saying she blocked Tina's voice a couple of months ago because everything she said is always about her, which Tina seems to take offense. Becky thanks them all. When Kurt and Rachel are praising the New Directions and telling them they are ready for sectionals, Tina walks in and adds "You get used to that" just before performing You Learn/You've Got a Friend with the alumni and New Directions.
Tina is seen helping to decorate a barn, where Brittanys and Santanas wedding takes place, dragging a tree, as Kurt asks people to help her. Tina complains about how she ended up doing this. Kurt replies that she volunteered to help. Tina retorts that she didn't think she was going to do all that labour, stating how she feels creeped out by the kids, believing that not re-introducing herself was the cause, and that no-ones talking to her.
In a wedding shop, Santana talks to Rachel, Tina and Mercedes about how she and Brittany will try out wedding dresses, for the wedding, Brittany stating that there should be no peaking at each other's dresses. They walk out in different dresses, to which the 3 girls judge their dresses. Brittany walks out, where all of them agree that the dress she is wearing, is the right one. Santana walks from behind, talking to Brittany about how beautiful she looks, to which Brittany and the others react superstitiously about how she's seeing her in her, dress, all of them ushering Santana to go back in change.
In the auditorium, Tina talks to Blaine, Puck and Artie about hows she's going to ask Mike to marry her. They all are surprised. Artie tells her its crazy. She tells him that she's already got a ring, and that its not crazy for a girl to ask a guy for marriage. Artie says that it is, when they're not even dating, to which Puck agrees. Blaine states how its romantic, to which Tina thanks him. Tina tells them that she's happy with him, and has missed the opportunity to marry Mike before, not wanting him to let go again. Blaine tells her to do it. Artie asks how long its been since they've talked, after their break-up. Tina tells them that it there wasn't a lot, while she was still in high school, but now in college, she talks to him a lot. She tells them that he's her best friend again. Puck then agrees, saying he'd be happy to see them back together, and Blaine agrees too. Tina asks Artie if he also wants them together, wanting them all to agree, or else she won't propose. Artie tells her that he may not like it, but if she wants that, then he'll support that. They all hug, Artie looking glum.
Before the wedding ceremony, Tina walks up to Mike and Puck, where latter commenting on how hot Tina looks, to which Mike agrees. He leaves them, Tina fixing Mike's tie.
Mercedes, Tina and Rachel are gathered with Brittany (Brittany in her dress, while the other three, in bridesmaids dresses. Brittany paces, saying to find things (lizards and spiders) for her good luck and they walk out.
At the wedding, Artie and Mercedes sing At Last and Tina and Mike share glances with each other.
Later at the reception in another part of the barn, Tina combs her hair, as Mike walks in. Mike tells her that they promised that they won't leave, without one dance. He goes to walk out, but Tina asks him to stay for a moment. She gets the ring, and starts to propose to him, about wanting to spend her life with him. She gets on her knees, asking him if he wants to marry her. Tina, seeing Mike's expression, rapidly says that she knows it's a lot to take in, and that they don't have to get married yet. They say "I Love You" to each other, but Mike says they can't get married yet. Tina gets up, saying what she did was stupid. Mike gets up, saying that when he thinks of her, he smiles, and that he's happy they reconnected, calling her sexy, to which Tina walks to look at herself in the mirror, starting to cry. He tells her, that since they worked together in Asian Camp, he's always thought she's sexy. He then tells her that its only natural for her to say this, because their friends are getting married. He tells her that they have their lives ahead of them, and that there is a million guys out there, but Tina cuts him short, and they both kiss. Mike then proposes that they should have their dance, to which Tina accepts. They walk out and dance togther during Our Day Will Come.
The following day, in the choir room, Tina walks in to Artie setting up lunch, feeling nostalgic, wanting to relive their Tuesday lunches. Artie asks her how she's doing. Tina says that she knows he thinks she's crazy for proposing to Mike, but she states that she felt a bit jealous that everyone else was having exciting moments happening, wanting one to happen to her. Artie states that no one loves being alone, but you can't force yourself to be in a relationship, to avoid it, because you miss out on the person for you. He goes on, saying that if she hadn't dumped him, Mike and her would never gone out. Tina retorts, saying he dumped her first, for her fake stutter, to which Artie says he doesn't recall that. Tina states that she'll be fine with being alone, but Artie interrupts, saying she worries too much, and that she won't be alone. She stops him, saying how can he be so sure. Artie then proposes an offer, that when they're thirty, and if they're not married, they'll marry each other, to which Tina agrees. Artie starts to lists the benefits, and pops a bottle, to which they drink, referring to "Tartie" and "Artina" as their ship name. They say cheers and drink.
She's seen via flashback from the 2012 Sectionals, Regionals and Nationals.
During Kurt's and Mercedes' voiceover, Tina talks in her own, collecting her books, as she introduces herself, saying she loves trying to be unpopular, because she is goth. She explains how goths are the anti-clique of the populars, as Puck and Karosfky walk by, insulting her. She stutters her insult on Puck, to which he interrupts copying her. As they walk away, back in her voiceover, she states that her stutter is fake, and that no-one can do it for 3 and a half years. She continues, saying she can become a big star if she wanted to, and that she needs to stop talking to herself. She tells herself that everyone talks to themselves. As she passes the cheerleaders and jocks, she tells them to go away in her head, saying that they have no power, forming a group of the unwanted to rule the school, including Artie. Artie, not knowing her plan, rolls up to her, asking what's up. She stutters nothing, and then goes to wheel him around. In his voiceover, he introduces himself, saying that he loves Tina for not only being sexy, but also treating him with respect, joking with him, treating him like an equal unlike everyone else. He unconsciously out loud says that he loves her. When she asks what he said, he changes the subject, by saying they should go eat.
In the cafeteria, where Kurt and Rachel sitting together, a pair of goths pour food on top of them. They walk away as everyone around laughs, and go sit with Tina and Artie. Artie, surprised, says that he can't believe they did what they just did. One of them, a girl, says that he dared them too, and because they didn't care about them. The other goth, a guy, says they had it coming, referring to when Rachel made fun of him about how he's not a werewolf. Artie agrees, saying she shouldn't have. The girl tells them its time for them to do their dare, as Kurt and Rachel walk out. She dares the both of them to sign up for the glee club. They state they will.
In the auditorium, Tina sings I Kissed a Girl, with Artie watching her from the stage, and Brad playing the piano. When she slaps her thighs, Will watches surprised. He writes down that she's "Edgey," "Good Energy" and "Angry" (when she slaps her thighs again). When she finishes, Will applauds, saying thanks to her. Tina walks to Artie, telling him that he can't top that. They high-five. Artie rolls out, and begins to sing Pony. Tina dances on the side of the stage. When Artie finishes, he rolls to Tina, who praises him, and they hug, Artie looking happy.
In the choir room, the five members sit, not talking to each other. Will walks in, welcoming them. He give them gloves, and tells them that they're doing Sit Down, You're Rockin' the Boat, saying when he was in glee club, they performed that song and got a standing ovation. He says that Artie will lead. Rachel interrupts, saying she should lead because she was a member in the original glee club, and the first song sets the tone for the group as a whole. Will firmly tells her that Artie will sing, and that everyone will have turns of singing solos. When Will states he may do Grease for Sectionals, he asks who wants to be 'Sandy.' Rachel and Mercedes both raise their hands, (Kurt raising his slightly). Rachel, infuriated, states that she's the only person who can play Sandy. Mercedes comments on if its because she's white. Rachel begins to explain that they need to be taken seriously, about who has the best voice. Mercedes states that she has the best voice. They glare at each other, when Will tells them to warm up.
At the next glee club meeting, Will says that they're moving to the auditorium, informing them that Principal Figgins believes that they are important, which is why he's giving it to them for a little while. He tells them to get sheet music for "You're the One that I Want." Mercedes asks who gets to sing the solo, to which Will replies that Rachel will. Angered, Mercedes says that she can belt higher than Rachel. Rachel interrupts that she belts just as good or even higher than her. Mercedes tells her that they should have a sing-off right at that moment. Will cuts in, saying they won't have a sing-off, but he'll keep the idea with him for later exercises. He tells Mercedes that Rachel has the solo, and that everyone else will have one eventually. Mercedes, hurt, states the white girl always goes first.
The following day at the emergency meeting, Kurt, Mercedes, Artie and Tina talk about the things that Finn has done, Kurt saying that he wants them to do "Don't Stop Believing." Rachel walks in, offended at how they started without her. Mercedes states that she's 10 minutes late. Rachel states she should be glad that she came, and that they shouldn't have emergency meetings without Finn. Kurt tells her that the meeting is about that. Rachel states they cant kick him out again, because she brought him back in. Kurt tells her to kick him out again, knowing that Artie and himself are not her ideal male lead, and he states that he doesn't care, but doesn't want an evil jock in their midst. Mercedes interrupts, saying that she doesn't consider him to be an evil jock, but his girlfriend, Quinn Fabray, is a bitch. Artie tells them that when the other jocks locked him in a Port-a-loo, Finn saved him and wheeled him home, apologizing to his mom about the incident. Mercedes says that Finn never called her fat, unlike the other jocks. Kurt also tells them that he let him take off his Marc Jacobs jacket, before getting thrown in the dumpster. Tina finishes off, saying he's cute. Rachel states that he may not be as different as them, and that he just wants to be accepted for who he is than who other people label him for. Rachel continues, saying if they exclude him, then they're just like the other people who excluded them, and states that in McKinley, her life sucked, but not that week, because she now has made friends. She tells them that the club may become special to them, forming them to become who they want to be, and that when they look back at their time in the club, they should be proud of what they accomplish. They all decide to keep Finn in the club.
In the auditorium, the New Directions, (with Finn), perform Don't Stop Believing. Will walks in, watching from a distance, beginning to cry again, as they all perform in sync, and seeing how good they are. Unseen, Sue watches from afar, with Quinn and Santana, from above. Puck also watches from the other end of the auditorium, walking out before they finishes. When they finish, they bow their heads.
Will walks into the packed choir room, Rachel announcing he's inside. Everyone claps for him as he walks to the center of the room, everyone crowded around. Will states that it's the most exciting day of glee club since the alumni had joined (Kitty, Tina, Artie, Mercedes, Sam, Blaine, Kurt and Rachel being present in the room). Will asks them to take a seat, to which Rachel asks him when they'll start auditions, Kurt pointing out how the rule "whoever wants in, gets in" rule. Will corrects him, saying that he'll form new groups along with the New Directions, bringing back The Troubletones and making a new all-boys' equivalent called The Duly Noted, as well as a Junior Varsity group for those who need more practice before joining the "big leagues". Mercedes asks how he'll be running all those groups, and the school. Will explains that he's not going to be running the groups, Artie asks if he'll teach the New Directions, but Will tells him that he's interviewed a candidate that he likes. He picks up his ukulele, saying he's prepared a song to say farewell to them. He heads to the back of the room, saying that his life changed in that room and learning about how the message of the lyrics of a song contributes with it. Sam gets his guitar, and they both sit at the back of the choir room, playing, as Will begins to sing Teach Your Children. The alumni begin to cry along with Will as he sings the song. At the end of the song, everyone applauds for Will. Will stands up and blows a kiss to Rachel, who mouths a "Thank you" to him.
In the auditorium, Artie, Blaine, Kurt, Sam, Rachel and Tina walk in. Mercedes, on stage, tells them to stop, and explains to them that they need to listen to her, because she doesn't want to cry. They walk to the middle of the auditorium. Mercedes informs them that she's been picked up to be the opening act for Beyoncé's new world tour. They all cheer for her, and Mercedes tells them that when she came back, she's been trying to remember who she was. But, she can't remember the "old Mercedes" that well. When getting the call, she didn't think it was a mistake, as the "old Mercedes" would have done, but because of them, she was able change, and make her know that good things are possible, and that its not common to find people like them. They begin to go up to her, but she stops them again, telling them that she'll lose it, and start crying. She tells them that with all the things that are happening in her life, she won't be able to see them for a while. She dedicates a song to them, wanting to walk out like she'll see them all the next day, like its not goodbye. She begins to sing Someday We'll Be Together, with a church choir singing from behind. They all dance along to her singing. Mercedes walks up to them and hugs them all as she continues to sing. She then walks up the auditorium steps, to the top entrance, as the alumni begin to cry, while she still continues to sing. She stops at the top, belting out the final note. They all look at each other in silent sadness. Mercedes blows a kiss to them, and walks out. Artie officially states that Mercedes has left, and they all look up at the entrance that she walked out of.
Five years later in New York, Mercedes gets out of her limo and walks to Tina and Artie. Tina begins to explain that when the movie she's in, directed by Artie (that Mercedes was initially supposed to do, but was too busy with headlining her own world tour), has been nominated for a film festival. Artie asks her if he can borrow her songs for the movie, as Blaine and Kurt come out from their taxi.
They knock on the door to Rachel's room, where Rachel is getting ready. Kurt walks to her as Rachel tries to get up, telling her to not stress herself. Rachel states that she'll be fine and can't wait till the baby comes out. Blaine states that they've brought food to help the baby's brain grow. Tina asks Rachel (after hearing from Kurt and Blaine) about why she agreed to be their surrogate. Rachel informs her that its a full circle of how she was raised, but tells Tina that Blaine and Kurt have helped her out in her life and wants to make them happy. She tells them that they'll be lovely parents. Jesse walks in, saying he can't wait for the moment and that he's ready to start their own family with Rachel, and is revealed to be Rachel's husband. He tells her that they'll be late, and they walk out as everyone else says goodbye to them.
In Rachel's apartment, Artie, Tina, Mercedes, Kurt, Blaine, Kitty and Roderick are also gathered along with other people, watching the Tony Awards. Andrew Rannells reveals that Rachel is winner, to which everyone at the ceremony, and from Will's and Rachel's apartment, cheer for her.
At the end Tina sings along with the others
I Lived
.
Appearance and Fashion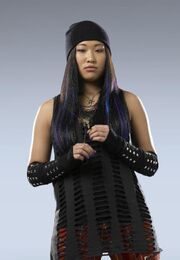 She has long black hair with purple, blue, light brown or shocking pink streaks, and brown eyes (except for the episode, Born This Way where she wore blue contacts). Her style is a mixture of punk, emo, goth and Lolita styles. She prefers colors such as black, blue, gray, and occasionally red, lurid yellow or purple. She is frequently clothed in chains, skulls, locks, cameos, studs, and other things with gothic nature. In Theatricality, Principal Figgins bans her from wearing goth clothing, as a result of his fear of vampires. However, she gets back at him by convincing him that her father is a vampire and will hurt him if the principal bans her fashion anymore. She occasionally wears hats and she sometimes uses vibrant eyeshadow such as a lime green or an orange. It is mostly steam punk.
Whilst through the first two seasons, her style is generally considered "emo" or "goth," her style alters slightly throughout the seasons.
In Season One, her style is considered "punk rocker." This would be better described as a rebellious and dark twist on tom-boy style. It mainly consists of studs, arm warmers, black, fish nets, beanies, converse, spiked shoes, rips/tears and more vibrant/neon colors in her hair (Like neon pink, red and purple). It is a quite aggressive form of goth, sometimes compared to an emo-"skater chick" look. Tina has also been shown in one episode sporting an altered silver cross on her necklace.
In Season Two however, her style dramatically changes as Tina goes from casual-emo to a more feminine "Victorian goth" style. This is a lot more elegant and "lady like" look, although it is still genuinely considered part of goth fashion. This style usually involves veils, fish-nets, dresses, frills black, and more discreet colors in her hair (namely dark blue). It is not similar to real Victorian fashion, only slightly more bohemian and dark. It is also a little more modern. There are two episodes in Season Two where the above does not apply. In Comeback, Tina briefly takes a break from her typical outfits, and replaces them with "librarian chic" clothes, to follow Brittany's trend. This short style Tina used is basically a more tight and seductive version of Rachel's clothes. In the next episode, her goth-wear is reinstated without a mention of what happened to the trend she was following.
In Blame It on the Alcohol, Tina wore shorts and sleeveless tops during the song Tik Tok and in the song Blame It (On the Alcohol) were all members are wearing leather and it is her usual style but she wore shorts and sleeveless which is not her usual clothing.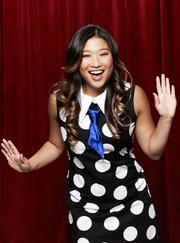 In Season Three, Tina appears to have abandoned the goth look in favor of retro '60s fashion, wearing bright colors and polka dots. She has also used many surprisingly optimistic accessories (e.g. ties and jumpers). She appears to have replaced her hair-highlights with curls. In Props, while Tina is dreaming, she visualizes Rachel as herself, though she is wearing her "Victorian Goth" style, similar to what she wore in Season Two. Tina keeps this look and style during Season Four; however, after the events of Shooting Star, she decides to try a new style, called "Steampunk." This style tends to synthesize modern styles influenced by the Victorian era, like vests, top hats, and so. After the events of Sweet Dreams, it seems like she has returned to her '60s fashion, style that keeps wearing during Season Five and Season Six.
Personality
In Season One, Tina is very much the awkward outsider; shy, soft spoken, and meek. Tina has spent most of her life doing her best to stay under the radar of everyone else around her, whether it be social or academic. Her fears of being noticed were so great that when she was still in elementary school, she devised a fake stutter to aid her in getting out of doing an oral presentation. Seeing how effective the stutter was on that specific occasion, Tina began to use it in order to protect herself from having to interact with anyone who she didn't feel comfortable with. As a result Tina's only friend for a long time was Artie, who felt they shared a connection through their mutual disabilities. The only time that Tina seems to allow herself to come out of her shell is when she sings. When on stage, she is bold, brash and without fear, even going so far as to sing I Kissed a Girl in a surprisingly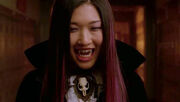 aggressive manner at Glee auditions. Upon joining Glee, Tina has slowly started to relax her defenses, to the point where she has formed other friendships with Kurt, Mercedes, Brittany and a few other members of the Glee Club. She has even 'lost' her stutter, which was her greatest social defense. Her brief romantic relationship with Artie was the final step in over-coming her anxiety, as she admitted to him for the first time that her stutter was fake. Unfortunately, this admission resulted in an abrupt end to the relationship, which could have possible sent her back into her shell. According to Tina's Facebook profile, she enjoys listening to emo-core and speed metal music, cutting the hair off her dolls, and spending time with her speech therapist, by the name of Judy (due to the fact she admitted to Artie her stutter is a lie, this could very well be a lie as well).
In Season Two, Tina has become much more bold and open about her feelings. However, she is not without her personal insecurities, as seen when she suspects Mike of cheating on her with Brittany during Special Education. Tina feels that she is not good enough to be with Mike, a popular football player, which causes her to go so far as to dress like a cheerleader for him. Tina has always been open about being Asian and is proud of it but on many occasions she has also shown annoyance at being stereotyped as one. Her insecurities have gotten the best of her on several other occasions as well, most notably during her performance of My Funny Valentine for Mike and her performance of I Follow Rivers when she was heckled by the audience.
In the start of Season Three, we can see how Tina is completely committed to her relationship with Mike, helping him to get into a Dance School and trying to convince Mr. Chang, who didn't want Mike to go there, without telling to her boyfriend. Also, she is slowly growing up and standing up for herself, like she did in the events of Props, where is revealed she wanted more attention that what she was receiving. However, it isn't until the Season Four premiere that Tina seems to finally have opened completely about her feelings and thoughts. She is not afraid to say what she thinks, developing a much more sarcastic, sassy and Santana-ish personality, to the point that she is now considered one of the main Divas of the Glee Club, earning the "First Annual William McKinley High School Diva Award." During her senior year, she develops a crush on Blaine, which later leads into a very close friendship; he's the person who still can see the most of her emotional side. She also seems to be in great terms with Sam and Kitty. Her popularity also seems to be growing, as she is nominated for Prom Queen, award that she ends winning, not without being Carrie'd by Bree, Dottie, and The Cheerios
Relationships
Main article: Mike-Tina Relationship (Tike)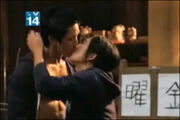 Their relationships started at Audition, Tina started becoming attracted to
Mike
during the summer at Asian Camp, where both of them were counselors teaching tech-savvy Asian kids about the arts. Tina found herself attracted to Mike, due in large part to his amazingly cut abs, which he revealed during a song and dance number. It resulted in them making out in front of their own students. When they returned to school, blogger
Jacob Ben Israel
attempted to confirm their relationship, but they called him racist for implying that they were only dating because they were both Asian. However, as they walked away, they clasped hands, unaware that they were still being filmed, and thus confirming the relationship. In the end of the episode (
Audition
) they are seen dancing together in the music room.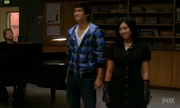 In Duets Mike doesn't want to sing in a duet but prefer to dance because he is really not confident with his voice. When it's time to show their duet song Tina comforts Mike because he is still scared to sing. In their duet song they sang Sing!, the result was successful and they hugged after the song. In
Never Been Kissed
, they are making out in the empty classroom Tina is imagining
Coach Beiste
and saying the name out loud, Mike is a little bit confused and Tina ran quickly ran out of the empty classroom, implying that Tina may be bisexual. In
Furt
they attended the wedding of
Carole Hudson
and
Burt Hummel
. They also had a short duet in the group number Marry You. In
The Sue Sylvester Shuffle
, Tina joined the
Football Team
with Mike, because the other players left. When they began to play, Tina picks up the ball and ran for the goal but is hardly tackled leaving her unconscious, Mike was so worried for Tina but after a few seconds, Tina woke up and Mike was very happy. In
Silly Love Songs
, Artie sings
P.Y.T. (Pretty Young Thing)
while Mike is dancing to it, they dedicate it to
Brittany
and Tina. After the song Tina sang
My Funny Valentine
to Mike to show him how much she loved him. In
Blame It on the Alcohol
, Tina and Mike both attended
Rachel
's party. In
A Night of Neglect
, they are both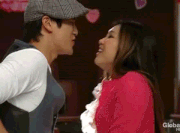 in the
The Brainiacs
. When Tina performs
I Follow Rivers
but is booed out by the
The Heckling Club
,
Mike
comforts her when she is crying because of the result of her performance. In
Born This Way
, Mike calls Tina a "self-hating Asian" because she's wearing blue contacts but in the end of the episode it is shown that they're kissing and
Mr. Schue
stops them. In
Prom Queen
, Mike escorted Tina to the dance and they are both caught again kissing in the song
Jar of Hearts
. In
The First Time
, she reveals that she lost her virginity to Mike over the past summer. Mike again escorted Tina to their second prom in
Prom-asaurus
and shared a kiss during
Take My Breath Away
. In
The New Rachel
, Tina reveals she broke up with Mike over the summer, despite getting a tattoo before saying 'Mike Chang Forever', which she changed to 'Make Change Forever' after their break-up. Tina makes clear that she still in love with Mike, and still remain good friends. However when he returns to help out with the musical, Tina tries to avoid him altogether as it is still slight uncomfrontable. At the end of the musical, Mike and Tina re-think their break-up and consider doing some further talking.
Main article: Artie-Tina Relationship (Tartie)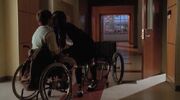 Tina and
Artie
were friends long before joining Glee. Upon seeing the notice board, it was Tina who helped Artie sign up, due to his being unable to reach the sign-up sheet in his wheelchair. After joining, Artie and Tina began to show a mutual attraction to one another, with Tina having immense respect for Artie being handicapped and yet not letting it stop him from living his life. Artie meanwhile feels a kinship with Tina, because of her stutter. When the Glee is forced by
Mr. Schuester
to use wheelchairs, Tina's respect grows and at last the two go on a date, which culminates with a kiss. After the kiss, Tina admits that her stutter is fake, which disappointed and angers Artie, who breaks off the relationship. Afterwards, it appears the two of them have remained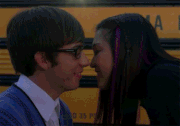 friends, as there has been no obvious ill-will between the pair. Later, Artie becomes a bit sexist and doesn't treat her well, which leads to her "going over the edge," but the two make up and kiss for a second time. In Season Two, it's revealed that Tina broke up with Artie over the summer, during which time she started dating
Mike Chang
. She says that he was a bad boyfriend who only wanted to watch
Coming Home
whenever they hung out. She also stated that he didn't call her for several weeks, to which Artie weakly defends was because there was a Halo marathon. Hating the fact he lost Tina, Artie has sworn to find a way to win her back, however Artie has moved on, started dating
Brittany
, but later they broke up. They appear to be good friends in Seasons Three, Four, and Five.
Main article: Kurt-Tina Relationship (Kurtina)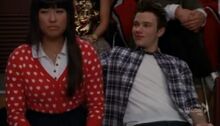 Tina pretended to be
Kurt's
girlfriend in
Preggers
to hide Kurt's homosexuality from
his father
. Though it was not an actual relationship, the two appear to be friends. Kurt also stands up for Tina in
Theatricality
. In
Never Been Kissed
, they walk through the hallway while they talk about sweater trends. In
Hold on to Sixteen
, Tina and Kurt sing together with Mike and Quinn at the Sectionals
ABC
. During
Tina's Dream
in
Props
, Tina and Kurt switch roles with Rachel and Finn, making them a couple in her warped fantasy.
Main article: Blaine-Tina Relationship (Blina)
They join the cheerios together in Swan Song. Despite only spending a single day on the cheerleading squad, they remain friends after that. Tina even realizes that she feels for Blaine as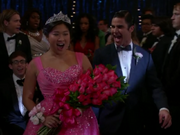 more than a friend, and even organizes a sadie-hawkins dance, with the sole purpose of being able to ask Blaine to go to the dance with her. Blaine rejects her at first, but agrees to go with her later on. Despite the fact that Blaine is attracted to men, and even shares having a crush on Sam with her, Tina works herself up on her feelings for Blaine. In
Diva
, she helps him with a cold he's struggling with. In return, Blaine helps her with the weekly glee-club assignment. While they are brain-storming ideas, Tina tries to find a way to get clsoe to Blaine, although Blaine falls asleep while she is doing so. She then spreads vapor on his chest. Furious at Blaine for not reproducing her feelings, she dedicates
Hung Up
to him. It makes her realize that her crush on Blaine has no future, and she does gives up on it. They remain friends following that, and make their final days at school count together with Sam.
Songs
Total = 80
Solos
Solos (In a Group Number)
Season One
Song
Episode
Solos with
Push It
Showmance
Artie, Finn, Mercedes, and Rachel
Proud Mary
Wheels
Artie and Mercedes
My Life Would Suck Without You
Sectionals
Finn and Rachel
Express Yourself
The Power of Madonna
Mercedes, Quinn, Rachel, and Santana
Bad Romance
Theatricality
Kurt, Mercedes, Quinn, and Santana
Give up the Funk
Funk
Artie, Finn, Kurt, and Mercedes
To Sir, with Love
Journey
Artie, Finn, Kurt, Mercedes, Rachel, and Santana
Back-up singing
Unreleased songs
Solos
Duets
Solos (In a Group Number)
Season Two
Song
Episode
Solos with
Toxic
Britney/Brittany
Brittany, Rachel, Santana, and Will
One of Us
Grilled Cheesus
Finn, Kurt, Mercedes, Quinn, and Rachel
Time Warp
The Rocky Horror Glee Show
Artie, Brittany, Finn, Kurt, Mercedes, Quinn, and Santana (album)
Start Me Up/Livin' on a Prayer
Never Been Kissed
Brittany, Mercedes, Rachel, and Santana
Marry You
Furt
Artie, Brittany, Finn, Mike, Quinn, Rachel, and Sam
The Most Wonderful Day of the Year
A Very Glee Christmas
Artie, Brittany, Kurt (album), Quinn (episode), and Sam
We Need a Little Christmas
Kurt and Mercedes
God Rest Ye Merry Gentlemen
Glee: The Music, The Christmas Album
Mercedes, Quinn, Rachel, and Santana
Deck the Rooftop
Artie, Finn, Mercedes, Rachel, and Santana
Born This Way
Born This Way
Kurt and Mercedes
Pure Imagination
Funeral
Artie, Finn, and Kurt
Light up the World
New York
Artie, Finn, Brittany, Rachel, and Santana
Unreleased songs
Solos
Duets
Solos (In a Group Number)
Season Three
Song
Episode
Solos with
You Can't Stop the Beat
The Purple Piano Project
Artie, Finn, Kurt, Mercedes, and Rachel
America
The First Time
Mike, Puck, Rory, and Santana
I Can't Go for That/You Make My Dreams
Mash Off
Finn, Quinn, and Rory
Red Solo Cup
Hold on to Sixteen
Finn, Mike, Puck, Quinn, and Sam
ABC
Kurt, Mike, and Quinn
Do They Know It's Christmas?
Extraordinary Merry Christmas
Artie, Blaine, Brittany, Finn, Kurt, Mercedes, Puck, Rachel, and Santana
Summer Nights
Yes/No
Finn, Kurt, Mercedes, Puck, Rory, Sam, Santana, and Sugar
The First Time Ever I Saw Your Face
Mercedes, Rachel, and Santana
Cell Block Tango
Choke
Brittany, Mercedes, Santana, and Sugar
Shake It Out
Mercedes and Santana
Edge of Glory
Nationals
Mercedes, Quinn, and Santana
Solos
Duets
Solos (In a Group Number)
Season Four
Song
Episode
Solos with
Call Me Maybe
The New Rachel
Blaine, Brittany, and Unique
3
Britney 2.0
Joe and Sam
Some Nights
Dynamic Duets
Blaine, Jake, Joe, Kitty, Marley, Ryder, and Sam
Don't Dream It's Over
Swan Song
Blaine, Brittany, Finn, Marley, and Sam
This Is the New Year
Naked
Artie, Blaine, Brittany, Jake, Marley, Ryder, Sam, and Unique
Diva
Diva
Blaine, Brittany, and Unique
Wannabe
Guilty Pleasures
Brittany, Kitty, Marley, and Unqiue
I Love It
All or Nothing
Brittany, Kitty, and Unique
Duets
Solos (In a Group Number)
Season Five
Song
Episode
Solos with
Hey Jude
Tina in the Sky with Diamonds
Blaine, Kitty, and Sam
Let It Be
Artie, Kitty, Kurt, Rachel, and Santana
Seasons of Love
The Quarterback
Kurt, Mercedes, Mike, Puck, and Santana
Wide Awake
A Katy or A Gaga
Jake, Kitty, and Unique
Roar
Dani, Elliott, Kitty, Rachel, Sam, Santana and Unique
On Our Way
The End of Twerk
Artie, Blaine, Jake, Kitty, Marley, Ryder, Sam, and Unique
The Fox
Puppet Master
Artie, Blaine, Elliot, Jake, Kitty, Rachel, and Santana
Mary's Little Boy Child
Previously Unaired Christmas
Marley and Unique
Breakaway
Frenemies
Artie and Blaine
Jumpin' Jumpin'
Trio
Blaine and Sam
Don't You (Forget About Me)
Hold On
Artie, Blaine, Dani, Elliott, Kurt, Rachel, Sam, and Santana
I Still Haven't Found What I'm Looking For
City of Angels
Artie, Blaine, and Sam
Loser Like Me
New Directions
Don't Stop Believin'
Artie, Blaine, Kurt, Rachel, and Will
Back-up singing
Unreleased songs
Solos
Duets
Solos (In a Group Number)
Season Six
Song
Episode
Solos with
Take On Me
Homecoming
Artie, Brittany, Kurt, Mercedes, Puck, Quinn, Rachel, Sam, and Santana
Home
Artie, Brittany, Jane, Kurt, Madison, Mason, Puck, Quinn, Rachel, Roderick, Santana, and Spencer
You Learn/You've Got a Friend
Jagged Little Tapestry
Brittany, Kurt, Quinn, Rachel, and Santana
Appearances
Trivia
Jenna revealed in a podcast that Ryan originally wrote Tina to have Tourette's syndrome but this was scrapped for unknown reasons.
I Kissed a Girl marks Tina's first and last solo of the series.

However, the first time she performed it the song was unreleased.

In the novel Glee: The Beginning, it is revealed that Tina has an older sister.
Tina is of Korean origin, as stated by Marley (Previously Unaired Christmas).
She and Artie were in glee club the longest, they joined in their first year and left when they graduated.
Rachel and Tina are the only members of New Directions who have each sang a solo, a duet and in group performances in Competitions.
In New Directions, it is revealed that Tina was adopted.
Tina was the second character to hit 100 episodes. The first being Artie.
Tina is the only one of the original six, who sang less than 100 songs.
Alongside Mercedes, Will, Rachel, and Artie, she is one of the only characters to have at least one solo per season, however, unlike the others, her Season Five solo, Revolution, was never released.
Season 4 is the only season where Tina doesn't kiss anyone.
Jane Lynch stated that Tina was her favorite character.
She is the only female member of the original New Directions to have never kissed or been romantically involved with Puck.
She is the only female member of the original New Directions to have never left the club.
Gallery