0v/4hDTDpTqMvs1



Welcome to my profile <3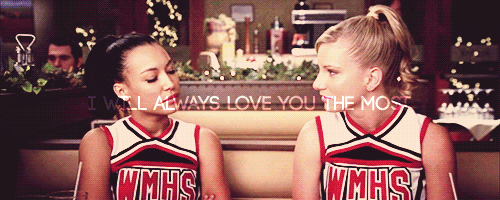 Santana will always love Brittany the most. Kurt will love Blaine until his dying day and Rachel will always be Finn's girlfriend. Nothing can make me believe otherwise </3
My fellow gleeks, here is some information about me:
Favorite tv shows: Victorious, Glee, Friends, Skins & Pretty Little Liars.
Favorite artists: The Beatles, MJ, Coldplay, Taylor Swift, Evanescence & Bruno Mars
Favorite music style: Classic Rock & ballads
OTP's: Brittany/Santana (Glee), Maxxie/Tony (Skins), Naomi/Emily (Skins), Sid/Cassie (Skins), Jade/Beck (Victorious), Spencer/Toby (PLL), Toby/Emily (OTF)
Do NOT like: Justin Bieber, math & Facebook
Things i do on free time: Fangirling over Brittana moments, read fanfiction.
I love the Glee Cast Members (especially Naya, Kevin, Dianna, Chris, Becca & John Lock<3).
Taylor Swift is an angel sent by God to conquer us with her beautiful voice <3
Naya's laugh is the most adorable thing in this world <3
Harry's abs are yummi ;)
Heather's eyes are the most beautiful thing in this world <3
I believe Chris & Dianna are from space, cuz their beauty is not from this planet. <3
Also, please don't take the background for another page please :3
Hi! So...i kinda suck at doing this, so it'll be short: I'm Gaby, latina and i'm 16 years old. I've watched Glee since season 1 (even though back then i didn't like it :P). I'm a proud Spam Team Member so if you need any help just leave a comment in my message wall and i will try my best to help you. I've been here since the beggining of season 3, but i finally created an account at the middle of season 3 and i have made wonderful friends so i decided to stay. I consider myself straight since I've never been attracted to a girl before, but I don't enjoy putting myself labels, I believe they are only doors to stereotypes and judging, so i'll just say i fall in love with the person, not a gender. If that person turns out to be a boy, it's cool and if it's a girl, it's also cool. I'm also a huge fan of Skins and Victorious. =) Also i love making templates, so if you want one just ask :3
Besides all that, there's 3 things i need to say before you start seeing my profile...

1) Brittana is my OTP, my favorite couple ever so if you like them or at least respect them, we will get along just fine :3
2) I'm not watching some Glee episodes since The Break-Up due to lack of interest, but i'm still coming to this wiki because is really cool here :P
3) Hope you like my profile and here's a hug for you <3
In Order :)
Santana: Do i really need to say why i love her? i mean who wouldn't??¡ She's freakin' hilarious, is the only one who tells the true to Rachel Berry in her face! Ialso love her cause i can actually relate to her and no, i'm not gay, i can relate due to the fact that maybe i seem strong outside but inside i'm pretty vulnerable and that's why people can hurt so easily. However, i think the part i love the most in Santana is her vulnerable,even if i adore S1 & S2 Santana, the one i adore the most is the S3 Santana cause i look to past seasons and i see how much she has changed for good, now she's just proud of lovin' and having Britt, she's not scared of the talks and the looks she just want to be with the person she loves and gives a sh*t of what the others say :')
Quinn: I honestly love her, though i know some people don't like her for thing she has done in the past and think she's kinda crazy, but honestly she's the one who has get through the most crap from all the glee character and i'm pretty those quinn haters couldn't take just an half of all Quinn's pain, but what did she do? Sure, she screwed up sometimes, but she's a human who is learning and her life isn't exactly easy at all but that just made her strong and a better person. I mean she went to the girl who insult every geek, threw them slushies and didn't care about anything but her reputation to the person who lost Prom Queen so that way Rachel would get the crown . Sincerely i'm truly proud of this girl because of how far she has come.
Mike: I started to love him ever since i watched "Asian F", he's just so sweet, talented and such a great guy and son; i mean, he wanted to give up on his dreams so that way his father would be happy and accept him as his son again. I know he has only had one real storyline on Glee, so i actually hope he gets atleast one more in Season 4, so that way we can have more Mike's amazingness (lol? is than even a word? Well i don't care) cause i think his character has so much potential and should not be wasted.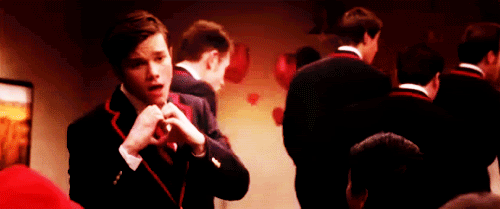 Kurt: I love this guy, he's by far the most adorable character on Glee, so hilarious and with an amazing fashion sense; also such a good friend without mentioning all the courage he has getting through his coming out and never regret of being himself even though other people didn't agree with it.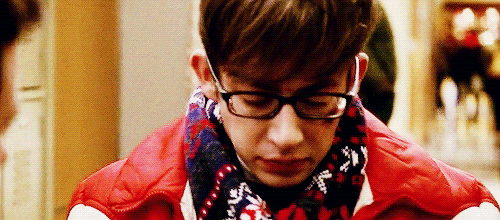 Artie: I love this guy! He's really sweet and funny, also he's such an talented person, i wish he would sing more this season though :(. However it's really inspiring how this character shows that being in a wheelchair doesn't stop you from being happy and that instead of keep saying how bad life treats you can choose to face everything with a smile. :D
Holly Holliday: Coolest teacher ever!, i wish my teacher could randomly break into songs just like her!...Also she ships Brittana like a boss and get them together! :D
Honorable mentions have a... ♥
Everyone else and i disliked S4!Sam, S3!Finn & S3/4 Blaine.
Favorite Episodes: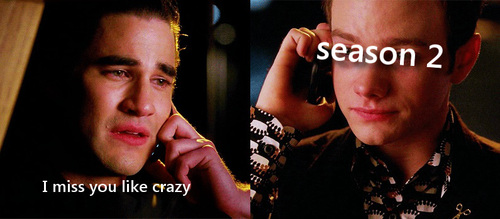 S2 > S1 > S3 >>>> S4
Season One
Season Two
Season Three
Season Four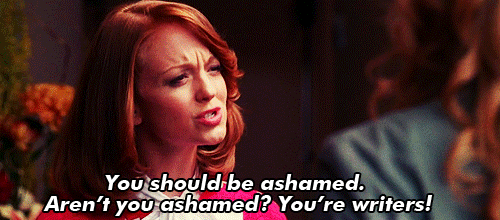 The reason of why i disliked Season Four is because of the bad writing and how out of character some characters were. Also i miss the old cast, i'm not into the newbies that much. Sorry :P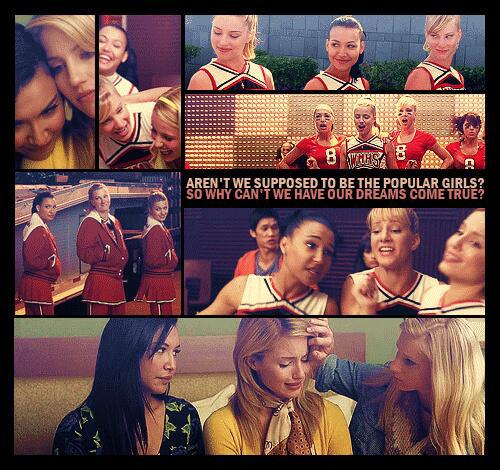 OTF: Starting together, ending together <3
OTF: You can't break up The Unholy Trinity <3
Absolutely adorable, they were easily my favorite part of season 4 and i hope we get to see more of them in season 5. =)
They are hilarious together and i hope they become real friends next season <3
Blaintany aka The Sunshine Twins <3
Well..they kinda have a friendship. Anyway i do adore their interactions :3


They're a lot :P I clearly prefer friendship over romance :3
One True Pairing
| | |
| --- | --- |
| | This user needs Brittana to get back together now! |
| | |
| --- | --- |
| | "Sophomore year i used to sit in this back row and secretly watch you, i counted the number of times you smiled at me and i died on days that you didn't." |
This user believes


Brittana


are soulmates.
Sometimes it lasts in

love



Some cool tumblr posts

Anyway , i also like the following couples:
(Overall Favorite Glee Songs)
By Seasons:
Quinn: Never Can Say Goodbye
Santana: Girl On Fire
Kurt: I Wanna Hold Your Hand
Mike: Cool
Britt-Britt: Run The World (Girls) (Good vocals, amazing performance), Gimme More (*Eargasm*)
Marley: Chasing Pavements
Ryder: Your Song
Artie: Little Drummer Boy
Tina: Because You Loved Me
Jesse: Bohemian Rhapsody (Lead in a GN, but whatever)
Will: In Your Eyes
Blaine: Against All Odds (Take a Look at Me Now)
Mercedes: I Will Always Love You
Jake: Let Me Love You (Until You Learn To Love Yourself)
Puck: I'm The Only One
Rachel: Jar Of Hearts/Without You
Finn: Can't Fight This Feeling
Sam: You've Lost That Lovin' Feelin'
Things i want for season 5
Brittany to come back in the middle of the season and ends up going to NY.
Sugar to have goodbye storyline. (But still... :'( )
Skype scenes between Britt/Santana and Quinn/Santana
More Kadam scenes and a kadam duet.
Tina going to LA with Mercedes because she wants to be an actress.
More Kurcheltana scenes and a song with the 3 of them only. Also a San/Kurt/Rach/Artie song. (they're my favorite male/female singers of the show :D)
Kurtana to have the love/hate relationship like Qunntana has. (obviously with no hook-up) And a Kurtana duet!
Quinn to comeback at least once more :(
Santana to have a nice girlfriend. (She'll have one anyway, i just hope she is a nice girl because if she ends up hurting Santana, i'm not afraid to cut a b*tch.) If the girl it's played by Demi, then I'm cool with it :3
Brittana duets. (Seriously i need one like for yesterday ._.)
Jarley to break-up or be together but, they need to have storylines about themselves and not always about their relationship.
Brittany finding out about Quinntana because of Tina.
Blam hook-up. (Don't break my bubble, if Quinntana did, why Blam can't?)
Brittany/Santana/c*ckblocker love triangle. Obviously Brittana ends up getting back together in the middle of season 6. (I don't mind waiting, as long as they are still in love with eachother.)
A decent goodbye episode for Finn/Cory.
A Joe solo. (The winner of TGP deserves a solo)
More focus on the NY side. Less Lima.
A Ryder/Unique storyline. (I'd rather not to be romantically, but i wouldn't really mind.)
Artie and Blaine as roomies when they go to NY :D
Sam to be likeable again. (Like in Season 2/3)
More Taylor Swift songs <3 and maybe some Evanescence :3
More storylines and songs for Artie and Tina. They deserve it :)
A Faberritana group number! :D
Sarley or Samtina to happen <3. Though I don't think I'll dislike Sam/Penny :P
More friendship storylines. (Kyder, Wildebrams, Syder, Karley, etc.)

Songs i want them to cover
Meet Me Halfway by The Black Eyed Peas sung by Marley, Artie and ND
The Call by Regina Skeptor sung by Marley
Back to December by Taylor Swift<3 sung by Brittana <3<3
Let It Be by The Beatles sung by Tina and Artie
Make You Feel My Love by Bob Dylan (Adele's version) sung by Tina/ Tina & Santana.
Pero Me Acuerdo de Tí by Christina Aguilera sung by Mercedes
The Lucky One by Taylor Swift<3 sung by Quinn
You Are Not Alone by MJ sung by Artie, Mercedes and the original ND.
Yellow by Coldplay sung by Finn
Billy Jean by MJ sung by Artie
Ours by Taylor Swift<3 sung by Brittany (To Santana <3)
Ronan by Taylor Swift<3 sung by Tina
Eternal Flame by The Bangles sung by Quinn
Hey Jude by The Beatles sung by Quinn and Artie
Thousand Years by Christina Perri sung by Rachel and Quinn at Prom :P (Jarley??! Seriously Ryan? -.-)
Sweet Child Of Mine by Guns n' Roses sung by Puck and Will
Broken by Seether ft. Amy Lee sung by Puck and Santana
Forgive me by Evanescence sung by TBA
Yesterday by The Beatles sung by Kurt and Artie
Sweetest Goodbye by Maroon 5 sung by Santana and Blaine
The One That Got Away by Katy Perry sung by Brittana<3
Grenade by Bruno Mars sung by Santana
Alice by Avril Lavigne sung by Tina and/or Kitty.
Wish You Were Here by Avril Lavigne sung by Brittana<3
Paradise by Coldplay sung by Finn with ND (Solos: Tina, Blaine, Joe, Kitty, Artie, Finn)
Secrets by One Republic sung by Joe
Begin Again by Taylor Swift sung by Kurt/Adam or Quinn/Santana
Breakaway by Kelly Clarkson sung by Tina.

Gallery
Videos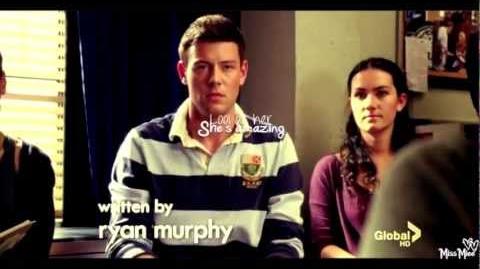 Community content is available under
CC-BY-SA
unless otherwise noted.