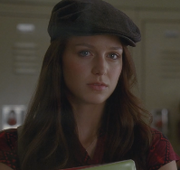 I'm a female Gleek and have been since Season One. I just never got around to making a Wikia account. :)
Glee has been what broke me out of my shell since I am usually such a shy person when it comes to my music. The characters that I relate to the most are Rachel and Marley. Rachel because I have her determination and drive and Marley because I feel like I have her personality. 
I'm more than excited to see Glee return for Seasons 5 and 6 and I can't wait to see what Ryan Murphy has in store for us! 
Well that's about it. Hope you enjoy my wikia page. :)
Season One
Season Two
Season Three
Season Four
Season Five
My Favorite Songs
Season One
Season Two
Season Three
Community content is available under
CC-BY-SA
unless otherwise noted.