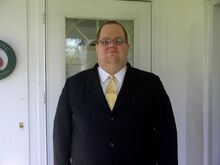 Alex Bogue is who I am. I'm 25 years old. I'm a very nice guy who loves singing. As much as I love singing, that isn't going to be my career. I plan to go into the construction field and remodel old homes. I love watching "Good Morning America". Anything more you want to know, just ask and I'll answer.
My Favorite Songs
Songs I want to be sung on Glee
These are just a few of the many:
Achy Breaky Heart by Billy Ray Cyrus
La Bamba by Ritchie Valens
Your Cheatin' Heart by Hank Williams, Sr.
Behind Closed Doors by Charlie Rich
Walking in Memphis by Marc Cohn and Lonestar at different times
Summer of '69 by Bryan Adams
Some Kind of Wonderful by Grand Funk Railroad
Community content is available under
CC-BY-SA
unless otherwise noted.