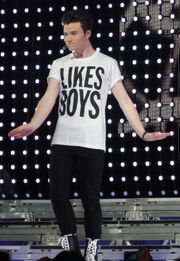 Pretty much done here. Bye, everyone!
All photos I put on my page came from my own camera.
Non-Glee interests
Outside of my Glee interests, I'm a scientist by trade and a huge geek in the rest of my life.
I'm a fan of (almost) anything Joss Whedon does, as well as Harry Potter, Lord of the Rings, Star Wars, etc.
I love Euro-boardgaming.
I collect fantasy swords. (replicas and props)
I love puzzles of all kinds.
I like to program for fun.
I can quote Princess Bride and Monty Python and the Holy Grail from memory.
I've attended many gaming and comic book conventions.
I love love love to travel. I've gone on four trips to Europe in the last six years, two of them completely solo. I also did a solo trip to Costa Rica in 2010. I have my sights on SE Asia, Tanzania, Peru, and New Zealand. I've been to 15 countries and 40 of the 50 US states.
I'm going to stop myself before I start listing all of my interests. No one would get anywhere else.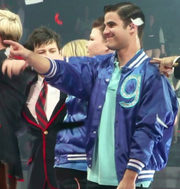 I was a casual Glee fan until
BICO
happened. Then I went insane during the hiatus until the Superbowl. In the year that has followed, I've flown across the country (~5000 miles/8000 km round trip) to NY for just 27 hours to see Glee Live for the last two US shows in June 2011, and I camped out all night (11.5 hours) for the Glee panel at San Diego Comic-con in July 2011. I also went to New York to see
Darren Criss
in
How to Succeed in Business Without Really Trying
in January 2012. I also managed to get a 4-day pass plus preview night to San Diego Comic-con 2012 and stayed in the room all day (5 AM line up for 5 PM panel) to secure a good filming location.
My Glee live photos can be found here.
My Comic-con 2011 photos can be found here. (includes non-Glee stuff)
My videos from the Glee panel at Comic-con 2011 can be found here.
My videos from the Glee panel at Comic-con 2012 can be found here (essentially complete). You can read about that whole experience in my blog here.
If you want to use anything from my content, please just ask me through those sites. I'm generous, and have historically released things, but I do like to actually be the one to grant permission.
I've been a contributor on Wikipedia for years. I finally decided to create an account over here mostly so I can fix errors that just nag at me (mostly grammatical) and so I can get rid of unsourced junk when I see it. I'm a pretty reasonable person. I have nothing against any ship or character. My main goal is just to improve the reliability of this wiki.
My Favorite Songs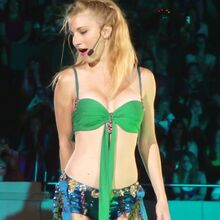 Community content is available under
CC-BY-SA
unless otherwise noted.