Wow, wizow! Last round was very amazing, however, it turned to be the most shocking.
Round 2 Results:
Well, once again the judges have rated and calculated the totals, and we came up with these results: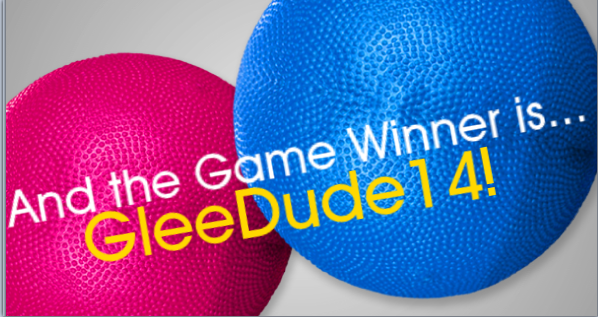 IN:
ArtinaTartie
ILOVEBRITTANYPIERCE
EverydayISeeMyDream
Kurt's Boy 86
LOW::
Camsay
Maxymax123
Gleekobsessed
Bottom 3:
Svwiki99
DoubleDdog09
Zinnia3
Svwiki99's Assignment: 'It's Svwiki99 here with his take on the episode 'Acafellas,' the third episode of season one. Let's get straight into it.
Plot Summary:
The episode begins with Will telling his parents that Terri is pregnant. He, however, is completely unaware that she is not pregnant and afraid to tell him. Also, after being approached by Quinn and Santana, Rachel points out to Will that he is not a trained choreographer and that they need to hire a professional to improve their dancing skills. It is therefore suggested that they hire Dakota Stanley.
In the meantime, Henri St. Pierre; a teacher at the school returns after losing his thumbs in an accident with a table saw. After singing a melodious tune to him; Will, Ken, Henri & Howard form the Acafellas. Mercedes also gets a crush on Kurt; unaware that he is gay. When she asks Kurt to make their relationship official he is staring at Finn but lies to Mercedes that he is going out with Rachel. Mercedes then throws a rock through his car windscreen in anger.
At Dakota Stanley's first rehearsal with New Directions he cuts Artie and Mercedes out of the glee club and makes fun of everybody. As they all begin to leave Rachel makes up her mind that they should fire Dakota and celebrate their differences. Later on, Kurt tells Mercedes that he is gay and she is the first person he has ever told. Mercedes tells him not to be ashamed of who he is but Kurt thinks he isn't confident enough to be himself. The episode closes with Will and the kids practicing a new number and Rachel praising his dancing.
Songs:
For He's a Jolly Good Fellow by N/A. Sung by Acafellas. A classic rendition of a classic song. Not my favourite of the episode but I think it was done nicely.
This Is How We Do It by Montell Jordan. Sung by Acafellas. This song was also covered well and I think deserved more screen time in the episode.
Poison by Bell Biv DeVoe. Sung by Acafellas. It was okay but once again, not my favourite.
Mercy by Duffy. Sung by Vocal Adrenaline. Now this, I loved. It was done extremely well and even though it's the opposition choir singing it I still loved it. Probably my favourite song of the episode.
Bust Your Windows by Jazmine Sullivan. Sung by Mercedes. Nicely done by Mercedes and one of my favorites in the episode.
I Wanna Sex You Up by Color Me Badd. Sung by Acafellas. This song really suited the Acafellas and they did a great cover of it.
Best Part Of The Episode: There were two parts to this episode I really liked. The first one is Kurt coming out to Mercedes. It was portrayed really well and was definitely one of the highlights of this episode. Second, Rachel standing up to Dakota Stanley. It shows the true passion and stick-togetherness of the glee club and finishes off with a nice "And I'm taller than you." You go Rachel!
Rating: All in all I'd have to rate this episode 2.5/5. It lacked something to really get the episode going and the Acafellas storyline was; in my opinion, completely unnecessary. Although there were a few good moments, it completely pales in comparison to many of the other other episodes of Glee. This, therefore, is probably one of my least favourite episodes of the season.

DoubleDdog09's Assignment: Original Song:
Get your slushies ready, Gleeks! It's time for a Glee-cap! :D In this week's episode, the two opposing Glee clubs who (thanks to Kurt) have formed a friendly Rivalry (New Directions and The Warblers) went head-to-head at Regionals in this jam-packed episode! There was not a dull moment in the entire episode (besides the commercials, of course). And most importantly, THEY KISSED! THEY ACTUALLY KISSED! You will know who I am talking about in my actual review below:
The episode started off with The Warblers performing "Misery" with a bored-looking Kurt singing along pretending to be having fun. However, he then disses Blaine for hogging the spotlight in every song. However, one afternoon when Kurt is at home, his pet canary Pavarotti (who was given to him by the Warblers when he first joined) dropped dead due to a stroke. Kurt sang a lovely version of "Blackbird" by the Beatles (YAY MORE BEATLES! :D) and the Warblers joined in (AAH I COULD DIE! :D) And as if it couldn't get any better, Blaine suddenly appeared to either be falling in love with Kurt, or having a VERY satisfying bowel movement. Blaine subsequently requested to sing a duet with Kurt for the competition. And sorry to spoil it for those who missed it, but......THEY KISSED! KURT AND BLAINE KISSED!!!!! AAAHHHHH!!!!! :D YES YES YES YES YES!!!!! :D Meanwhile at McKinley High, the New Directions decided to take a risk by performing original songs for Regionals. While Quinn volunteered to help Rachel write a song, the rest of the Glee club decided to write their own songs. Santana went first and sang a song to Sam called "Trouty Mouth" saying lines to him like "I love sucking on those salamander lips", and guess what Santana: I'm sure we would too if he was ours ;). Puck sang a song to his overweight girlfriend Lauren "Big Ass....HEART!" and Mercedes sang a song that pretty much sums up her personality perfectly "Hell To The No"! Meanwhile, Quinn dissed Rachel during their songwriting get-together, and she got very possessive over Rachel's former (and Quinn's current) flame, Finn. Quinn, who is determined to be Prom Queen, convinced poor Rachel that she will never have Finn again. Now I'm not sure about any of you, but I sure do miss Finchel ;(. However, while one may think that this would have ruined the songwriting seminar, it lead Rachel to go home crying and write an AMAZING song, which was subsequently performed at Regionals.
The competition really heated up as New Directions' returning competitor coached by Sue, Aural Intensity, performed Sonseed's "Jesus Is My Friend", because one of the judges was a nun. However, it was revealed that the nun wasn't really as impressed by the performance as her fellow judge Tammy Jean Albertson, as Sarah Palin-like tea party candidate who was portrayed by none other than Kathy Griffin! The Warblers sang "Candles" by Hey Monday. Much as I love Kurt and Blaine (Klaine, Blurt, Kurt CoBliaine, or whatever :P) this was my least favorite. However, the Warblers really redeemed themselves with a nice cover of P!nk's "Raise Your Glass", which had me a-movin-and-a-shakin the whole time! :D New Directions sang their original songs. Rachel KILLED it with her self-written song "Get It Right", which was sung to Finn, which sort of dismayed Quinn. However, the audience seemed to love it, and seemed to love their other song "Loser Like Me" even more, and so did we at home. "Loser Like Me" is probably one of the best, if not THE best song ever performed on Glee. It pretty much sums up what Glee is all about, getting picked on, getting slushied, but in reality, we can just say to those who bully us "You wanna be, You wanna be a Loser Like Me!" and the best part of the song was the end when they had confetti-filled cups and they "Confetti-slushied" the audience, and i gotta admit, i would have LOVED to be in that audience! :D
When the results came, it was a bittersweet moment as the New Directions won the title and are now going to Nationals in New York! (YAY) However, Kurt, Blaine and the Warblers lost (Aww) but then the most hilarious thing happened: Sue punched the woman who announced the winner, which is probably the most EPIC thing Sue has ever done! I was literally laughing my butt off and I had to pause my DVR while Kurt was burying Pavarotti with Blaine. Then Kurt and Blaine walked hand-in-hand and said "We got each other out of all this. That beats a lousy trophy, don't you think?" I was crying tears of joy as he said this as the couple I ship most on the show has finally gotten together. Overall, I rate this episode a 12 out of 10. Probably my favorite Glee episode so far. Well done, Glee Cast :)
Zinnia3's Assignment:'' Journey!
Who care what happens when we get there when the getting there has been so much fun? In this season finale, New Directions goes through some hard times but comes out on top in the end. The episode starts off with a huge crusher: Sue will be judging at regionals. Of course Will tries to fight it, but there is nothing he can do. Is there any way for New Directions to win regionals with their arch nemesis judging?
Quinn, whose baby is nearly due, has a flashback of the fateful moment when her baby was conceived. It really made me feel for her, and shows you how just one mistake where a guy says he has protection can ruin someone's life.
The New Directions setlist nomination party is anything but gleeful as the students wonder what life will be like without their family of misfits. This scene was really a heartbreaker, especially when coupled with Will's breakdown after hearing "Don't Stop Believing" on the radio. I was in tears with him at that moment, even though I knew that somehow, the would have to pull through.
Finn, ever the leader, talks to his co-captain Rachel about motivating the team. I guess she agrees, because she kisses him! Looks like Finchel is going strong! Although I am not a huge Finchel fan, I am very glad that those two are happy and ready to lead the team. Will, who is on board with the whole "positive attitude" thing, proposes a journey medley to show that it's the path that matters, not the destination. He said that life "Only really has one beginning and one end, and the rest is a whole lot of middle." That was quite thought provoking, it made me realize that maybe these things may seem like the end of the world in high school, but life goes on whatever you do.
We see a return of Josh Groban, Olivia Newton-John, and Rod Remmington as judges. New Directions seems to once again be about to give up, but Mr. Schue steps back in with some encouraging words. "We've got something they don't." And what's that? "Finn's dancing!" Probably my favorite quote of this episode. Right before they go onstage, Finn tells Rachel he loves her. No long speech, no angsty voiceover, just "I love you." It's much better that way. New Directions brings the house down this their Journey medley, including "Faithfully", a mashup of "Any Way You Want It/Lovin', Touchin' Squeezin'", and the New Directions theme song, "Don't Stop Believing".
Meanwhile, Quinn has been reunited with her mother (am I the only one who kept on getting her mixed up with Olivia Newton-John in the audience?) only to have her waters break. They rush to the hospital, and Quinn brings Puck and Mercedes (aw, who knew they had become so close) in with her to the delivery ward. Dianna Agron's performance was fairly convincing, (You suck! You suck! You suck!) but I was surprised when she gave birth to a beautiful 10 week old baby. The delivery is interspersed with Vocal Adrenaline's performance of "Bohemian Rhapsody", which Rachel stays to watch. She finds her mother and asks her to come teach at McKinley. Shelby declines, saying that she wants a life. I thought Shelby seemed a little out of place in this episode, but her storyline was touching.
In the voting room, the other judges turn against Sue. She suddenly finds herself cast as the small-town underdog, and finds a lot in common with New Directions. She even stands up for them! When the winner (Vocal Adrenaline) and runner-up (Aural? Oral? Intensity) are announced, New Directions look truly crushed. That moment was so sad, and it certainly had me wondering how the glee club could ever survive. But survive they did. ' Quinn and Puck are looking at their baby, and Quinn asks if Puck loved her. "Yes," he replies, "Especially now." This is a very touching scene, and it makes you wonder if there is a future for Quick. Then, out of nowhere, Shelby pops up asking questions about Beth. I don't know about you, but I think it's a little unrealistic that there would be no waiting list for the child of someone who looks like Quinn. Then again, this is Glee.
Emma has a screaming match with Figgins, which I enjoyed very much. Her conviction to the glee club was moving, but Will calls her out on it not being just about New Directions. Looks like Wemma too got their "I love you" and dramatic kiss. This would be more of a cliffhanger if I cared more about the adult storylines. They're nice, but I can't get into them like I can with the students.
To thank their teacher for all his help and guidance throughout the year, New Directions sings "To Sir, With Love." All the members say what Mr. Schue has done for them. There was not a dry eye in the place, including me, and, surprisingly, Sue. Sue was moved by the performance, and decided to blackmail Figgins into giving the glee club another year. The scene between Will and Sue is fantastic. Sue admits to Will's teaching talents, and says that she doesn't want to live in a world where she can't torture him or his glee club. I just love it when Sue decides to be nice for a change, even though she can never quite seem to come to terms with that side of herself.
When Mr. Schue makes this announcement to the glee club, they are ecstatic, and I couldn't help but celebrate with them. He and Puck do a charming rendition of Israel Kamikawiwo'ole's version of "Somewhere Over the Rainbow". I loved the clips of the various club members holding hands and embracing. But, of course, the episode could not end there. Shelby adopts Beth! Hooray! ...How is that possible? Oh well. It's sweet. And you can't let Beth go out of the story completely can you?
Songs
Faithfully: This song was very well done, with dramatic staging and good emotion. I thought the highlight was Rachel's voice, as this song definitely showcased her talent. The performance was made even more convincing by Finn's confession of love.
Any Way You Want It/Lovin', Touchin', Squeezin': Of the three journey numbers that New Directions performed, I thought this was the strongest. The vocals were amazing, and the choreography was full of energy. Every member looked like they were having a realy great time on stage. They looked like a real serious glee club, not the underdogs at all, but they still showed heart and soul. I think that this number should have won the competition for them.
Don't Stop Believing: Hooray for the New Directions anthem! I had a huge smile on my face the entire time I was watching this. It had "Glee" written all over it, and I am so glad they included it in the finale. Watching all of them rocking out together really reminded me that nothing can break the love of the glee family. I also liked the addition of Puck and Santana to the lead vocals, although I didn't think Santana's voice went well with Rachel's. This was less strong as a performance number, mostly because a large part of the dancing consisted of a large, fist-pumping huddle, but it certainly got the crowd excited. I think they had already proved their talent, but this number was to prove their heart.
Bohemian Rhapsody: Vocal Adrenaline's performance was impressive, to say the least. Their vocals were good, but I mostly enjoyed their elaborate and difficult choreography. However, as Rachel said, they didn't have much heart. The main difference was that New Direction's performance really made you want to know the people onstage, whereas Vocal Adrenaline were more like untouchable celebrities.
To Sir, With Love: This was my favorite song of the episode. It was so sad, and sounded beautiful besides. I wish they would do more numbers like this, simple, emotional, and with lots of people singing. My favorite thing about this song and this scene in general was that (almost) everyone had a line or two to sing. While Rachel did a lovely job singing the chorus, It thought the best parts were the lines given to Kurt and Santana.
Somewhere Over the Rainbow: This song was very sweet and beautiful. The episode could have survived without it, but I am glad it was included. I loved the harmonies on this song, and I think it was a great resolution to the season. Not to dramatic, but not boring.
Overall, this episode was a very good finale for the season. It had some really nice Finchel moments, some fabulous performances, and some great storylines. It had a lot of sad parts, but the overall message was uplifting, and it had a gleeful ending. It showed that an episode doesn't have to be all fun and games for it to be positive. The only weak point was the slightly lacking storyline with Shelby/Beth/Quinn. I would rate this episode a 4 out of 5. What a journey!'
NOTE: Make sure you read their assignments before you vote! 25 votes to the next round! Happy voting guys, and wish our bottom 3 luck!
Round 2:
<p style="text-align: center;">
This second round's theme is...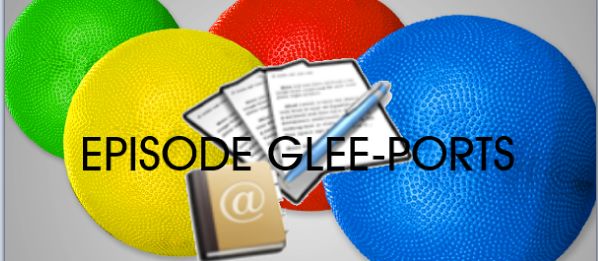 I hope this round is a fun fun fun round for you guys. Last season, round 2 was about making reflections, this time it's time to report..
So, let's say if you're a blog king or queen, or mostly like the Perez Hilton or the TMZ dude, and you're making reports about latest gossip or episodes of shows. This is how this goes.
I will assign each member an episode of Glee to report.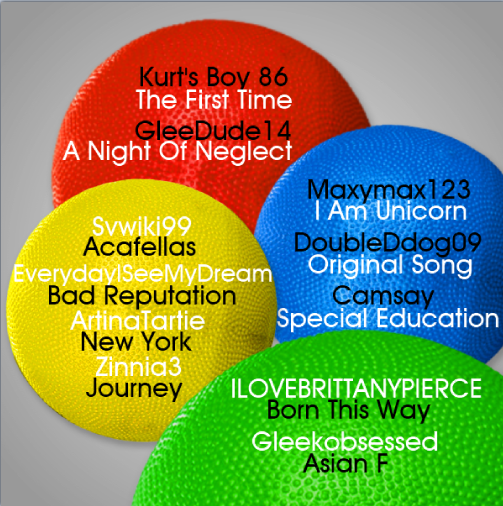 What you have to do is give your OPINION on the episode, give a short summary about what happened, the songs and then give your favorite part of the show, and rate the episode. </p>
You have to give your all, make sure you clearly be specific, as if you were an editor. Only one will be eliminated this round.
NOTE: You do not have to do this now, you have a lot of time!
Process
All contestants will be given the game they will be doing each week.
They will do the assignment, and leave it as a comment unless told otherwise. They are encouraged to do it in the first 24 hours, but 48 hours if they absolutely need to. If they go past 24 hours, they are put into the bottom 3)
After looking at every result, Trae209, BeatlesgLee Fan and Kidsloveme will create a bottom 3. We will also create a Game Winner that will get a sneak-peak at the next game, and get a one-on-one session with either the each of us.
The bottom 3 is then announced, and the users (you) will vote who you want to stay that round. You will have 48 hours to vote. We need at least 20 votes to move on, or else the entire round will start over.
A new blog will be created, announcing the user that was voted out, and the next game will start.
Callback List (Round 1):
The Callback List (Round 1)
Called Back...
♫ ArtinaTartie
♩ GleeDude14
♩ DoubleDdog09
♩ Camsay
♩ ILOVEBRITTANYPIERCE
♩ Kurt's Boy 86
♩ Maxymax123
♩ Svwiki99
♩ Zinnia3
♩ EverydayISeeMyDream
♩ Gleekobsessed
Not Called Back...
Brittana glee
Results
Round 1:
Theme: Glee Composition.
Game Winner: ArtinaTartie

Bottom 3: Brittana glee, Gleekobsessed and EverydayISeeMyDream
Eliminated: Brittana glee
Round 2:
Theme: Episode Glee-ports.
Game Winner: GleeDude14
Bottom 3: Svwiki99, DoubleDdog09 and Zinnia3
Eliminated: TBA
Round 3:
Theme: Glee-xperience.
Game Winner: TBA
Bottom 3: TBA, TBA and TBA
Eliminated: TBA
Round 4:
Theme: TBA.
Game Winner: TBA
Bottom 3: TBA, TBA and TBA
Eliminated: TBA
Round 5:
Theme: TBA.
Game Winner: TBA
Bottom 3: TBA, TBA and TBA
Eliminated: TBA
The Top 12
Note that these are listed in alphabetical order:
Actual Rankings
1st: TBA
2nd: TBA
3rd: TBA
4th: TBA
5th: TBA
6th: TBA
7th: TBA
8th: TBA
9th: TBA
10th: TBA
11th: TBA
12th: Brittana glee
Contender Progress Chart
Contender
1
2
3
4
5
6
7
8
9
10
11
12
ArtinaTartie
TOP
IN
Camsay
IN
LOW
DoubleDdog09
IN
RISK
EverydayISeeMyDream
RISK
IN
GleeDude14
IN
TOP
Gleekobsessed
RISK
LOW
ILOVEBRITTANYPIERCE
IN
IN
Kurt's Boy 86
IN
IN
Maxymax123
IN
LOW
Svwiki99
LOW
RISK
Zinnia3
LOW
RISK
Brittana glee
OUT
</center>
| Contender | Result | Date Eliminated |
| --- | --- | --- |
| ArtinaTartie | N/A | N/A |
| Camsay | N/A | N/A |
| DoubleDdog09 | N/A | N/A |
| EverydayISeeMyDream | N/A | N/A |
| GleeDude14 | N/A | N/A |
| Gleekobsessed | N/A | N/A |
| ILOVEBRITTANYPIERCE | N/A | N/A |
| Kurt's Boy 86 | N/A | N/A |
| Maxymax123 | N/A | N/A |
| Svwiki99 | N/A | N/A |
| Zinnia3 | N/A | N/A |
| Brittana glee | OUT | November 24th, 2011 |

 WIN  This user won the competition, earning a gold medal and the title of champion of the second seasonThe Glee Wiki Tournament series.

 2ND  This user achieved second place in the competition, earning a silver medal.

 3RD  This user achieved third place in the competition, earning a bronze medal.

 TOP  This user won the game-winner in this game.

 IN  This user moved onto the next round.

 LOW  This user was cited as needing improvement, but was safe.

 RISK  This user was forced to be voted upon by the users, do to a poorly performance.

 OUT  This contender was eliminated.

Community content is available under
CC-BY-SA
unless otherwise noted.