Vanessa Brittany Lengies
[1]
, born July 21, 1985
[2]
, is a 33-year-old Canadian actress, dancer and singer. She is best known for her role on
American Dreams
and she had a recurring role as
Sugar Motta
on
Glee
.
Personal life
Lengies was born in Montreal, Quebec, Canada[3] to a German father and an Egyptian mother. She speaks French, English and some Arabic.[4] Lengies graduated from Hudson High School in 2002.[5]
Career
She got the role on American Dreams in her graduating year of high school in 2002.[6] The show lasted for three seasons and ended in 2005. She starred in The Perfect Man, alongside Hilary Duff and Heather Locklear, in 2005. Lengies had a supporting role in Waiting... In 2005 and its sequel, Still Waiting..., in 2009.
She was in Stick It, alongside Jeff Bridges, Missy Peregrym, and Kellan Lutz (Twilight fandom), in 2006, and starred in Hawthorne, alongside Jada Pinkett Smith and Michael Vartan, for three seasons before their cancellation in 2011.
Lengies had a recurring role as Sugar Motta on Glee for two seasons, before deciding to leave the show in May 2013 for her new show, Mixology.[7] However, she revealed in a interview with Wetpaint that she won't be leaving the show and will be in a "capacity when she can be." Despite this, she didn't return to Glee[8]; however ,she returned for two 2015 episodes during the finale season.[9]
Filming for Mixology began on August 15, 2013[10] and the series is on in November/December 2013.[11] Mixology premiered on February 26, 2014[12], however, the show was cancelled in May 2014. It still aired its remaining episodes despite being given the ae.
Lengies is in the Hulu streamed Resident Advisors.[13]
Filmography
Year
Title
Role
Notes
1995
The Little Lulu Show
Annie
1995 - 1999, voice and guest cast
1996
Arthur
Emily
1996 - 2006, voice and guest cast
1997
Lassie
Charity
("The Manhunt")
Caillou
Boy/Girl
voice
1998
Radio Active
Sarah Leigh
1999
Are You Afraid of the Dark?
Vange
1999 - 2000 (23 episodes)
2000
For Better or for Worse
Elizabeth Patterson
segment 'The Growing Years' and voice
Ratz
Marci Kornbalm
TV movie
Are You Afraid of the Dark?: The Tale of the Silver Sight
Vange
TV movie
2002
American Dreams
Roxanne Bojarski
2002 - 2005 (61 episodes)
2005
Waiting...
Natasha
The Perfect Man
Amy Pearl
8 Simple Rules
Monica
("The After Party")
2006
Monarch Cove
Sophia Preston
(14 episodes)
Split Decision
Ashley
TV movie
Stick It
Joanne Charis
Ghost Whisperer
Caitlin Emerson
("The Vanishing")
The Substance of Things Hoped For
Daphne
2007
Moonlight
Leni Hayes
("Fever")
Untitled David Kohan/Max Mutchnick TV Project
Tessa
TV movie
2008
Extreme Movie
Carla
Foreign Exchange
Robyn
The Cleaner
Lolly
("Rag Dolls")
Squeegees
Annie Hackett
TV movie
2009
Medium
("Apocalypse... Now?")
Still Waiting...
Natasha
video
Archie's Final Project
Mallory
This Might Hurt
Lily Birdsall
TV movie
Hawthorne
Kelly Epson
2009 - 2011 (29 episodes)
2010
Rules of Engagement
Julia
("Refusing to Budget")
CSI: Miami
Shea Williamson
("Reality Kills")
Accidentally on Purpose (TV series)
Tracy
("Back to School")
2011
Castle
Eliza Winter
("Poof, You're Dead")
Glee
Sugar Motta
2011 - 2013 (24 episodes)
2015 (2 episodes)
2012
MyMusic
Loco Uno
Guest Cast, 2012 - 2013 (7 episodes)
2014
Mixology
Kasey
Regular; 13 episodes
Happy Birthday!
Katie Elizondo
post-production
Llama Cop
Dr. Kristen Reynolds
("Dirty, Hairy" and "Bad Lieutenant")
2015
We Are Your Friends
Mel
post-production
Resident Advisors
Marissa
(4 episodes)
2016
Second Chance
Alexa
Regular; 11 episodes
LEGO Star Wars: The Freemaker Adventures
Kordi
Regular
Trivia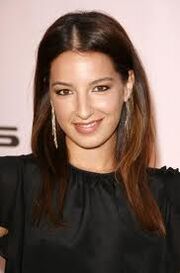 Her middle name is actually Brittany as she says in this tweet in 2011.[1]
Her nickname was "Bones" when she was little since she wanted to be a paleontologist.[14]
She was a MAJOR fan of "Popular Mechanics for Kids" (1997) before she was on it. She still is a fan.
She speaks English, French, and Arabic.
She loves arts and crafts and event planning.
Her favorite Harry Potter book is "The Philosopher's Stone".
She wakes up in the morning with a Vanilla Ice Blend caffeine drink.
She grew up in a little town called Hudson, in Quebec. She graduated from Hudson High School in 2002.
She is best friends with her "American Dreams" (2002) co-star, Brittany Snow.
She is the third Canadian to join the cast after Cory and Jessalyn.
She's the oldest actor to portray a New Directions girl.
Her nicknames are Nessa, Nessy, Ness, Vanny and VL.
She loves dogs and is in a lot of dog charities.
She ships Brittana.
She is aware of the Sugar from the future idea and says everyone on set including her and Heather (and Naya when she was asked during an FAQ) play around with it on set and find it really amusing.
According to Lengies, self-diagnosis of Aspergers is part of Sugar's character. She revealed that it was hard to sing badly on purpose, especially with piano accompaniment.
Her Glee contract does not include any tribute episodes, which is why she doesn't appear in Michael, Saturday Night Glee-ver, Dance With Somebody or Britney 2.0. It's unknown why she's absent during Prom-asaurus and The Break-Up. After The Break-Up was filmed, Vanessa's contract was updated and she can now participate in Tribute Episodes.
She is a vegan.
She stars with Jayma Mays' husband Adam Campbell in ABC's show Mixology.
She starred with Mike O'Malley in the movie "The Perfect Man" in 2005.
Vanessa was supposed to appear just in the premiere of Season Three (The Purple Piano Project), but that changed.
Gallery
Videos
References
Community content is available under
CC-BY-SA
unless otherwise noted.