'Glee' Profile: Will Schuester
Play Sound
This article is about the teacher, Will Schuester. You may be looking for his father, Mr. Schuester.
"

Life really has only one beginning and one end. The rest is just a whole lot of middle.

"

—Will Schuester, Journey
William Michael "Will" Schuester is a major character on Glee. He was in charge of the William McKinley High School Glee Club, New Directions. Will is the school's Spanish teacher until Season Three episode The Spanish Teacher, where he takes a job as a history teacher. He is married to Terri Del Monico in Season One, but they divorce after Will finds that Terri has lied to him about being pregnant. He is currently married to and living with McKinley High's guidance counselor, Emma Pillsbury. In Trio, it is revealed that Will and Emma are expecting a child. Their son, Daniel Finn Schuester, is born in Opening Night. In Transitioning, he returned to McKinley as the alumni consultant for New Directions, having served a very brief term as director of Vocal Adrenaline. He and Sue Sylvester are mortal enemies.
He is now the principal of McKinley High, now designated as a performing arts school.
He is portrayed by actor and musician, Matthew Morrison.
Biography
Will was married to Terri, who he had been with since high school. They divorce after Will finds out she was faking her pregnancy. Will was close friends with the football coach Ken Tanaka, and has a complicated "frenemy" relationship with Sue Sylvester, the school's cheer leading coach who despises the Glee Club. He works as a Spanish teacher at William McKinley High School, but later gives away the job to David Martinez and takes a new job as a history teacher. Will is now married to the school counselor, Emma.
Profile
Singing is what Will is all about. As a student at William McKinley High School, he helped the Glee Club win the 1993 National Show Choir Championship cup - it was one of the best moments of his life. But after graduation, he stopped performing, married his high school sweetheart, and left college with a safe degree in accounting. A few years later, Will found himself back at McKinley, this time as the school's Spanish teacher. And when choir director Sandy Ryerson is fired for inappropriately touching a student, Will offers his services as a replacement, hopeful that it will capture some of the joy from his youth. Of course, Will gets the job and New Directions is born! At home, Will tries to balance the needs of his demanding wife Terri (who says she is pregnant with his baby), the anxiety of fatherhood, and the close bond he's forming with fellow McKinley faculty member, Emma Pillsbury.
Personality/Appearance
Will Schuester can easily be described as the ultimate "Mister Nice Guy." Sweet, compassionate and even a bit naive, Will is always trying to do his best by not only his loved ones, but also his friends and students. He tries to see good in everyone, and wants to bring that good out of others, especially if it turns out to be musical talent. He is often willing to overlook obvious personality flaws and can at time be completely oblivious to the manipulative and malicious behavior of other people (such as his wife Terri, and at times the intents of Sue).
However, despite Will's inherent goodness, he's an extremely driven and at times obsessive individual when it comes to his personal desires. He pushes not only himself, but his students to their best, to the point that he overlooks or ignores their personal feelings. He is also willing to resort to dark methods in order to get what he wants, such as planting drugs in Finn's locker and blackmailing him into joining Glee and failing the Cheerios to get back at Sue. Will can also be extremely paranoid, particularly towards Sue (although rarely without reason).
Will can also be hypocritical in his beliefs such as after telling Sue to be fair to people, but then becoming upset at Sue for not giving a handicapped girl special treatment. He also allows his 'liberal guilt' to be unfairly manipulated because although he wants to make everyone happy and desperately doesn't want to hurt anyone's feelings, others take advantage of that.
His female students have tendencies to fall in love with him and express their love with a gift. As Will said "It always starts, with a novelty gift."
Relationships
Main article: Emma-Will Relationship (Wemma)
Emma Pillsbury is the school guidance counselor who suffers from mysophobia and OCD. She is one of Will's closest friends and he usually comes to her for all of his problems. She's been in love with him for some time now, despite him being married. He too has deep feelings for her, but never acted on it due to his marriage and supposedly expecting wife Terri. Emma, tired of pining after Will, became engaged to football coach Ken Tanaka, who is deeply in love with her, but his feelings are one sided.
In
Sectionals
, Emma moves back their wedding time to take the Glee Club to their sectionals competition as a favor to Will. Ken is very upset by this and declares their relationship over knowing that he could do nothing to prevent the fact that Emma truly loves Will and not he. Will arrives at the wedding and finds Emma sitting alone. She tells him that Ken has dumped her and she admits to Will that she was settling for Ken and if Will had shown any interest in her, she would've been with him in an instant. She tells him that she is resigning from the school because she is ashamed of her actions towards Ken, and heartbroken over Will. He tries to stop her by saying that he has just left his wife, but she feels it's too soon for him to move on.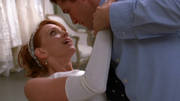 On the day of her resignation, Will realizes that he can't let her leave. He runs to her office, but it's empty. He finally spots her across the hall with a box of her belongings as she is about to leave. He catches up to her, takes the box, shushes her as she is about to say something, and then kisses her for the first time. Afterwards they both look nervous, but are smiling.
In Hell-O, Emma stays and they go on a date, which gets very intimate. Emma breaks it off and reveals that she's never been intimate as it makes her uncomfortable and she hasn't found the right person. Will doesn't seem pleased by this news, but tells her its okay. In The Power of Madonna, Will and Emma attempt to sleep together because Emma wants to take power of her body. Will later files for a divorce and tells Emma to wait for him. In Bad Reputation, Emma finds out about Will kissing Shelby and sharing his bed with April Rhodes, although she thinks he actually slept with her, via Sue. Sue tells her she needs to stand up for herself and let Will know how he made her feel. Emma confronts Will, angrily calling out that he is a slut and she is through with him. He tries to apologize to her later, but she is indifferent. In Journey, Emma tells Will that she is seeing someone else now and he vows to fight for her. Despite any relationships Will has had, the actor who portrays him has said that Will's heart is truly with Emma.
In The Purple Piano Project he talks about starting a family with Emma and they seemed to have moved in together, for they are seen waking up in bed together/in bed together many times.
In Yes/No, Emma continues to mention her desire to be married. Expressing it by singing Wedding Bell Blues to which Will soon catches on to her desire. Will gets the New Directions to come up with multiple songs to help propose to Emma. Ending with Will choosing We Found Love. Having the New Directions perform We Found Love in the school's pool. Will proposes to Emma, to which she accepts.
In
All or Nothing
, Emma and Will finally get married in The Choir Room, after the unaccomplished wedding during
I Do
 and the long wait. In
Opening Night
they welcome their first child, a son named Daniel, into the world.
Main article: Terri-Will Relationship (Werri)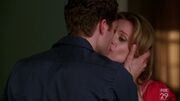 Will and Terri started out as high school sweet-hearts, the "it" couple William Schuester and Terri DelMonico who after graduation got married. Although Terri and Will have been in love for years, it is clear that their relationship is not a healthy one, at least from Terri's end. While Will tries his best to be kind, supportive and understanding, Terri is rude, selfish, manipulative and shows no concern for the consequences of her actions and who they might hurt. The key example of this is when Terri fakes her pregnancy. Rather than admitting to Will the truth, she hides the fact her pregnancy was never real, and behind his back makes plans to adopt Quinn Fabray's baby. Will remains convinced that Terri is a good woman, however as the series progresses he begins to show discontent with the relationship, particularly after Terri begins giving kids medication during a brief stint as a school nurse, and manipulating his student Rachel when she had a crush on Will. Upon discovering that Terri has been lying to him about the pregnancy, Terri reveals that she was unhappy with how Will was more confident and happy, and was afraid that he would leave her, as they were no longer the same people they were as kids. Will is furious and almost on the verge of being violent, as he storms out of the house, with Terri sobbing behind him. The next time we see Terri is in
Sectionals
, where she tells Will she has began therapy. He tells her that he doesn't feel love for her anymore, and ends up leaving her for Emma. In the episode
The Power of Madonna
, Will files for a divorce and it's finalized in
Funk
. In The Substitute Terri looked after Will when he got sick with the flu and Terri started rubbing an oil on his back and then they sleep together. Terri says that she is his wife in front of Holly, but Will said to never come back. Terri later Sue's 'League of Doom', the objective of which was to bring down the Glee Club. Later, when Sue had a change of heart, Terri gave Will first class plane tickets to New York for when the New Directions went to Nationals. She then announced that she was moving to Miami to open a new branch of '
Sheets n' Things
' and the pair parted on good terms.
Main article: April-Will Relationship (Wapril/Rhodester)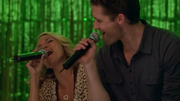 April Rhodes was a girl who in high school, Will had the biggest crush on. Unfortunately, at the time she was seeing someone else, and more or less had no idea that he existed. Years, later, when Rachel Berry quits the Glee club, Will decides to recruit April as their leading singer. He offers her the chance to get her high school diploma by doing one more credit of Spanish (she dropped out of high school, just short three credits). Will is shocked to find April an alcoholic, has-been, down on her luck, but still offers her the chance, which she takes. The two begin a flirtatious friendship, that falls apart upon discovering that April is leading the rest of the Glee Club down a bad path of drinking and partying. In the end, Will makes an attempt to fire April, who stops him and admits her own failings and how it was not her place to begin with to even be there. She leaves Will and wishes him and the kids well. But recently, in the episode Home, Sue has taken the auditorium for cheerios practice so Will resorts to asking April for a hand. April had begun seeing a very rich man which allowed her partly own a local skating rink. When Will asks her if the glee club could borrow the rink April doesn't even hesitate. April stays the night in Wills apartment, and the two end up sleeping in Will's bed, only sleeping, due to both feeling lonely.
Main article: Holly-Will Relationship (Wolly/Hollister)
Will pursues and kisses Holly in the episode
Sexy
, but she saying that she destroys nice guys like him. She later changes her mind, saying that maybe it's time she learns something about romance, and they start dating. They are shown speaking on the phone in the episode
Original Song
. They break up in
A Night of Neglect
.
Main article: Rachel-Will Relationship (Schueberry/Wachel)
Rachel, his student, had a quite large crush on him for most of the episode
Ballad
. She gave him a tie, and cleaned and cooked in his house. Will was annoyed and stressed about her inappropriate behavior and tried a variety of methods to tell her he wasn't interested, such as in song, before telling her directly. However, she eventually got over the crush and they mended back their relationship, becoming like a father-daughter bond. In
Dreams Come True
, Rachel wins a Tony Award in 2020 and dedicates her win to him.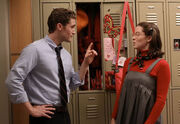 Suzy had a crush on him, and hinted her attraction to him in class, by asking how to conjugate 'to love'. She gave him a novelty gift and called him in the middle of the night, upsetting his wife. Will told her he wasn't interested directly, causing her much sadness and a hole in her esophagus due to the consumption of the world's hottest pepper. She ended up in a coma as a result and later spent two years in therapy. Will quotes her as crazy.
Will considers the glee club as his family (Yes/No when he asks for the club's help in proposing to Emma). The same situation occurs in All or Nothing when he married Emma.
Main article: Shelby-Will Relationship (Willby)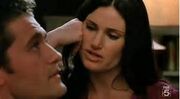 They make out in
Hell-O
, but Shelby pulls back when she finds out he's just divorcing his wife. She suggest him to call her as soon as he sorted everything out. In Season Three their Glee Clubs compete against each other.
Songs
Total = 62
Appearances
Trivia
He is the only adult character to ever get slushied.
As stated in Mash-Up, his favorite song is Bust a Move, which he sang later.
Will has at least one solo in every season, except for Season Five.
Will is similar to Finn Hudson growing up. He may not play football, he does have his personality.
The first song Will sings each season is in the episode number of what season it is; for example Toxic is the second episode of the second season.
Gallery
Quotes
Main article: Will's Quotations
Community content is available under
CC-BY-SA
unless otherwise noted.