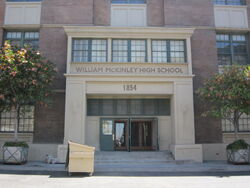 William McKinley High School for the Performing Arts is a fictional school and one of the main settings in the show. The school is named after William McKinley, the 25th President of the United States, who was born in Niles, Ohio. The school is supposed to be located in the city of Lima, Ohio, however no school in Lima is actually named McKinley. In Ohio, there are McKinley High Schools in Canton and Niles.
Many of the location scenes at McKinley were filmed at Juan Rodriguez Cabrillo High School in Long Beach, California and Helen Bernstein High School in Los Angeles, California, though auditorium scenes were filmed at a replica of the Cabrillo auditorium on the Paramount lot.
The school mascot is the Titans, and the school colors are red and black.
In Dreams Come True, the school becomes arts-oriented after Superintendent Harris made a pitch to the school board following New Directions' victory at the 2015 Nationals competition.
Facilities
The school has many classrooms, a faculty lounge, a music room and an auditorium named The Finn Hudson Auditorium. Sports facilities include a football field and track, a baseball field, a gymnasium, and a weight room.
Staff
Current
Numerous other teachers have made uncredited non-speaking appearances in the background.
Former
Current Known Students
Graduate Status Unknown
*Transferred; most likely not graduated yet
Known Alumni
*Didn't graduate; dropped out **Transferred; graduated from a different school
Extracurricular Activities
The school's Glee Club was called New Directions, and ran for four years (from 2009 to 2013, 2014 - present) and in their first year, they won Sectionals but lost Regionals to Vocal Adrenaline. The next year they tied with The Warblers at Sectionals and beat them and Aural Intensity at Regionals, but failed to place at Nationals. For there third year, they blazed through Sectionals and Regionals, and also prevailed in defeating Vocal Adrenaline for first place. For their final year, they lost Sectionals, but, due to a technicality, they were allowed to advance to Regionals, which they won, and at the 2013 Nationals, they lost to Throat Explosion. Rachel Berry and Kurt Hummel, two graduated members, rebooted the glee club (with the same name) the next year (which is 2014). It was later seen in the second part of the series finale (Dreams Come True) that the New Directions won the 2015 Nationals, their second victory ever. This victory assured New Directions' permanent status in the school and even changed the school's main orientation: the Arts, as said by Superintendent Harris. In consequence, three more glee clubs were created (which includes the revival of The Troubletones), Will becomes the new Principal, and Sam is appointed as the new director of the club, which now has more than thirty members.
The cheerleading squad are called the Cheerios and are very successful, having won Nationals seven times in a row. Unlike the cheerleaders, the football team wasn't successful, until Coach Shannon Beiste came and taught the team about winning. The school also has a basketball and hockey team but there is little known about them. We do know that Dave Karofsky was on the hockey team and Finn, Matt, Puck, Ryder, and Jake are/were on the basketball team.
Active 

Name
Current Leader/s
Description
McKinley Titans
Coach: Sheldon Beiste
Football Team
Cheerios

Coach: Roz Washington
Captain: Bree

Cheerleading Squad; Perennial National Contenders.
A/V Club
Former Leader: Lauren Zizes
A club for background designs and props
Jazz Band
Often provides accompaniment for glee club performances
Basketball Team
Jake and Ryder joined this club after the disbandment of New Directions following the loss at the 2012 Sectionals.
Rugby Team
Josh Coleman
New Directions

Director: Sam Evans

Former Directors: Will Schuester, Rachel Berry, Blaine Anderson and Kurt Hummel

Former Assistant Director: Finn Hudson

Rachel Berry and Kurt Hummel rebooted the glee club after being disbanded for more than a year, following the loss at the 2013 Nationals.
Wrestling Team
Lauren was a member of this club.
Thunderclap
Victoria

Anderson Hummel

The school yearbook.
The Muckraker
Victoria Anderson Hummel
The school newspaper.h
Synchronized Swim Team
Coach: Roz Washington
Sam was a member of this club.
80's Club
Victoria Anderson Hummel
Victoria Anderson Hummel was a Member of the Club
The Secret Society of Superheroes Club

Adviser: Sheldon Beiste

Former Leader: Blaine Anderson

A club that wears costumes and have aliases, which main purpose is to fight injustice.
Superhero Sidekicks Appreciation Club
A club started to show appreciation for sidekicks. Blaine was a member.
Floor Hockey
Unique joins in Swan Song.
Interfaith Paintball
Paintball team. A club where people of different religions can shoot at each other safely. Probably started as a safe way to deal with anger or discrimination between different religious groups at the school. Joe joins in Swan Song.
McKinley High Student Council

Former President: Blaine Anderson

Former Vice President: Sam Evans

Former Vice

President: Victoria Anderson Hummel

Tina and Sugar were members of the Student Council, until Sugar left it without explanation, and Blaine, Sam and Tina graduated in the fifth season.
Animal Husbandry Club
Holly gives them a lesson in New Directions.
Tea Party Patriot Club

President: Gabriel

Claimed to be the most popular club of the school.
The Troubletones
Former Director: Shelby Corcoran

Former President: Mercedes Jones

All girls glee club. Originally made for Sugar Motta; disbanded in Hold on to Sixteen after losing Sectionals. Revived by Will in Dreams Come True after McKinley becomes arts oriented.
Duly Noted
All boys glee club. Founded by Will after McKinley became an arts school.
Junior Glee Club
Glee club for underclassmen. Founded by Will in Dreams Come True.

Inactive

Celibacy Club

Former Advisor: Emma Pillsbury
Former President: Quinn
Former Sub Advisor: Rachel

A club for students to promote celibacy.
Too Young to Be Bitter Club
Tina Cohen-Chang
A club for girls who were single, and were "bitter" about it. It should be noted that the club was shown again in Love, Love, Love with Tina being the only member left.
Old Maid's Club
Former Advisor: Sue Sylvester
Used to convince Rachel (Hell-O).
Badminton Team
Former Coach: Brenda Castle
Heckling Club
Sue
A club started by Sue. Their job is to be rude during New Directions performances.
The God Squad
Former Leader: Mercedes Jones
A club for Christian students.
Muslim Students Club
Rachel joined this club during her freshman or sophomore year.
Speech Club
Black Student Union
A club for pregnant students.
The Bully Whips

Former Co-founders: Santana Lopez and David Karofsky

Protects students (specifically Kurt) from bullies, To promote Karofsky and Santana to the Junior Prom.
Hockey Team
Golf Team
One member of this club asked Santana to join after rumors about her sexuality spread in I Kissed A Girl.
Trivia
Matthew Morrison paid a visit to the real McKinley High School in October 2010 as part of a campaign rally for Ohio Governor Ted Strickland.[1]
The school hosted the show choir Sectionals in 2011 for the first time since 1963. (Hold on to Sixteen)
In the original script, it was called Harrison High. Source
According to Will the glee club was established in 1954. (Britney 2.0)
New New York was the first episode in the show's history to not feature any scenes in McKinley High.
This school shares a name with William McKinley High School, the main setting of comedy Freaks and Geeks and the movie Final Destination 3 (Cory Monteith appeared in that movie, though it was a small role).
Gallery
References